The job market is competitive and putting together a standout cover letter for your junior buyer role can be difficult. Crafting a memorable cover letter is essential for a successful job application and a key part of the job-seeking process. Fortunately, there are several strategies that can help you create a professional, effective cover letter for your application. This guide will provide tips for writing a junior buyer cover letter, as well as an example of a cover letter to get you started.
If you didn't find what you were looking for, be sure to check out our complete library of cover letter examples.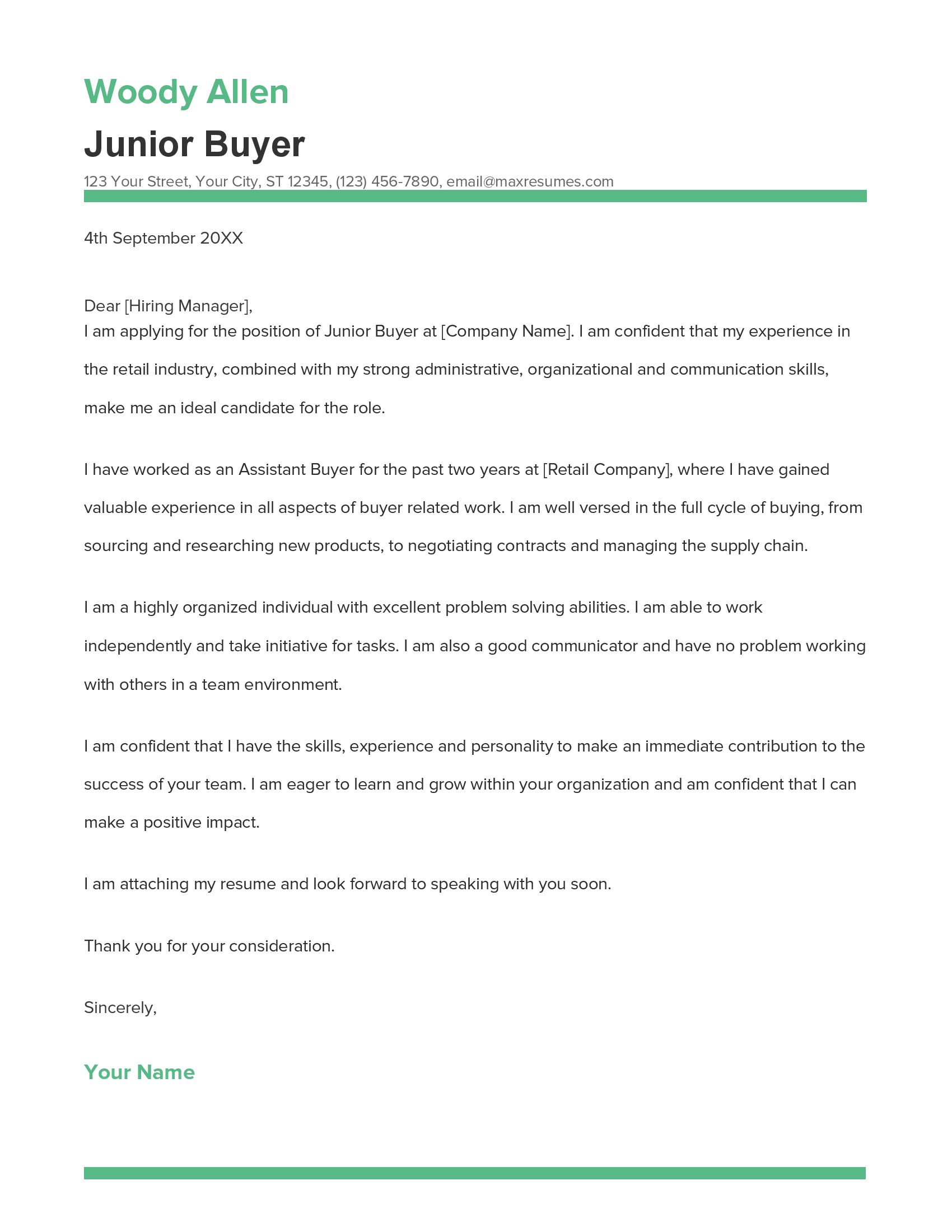 Download the Cover Letter Sample in Word Document – Click Below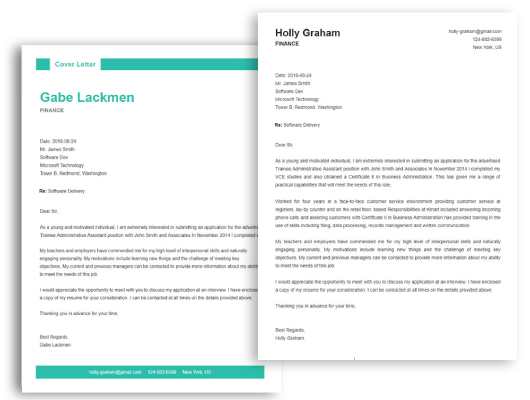 Start building your dream career today!
Create your professional cover letter in just 5 minutes with our easy-to-use cover letter builder!
Junior Buyer Cover Letter Sample
Dear [Hiring Manager],
I am applying for the position of Junior Buyer at [Company Name]. I am confident that my experience in the retail industry, combined with my strong administrative, organizational and communication skills, make me an ideal candidate for the role.
I have worked as an Assistant Buyer for the past two years at [Retail Company], where I have gained valuable experience in all aspects of buyer related work. I am well versed in the full cycle of buying, from sourcing and researching new products, to negotiating contracts and managing the supply chain. I am also proficient in the use of Excel, Outlook and other related software, allowing me to create and manage reports and track the progress of orders.
I am a highly organized individual with excellent problem solving abilities. I am able to work independently and take initiative for tasks. I am also a good communicator and have no problem working with others in a team environment.
I am confident that I have the skills, experience and personality to make an immediate contribution to the success of your team. I am eager to learn and grow within your organization and am confident that I can make a positive impact.
I am attaching my resume and look forward to speaking with you soon.
Sincerely,
[Your Name]
Looking to improve your resume? Our resume examples with writing guide and tips offers extensive assistance.
What should a Junior Buyer cover letter include?
A junior buyer cover letter should include an introduction of yourself, including your educational background and relevant experience in the purchasing field. It should also highlight your skill set and knowledge in the field of supply chain management as well as your ability to work both independently and as part of a team. Furthermore, a cover letter for a junior buyer should express your passion for the job and emphasize why you are the best candidate for the available position. Your letter should also include any achievements or awards you have earned in the purchasing field, along with any other relevant information that can help demonstrate your suitability for the job. Finally, the cover letter should include a call to action that encourages the reader to contact you for an interview.
Junior Buyer Cover Letter Writing Tips
Writing a junior buyer cover letter can be daunting, but with the right tips, it doesn't have to be! Here are a few tips to help you create an effective cover letter that will get you noticed:
Highlight Your Qualifications: Demonstrate your qualifications by highlighting key points from your resume. Include details about your educational background, experience, and any accomplishments you may have achieved.
Show Your Interest: Explain why you're interested in the position and how you think you can contribute to the company. Show your enthusiasm and passion for the job.
Showcase Your Skills: Use concrete examples of how you have used your skills in the past to solve problems or bring value to an employer.
Demonstrate Your Knowledge: Show that you are knowledgeable about the company and the industry by doing research on their mission, values, and goals.
Keep It Professional: Keep the tone professional and friendly. Avoid using slang, abbreviations, or other unprofessional language.
Proofread: Before sending your cover letter, make sure to proofread it for any spelling or grammatical errors. This will demonstrate your attention to detail and professionalism.
By following these tips, you can create a compelling cover letter that will help you stand out from the competition and get you noticed by potential employers. Good luck!
Common mistakes to avoid when writing Junior Buyer Cover letter
Writing a cover letter for a Junior Buyer position can be daunting. After all, cover letters should be tailored to the job position and provide an insightful glimpse into the applicant's qualifications and experience. To ensure you put your best foot forward, here are a few common mistakes to avoid while composing your Junior Buyer cover letter:
Failing to personalize the letter: Generic cover letters are often seen as lazy and unenthusiastic. Make sure to personalize each cover letter you send, and include specific details that demonstrate your knowledge and qualifications for the position.
Neglecting to mention the company: You should not just list the qualities you bring to the table, but also include how those qualities would benefit the company. Make sure to mention the company and include details about why you'd be a great addition and how you'd contribute to the organization's success.
Not using keywords: When applying for a position, it's important to use the same keywords as the job description. This will show that you have read through the company's requirements and are familiar with the job duties.
Not proofreading: A sloppy cover letter with typos and grammatical errors makes you look careless and unprofessional. Always read through your cover letter and have another person read it for you to ensure it is error- free.
By avoiding these common mistakes, you can give yourself a great chance of getting the job. A well- crafted Junior Buyer cover letter will demonstrate your knowledge and qualifications, and show the company why you'd be the perfect fit for the role.
Key takeaways
Writing an impressive Junior Buyer cover letter is an important step to land a job interview. It is important to make sure that your cover letter is well written, professional, and informative. Here are some key takeaways to help you create an effective cover letter:
Make sure to include your contact information and the position you are applying for in the beginning of the letter.
Use the letter to introduce yourself and provide a brief overview of your experience in the field.
Discuss the skills and knowledge you have acquired that make you an ideal candidate for the position.
Include details about any relevant education, training and certifications you have that are relevant to the job.
If you have any related experience, include details about it to showcase your accomplishments.
Explain why you are passionate about the industry and why you would like to work for the company.
End the letter by thanking the reader for their time and consideration.
By using these key takeaways, you will be able to craft an impressive and professional Junior Buyer cover letter that will help you stand out from the competition.
Frequently Asked Questions
1.How do I write a cover letter for an Junior Buyer job with no experience?
Writing a cover letter for a junior buyer job with no experience can be daunting, but there are some tips to help make your application stand out.
First, emphasize the skills that you do have that are transferable to the job. This could include communication skills, attention to detail, organizing abilities, or the ability to follow directions. Talk about how these skills have been helpful in any past jobs, internships, volunteer work, or school projects.
Another way to make your cover letter stand out is to highlight any extracurricular activities or hobbies that demonstrate your knowledge and experience in the buying industry. Even if you don't have direct experience in buying, you may have knowledge of trends or analytic skills that could be beneficial.
Finally, be sure to express your enthusiasm for the job and why you believe you are an ideal candidate. Show confidence in your abilities and remind the hiring manager that you are eager to learn and contribute to the team.
2.How do I write a cover letter for an Junior Buyer job experience?
If you have any kind of experience in the buying field, make sure to highlight it in your cover letter. This could be direct experience, such as previous roles as a junior buyer or assistant buyer, or related roles that have given you the skills and knowledge for the job.
Make sure to mention the types of products you have purchased in the past, any trends you can identify, and any successes you have achieved. This will show the hiring manager that you have the skills and knowledge necessary to be an effective junior buyer.
In addition, talk about the skills and abilities you have that are transferable to the job. This could be communication, organizational, and analytical skills, as well as the ability to follow directions and multitask.
Finally, be sure to express your enthusiasm for the role and your eagerness to learn more about the industry. Showing the hiring manager that you are passionate about the position and willing to go the extra mile to excel in it will demonstrate that you are the right candidate for the job.
In addition to this, be sure to check out our cover letter templates, cover letter formats, cover letter examples, job description, and career advice pages for more helpful tips and advice.
Let us help you build
your Cover Letter!
Make your cover letter more organized and attractive with our Cover Letter Builder