Writing a cover letter can be a challenge, but with the right guidance and a few helpful tips, you can create an effective and engaging letter that will help you in your job search. This guide provides a comprehensive overview of the essentials of cover letter writing, including helpful advice on crafting the perfect introduction, organizing your content, and making sure your letter is ready to send. Additionally, an example of a successful cover letter is provided to give you an idea of what a well-written cover letter looks like. With this guide, you can take the first steps towards creating a professional, polished cover letter that will set you apart from the competition.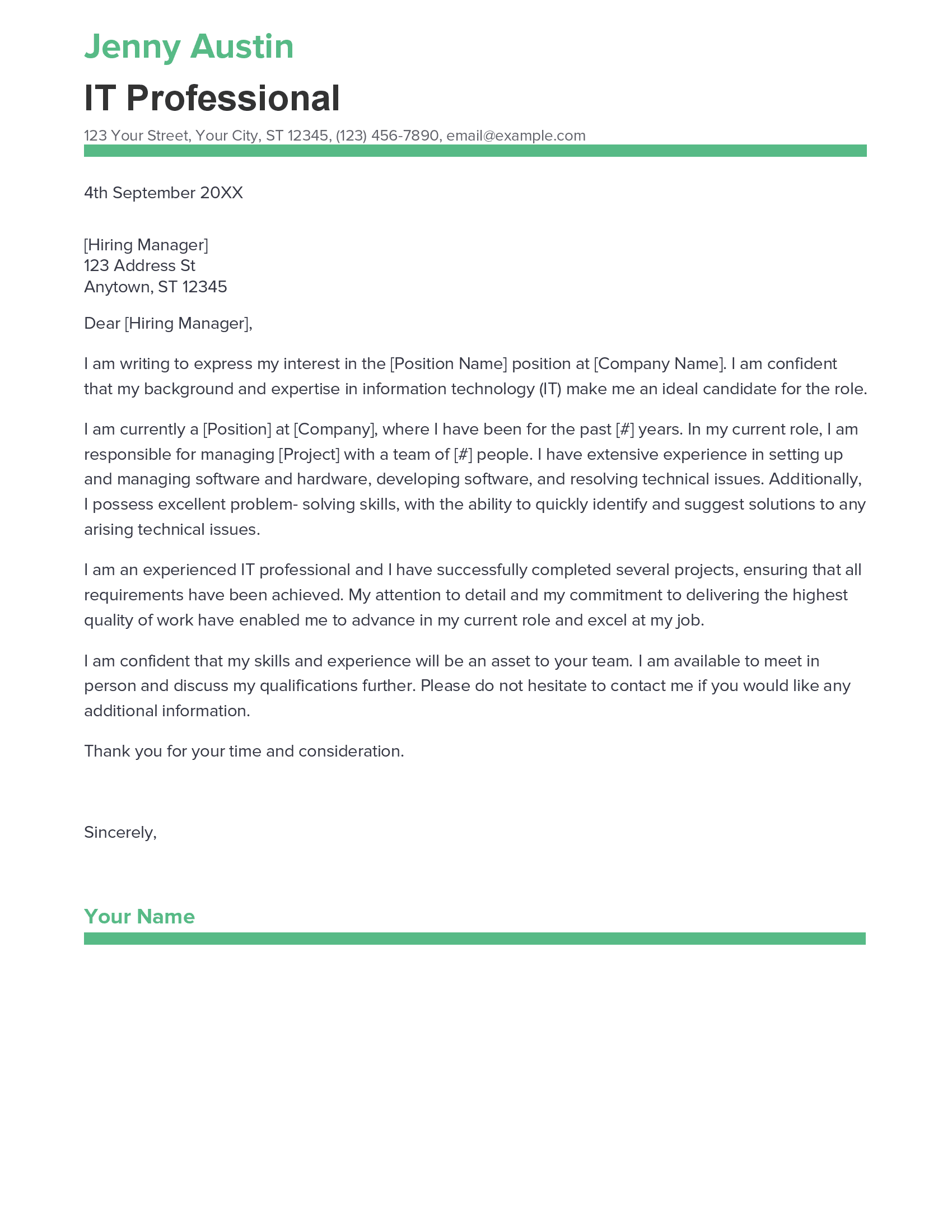 Download the Cover Letter Sample in Word Document – Click Below
If you didn't find what you were looking for, be sure to check out our complete library of cover letter examples.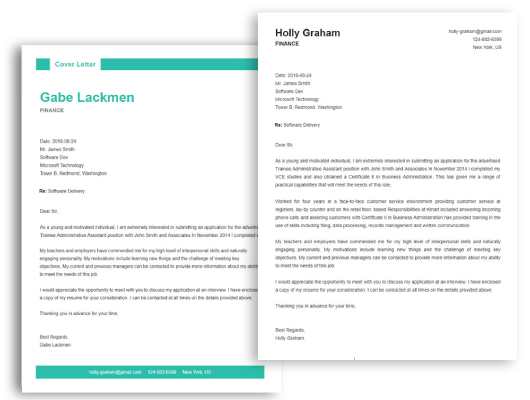 Start building your dream career today!
Create your professional cover letter in just 5 minutes with our easy-to-use cover letter builder!
IT Professional Cover Letter Sample
Dear [Employer Name],
I am writing to express my interest in the [Position Name] position at [Company Name]. I am confident that my background and expertise in information technology (IT) make me an ideal candidate for the role.
I am currently a [Position] at [Company], where I have been for the past [#] years. In my current role, I am responsible for managing [Project] with a team of [#] people. I have extensive experience in setting up and managing software and hardware, developing software, and resolving technical issues. Additionally, I possess excellent problem- solving skills, with the ability to quickly identify and suggest solutions to any arising technical issues.
I am an experienced IT professional and I have successfully completed several projects, ensuring that all requirements have been achieved. My attention to detail and my commitment to delivering the highest quality of work have enabled me to advance in my current role and excel at my job.
I am confident that my skills and experience will be an asset to your team. I am available to meet in person and discuss my qualifications further. Please do not hesitate to contact me if you would like any additional information.
Thank you for your time and consideration.
Sincerely,
[Your Name]
Looking to improve your resume? Our resume examples with writing guide and tips offers extensive assistance.
What should a IT Professional cover letter include?
A IT Professional cover letter should include the following details:
An introduction: Introduce yourself and explain why you are a great fit for the role. Be sure to explain your qualifications and highlight any experience or knowledge related to the position.
Relevant Skills: Explain the technical and professional skills that you possess that make you a great candidate. Showcase your problem- solving, communication, and team- building abilities.
Relevant Experience: Detail any past IT experience you have, such as working in any IT departments, developing software, coding, and more. Include specific examples to demonstrate your background and capabilities.
Achievements: Provide examples of your achievements in the IT field. This could include software development projects, organizational efforts, customer service successes, or other accomplishments.
Interest in the position: Show that you truly want this position and are interested in learning more about the company and the opportunity.
Closing: End your cover letter on a strong note. Thank the reader for their time and restate your enthusiasm for the position. Include contact information and express your interest in a follow- up.
IT Professional Cover Letter Writing Tips
Writing a cover letter as an IT Professional can be a challenge, as the field is so specialized and competitive. Following a few simple tips can help you craft a compelling and effective cover letter that will help you stand out from the competition.
Research: Before beginning to write your cover letter, research the company you are applying to and the position you are applying for. This will help you tailor the content of the letter and show that you understand the company's needs and the position's requirements.
Keep it Professional: IT cover letters should be professional and formal. Avoid using casual language and jargon, and make sure to proofread the letter for any errors.
Highlight Relevant Experience: Use your cover letter to showcase the skills and experience you have that are relevant to the position. Talk about any previous work experience, technical certifications, or special projects you have been involved in that demonstrate your expertise in the IT field.
Explain Your Value: Explain how your skills and experience can add value to the company and make you an ideal candidate for the position. Talk about how you can contribute to the success of the company, and how you plan to use your skills to make a positive difference.
Be Specific: IT jobs require a lot of detail, so be sure to provide specifics about your skills, experience, and accomplishments rather than generalities.
Close Strong: End the letter on a positive note by thanking the reader for their time and expressing your desire to meet in person and discuss the opportunity further.
Common mistakes to avoid when writing IT Professional Cover letter
A cover letter is one of the most important elements of a successful job application. For an IT professional, a well- written and effective cover letter is critical to gaining the attention of potential employers. To help you craft the perfect cover letter, here are some common mistakes to avoid when writing one:
Not tailoring the letter to the job: Generic cover letters can be easily spotted by employers and will not help distinguish you from other job seekers. Be sure to take the time to research the specific job and company and address how your past experiences and skill set make you a perfect fit for the role.
Not proofreading: A sloppy cover letter with multiple spelling and grammar mistakes can hurt your chances of landing an interview. Before submitting your letter, review it multiple times and have someone else read it for a fresh perspective.
Not demonstrating enthusiasm: Employers want to hire candidates who are excited about the job and the company. Make sure to use language that conveys your enthusiasm and passion for the position.
Not including credentials: Achieving relevant certifications or completing special projects can give you an edge over other applicants. Make sure to include your credentials in your cover letter and explain how they make you a great fit for the position.
Not keeping it concise: Cover letters should be brief and to the point. Avoid rambling and keep the letter focused on your qualifications, experience and goals.
Following these tips will help you create an effective and professional cover letter that will help you stand out from the competition and land that dream IT job.
Key takeaways
Writing a great IT professional cover letter can be the key to getting the job you want. A well- crafted cover letter is an essential part of any job application and can be a great way to make a positive impression on potential employers. If you're looking for tips on how to write an impressive IT professional cover letter, here are some key takeaways to keep in mind:
Start by introducing yourself with your name and position you're applying for.
Provide an overview of your qualifications that are directly related to the job.
Explain why you're the best candidate for the role and why you're interested in the position.
Highlight any experience that makes you stand out from other applicants.
Convey your enthusiasm and eagerness to start the job.
Ensure that your cover letter is free of errors and is written in a professional manner.
End your letter by thanking the employer for their time and consideration.
By following these key takeaways, you can create a great IT professional cover letter that will impress potential employers and give you a better chance of landing the job you want.
Frequently Asked Questions
1. How do I write a cover letter for an IT Professional job with no experience?
Writing a cover letter for an IT Professional job with no experience can be a challenge. However, it's important to take the time to create a detailed, professional cover letter that sells your skills and abilities.
Start by introducing yourself, and include some of your most relevant qualifications and skills. Even if you don't have direct experience in the specific role, you can mention related software or technology experience, as well as other areas of expertise.
Next, explain why you're interested in the role and the company, and why you'd be a great fit. Demonstrate your enthusiasm and knowledge of the industry, and share any successes you've had in related roles.
Finally, wrap things up by thanking the hiring manager and expressing your interest in further discussion.
2. How do I write a cover letter for an IT Professional job experience?
If you have experience in an IT Professional role, then you should use your cover letter to highlight your achievements. Start by introducing yourself and briefly summarizing your experience.
Explain why you are the best fit for the role and discuss a few key accomplishments you've had in past roles. Detail how you solved problems and improved systems, and demonstrate your technical expertise.
For example, if you've worked on large- scale projects, explain how you collaborated with teams and other stakeholders to ensure success. If you managed a team, discuss how you trained, motivated, and encouraged them to reach their goals.
Finally, share your enthusiasm for the role and the company, and thank the hiring manager for considering you.
3. How can I highlight my accomplishments in IT Professional cover letter?
When highlighting your accomplishments in an IT Professional cover letter, it is important to emphasize how you were able to use your knowledge and expertise to make a difference for the company. Begin by introducing yourself and emphasizing any certifications, awards, or any other achievements. Next, discuss any projects or tasks you completed in your prior positions that were successful and how they helped the company. Additionally, make sure to mention any technical skills, software, or systems you are familiar with that could be beneficial to the company. Lastly, include any outstanding accomplishments you had in your prior positions that could be a plus for the company.
In addition to this, be sure to check out our cover letter templates, cover letter formats, cover letter examples, job description, and career advice pages for more helpful tips and advice.
Let us help you build
your Cover Letter!
Make your cover letter more organized and attractive with our Cover Letter Builder