Writing a cover letter for a system administrator position can be an intimidating task for many. However, with the right guidance and an example to refer to, it can be a simple and straightforward process. This guide provides handy tips and an example of a system administrator cover letter to help you create a successful document that will get you one step closer to achieving your career goals.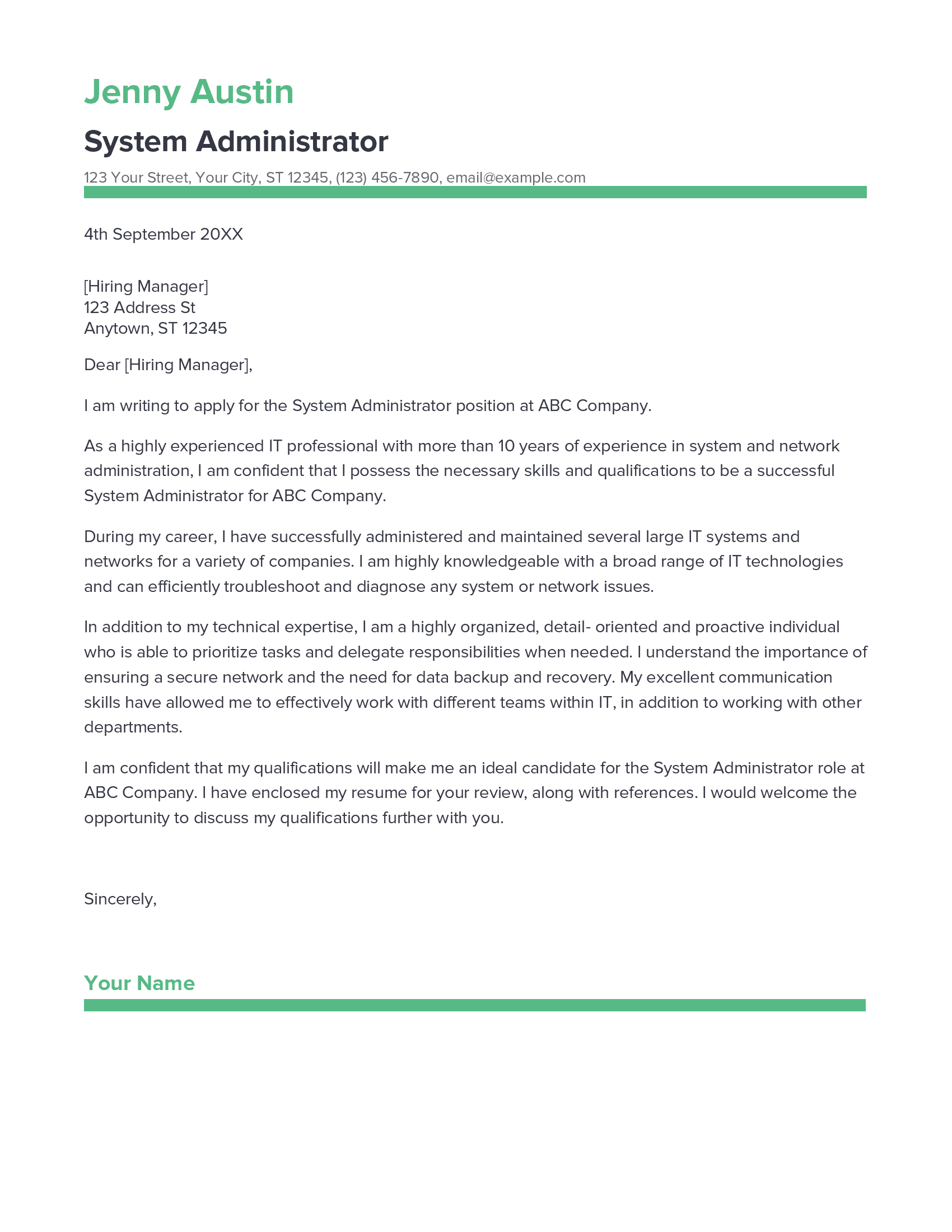 Download the Cover Letter Sample in Word Document – Click Below
If you didn't find what you were looking for, be sure to check out our complete library of cover letter examples.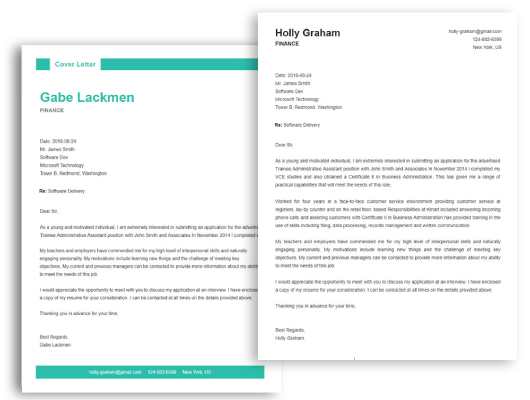 Start building your dream career today!
Create your professional cover letter in just 5 minutes with our easy-to-use cover letter builder!
System Administrator Cover Letter Sample
Dear Hiring Manager,
I am writing to apply for the System Administrator position at ABC Company.
As a highly experienced IT professional with more than 10 years of experience in system and network administration, I am confident that I possess the necessary skills and qualifications to be a successful System Administrator for ABC Company.
During my career, I have successfully administered and maintained several large IT systems and networks for a variety of companies. I am highly knowledgeable with a broad range of IT technologies and can efficiently troubleshoot and diagnose any system or network issues.
In addition to my technical expertise, I am a highly organized, detail- oriented and proactive individual who is able to prioritize tasks and delegate responsibilities when needed. I understand the importance of ensuring a secure network and the need for data backup and recovery. My excellent communication skills have allowed me to effectively work with different teams within IT, in addition to working with other departments.
I am confident that my qualifications will make me an ideal candidate for the System Administrator role at ABC Company. I have enclosed my resume for your review, along with references. I would welcome the opportunity to discuss my qualifications further with you.
Sincerely,
[Your Name]
Looking to improve your resume? Our resume examples with writing guide and tips offers extensive assistance.
What should a System Administrator cover letter include?
A System Administrator cover letter should introduce the candidate and explain why they are qualified for the position. It should also highlight the candidate's experience with system administration, as well as any relevant certifications they have earned. The cover letter should also showcase the candidate's problem- solving abilities, technical knowledge and communication skills that will be beneficial to the role. Additionally, the cover letter should explain why the applicant is passionate about the position. Finally, it should encourage the hiring manager to review the candidate's resume and contact them for an interview.
System Administrator Cover Letter Writing Tips
Cover letters are an important part of the job application process, and a great way to make a good first impression with a potential employer. As a System Administrator, it's important to include certain key elements in your cover letter that will demonstrate your technical knowledge, as well as your ability to communicate in writing. Here are some tips to help you write an effective System Administrator cover letter:
Highlight Your Technical Expertise: Use your cover letter to show off your technical knowledge and experience. Whether you're a Linux expert or a network security specialist, make sure you emphasize the skills that make you the best candidate for the job.
Explain How You Can Help: Show the employer how your skills and experience can help them. Explain how the systems you manage can save the company time and money, and how your experience can help their operations run more smoothly.
Use Specific Examples: When explaining your skills and experience, use specific examples. This will help the employer to visualize how you can help them and the impact you can have on the company.
Proofread Your Letter: Always proofread your cover letter before sending it. Simple spelling or grammar errors can make a bad impression on potential employers.
By following these tips, you can write a strong and effective System Administrator cover letter that will impress employers and help you take the next step in your career.
Common mistakes to avoid when writing System Administrator Cover letter
Writing a system administrator cover letter can be hard, especially when you're trying to make a great first impression. Here are some common mistakes to avoid when writing a system administrator cover letter:
Not providing enough detail: It's essential to include details about your experience, skills, and accomplishments in your system administrator cover letter. Don't just list your qualifications; provide specific examples of how you have used your skills to benefit organizations.
Not customizing the cover letter: You should make sure to customize your cover letter for each job you apply for. Don't just use the same generic cover letter for every application. Make sure to highlight skills and experiences that are specific to the job you're applying for.
Not focusing on the recruiter's needs: Make sure to focus on the needs of the recruiter. Show that you understand what they are looking for in a system administrator and how you can meet those needs.
Not proofreading your cover letter: You should always make sure to review your cover letter for spelling, grammar, and typos. Don't make the mistake of sending out a cover letter with errors, as this will make a bad impression on the recruiter.
Not following the application instructions: It's important to read the application instructions carefully and follow them. Don't assume that the recruiter will overlook any mistakes or deviations from the instructions.
By avoiding these mistakes, you can make sure that your system administrator cover letter is professional and effective.
Key takeaways
Writing a successful system administrator cover letter is key when applying for a job in IT. A solid cover letter will showcase your technical expertise, experience, and individual skillset that set you apart from other applicants. Here are some key takeaways for crafting an impressive system administrator cover letter:
Start by researching the company, job description, and job requirements to gain a deeper understanding of the position. This will help you tailor your cover letter and make it stand out.
Introduce yourself in a professional manner, and explain why you are the right fit for the job. Detail your relevant technical experience, credentials, and any special skills or strengths that you bring to the table.
Emphasize your ability to solve problems, take initiative, and manage projects. Showcase your ability to communicate effectively and lead a team of system administrators.
Show that you stay up- to- date on the latest IT trends. Highlight your experience with the most commonly used system administrator tools and programs.
End the letter on a positive note. Thank the hiring manager for their time and include your contact information for follow- up.
By following these tips, you can create an impressive system administrator cover letter that will help you stand out from the competition and get your foot in the door. Good luck!
Frequently Asked Questions
1. How do I write a cover letter for a System Administrator job with no experience?
Writing a cover letter for a System Administrator job with no experience can be challenging, but there are some simple strategies you can use to make your experience stand out. Start by introducing yourself and explain why you're interested in the position. Include any relevant formal training or certifications, such as an IT degree or a Microsoft certification. Highlight any personal characteristics that make you a good fit for the job, such as problem- solving skills, creative thinking, or communication abilities. Finally, explain why you're the best person for the job and express your enthusiasm for the position.
2. How do I write a cover letter for a System Administrator job experience?
When writing a cover letter for a System Administrator job with experience, be sure to include examples of your accomplishments and successes. Showcase your technical knowledge and highlight your experience with various system technologies. Showcase how you've been able to save your previous employers money or time by sharing a few numbers or examples. Finally, express enthusiasm for the position and be sure to answer any questions the reader may have.
3. How can I highlight my accomplishments in a System Administrator cover letter?
Highlighting your accomplishments in a System Administrator cover letter is an effective way to show the employer how you can contribute to the team. Include any awards or honors you've received and list any special certifications or training you've completed. Talk about any projects you've been involved in and explain what you did to help the team succeed. Describe any successes you've had in previous positions that directly relate to the position for which you're applying. Finally, share any positive feedback you've received from previous employers or customers.
In addition to this, be sure to check out our cover letter templates, cover letter formats, cover letter examples, job description, and career advice pages for more helpful tips and advice.
Let us help you build
your Cover Letter!
Make your cover letter more organized and attractive with our Cover Letter Builder