Writing a client executive cover letter can be a challenging task, especially if you're unsure of how to effectively convey your relevant experience and qualifications. This guide is designed to help you create a compelling cover letter that will grab the attention of the hiring manager, and demonstrate why you stand out from the competition. We provide an example, along with tips and tricks to help you write the best cover letter for your job application. With the right approach and a little effort, you can create a client executive cover letter that will stand out from the rest.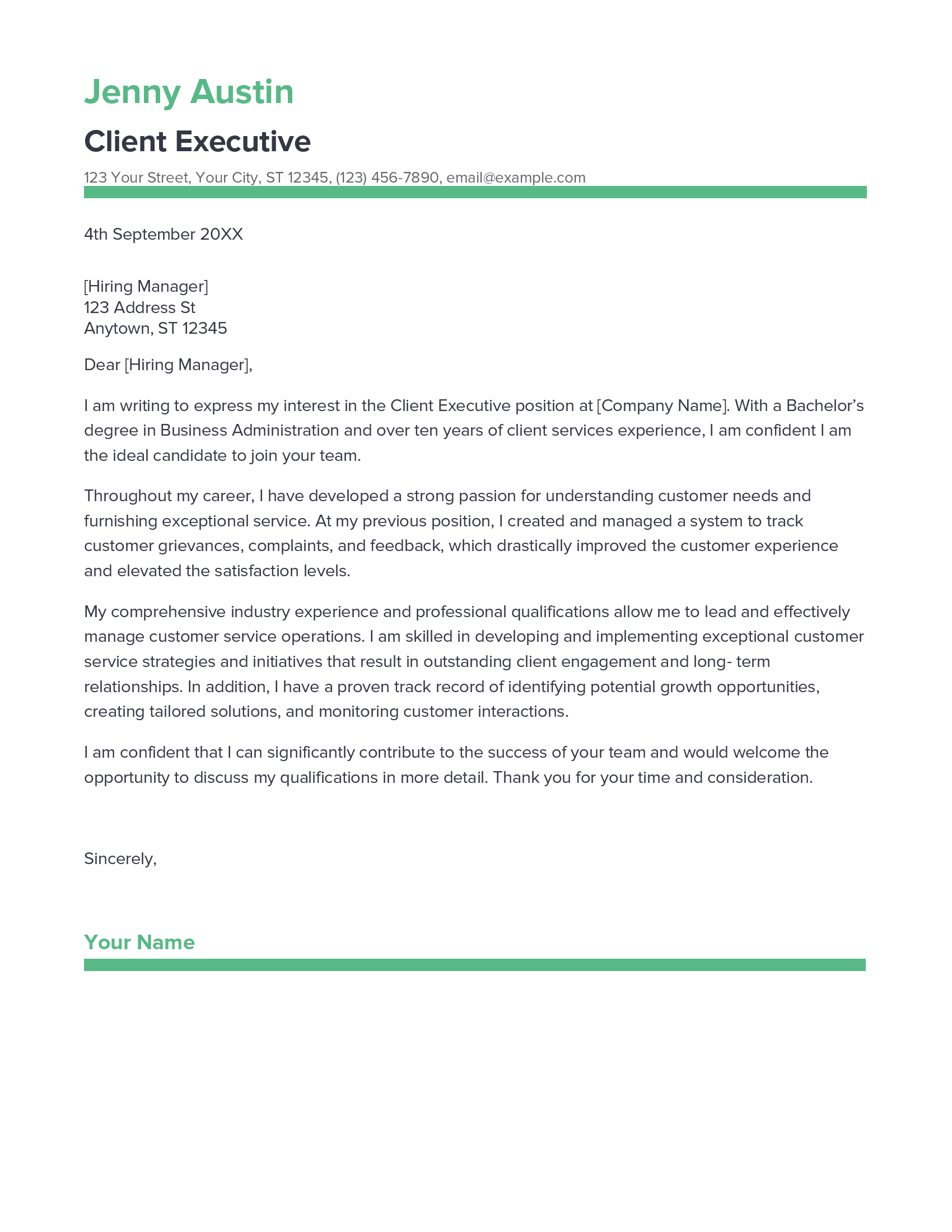 Download the Cover Letter Sample in Word Document – Click Below
If you didn't find what you were looking for, be sure to check out our complete library of cover letter examples.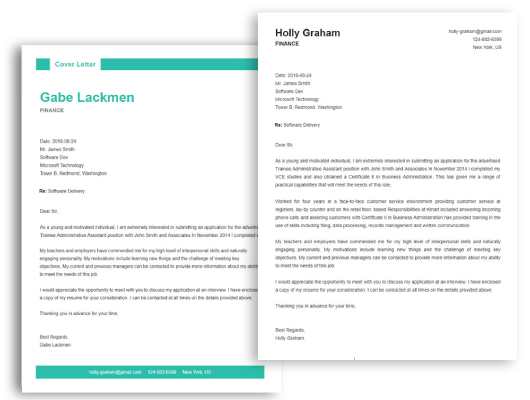 Start building your dream career today!
Create your professional cover letter in just 5 minutes with our easy-to-use cover letter builder!
Client Executive Cover Letter Sample
Dear [Hiring Manager],
I am writing to express my interest in the Client Executive position at [Company Name]. With a Bachelor's degree in Business Administration and over ten years of client services experience, I am confident I am the ideal candidate to join your team.
Throughout my career, I have developed a strong passion for understanding customer needs and furnishing exceptional service. At my previous position, I created and managed a system to track customer grievances, complaints, and feedback, which drastically improved the customer experience and elevated the satisfaction levels.
My comprehensive industry experience and professional qualifications allow me to lead and effectively manage customer service operations. I am skilled in developing and implementing exceptional customer service strategies and initiatives that result in outstanding client engagement and long- term relationships. In addition, I have a proven track record of identifying potential growth opportunities, creating tailored solutions, and monitoring customer interactions.
I am confident that I can significantly contribute to the success of your team and would welcome the opportunity to discuss my qualifications in more detail. Thank you for your time and consideration.
Sincerely,
[Your Name]
Looking to improve your resume? Our resume examples with writing guide and tips offers extensive assistance.
What should a Client Executive cover letter include?
A Client Executive cover letter should include a few key elements that make it stand out from other letters. First, it should succinctly introduce yourself and state the position you are applying for. You should also make sure to showcase your relevant skills and experiences that would make you a great fit for the role.
In addition, the cover letter should explain why you are interested in the role and why you believe you have the qualifications and expertise to excel in it. Showcase any awards or other recognitions you have earned in your professional career and demonstrate how you have gone above and beyond in your current and past roles.
Finally, make sure to close the letter with a call- to- action. Let the hiring manager know that you are eager to discuss the opportunity further, and thank them for their time and consideration. This will leave a lasting impression and help them remember you as a qualified and passionate potential hire.
Client Executive Cover Letter Writing Tips
When applying for a Client Executive role, it is essential to have an outstanding cover letter. Before you write your cover letter, it is important to understand the basics of how to put together a successful cover letter. Here are some tips to help you write an excellent Client Executive cover letter:
Research the company: Do some research on the company you are applying to, including their mission and values. This information can be used to tailor your cover letter to the company and demonstrate your knowledge of their business.
Showcase relevant skills: Highlight any skills and experience that are relevant to the Client Executive role you are applying for. This could include managing client relationships, developing strategies, or identifying and solving problems.
Use a professional tone: Make sure your cover letter follows a professional tone and uses grammar and spelling that is free from errors. This will demonstrate that you have the attention to detail and professionalism needed for the role.
Keep it concise: Your cover letter should be no longer than one page. Make sure to include all relevant information, but avoid going into too much detail.
Show enthusiasm: Show your enthusiasm for the role and the company by expressing your interest in the role, and highlighting why you would be an excellent fit.
Following these tips will help you create a cover letter that stands out and helps you land the Client Executive role you are applying for.
Common mistakes to avoid when writing Client Executive Cover letter
Writing a good Client Executive cover letter is key to making a strong first impression with a potential employer. While the content of your cover letter is most important, there are some common mistakes that you should avoid to ensure that your cover letter stands out for the right reasons.
Not Customizing The Cover Letter: While it can be tempting to use the same cover letter for every job you apply for, this is a mistake that must be avoided. Employers can tell when a cover letter has been sent out in bulk, so make sure that you customize your cover letter for each position you are applying for.
Not Explaining Why You Would Be A Good Fit: Your cover letter is the perfect opportunity to explain why you would be the perfect fit for the position. Use this opportunity to explain why your skills and experiences make you the right candidate for the job.
Not Using The Right Tone: Your cover letter should be professional and polite. Avoid using any slang or overly- familiar language, as this could give the wrong impression to potential employers.
Not Researching The Company: It is important to do some research on the company before writing your cover letter. Make sure that you mention anything that you know about the company and why you would be a good fit for their team.
Not Proofreading: Proofreading your cover letter is key to making a good impression on potential employers. Even if you believe that everything is fine, it is still worth taking a second look over the letter for typos and other errors.
Key takeaways
A cover letter is an important document that, when done properly, can make you stand out from the competition for a client executive position. To write an impressive cover letter for a client executive position, here are some key takeaways to keep in mind:
Research the company: Learn as much as you can about the company to which you're applying to show that you're passionate and can contribute to the organization.
Make it relevant: Make sure that your cover letter is tailored to the specific position you're applying for and focuses on the skills that match the job requirements.
Show your enthusiasm: Your cover letter should show that you're passionate and enthusiastic about the job, and that you have the qualifications and experience necessary to do the job well.
Provide examples: Use examples from your professional experience to illustrate your qualifications and show the employer why you're the best person for the job.
Use a professional tone: Your cover letter should maintain a professional tone and be free from any errors.
Close with a call to action: Make sure to end your cover letter with a strong call to action. This could be a statement about when you're available for an interview, or an offer to provide additional information if needed.
Frequently Asked Questions
1.How do I write a cover letter for an Client Executive job with no experience?
Writing a cover letter when you have no experience in the role can be challenging because you need to demonstrate that you have the right skills and attributes to be successful. However, you can use this as an opportunity to focus on other qualities that make you a great candidate. Start by highlighting the skills you do have, such as the ability to learn quickly, lead projects and work well with others. Provide examples of how you have demonstrated these skills in past roles or activities. Then, explain why you are passionate about the role and the industry and why you are uniquely qualified for the position. Finally, close your letter with a positive and enthusiastic call to action.
2.How do I write a cover letter for an Client Executive job experience?
When you have experience in the Client Executive role, you can use your cover letter to demonstrate your expertise and show why you are the ideal candidate for the job. Start by introducing yourself and the role you are applying for. Then, explain the qualifications, skills, and experience that you have that make you a great fit for the job. Provide examples of your past successes and accomplishments and explain how they could be applied to the role. Finally, express your enthusiasm for the role and how you could contribute to the company.
3.How can I highlight my accomplishments in Client Executive cover letter?
When you are highlighting your accomplishments in your Client Executive cover letter, be sure to include concrete examples that demonstrate your success. Describe the initiatives you took on, the challenges you faced, and the results you achieved. Focus on the impact and value you have brought to the organization and explain how you could do the same in the role you are applying for. Additionally, include any awards or recognition you have received for your work to further demonstrate your accomplishments.
In addition to this, be sure to check out our cover letter templates, cover letter formats, cover letter examples, job description, and career advice pages for more helpful tips and advice.
Let us help you build
your Cover Letter!
Make your cover letter more organized and attractive with our Cover Letter Builder