Writing a resume for a veterinary assistant job can be tricky. It's important that your resume accurately reflects your skills and experience in the field. To stand out from the competition, you need to know what to include and how to write it so that recruiters will be impressed. This guide will provide you with examples and insider tips on how to craft a winning veterinary assistant resume that will help you get hired faster.
If you didn't find what you were looking for, be sure to check out our complete library of resume examples.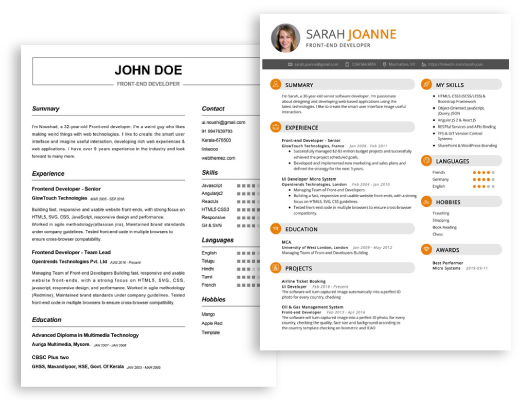 Start building your dream career today!
Create your professional resume in just 5 minutes with our easy-to-use resume builder!
Veterinary Assistant Resume Examples
John Doe
Veterinary Assistant
123 Main Street | Anytown, USA 99999 | Phone: (123) 456-7890 | Email: john.doe@email.com
I am an experienced and certified Veterinary Assistant with 4+ years of experience in animal care. My enthusiasm for animal care and excellent customer service has helped me to provide quality care and build strong relationships with pet owners. I have worked in both clinical and administrative settings, and have developed a broad range of skills in animal nutrition, diagnostics, and treatment techniques. I have a passion for working with animals, and strive to maintain a safe and comfortable environment for all animals.
Core Skills:
Animal Care and Handling
Medical Record Keeping
Customer Service
Animal Nutrition and Feeding
Diagnostics and Treatment Techniques
Sterile Techniques
Anesthesia Monitoring
Professional Experience:
Veterinary Assistant
PetSense Animal Clinic, Houston, TX
October 2016 – Present
Assist veterinarians in performing medical exams and treatments on animals, including administering medications, cleaning wounds, and providing general care
Ensure animals are comfortable and safe by monitoring anesthetized animals during medical procedures
Clean, maintain, and sterilize equipment and instruments
Restock supplies and maintain inventory
Educate pet owners on proper animal care, diet, and nutrition
Document animal medical histories
Education:
Bachelor of Science in Veterinary Science
University of Texas, Austin, TX
September 2014 – June 2016
Veterinary Assistant Resume with No Experience
Recent college graduate with excellent communication and organizational skills, eager to leverage interpersonal skills to excel as a Veterinary Assistant.
Skills
Exceptional interpersonal and communication skills
Highly organized and detail- oriented
Proficiency in Microsoft Office Suite
Ability to multi- task while remaining calm under pressure
Responsibilities
Ensure the health and safety of animals in the clinic
Adhere to safety protocols and follow doctor's instructions
Restrain animals as necessary for proper examination
Clean and sanitize examination areas and all equipment
Prepare and administer medications and vaccinations
Collect and prepare samples for laboratory testing
Monitor patient recovery and record treatment plans
Provide support to veterinarians and vet techs
Assist with the care and maintenance of animals in the clinic
Provide basic patient care such as feeding and bathing
Veterinary Assistant Resume with 2 Years of Experience
Dedicated Veterinary Assistant with two years of experience providing quality care and support to animal patients. Possess in- depth knowledge of animal behavior and handling, nutrition, and medical care. Skilled in monitoring vital signs, restraining pets during examinations and treatments, and assisting with laboratory testing procedures. Outstanding customer service skills, with the ability to collaborate with owners to convey accurate information regarding their pets.
Core Skills:
Animal handling and restraint
Animal nutrition and wellness
Medical terminology
Computerized medical record keeping
Laboratory testing procedures
Sterilization techniques
Vital sign monitoring
Patient comfort and safety
Responsibilities:
Assist veterinarians in surgeries and treatments.
Restrain pets and monitor vital signs during exams.
Perform laboratory tests.
Administer vaccinations, medications, and other treatments.
Clean and disinfect cages and examination areas.
Stock, order, and maintain medical supplies and equipment.
Monitor and document the health and behavior of patients.
Educate owners on pet care, nutrition, and behavior.
Veterinary Assistant Resume with 5 Years of Experience
Enthusiastic and hardworking Veterinary Assistant with 5 years of experience in providing support to veterinarians in the care and well- being of animals. Passionate about animal welfare and health, and highly experienced in providing excellent customer service to animal owners. Skilled in creating and maintaining accurate medical records, preparing prescriptions, and assisting with medical examinations.
Core Skills:
Animal Care
Customer Service
Veterinary Support
Medical Record Keeping
Drug Administration
Laboratory Analysis
Surgical Preparation
Equipment Maintenance
Vaccine Administration
Responsibilities:
Providing day to day support to veterinarians in the care and welfare of animals.
Assisting with medical examinations and treatments.
Creating and maintaining accurate medical records for each patient.
Administering medications, vaccines, and other treatments as prescribed.
Preparing and requesting laboratory samples for analysis.
Preparing surgical areas and instruments for surgery.
Cleaning, sterilizing, and organizing equipment used for examinations and treatments.
Providing excellent customer service to animal owners and responding to their inquiries.
Veterinary Assistant Resume with 7 Years of Experience
Highly motivated and organized Veterinary Assistant with seven years of experience in the animal care industry. Adept at working with a wide variety of animals and providing excellent patient care. Possess strong organizational and communication skills, able to effectively manage multiple tasks and prioritize under pressure. Highly knowledgeable of all medical terminology and treatment options.
Core Skills:
Animal care and handling
Patient assessment and monitoring
Veterinary medical terminology
Veterinary clinic procedures
Medication preparation
Surgical preparation and assistance
Laboratory sample collection
Vaccinations and preventive care
Professional and compassionate client service
Record- keeping and inventory management
Responsibilities:
Greeted patients and clients and provided them with exceptional customer service.
Assisted veterinarians with patient examinations, treatments, and surgeries.
Monitored animal behavior and vitals to detect any potential health concerns.
Cleaned and prepared examination rooms, equipment, and instruments.
Administered injections and medications under the supervision of veterinarians.
Collected and processed laboratory samples for testing.
Dressed and sutured wounds and performed basic laboratory tests.
Assisted with the maintenance of medical records and filing.
Ordered and managed medical supplies and medication inventory.
Educated clients on proper pet care and nutrition.
Veterinary Assistant Resume with 10 Years of Experience
Highly skilled and knowledgeable Veterinary Assistant with 10 years of experience providing quality support to veterinarians, animal owners and staff. Experienced in providing animal care, maintenance of medical records, and administrative tasks. Proficient at providing compassionate care to a variety of animals. Committed to adhering strictly to safety regulations and maintaining a clean, organized work environment.
Core Skills:
Animal Care
Medical Record Maintenance
Laboratory Procedures
Pharmacy Procedures
Customer Service
Animal Restraint
Administrative Support
Animal Behavior
Euthanasia Procedures
Equipment Maintenance
Responsibilities:
Provided compassionate care to a variety of animals, including domestic pets and livestock
Monitored and recorded the health of animals according to established procedures
Assisted veterinarians in the examination, diagnosis and treatment of animals
Administered medications and vaccinations as prescribed by veterinarian
Provided assistance in the collection of samples for laboratory testing
Maintained accurate records of animal care, treatments and medications
Restrained animals as needed for examination and treatment
Provided support to staff and veterinarians in the maintenance of a safe and sanitary work environment
Responded to inquiries from animal owners in a helpful and professional manner
Performed euthanasia procedures when necessary
Veterinary Assistant Resume with 15 Years of Experience
Motivated and experienced Veterinary Assistant with 15 years of professional experience. I have extensive knowledge of animal behavior and handling, medical terminology and office procedures, and am proficient in the use of both basic and complex medical equipment. In addition, I have excellent communication and customer service skills. I am committed to providing the highest level of care to both animals and their owners.
Core Skills:
Animal behavior and handling
Medical terminology and office procedures
Ability to use basic and complex medical equipment
Excellent communication and customer service skills
Ability to maintain professional standards
Knowledge of health and safety guidelines
Ability to multi- task and work in a fast- paced environment
Computer skills including MS Office, Excel and scheduling software
Responsibilities:
Providing compassionate care to animals in need
Maintaining and updating medical records
Assisting veterinarians with the treatment and care of animals
Administering medications and vaccinations as instructed
Cleaning and sterilizing medical equipment
Providing supportive care to owners regarding animal health
Assisting in the maintenance of facility cleanliness
Assisting in the ordering of medical supplies and equipment
Preparing and administering medications to animals, as directed.
In addition to this, be sure to check out our resume templates, resume formats, cover letter examples, job description, and career advice pages for more helpful tips and advice.
What should be included in a Veterinary Assistant resume?
Having the right skills and qualifications is essential to getting any job, but it's especially important when applying for a Veterinary Assistant role. A Veterinary Assistant resume should include all the necessary qualifications and experience you possess to be considered for the job. Here are some of the key components that should be included in your Veterinary Assistant resume:
Educational Background: Include any educational qualifications you have in the field of veterinary medicine, such as a degree from a veterinary technician program or a certification from a relevant course.
Work Experience: List any relevant experience you have in the veterinary industry, including the roles and responsibilities you held in each position.
Skills and Proficiencies: Outline any special skills or proficiencies you possess, such as knowledge of animal anatomy, experience handling animals, and proficiency with veterinary software.
Volunteering: If you have experience volunteering with animal shelters or other animal-related organizations, highlight it on your resume to show you are passionate about animal care.
Specialized Certifications: If you have any specialized certifications related to veterinary care, such as being a certified veterinary assistant, list them on your resume.
By including all the information listed above, you will have a comprehensive Veterinary Assistant resume that will be sure to catch the attention of recruiters and potential employers.
What is a good summary for a Veterinary Assistant resume?
A Veterinary Assistant resume should highlight the skills and experience needed to care for patients and work in a veterinary clinic. This includes a combination of hands-on animal care, administrative tasks, and customer service experience. The ideal candidate should be able to demonstrate a compassionate attitude towards animals, the ability to handle stressful situations, and an understanding of veterinary medical terminology. Additionally, the ideal candidate should also have excellent organizational and communication skills, be able to take direction, and be comfortable with computers. All these skills and experiences should be summarized in a Veterinary Assistant resume to present a comprehensive overview of the candidate's qualities and qualifications.
What is a good objective for a Veterinary Assistant resume?
A veterinary assistant is a valuable member of any veterinary team, providing key support to the veterinarian and veterinary technicians. A veterinary assistant must have a strong understanding of animal care, as well as excellent customer service skills. A good objective for a veterinary assistant resume should express the candidate's passion for animal care, as well as their professional goals.
To craft an effective objective for a veterinary assistant resume, consider the following points:
Showcase your passion for animal care: Your passion for animal care should be a major part of your objective statement. Showcase your commitment to the field and your dedication to helping animals by expressing your enthusiasm for the job.
Highlight related experience: List any prior experience you have working with animals, either in an animal hospital or elsewhere. Include any related certifications or credentials that you have obtained.
Emphasize your customer service skills: Veterinary assistants must have exceptional customer service skills to ensure their clients and their pets have a positive experience. Demonstrate your customer service skills in your objective statement.
Express your long-term goal: While your objective statement should express your immediate goals, it should also showcase any long-term goals or career aspirations that you may have.
By highlighting your experience, passion and goals, you will create an effective veterinary assistant resume objective that impresses employers.
How do you list Veterinary Assistant skills on a resume?
A Veterinary Assistant is an important member of a veterinary team, providing crucial support in a range of animal care tasks. A successful Veterinary Assistant resume should clearly demonstrate a candidate's knowledge of basic medical procedures, animal behavior, and emergency care. When writing your resume, be sure to accurately list all relevant skills.
Here are some Veterinary Assistant skills to include on your resume:
Assisting veterinary surgeons in performing medical procedures
Administering medications and vaccinations
Monitoring animal behavior in the clinic
Maintaining medical records related to patient care
Preparing and administering treatment plans
Restraining animals during medical examinations
Taking vital signs such as heart rate, temperature and respiration
Cleaning and sterilizing surgical equipment
Cleaning and maintaining animal housing areas
Providing basic grooming services
Educating pet owners on health maintenance and preventive care
Collecting laboratory specimens
Monitoring patients during anesthesia
Providing emergency care
Assisting with euthanasia procedures
What skills should I put on my resume for Veterinary Assistant?
When writing your resume for a Veterinary Assistant position, it's important to include the skills that you offer that will make you an ideal candidate for the job. Here are a few skills to consider putting on your resume:
Animal Handling: A Veterinary Assistant must be comfortable and knowledgeable in the handling of animals, and able to do so in a safe and gentle manner.
Communication: Veterinary Assistants need to be able to effectively communicate with clients, other veterinary staff, and the animals they're working with. This means having strong written and verbal communication skills.
Detail-Oriented: Veterinary Assistants must be able to keep detailed records of services provided and treatments given to animals. They must also be able to follow instructions and protocols accurately.
Multi-Tasking: As a Veterinary Assistant you may be asked to take on multiple tasks for different animals and clients. This requires the ability to efficiently and accurately complete multiple tasks at the same time.
Physical Stamina: A Veterinary Assistant is expected to be able to lift, stand and walk for extended periods of time.
Computer Skills: This role requires the ability to use computer programs to enter and track patient information.
Having a resume that reflects these skills can help you stand out as an ideal candidate for the Veterinary Assistant position.
Key takeaways for an Veterinary Assistant resume
When writing your Veterinary Assistant resume, it is important to showcase your skills and experience that are relevant to the role you are applying for. Here are some key takeaways to keep in mind when crafting your Veterinary Assistant resume:
Highlight your skills related to veterinary care. Include any specific experience you have with pet care, handling, diagnosis, and treatment.
Showcase any certifications or diplomas you have obtained related to your work as a Veterinary Assistant.
Be sure to detail any experience you have working with both animals and people. Veterinary Assistants must be able to communicate effectively with both.
Include any additional knowledge you have of veterinary procedures, laboratory tests, and medical terminology.
Provide examples of your problem-solving skills. Veterinary Assistants must be able to think on their feet and troubleshoot quickly.
Showcase any organizational skills you possess. Veterinary Assistants often deal with multiple tasks and animals simultaneously.
By including these key takeaways in your Veterinary Assistant resume, you will be well-positioned to stand out from the competition. With the right resume, you can make a lasting impression with a potential employer and be sure you have the best chance of getting the job.
Let us help you build
your Resume!
Make your resume more organized and attractive with our Resume Builder