Having a well-crafted travel coordinator resume is key to gaining an edge in a competitive job market. The travel coordinator resume is a specialized document, requiring detailed knowledge of the industry and specific skills. Crafting a great resume is not easy and often requires significant research. This guide will provide detailed advice and examples to help you create a resume that stands out from the competition and successfully lands you the travel coordinator position you desire.
If you didn't find what you were looking for, be sure to check out our complete library of resume examples.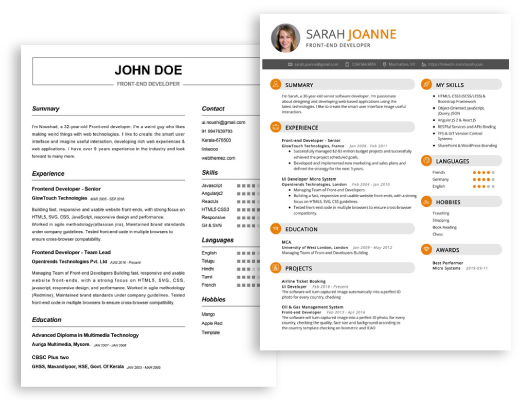 Start building your dream career today!
Create your professional resume in just 5 minutes with our easy-to-use resume builder!
Travel Coordinator Resume Examples
John Doe
Travel Coordinator
123 Main Street | Anytown, USA 99999 | Phone: (123) 456-7890 | Email: john.doe@email.com
A highly motivated and organized individual with 5+ years of experience as a Travel Coordinator. Possessing a proven track record of successfully arranging flights, accommodations and ground transportation for business and leisure travelers. Skilled in working with a variety of computerized travel reservation systems and offering excellent customer service.
Travel Coordinator Core Skills:
Flight, hotel, and ground transportation booking
Experienced in various computerized travel reservation systems
Excellent customer service and communication
Strong organizational, multi- tasking and problem- solving skills
Skilled in negotiating and obtaining discounted rates
Proficient in Microsoft Office Suite
Professional Experience:
Travel Coordinator, ABC Company, 2018- Present
Arrange, book and manage travel details for all business and leisure travelers
Negotiate and obtain discounted rates with airlines, hotels and other vendors
Ensure accuracy of all travel arrangements and documentation
Create and provide travel itineraries with all necessary information
Handle customer inquiries and resolve any issues in a timely manner
Travel Coordinator, XYZ Company, 2015- 2018
Booked and managed travel for all business and leisure travelers
Utilized various computerized travel reservation systems to book flights, hotels and ground transportation
Analyzed customer needs to make appropriate travel arrangements
Provided excellent customer service and resolved any customer inquiries
Obtained discounted rates for flights and accommodations
Education:
Bachelor of Science, Business Administration, ABC University, 2015
Travel Coordinator Resume with No Experience
Recent college graduate with a degree in Business Administration and an interest in travel and hospitality industries. Seeking an entry- level Travel Coordinator position that will utilize my passion for helping others and organizational skills.
Skills
Organizational Skills
Excellent Communication Skills
Problem- Solving Skills
Project Management
Attention to Detail
Ability to Handle Multiple Tasks
Responsibilities
Develop travel plans according to customer/business needs
Determine best flight, hotel, and car rental options
Research travel destinations and provide recommendations
Process travel requests and bookings
Assist with visa, passport, and other travel document applications
Coordinate ground transportation arrangements
Ensure compliance with travel policies and regulations
Provide customer service and support during travel
Prepare travel expense reports
Monitor and maintain travel budget
Resolve any travel- related issues or complaints
Travel Coordinator Resume with 2 Years of Experience
Highly organized, detail- oriented Travel Coordinator with two years of experience in the travel industry. Proven ability to manage complex travel arrangements and coordinate with multiple stakeholders to ensure successful trips. Leverages customer service, problem solving, and decision making skills to provide a seamless customer experience, while managing costs and minimizing risk.
Core Skills:
Project Management
Communication
Problem Solving
Customer Service
Cost Control
Risk Management
Multi- Tasking
Responsibilities:
Coordinating business travel, including booking flights, hotels and car services
Ensuring compliance with company travel guidelines
Developing cost- effective travel solutions
Monitoring changes in travel regulations
Tracking and reconciling travel expenses
Responding to travelers' inquiries and resolving any issues
Liaising between travelers and vendors
Creating detailed travel reports and presenting updates to senior management
Travel Coordinator Resume with 5 Years of Experience
Highly motivated, organized, and detail- oriented Travel Coordinator with 5 years of experience in coordinating travel plans for business and leisure clients alike. Possesses a strong customer service background and exceptional problem- solving skills. Experienced in creating and managing travel itineraries, scheduling flights, organizing travel documentation, and providing customer service to clients. Exceptional organizational skills, including the ability to work under tight timelines and adhere to all travel rules and regulations.
Core Skills
Administration & Organizational skills
Customer Service
Problem Solving
Communication
Negotiation
Multitasking
Negotiation
International Travel Planning
Budget Management
Responsibilities
Establishing and maintaining relationships with airlines, hotels, and other travel providers to get the best deals for clients
Analyzing and negotiating contracts with service providers in order to get the best rates and terms
Developing and recommending travel itineraries, airline tickets, hotel accommodations and other travel arrangements
Coordinating the booking and payment of travel arrangements and ensuring accuracy of all information
Maintaining up- to- date records of all travel arrangements
Resolving any issues related to travel arrangements and providing customer service
Keeping updated with changes in the travel industry and providing advice to clients regarding destinations, travel policies, and other related topics
Creating reports, budget summaries, and travel summaries for clients.
Travel Coordinator Resume with 7 Years of Experience
Dynamic and detail- oriented Travel Coordinator with 7 years of experience in arranging and planning various types of business travel. Successful track record in managing travel trips, including air and ground transportation, hotel accommodations, and other business travel services. Skilled in working with travel agents to get the best possible prices and vouchers. Able to handle complex administrative and organizational needs.
Core Skills:
Extensive knowledge of travel management and coordination
Proven ability to deal with international vendors
Proven experience with travel booking systems
Self- motivated with excellent problem- solving abilities
Strong communication and interpersonal skills
High level of detail orientation and organizational ability
Responsibilities:
Planning and booking travel arrangements for corporate staff
Liaising with travel agents to get the best prices and vouchers
Managing travel expenses and preparing expense reports
Coordinating ground transportation for business travelers
Ensuring appropriate accommodations for business travelers
Updating corporate travel policy and procedures
Assisting with travel insurance, passports, and visas
Answering inquiries about travel arrangements and policies.
Travel Coordinator Resume with 10 Years of Experience
Highly experienced Travel Coordinator with 10 years of experience in the tourism industry. Comprehensive knowledge of international travel regulations, travel planning, and budgeting. Ability to manage multiple tasks, organize and prioritize work, and efficiently interact with different customers. Outstanding problem- solving skills; able to identify and resolve complex travel issues.
Core Skills:
Travel Planning
Budgeting
International Travel Regulations
Customer Service
Multi- Tasking
Problem Solving
Time Management
Responsibilities:
Arranged flights, hotels and car rentals for customers according to their specifications
Coordinated and scheduled business trip for clients
Negotiated with travel vendors to get the best deal for customers
Provided advice on what to do when customers have problems during their trips
Assisted customers in applying for visas and passports if necessary
Maintained up- to- date records of all travel bookings
Ensured all travel related documents are complete and accurate
Updated and monitored the availability of hotel rooms and car rentals to ensure all customers get the best deal
Provided accurate travel information to clients and answered their questions regarding travel regulations, visa requirements, and travel costs
Researched new travel destinations and activities to offer as additional travel options to customers
Travel Coordinator Resume with 15 Years of Experience
Highly organized Travel Coordinator with 15 years of experience in managing travel, creating itineraries, and coordinating expenses for large groups. Adept at researching and resolving travel issues, maintaining detailed records, and providing excellent customer service. Possesses a deep knowledge of travel and logistics, an eye for detail, and a passion for providing excellent support to travelers.
Core Skills:
Organizational and scheduling expertise
Travel expertise and logistics
Excellent problem solving and research abilities
Strong customer service skills
Excellent written and verbal communication
Proficiency in Microsoft Office, Google G- Suite, and online travel software
Responsibilities:
Coordinating group travel arrangements, such as flights, accommodations, and rental cars
Researching and comparing travel options to identify the best deals
Creating and managing detailed itineraries for travel groups
Calculating and tracking travel- related expenses
Managing documentations such as visas and passports
Verifying and updating traveler information in the system
Providing customer service and support to travelers before, during, and after their trips
Ensuring compliance with relevant government regulations and policies
In addition to this, be sure to check out our resume templates, resume formats, cover letter examples, job description, and career advice pages for more helpful tips and advice.
What should be included in a Travel Coordinator resume?
Travel Coordinators, also known as Tour Managers, are responsible for the organization, planning and management of travel arrangements for clients, typically for business-related trips. As such, Travel Coordinators must be organized, detail-oriented and have excellent customer service skills. When writing a resume for this position, there are certain key points that should be included to best demonstrate your experience and qualifications for the job.
Significant experience in customer service, preferably in the travel industry
Proficiency in using travel software programs and the ability to navigate websites for research
Demonstrated ability to effectively manage multiple projects and assignments
Ability to coordinate complex travel arrangements, including airline and hotel bookings, itineraries and transportation
Knowledge of domestic and international travel regulations, visa/passport requirements and other relevant procedures
Excellent communication, organizational and problem-solving abilities
Proven track record of providing outstanding customer service
Ability to work independently and to manage projects under tight deadlines
Experience in managing group travel arrangements, including tour itineraries and group transportation
By including these points in your resume, you will be able to demonstrate that you are the ideal candidate for a Travel Coordinator position.
What is a good summary for a Travel Coordinator resume?
A travel coordinator is an individual who assists in the coordination and organization of travel for an organization. The primary duties of a travel coordinator are to manage the logistics and details of business trips, such as making flight and hotel reservations, transportation arrangements, and providing support to travelers while they are away.
A good summary for a travel coordinator resume should highlight the professional's experience in the coordination of business travel, their knowledge of international destinations, and their ability to handle last-minute changes. It should also mention any additional skills the individual might have, such as fluency in a second language, understanding of cultural customs, or experience in customer service. A travel coordinator should also demonstrate their organization, time management, and problem-solving skills. A strong summary should showcase all of these qualities to provide a comprehensive overview of the individual's qualifications.
What is a good objective for a Travel Coordinator resume?
A travel coordinator is responsible for organizing and managing travel-related services for businesses and organizations. When preparing a resume for a travel coordinator role, it is important to include a clear and concise objective that outlines your skills, experience, and qualifications. Here are some potential objectives for a travel coordinator resume:
Experienced travel coordinator seeking to leverage 5 years of experience in organizing and managing international and domestic business trips
Utilizing strong customer service and problem-solving skills to provide quality travel services for clients
Proven ability to devise efficient travel plans and handle complex travel arrangements in an efficient manner
Highly motivated travel professional aiming to bring top-notch organizational and management expertise to the role
Seeking a travel coordinator role to leverage comprehensive knowledge of booking systems, travel regulations, and airline policies
Dedicated individual hoping to use strong interpersonal and communication skills to provide superior travel services for customers
Energetic and organized professional looking to join a dynamic organization as a travel coordinator and help create positive travel experiences for clients
How do you list Travel Coordinator skills on a resume?
When writing a resume for a travel coordinator position, you'll want to include an accurate representation of your skills. This can be difficult since travel coordinators need to possess a wide array of qualifications in order to be successful in the role. To ensure that your resume adequately reflects your abilities, here are some travel coordinator skills to consider including:
Knowledge of Travel Industry Best Practices: As a travel coordinator, you need to be aware of the latest travel industry trends and best practices to ensure the most cost-effective and efficient trips for your clients.
Budget Management: To ensure trips are within budget, you must be able to accurately monitor and manage all travel expenditures.
Negotiation Skills: From negotiating with airlines and hotels to finding the best deals, strong negotiation skills are essential for this role.
Problem Solving: As a travel coordinator, you will need to be able to quickly assess and solve problems that arise during a trip.
Communication: You will need to be able to effectively communicate with people from all backgrounds and levels of seniority in order to secure the best deals and services for your clients.
Attention to Detail: To ensure trips run smoothly, travel coordinators need to have a keen eye for detail in order to avoid costly mistakes.
Time Management: As a travel coordinator, you need to be able to effectively manage your time in order to effectively coordinate trips and manage costs.
By including these essential travel coordinator skills on your resume, you can showcase your qualifications and demonstrate to potential employers that you are the best fit for the job.
What skills should I put on my resume for Travel Coordinator?
When applying for a travel coordinator role, there are certain essential skills you should highlight on your resume that demonstrate your knowledge, experience and qualifications. As a travel coordinator, you must be well-versed in the latest travel regulations and have the ability to manage a variety of tasks.
To get noticed, consider including the following skills on your resume:
Attention to Detail: As a travel coordinator, you must be detail-oriented and able to review a variety of documents and ensure accuracy.
Customer Service: You must have excellent customer service skills to effectively handle customer inquiries, as well as handle any complaints in a professional manner.
Booking Experience: You should have extensive experience in booking travel arrangements including flights, hotels, car rentals, and other transportation.
Problem Solving: As a travel coordinator, you must be able to troubleshoot any issues that arise and come up with creative solutions.
Multitasking: You must be able to manage multiple tasks at once and prioritize them based on urgency.
Negotiation Skills: You should possess the ability to negotiate with vendors and suppliers to get the best deals for your clients.
By including these skills on your resume, you can demonstrate to employers that you have the necessary qualifications to be an effective travel coordinator.
Key takeaways for an Travel Coordinator resume
When applying for the role of Travel Coordinator, a well-crafted resume can be the difference between getting an interview and being overlooked. To maximize the effectiveness of your resume, there are a few key takeaways to keep in mind.
First, include detailed information about your experience providing travel services. List any specific tasks you completed, such as coordinating transportation and accommodations, as well as any relevant certifications or awards. These details will demonstrate to potential employers your qualifications and level of expertise.
Second, make sure to emphasize your organizational skills. As a Travel Coordinator, you will be responsible for managing large amounts of data and ensuring accuracy. Demonstrate your ability to do so by highlighting any past projects or initiatives you have coordinated.
Third, emphasize your interpersonal skills. As a Travel Coordinator, you will be responsible for interacting with clients and vendors. Describe the excellent customer service you have provided and any qualifications you have that will help you build relationships with those you will work with.
Finally, highlight any other relevant experience. If you have any experience in accounting, computer software, or other related fields, make sure to include it. By emphasizing your transferable skills, you can show employers that you have the capacity for more than just travel coordination.
By following these takeaways, you can craft a resume that will stand out from the competition. Good luck!
Let us help you build
your Resume!
Make your resume more organized and attractive with our Resume Builder