Are you a tour operator looking to write an effective resume that stands out from the crowd and attracts attention? With the right information and examples, crafting a great resume can be easier than you think. This guide will provide all the tips and tricks you need to write an effective tour operator resume that will help you get noticed and land the job you want. We'll look at what to include in your resume, example resumes, and how to best present yourself with the right language. With this guide, you'll be able to write a compelling tour operator resume that will capture the attention of hiring managers and get you the job you're after.
If you didn't find what you were looking for, be sure to check out our complete library of resume examples.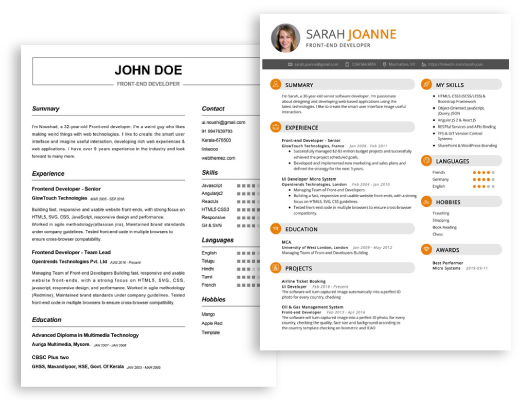 Start building your dream career today!
Create your professional resume in just 5 minutes with our easy-to-use resume builder!
Tour Operator Resume Examples
John Doe
Tour Operator
123 Main Street | Anytown, USA 99999 | Phone: (123) 456-7890 | Email: john.doe@email.com
A highly experienced and knowledgeable tour operator, with a strong track record of success in the travel industry. I have acquired an impressive set of core competencies in customer service, sales, and operations, with a strong ability to identify, develop, and implement successful solutions for clients. I have a passion for travel and a drive to exceed expectations and deliver an exceptional customer experience.
Core Skills:
Excellent customer service skills
Sales and marketing expertise
Skilled in operations and logistics
Problem solving and creative solutions
Ability to manage multiple projects
Excellent organizational and time management
Professional Experience:
Tour Operator, XYZ Tours, May 2020 – Present
Managed group tours, planned itineraries, and ensured a positive customer experience
Developed tour packages, handled customer enquiries and bookings, and provided support for customers
Assisted with marketing campaigns, and improved the visibility of the tour packages
Developed relationships and maintained communication with vendors, hotels, and transportation providers
Education:
Bachelor of Business Administration, University of ABC, 2018- 2021
Tour Operator Resume with No Experience
Recent graduate with a passion for travel and tourism, seeking an entry- level Tour Operator position to gain experience in the industry. Possessing excellent organizational and communication skills, as well as a strong commitment to customer service.
Skills
Organizational Skills
Customer Service
Verbal Communications
Tourism Knowledge
Computer Skills
Multilingual (English, Spanish, and French)
Responsibilities
Provide customer assistance in selecting and customizing tour packages
Set up, process and finalize bookings for all customers
Manage customer inquiries and provide advice on travel destinations
Create itineraries and book tickets and accommodation
Coordinate travel arrangements, including transfers and car rental
Manage customer complaints and provide timely solutions
Ensure that all travel documents are in order
Keep current records of customer bookings
Develop and maintain good relationships with suppliers
Tour Operator Resume with 2 Years of Experience
Dynamic and experienced tour operator with 2 years of experience in the tourism industry. Possesses extensive knowledge about the industry, including related legislation, safety policies and procedures, customer service, and tour planning and execution. Ability to work independently, multitask effectively and think on their feet in order to provide customers with a safe and enjoyable experience.
Core Skills:
Tourism operations and customer service
Tour planning and execution
Ability to work independently
Safety policies and procedures
Strong organizational skills
Excellent communication skills
Responsibilities:
Assisted in the planning and execution of tours, ensuring that customers received the best possible experience.
Monitored and enforced safety policies and procedures during all tours to ensure that customers were safe and had a positive experience.
Maintained strong customer service standards, ensuring that all customers were satisfied with their experience.
Managed customer inquiries and complaints, providing timely and effective resolutions.
Developed and implemented new ideas and strategies to improve the tour experience and customer satisfaction.
Coordinated with various vendors and suppliers to ensure the smooth running of tours.
Provided detailed information and advice to customers on a range of topics, including routes, locations, accommodation, and other relevant information.
Tour Operator Resume with 5 Years of Experience
A motivated and reliable Tour Operator with five years of success in the travel industry. Possess considerable expertise in areas such as booking and managing tour packages, utilizing online reservation systems, and client service. Proven ability to communicate effectively with customers, work collaboratively in teams, and handle tour operations with efficiency and accuracy.
Core Skills:
Travel planning
Tour packages and reservations
Client service and relations
Team cooperation and collaboration
Online reservation systems
Negotiation and problem- solving
Scheduling and itineraries
Time management and organization
Responsibilities:
Book and manage tour packages, ensuring they are within budget and up to customer requirements.
Assist customers with queries, complaints, and needs throughout the booking process.
Utilize online reservation systems to book tours and provide travel advice.
Prepare and review itineraries for tours and ensure accuracy.
Negotiate with vendors for favorable prices on tour packages.
Ensure all tour details are documented properly and all customer needs are met.
Develop and maintain relationships with vendors, clients, and other stakeholders.
Manage tour operations, including scheduling, coordinating, and monitoring.
Monitor customer feedback and work to resolve any issues.
Update customer database and ensure all records are accurate.
Tour Operator Resume with 7 Years of Experience
Highly organized and efficient Tour Operator with 7+ years of experience monitoring and organizing tours for individuals and businesses. Demonstrated ability to coordinate and manage itineraries, book transportation and accommodations, and ensure that all tour participants adhere to safety measures. Experienced in researching and preparing tour packages to suit varying needs. Empathetic to the needs of others, with a focus on providing the best travel experience possible.
Core Skills:
Tour Coordination and Management
Customer Service
Travel Planning & Research
Budgeting & Cost Management
Financial Planning & Analysis
Accommodation & Transportation Booking
Excellent Communication
Conflict Resolution
Responsibilities:
Developed and managed tour packages, including effective itineraries and pricing
Researched local attractions, accommodations and transportation options to accommodate the needs of the tour participants
Booked and secured accommodations, transportation and other services necessary for successful tours
Monitored the budget and ensured that the tour packages adhered to the planned budget
Coordinated with the relevant tour operators to ensure a smooth and efficient operation
Developed and maintained positive relationships with tour participants
Ensured that safety measures and regulations were followed throughout the duration of the tour
Assisted in the resolution of conflicts between tour participants and tour operators
Tour Operator Resume with 10 Years of Experience
An experienced and organized Tour Operator with 10 years of experience in creating, promoting, and coordinating travel packages for individual clients and large groups. Experienced in conducting research on tourist attractions, transportation options, and accommodation facilities to ensure the best travel experience for clients. Excellent written and verbal communication skills, with the ability to create itineraries that reflect the interests and wishes of the customer.
Core Skills:
Excellent organizational and communication skills
Proficiency in customer service and problem- solving
Ability to develop custom travel packages
Knowledge of relevant computer programs and applications
Familiarity with customer booking systems
Proficiency in budgeting and financial management
Ability to track customer service trends
Responsibilities:
Develop and arrange custom travel packages based on customer preferences
Maintain customer databases and track customer service trends
Coordinate transportation and accommodation bookings
Manage customer bookings and resolve customer complaints
Provide customer service and support
Monitor customer feedback and provide solutions to improve customer experience
Research tourist attractions and suggest new travel options
Negotiate rates with vendors to ensure competitive pricing
Research market trends and follow up on promotional opportunities
Analyze customer data to optimize travel packages
Prepare and present customer loyalty programs
Tour Operator Resume with 15 Years of Experience
Highly efficient and organized Tour Operator with over 15 years of experience in the tourism and hospitality industry. A creative problem- solver and excellent communicator with a keen eye for detail and the ability to coordinate and manage small and large tour groups. Experienced in arranging travel and accommodation, creating itineraries, meeting deadlines and ensuring the safety and satisfaction of customers. Possesses a commitment to exceeding customer expectations and providing a positive travel experience for all.
Core Skills:
Tour Operational Management
Itinerary Planning & Coordination
Customer Service & Satisfaction
Group Management & Leadership
Team Coordination & Supervision
Contract Negotiations & Management
Budget & Inventory Management
Risk Management & Crisis Intervention
Marketing & Promotions
Travel & Accommodation Arrangements
Responsibilities:
Develop and manage customized tour packages to meet the needs of clients
Coordinate with travel agencies, hotels, and other partners to ensure cost- effective and efficient group travel arrangements
Create detailed itineraries and ensure the safety and satisfaction of all tour group members
Organize and manage budgets, contracts, and inventory of supplies and equipment
Lead and supervise tour group leaders, ensuring all tasks are completed correctly and on time
Provide orientation and training to tour group leaders and staff
Negotiate and manage contracts with providers, airlines, and other vendors
Ensure compliance with all local and international laws and regulations
Provide customer service and resolve conflicts as needed
Develop and implement marketing and promotional activities to attract customers
In addition to this, be sure to check out our resume templates, resume formats, cover letter examples, job description, and career advice pages for more helpful tips and advice.
What should be included in a Tour Operator resume?
A tour operator resume should showcase the skills and experience of the person applying for the job. It should also demonstrate the applicant's understanding of the industry, as well as their knowledge of the specific roles and responsibilities that go along with being a tour operator. Here are some essential points to include on a tour operator resume:
Professional Summary: Begin the resume with a brief summary that clearly states the applicant's qualifications and capabilities.
Employment History & Education: List the applicant's prior positions and educational background, with emphasis on any related work experience in the tourism industry.
Tourism & Travel Skills: Describe the applicant's proficiency in handling the various aspects of tourism and travel, such as planning itineraries, negotiating prices, and resolving customer complaints.
Knowledge of Destinations: Showcase the applicant's knowledge of popular destinations and the attractions they have to offer.
Interpersonal & Communication Skills: Stress the applicant's ability to effectively communicate and interact with travelers and other professionals in the industry.
Leadership & Management Qualities: Highlight how the applicant can manage and lead a team of tour guides and provide direction when needed.
Technical Skills: Showcase the applicant's knowledge of booking systems and other technology used in the tourism industry.
Organizational Skills: Demonstrate the applicant's ability to efficiently plan and organize tours and activities.
Customer Service & Problem-Solving: Describe the applicant's ability to provide excellent customer service and to effectively resolve any issues that may arise during the tour.
What is a good summary for a Tour Operator resume?
A Tour Operator resume should summarize an applicant's experience and qualifications relevant to the position. It should clearly highlight skills such as knowledge of different destinations, experience in travel planning, customer service abilities, and the ability to work with a diverse group of clients. It should also highlight any abilities to work in a team environment, handle customer complaints, and demonstrate an understanding of travel industry trends. A good summary should show the hiring manager that the applicant is experienced in handling the various facets of the job, including overseeing reservations and bookings as well as marketing tour packages and services. Finally, the resume should demonstrate the applicant's enthusiasm for the position, as well as any experience in customer service or problem solving.
What is a good objective for a Tour Operator resume?
A resume objective is an important part of a tour operator's resume as it can showcase the skills and experience that make you an ideal candidate for the role. A good tour operator resume objective should highlight your expertise in the field, as well as your commitment to giving customers the best possible experience.
To help you create a compelling resume objective, here are some tips:
Highlight relevant experience: Use your resume objective to emphasize the experience you have that is relevant to the tour operator role. Be sure to mention any past positions you have held that involve customer service, travel planning, and handling groups of people.
Showcase your customer service skills: Tour operators must have excellent customer service skills. Use your resume objective to highlight your ability to remain calm and professional in any situation, as well as your proficiency in handling different types of customers.
Emphasize your organizational abilities: Tour operators must be able to plan complex trips, so use your resume objective to show off your organizational skills. Be sure to mention any experience you have with trip planning and organizing travel itineraries.
Demonstrate your ability to stay on budget: Tour operators also need to be able to stick to a budget and make sure that their trips are cost-effective. Use your resume objective to demonstrate your knowledge of budgeting and your ability to find the best deals for customers.
By creating a resume objective that emphasizes your relevant experience, customer service skills, organizational abilities, and budgeting skills, you will be sure to stand out to potential employers and show them that you are the ideal candidate for the tour operator role.
How do you list Tour Operator skills on a resume?
When applying for a job as a tour operator, your resume should highlight the skills and abilities that make you the perfect candidate for the position. To make sure your qualifications stand out, follow these tips for adding tour operator skills to your resume.
Demonstrated knowledge of travel and tourism: Tour operators should have an extensive knowledge of travel and tourism, including popular tourist destinations, types of accommodations, and modes of transportation.
Strong organizational skills: Tour operators are expected to be detail-oriented, organized, and efficient when planning trips and creating itineraries.
Excellent customer service: Tour operators should be friendly and personable to ensure their customers have a positive experience on their trip.
Adaptability and problem solving: Tour operators need to be able to think on their feet, quickly solve problems, and make decisions in a fast-paced environment.
Multilingual: For many tour operators, the ability to speak multiple languages is essential.
Sales experience: Being able to upsell and generate more revenue is important for many tour operators.
Adding this information to your resume can help potential employers recognize your qualifications and make you stand out from the crowd. The key is to highlight your tour operator skills in a concise and professional manner.
What skills should I put on my resume for Tour Operator?
A Tour Operator is a professional responsible for the coordination and efficient execution of group vacation experiences and tours. As such, having the right skills on your resume is essential for success in this role. Here are some of the key skills to consider when preparing your resume for a Tour Operator position:
Flexibility: Tour Operators must be able to adjust schedules, routes, and other components of a tour package in order to accommodate changes and/or unexpected events.
Organization: Being able to organize groups, manage itineraries, and keep track of financial and logistical details is essential for success in this role.
Communication: Tour Operators must be effective communicators, both verbally and in writing. This includes being able to write clear, concise itineraries and provide detailed instructions to tour members.
Customer Service: Tour Operators must provide excellent customer service to ensure that tour members have a positive and enjoyable experience.
Problem-Solving: Tour Operators must be able to think quickly and come up with creative solutions to any problems that may arise.
Attention to Detail: This role requires a keen attention to detail in order to ensure that all elements of a tour are planned and executed correctly.
Time Management: Tour Operators must be able to manage their time effectively in order to ensure that all aspects of a tour are completed in a timely manner.
Key takeaways for an Tour Operator resume
As a tour operator, your resume needs to show potential employers that you have the necessary experience and qualifications to succeed in the job. To ensure that you stand out amongst the competition, focus on highlighting your strong points, such as your organizational skills, problem-solving abilities, customer service experience, and ability to handle multiple tasks. In addition, your resume should demonstrate your knowledge of the tourism industry, such as the local attractions, popular tourist destinations, and other related topics to your potential employers.
Here are some key takeaways for a tour operator resume:
Demonstrate your knowledge of the tourism industry: Showcase your expertise in the tourism industry by highlighting your knowledge of popular tourist destinations, attractions, and other related topics.
Highlight your organizational skills: Tour operators must be organized and able to handle multiple tasks. Make sure to emphasize your organizational abilities on your resume.
Showcase your problem-solving skills: Tour operators often face unexpected issues and must quickly think of solutions on their feet. Make sure to demonstrate your problem-solving skills on your resume.
Demonstrate your customer service experience: Tour operators must be able to provide excellent customer service. Show employers that you have the necessary experience by emphasizing your customer service skills on your resume.
Keep it concise: Your resume should be no more than two pages long. Make sure to include only the most important information to keep your resume concise and easy to read.
By following these key takeaways for a tour operator resume, you can be sure to make a great impression on potential employers and increase your chances of landing the job you're after. Good luck!
Let us help you build
your Resume!
Make your resume more organized and attractive with our Resume Builder