Applying for a job as a UPS Supervisor? Writing a resume for this role is no easy task. It requires a thorough understanding of the job description and the ability to accurately highlight the necessary skills and experience. This guide will provide you with tips and examples to help you create a standout resume that will leave a lasting impression on potential employers. You'll learn how to craft a strong resume summary statement and how to organize the different sections of your resume to showcase your qualifications. With these tips in hand, you'll be well on your way to landing an interview.
If you didn't find what you were looking for, be sure to check out our complete library of resume examples.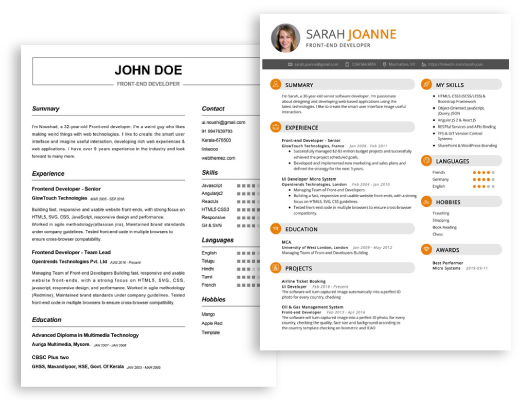 Start building your dream career today!
Create your professional resume in just 5 minutes with our easy-to-use resume builder!
UPS Supervisor Resume Examples
John Doe
UPS Supervisor
123 Main Street | Anytown, USA 99999 | Phone: (123) 456-7890 | Email: john.doe@email.com
I am a highly experienced UPS Supervisor with over 8 years of successful oversight of ground delivery operations. My core competencies include staff management, customer service, problem solving, team building, and process optimization. I have a proven track record of overseeing the scheduling and routing of deliveries, developing strategies to improve efficiency and customer satisfaction, and resolving customer complaints in a professional and timely manner. I am looking for an opportunity to use my skills to benefit an organization and to take on a role that has greater responsibilities.
Core Skills:
Staff Management
Customer Service
Problem Solving
Team Building
Process Optimization
Scheduling & Routing
Strategic Planning
Analytical Thinking
Communication
Time Management
Professional Experience:
UPS – Supervisor
Managed a team of 15 ground delivery staff, responsible for the daily scheduling and routing of packages.
Developed and implemented strategies to improve efficiency and customer satisfaction.
Resolved customer complaints in a professional and timely manner.
Monitored employee performance and provided feedback and coaching to ensure that standards were met.
Generated detailed performance reports and used them to make strategic decisions.
Communicated with vendors to ensure timely delivery of materials.
UPS – Delivery Driver
Delivered packages using company vehicles in a timely and safe manner.
Assisted customers with package handling and loading/unloading.
Recorded delivery information accurately.
Followed all safety protocols.
Education:
High School Diploma, XYZ High School, 2016
UPS Supervisor Resume with No Experience
Highly motivated and hardworking individual looking to begin a career in UPS as a Supervisor. Possesses strong organizational and communication skills and has a basic understanding of customer service principles. Eager to apply knowledge to help streamline UPS operations.
Skills:
Excellent communication and interpersonal skills
Strong organizational and problem- solving skills
Basic understanding of customer service principles
Ability to manage multiple tasks simultaneously
Proficient in MS Office, Word, Excel and Outlook
Responsibilities:
Monitor daily operations and supervise staff
Ensure compliance with company policies and regulations
Train, develop and motivate staff to achieve goals
Manage and resolve conflicts as needed
Analyze and resolve customer complaints in a timely manner
Develop and implement procedures to improve operational efficiency
Coordinate and oversee daily work schedules
Create reports and presentations to senior management
Monitor inventory levels and ensure efficient stocking of products
UPS Supervisor Resume with 2 Years of Experience
A highly organized and motivated professional, I have two years of experience as a UPS Supervisor. My experience has equipped me with the leadership and communication skills needed to manage a team and keep operations running smoothly. I am experienced in areas such as staff management, problem- solving, and customer service. I am committed to the success of the company and strive to improve efficiency, productivity, and customer satisfaction.
Core Skills:
Team Leadership
Staff Management
Problem- Solving
Customer Service
Operational Efficiency
Logistical Planning
Organizational Skills
Responsibilities:
Supervised and managed a team of up to 30 staff members
Planned and executed the daily operational activities of the department
Provided training and development to staff to ensure accurate order processing
Maintained contact with other departments and ensured effective communication
Ensured customer satisfaction through prompt and accurate delivery of products
Assisted in resolving customer complaints and inquiries
Coordinated and monitored staff's performance to ensure adherence to safety regulations and policies
Monitored and analyzed progress of the department and created reports for management
Managed inventory, supply levels, and shipments to ensure timely delivery
UPS Supervisor Resume with 5 Years of Experience
A Highly motivated and organized professional, with 5 years of experience as a UPS Supervisor, I am a team player with a strong commitment to excellent customer service and safety. A confident communicator and problem solver, I have the ability to manage multiple tasks effectively and have a keen eye for details. I have a passion to lead a team to success and have the experience to make sure a team is efficient, organized and in compliance with policies and procedures.
Core Skills:
Excellent problem solving skills
Proficient communication skills, both written and verbal
Organizational and time management skills
Leadership and team management skills
Knowledge of UPS regulations and procedures
Ability to maintain high standards of customer service
Computer proficiency
Responsibilities:
Supervising and managing a team of UPS employees
Ensuring that all customer inquiries are responded to promptly and professionally
Developing and implementing efficient organizational strategies
Assigning tasks and delegating duties to team members
Monitoring and evaluating team performance
Coordinating with other departments for all customer demands
Maintaining the warehouse in compliance with the standards and regulations of UPS
Scheduling and assigning shifts to the team members
Ensuring that all team members adhere to the safety requirements
UPS Supervisor Resume with 7 Years of Experience
I am a highly organized and motivated professional with 7 years of experience as a UPS Supervisor. I have a proven track record of successfully managing and leading teams, maintaining a safe and secure working environment, and ensuring the highest level of customer satisfaction. My ability to multi- task and prioritize work has allowed me to complete projects on time and manage a large number of staff. My expertise in maintaining records and documents and my strong communication skills have enabled me to work effectively with all levels of staff, customers and vendors.
Core Skills:
Team Management & Leadership
Safety & Security Management
Customer Service & Satisfaction
Organizational & Prioritization Skills
Records & Documentation Management
Strong Communication Skills
Problem Solving & Decision Making
Time & Deadlines Management
Responsibilities:
Manage and supervise daily operations and ensure efficiency of staff and resources
Ensure safety and security standards are met, and provide training to staff in safety and security related topics
Monitor customer service and ensure that all customer inquiries are responded to in a timely and satisfactory manner
Maintain records and documents related to operations, staff, customers and vendors
Set work schedules and deadlines, and ensure all tasks are completed on time
Evaluate staff performance and provide feedback to ensure productivity
Handle customer complaints, disputes, and other issues in a professional manner
Monitor and analyze operations data to identify areas of improvement in service and operations
UPS Supervisor Resume with 10 Years of Experience
I am a UPS Supervisor with 10 years of experience in the field. I have experience in leading teams, managing operations and overseeing the overall operations of a UPS facility. I have a strong knowledge of customer service and shipping procedures, as well as the ability to solve complex problems and issues. I am confident in my ability to coordinate and manage operations, and to lead my team to meet and exceed goals.
Core Skills:
Leadership and management
Problem solving
Team Building
Organizational and Time Management
Customer Service
Shipping procedures
Inventory management
Responsibilities:
Supervised and managed a team of employees, providing direction, support and guidance
Ensured the timely and efficient operation of the UPS facility
Monitored employee performance and provided constructive feedback
Assisted in training and development of new and existing staff
Communicated with customers regarding shipping and delivery processes
Implemented cost- saving initiatives to improve overall efficiency
Developed operational plans to meet customer demands
Maintained and reported accurate inventory records
Developed and implemented safety and security protocols
UPS Supervisor Resume with 15 Years of Experience
A Highly experienced UPS Supervisor with 15 years of experience leading large- scale delivery operations. Proven record of success in exceeding customer expectations and producing efficiency improvements in delivery operations. An energetic and driven individual, with a successful track record in developing and executing creative solutions to improve process and customer satisfaction. A confident and motivated leader, with a track record of developing teams to the highest performance standards.
Core Skills:
Process Improvement
Delivery Management
Project Lead
Team Building
Problem Solving
Change Management
Supply Chain
Quality Assurance
Analytical Skills
Responsibilities:
Managed daily operations for UPS delivery services, ensuring excellence in customer service, quality, execution and productivity.
Developed and implemented process improvements to increase efficiency and reduce costs.
Led and motivated a team of 80+ employees to exceed company service level goals.
Monitored performance and efficiency of delivery operations, identifying and resolving inefficiencies and delays.
Developed and monitored budgets and other financial metrics to meet profitability targets.
Established and maintained relationships with customers and vendors to ensure effective communications and successful partnership.
Conducted performance reviews, up- skilling training and coaching for team members.
Implemented a quality assurance system to ensure standards were met.
Coordinated with multiple cross- functional teams to ensure timely deliveries.
In addition to this, be sure to check out our resume templates, resume formats, cover letter examples, job description, and career advice pages for more helpful tips and advice.
What should be included in a UPS Supervisor resume?
A UPS supervisor resume should include all relevant information pertaining to the applicant's qualifications and experience. It should also highlight how the applicant's previous experience can benefit the company.
Here are some of the key components that should be included in a UPS supervisor resume:
Professional summary: A paragraph-long overview of the applicant's qualifications, experience, and skills.
Education: A list of educational institutions attended and relevant degrees obtained.
Relevant Experience: A detailed list of past professional experience related to the role of UPS supervisor.
Skills: A list of the specific skills that the applicant can bring to the position.
Professional Achievements: A listing of any awards, distinctions, or impressive accomplishments the applicant has earned.
References: A list of references from past employers or colleagues who can attest to the applicant's professional abilities.
Including all of these components in a UPS supervisor resume will ensure that the application stands out from the rest and showcases the applicant's qualifications and experience in the best possible light.
What is a good summary for a UPS Supervisor resume?
A UPS Supervisor resume should contain a concise summary that outlines the applicant's leadership and problem-solving skills, as well as their experience managing and delegating tasks, coordinating with other departments, and training staff. The summary should also demonstrate an in-depth knowledge of the UPS shipping process and industry standards. Additionally, the applicant should discuss their ability to stay organized, multi-task efficiently, and meet customer and company deadlines. Any other certifications, awards, or accomplishments should be included as well. An effective UPS Supervisor resume should portray the applicant as a leader who has the ability to ensure customer satisfaction and company success.
What is a good objective for a UPS Supervisor resume?
A Resume is an important document for any job seeker, and a UPS supervisor should carefully craft their resume to show their best qualifications. Having a good objective can be the difference between getting a call back and having your resume overlooked.
When crafting an objective, it should be specific and to the point. Your objective should communicate to employers what you can bring to the position. Here are some examples of good objectives for a UPS supervisor resume:
To utilize my 5 years of UPS supervisor experience to increase efficiency of operations, reduce costs, and improve customer satisfaction.
Seeking a position as a UPS supervisor to use my leadership and communication skills to coordinate with team members and ensure packages are delivered on time.
Motivated professional with 7 years of experience as a UPS supervisor and a knack for problem solving, looking to lead a team in a fast-paced environment.
To contribute my 8 years of UPS supervision and customer service experience to ensure customer satisfaction and successful delivery of packages.
Remember, your objective should be tailored to your specific experience and qualifications. Make sure to include information that is relevant to the position in your objective statement. Good luck in your job search!
How do you list UPS Supervisor skills on a resume?
UPS supervisors are responsible for managing the delivery of goods to customers. They are expected to have a range of skills and qualifications to help them succeed in this role. When writing a resume for a UPS supervisor role, it is important to list the relevant skills and experience in a clear and concise way. Here are some skills to consider including in a UPS supervisor resume:
Leadership: UPS supervisors need to be strong leaders with excellent communication and problem-solving skills. They must have the ability to motivate their team and to make decisions quickly in a dynamic environment.
Organizational Skills: UPS supervisors must have excellent organizational skills in order to prioritize tasks and manage deliverables. They should also be able to delegate tasks and manage their team's workload.
Time Management: UPS supervisors must be able to effectively manage their team's time and resources in order to ensure that goods are delivered on time and as expected.
Customer Service: UPS supervisors must have strong customer service skills in order to ensure that customers are satisfied with the services provided. They must have the ability to address customer concerns and provide solutions.
Safety Compliance: UPS supervisors must be knowledgeable about safety regulations and be able to ensure that their team is following them at all times.
By including these skills on your resume, you should be able to demonstrate that you are a suitable candidate for a UPS supervisor role.
What skills should I put on my resume for UPS Supervisor?
When applying for a UPS Supervisor position, you must create a resume that highlights your applicable skills, qualifications and experience. Here are some specific skills that employers look for in a potential supervisor:
Supervisory experience: Demonstrate any leadership experience you may have, including managing people, processes and/or teams.
Problem-solving: Showcase your ability to identify and troubleshoot complex issues and develop practical solutions.
Time management: Demonstrate your ability to manage competing tasks and prioritize effectively to ensure deadlines are met.
Communication: Demonstrate your ability to communicate efficiently, both verbally and in writing.
Customer service: Highlight your ability to provide excellent customer service and manage customer complaints.
Organization: Showcase your ability to manage complex data and maintain accurate records.
Conflict resolution: Demonstrate your ability to handle difficult conversations and manage conflicts in a constructive manner.
Leadership: Describe your ability to inspire and motivate others, delegate responsibilities, and make decisions.
These are just some of the skills that a potential UPS supervisor should have. Take the time to review the job description thoroughly and customize your resume to highlight the skills that the employer is seeking.
Key takeaways for an UPS Supervisor resume
As an important part of any organization's operations, supervisors of UPS (or United Parcel Service) should be prepared to have a comprehensive resume in order to highlight their experience and skill set. The key to success for any UPS supervisor is having a well-prepared resume that stands out from the competition. Here are some key takeaways for an UPS Supervisor resume:
Highlight Your Skills and Experience: As an UPS supervisor, it is essential to highlight your key skills, such as problem-solving and decision-making skills, as well as your experience in managing teams and operations. Include any areas of expertise that you have that would be beneficial to the role, as well as any relevant certifications and qualifications that you possess.
Showcase Your Leadership Ability: Leadership and management are key qualities of an UPS supervisor, so it is important to showcase these abilities on your resume. Highlight any leadership roles that you have held, such as team leader or project leader, and provide examples of how you have successfully managed projects, teams, or operations.
Demonstrate Your Knowledge of UPS Operations: When constructing your resume, be sure to demonstrate your knowledge and understanding of UPS operations and processes. Showcase any experience and qualifications that you have that are related to UPS, such as interactive skills for web-based tracking systems or expertise in reducing dock turnaround time.
Focus on Your Accomplishments: It is important to show off your accomplishments, not just list your job responsibilities. Being able to showcase your successes will help you stand out from other applicants. Showcase any awards and recognition that you have received
Let us help you build
your Resume!
Make your resume more organized and attractive with our Resume Builder