Writing a resume as a truck dispatcher can be a daunting task, but with the right information, you can create an effective resume that will get you noticed. In this blog post, we will provide a comprehensive guide to resume writing for truck dispatchers, including tips on how to craft a compelling resume summary and examples of effective resumes for truck dispatchers. We will also explain the key skills and qualifications employers are looking for when hiring a truck dispatcher, so you can make sure your resume stands out from the rest. By the end of this article, you will have a strong resume that will help you get the job of your dreams.
If you didn't find what you were looking for, be sure to check out our complete library of resume examples.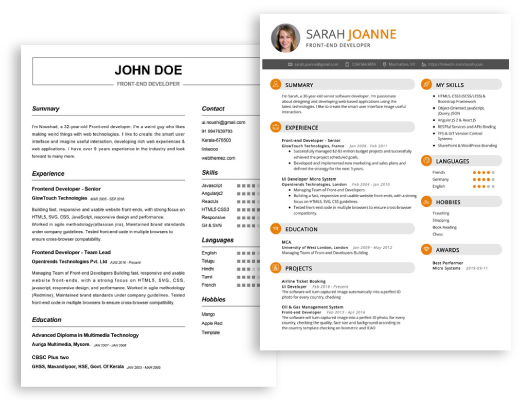 Start building your dream career today!
Create your professional resume in just 5 minutes with our easy-to-use resume builder!
Truck Dispatcher Resume Examples
John Doe
Truck Dispatcher
123 Main Street | Anytown, USA 99999 | Phone: (123) 456-7890 | Email: john.doe@email.com
A Dedicated and experienced truck dispatcher with over 5 years of experience in the transportation industry. Skilled in logistics planning, communication, and problem- solving, I am adept at managing multiple tasks in a fast- paced environment. Possessing a strong customer service orientation, I am highly organized and capable of ensuring efficient delivery of goods.
Core Skills:
Logistics Planning
Proactive Problem Solving
Excellent Communication
Advanced Customer Service
Leadership
Time Management
Professional Experience:
Truck Dispatcher, ABC Logistics, New York, NY, 2019- Present
Maintain daily contact with fleet drivers to ensure timely delivery of goods
Monitor and update Fleet Management System (FMS) daily
Organize and prioritize the movement of goods to ensure timely delivery
Develop and maintain relationships with customers and vendors
Assist in resolving customer service issues in a timely manner
Schedule and dispatch trucks, drivers, and freight according to customer demand
Truck Dispatcher, XYZ Trucking, New York, NY, 2016- 2019
Created daily, weekly, and monthly transportation plans for deliveries
Regularly communicated with drivers to monitor freight status and make necessary adjustments
Tracked, traced, and maintained records of freight shipments
Ensured accurate compliance with safety regulations
Inspected and approved truck drivers' time sheets
Education:
Bachelor of Science in Logistics and Transportation, ABC University, New York, NY, 2016
Truck Dispatcher Resume with No Experience
Hardworking truck dispatcher with no experience looking to enhance my knowledge in the transportation field. Eager to learn new skills and develop customer service capabilities as well as problem solving abilities.
Skills
Excellent organizational skills
Strong customer service aptitude
Good communication abilities
Ability to multitask
Knowledge of DOT regulations
Responsibilities
Develop and maintain routes for transportation vehicles
Monitor the progress of all vehicle deliveries to ensure timely arrival
Inform customers of progress and changes in delivery times
Monitor and update vehicle logs and records
Coordinate with drivers to determine routes and estimated arrival times
Record any customer complaints or issues and take corrective action
Track vehicle maintenance and provide reports to fleet management
Truck Dispatcher Resume with 2 Years of Experience
Motivated and hardworking truck dispatcher with 2 years of experience in the transportation industry. Highly organized and detail- oriented individual with excellent communication, customer service, and time management skills. Adept at coordinating multiple shipments and ensuring efficient truck routing.
Core Skills:
Truck routing
Dispatching
Logistics
Inventory tracking
Fluent in English
Customer service
Organizational skills
Time management
Responsibilities:
Inspecting and verifying truck documents
Communicating with drivers and customers on delivery status
Monitoring driver performance and route compliance
Coordinating multiple shipments and scheduling delivery times
Creating, editing, and maintaining truck route logs
Maintaining accurate records of truck inventory
Tracking and updating shipment statuses
Assisting with the loading and unloading of shipments
Truck Dispatcher Resume with 5 Years of Experience
A Motivated, passionate, and experienced truck dispatcher with 5 years of experience in the industry. Possesses a wide range of knowledge and understands the importance of safety, organization, and communication. Experienced in managing drivers, tracking orders, and scheduling routes. Successfully able to analyze data, troubleshoot problems, and maintain customer relationships. Proficient in using dispatching software, GPS, and communication systems.
Core Skills:
Logistics Management
Fleet Management
Communication
Time Management
Problem- solving
Organization
Customer Service
Troubleshooting
Responsibilities:
Scheduled truck routes to ensure efficient delivery times
Managed drivers' activities, ensuring adherence to safety regulations
Tracked orders to ensure timely and accurate delivery
Maintained customer relationships, responding to inquiries in a timely manner
Analyzed data to identify trends and inefficiencies
Utilized dispatching software, GPS, and communication systems to coordinate activities
Generated reports on truck loads, delivery times, and other related activities
Resolved customer complaints and troubleshot to correct problems
Monitored fleet to ensure all trucks were in working condition
Truck Dispatcher Resume with 7 Years of Experience
A Truck dispatcher with more than 7 years of experience managing the activities of truck drivers, road laborers, and support staff. Skilled in enforcing company policies and regulations, managing work schedules, coordinating with vendors, and resolving customer complaints. Develops and implements efficient transportation plans and strategies to ensure efficient deliveries and cost- effective operations.
Core Skills:
Organizational and Time Management
Routing and Scheduling
Troubleshooting and Problem Solving
Negotiation and Customer Service
Logistics and Transportation Strategies
Computer Proficiency
Regulatory Compliance
Responsibilities:
Develop and implement efficient transportation plans and strategies.
Coordinate with vendors for the best transportation services.
Develop and maintain customer relations and resolve customer complaints.
Monitor and manage work schedules for truck drivers and road laborers.
Enforce company policies and regulations to ensure safe operations.
Prepare and maintain records of truck activities, schedules, and shipments.
Maintain communication with customer service, vendors, and other departments.
Negotiate contracts with carriers and other transportation service providers.
Identify and research potential transportation destinations and routes.
Analyze data to determine cost- effective routes and shipping rates.
Maintain accurate records of cargo and fuel consumption.
Investigate any customer complaints or discrepancies.
Truck Dispatcher Resume with 10 Years of Experience
A Talented and experienced truck dispatcher with 10 years of experience in the transportation industry. Highly experienced in the coordination of transportation logistics, ensuring the efficient and timely movement of truck shipments across the region. Possesses strong communication and problem- solving skills and is comfortable working under pressure. Adept at working with other departments to coordinate the delivery of goods and resolving delivery issues.
Core Skills:
In- depth knowledge of transportation logistics
Excellent communication and problem- solving skills
Strong organizational and time management skills
Ability to work well under pressure
Strong customer service skills
Proficient in Microsoft Office Suite
Responsibilities:
Developed and maintained efficient delivery routes for truck shipments
Coordinated with other departments to ensure the timely and safe delivery of goods
Maintained detailed records of truck shipments and deliveries
Resolved any delivery issues that may arise
Created and managed delivery schedules
Provided excellent customer service to clients
Monitored truck shipment and traffic patterns and adjusted routes accordingly
Truck Dispatcher Resume with 15 Years of Experience
A Highly experienced Truck Dispatcher with more than 15 years of experience in the transportation industry. Reliable and dependable, able to ensure that all deliveries are completed on time and on budget. Proven to be effective in negotiating with drivers and customers to ensure that all parties involved are satisfied. Possess excellent communication and organizational skills, with the ability to multitask and prioritize tasks in a timely manner.
Core Skills:
Excellent communication and negotiation skills
Ability to prioritize tasks
Knowledge of regulations and laws of the transportation industry
Proficient in the use of various computer software
Strong organizational and administrative skills
Ability to work independently and as part of a team
Attention to detail
Responsibilities:
Coordinate pick- up and delivery schedules for drivers
Negotiate rates for drivers based on customer needs
Maintain detailed records of all shipments
Work with drivers to ensure timely delivery of goods
Communicate with drivers and customers to resolve any issues
Ensure compliance with all regulations and laws of the transportation industry
Assign tasks to drivers and monitor progress
Manage invoices and ensure timely payments
In addition to this, be sure to check out our resume templates, resume formats, cover letter examples, job description, and career advice pages for more helpful tips and advice.
What should be included in a Truck Dispatcher resume?
A Truck dispatcher resume should include several important elements. It should highlight the skills necessary for the job, demonstrate customer service and problem solving abilities, and demonstrate a good working knowledge of the industry. Here are some of the key components for a successful truck dispatcher resume:
Professional Summary: A brief overview of your professional experience and qualifications that show you are an ideal candidate for the position.
Education: List any degrees or certifications related to the position such as a degree in logistics, a certification in truck dispatching, etc.
Experience: List past work experience in the field such as dispatching experience, customer service experience, etc.
Skills: List any skills related to the job such as strong customer service, problem solving skills, ability to multitask, attention to detail, etc.
Software Knowledge: List any software programs you are proficient with that are related to the field such as Microsoft Office, transportation management software, etc.
Accomplishments: List any additional accomplishments that demonstrate your abilities in the field such as awards received, courses completed, etc.
By including these elements in your truck dispatcher resume, you can show that you are the right candidate for the position. It is important to include any details that show you are a top-notch candidate for the job.
What is a good summary for a Truck Dispatcher resume?
A Truck dispatcher is responsible for ensuring that cargo is transported to different locations in a timely and efficient manner. A good summary for a truck dispatcher resume should highlight the applicant's experience with dispatching, route planning, and scheduling. It should also emphasize the applicant's strong communication skills and ability to handle high-pressure situations with ease. Additionally, the summary should mention any special certifications, such as a CDL license or a Hazardous Materials certification, as well as any other skills that are relevant to the position, such as computer literacy or experience with GPS. Finally, the summary should demonstrate the applicant's eagerness to work in the transportation industry and their commitment to safety.
What is a good objective for a Truck Dispatcher resume?
A Truck dispatcher resume should have an objective that accurately reflects the applicant's skills and experience. A good objective will capture the attention of a potential employer and give them an indication of the skills and qualifications that the individual has. A successful truck dispatcher objective should include the following points:
Demonstrate exceptional time management and organizational skills
Possess excellent problem-solving abilities
Have an in-depth understanding of transportation regulations
Possess the ability to multitask and prioritize tasks
Experience in working with complex transportation software
Possess exceptional customer service and communication skills
Ability to remain professional and calm in stressful situations
Effectively coordinate freight movement and monitor delivery status
Proficient in data entry and report writing
Ability to efficiently manage and direct a team of drivers
By incorporating these points into a truck dispatcher resume objective, applicants can effectively show potential employers that they have the necessary skills and qualifications for the job.
How do you list Truck Dispatcher skills on a resume?
When you're applying for a truck dispatcher position, it's important to highlight your skills and experience. The best way to do this is to list your truck dispatcher skills on your resume. Here are some tips for listing truck dispatcher skills on a resume:
Start by making a comprehensive list of your truck dispatcher skills. Think about the tasks you've completed as a truck dispatcher, your knowledge of the industry, and any technical skills you've acquired. Include any special training and certifications that relate to your field.
Select the most relevant skills to highlight on your resume. Choose those that align with the job requirements and that demonstrate the abilities you have to offer.
Use bullet points to list your truck dispatcher skills on your resume. Include the skill name and a brief description of how you've used it in your past experience. Make sure to quantify, if you can, by mentioning the number of drivers dispatched or the size of the fleet managed.
Use industry buzzwords when appropriate. Employers in the trucking industry are familiar with the language used in the field, so using the correct terms can be beneficial.
Use action verbs to describe your skills. Phrases like "dispatched," "coordinated," and "monitored" can help make your resume stand out.
By following these tips, you can create a resume that effectively highlights your truck dispatcher skills and showcases your qualifications.
What skills should I put on my resume for Truck Dispatcher?
A Truck Dispatcher is responsible for managing the movement of goods via trucks. This entails tracking shipments, creating routes, and assigning drivers to routes. To succeed in this role, there are a few key skills that should be highlighted on your resume.
Logistics: As a Truck Dispatcher, you will need to have a strong understanding of logistics. This includes understanding the resources and time needed to complete various shipments, as well as knowledge of different types of trucking routes.
Organization: A Truck Dispatcher needs to be highly organized with the ability to prioritize tasks effectively. It is important to be able to track shipments and ensure that all deadlines are met in a timely manner.
Communication: Working with truckers, shippers, and customers requires strong communication skills. You need to be able to efficiently convey instructions, answer questions, and provide updates on shipments.
Problem Solving: When things don't go according to plan, it is important to be able to quickly identify the root cause of any problems and come up with solutions. Being able to come up with creative solutions to unexpected issues is a key skill for Truck Dispatchers.
Computer Skills: The majority of your tasks will be done on a computer, so you need to be comfortable with basic software and tools such as Microsoft Office and SAP.
With these skills, you can become an effective Truck Dispatcher. Make sure to highlight them on your resume for the best chance of success.
Key takeaways for an Truck Dispatcher resume
When writing a resume as a truck dispatcher, there are several key takeaways to keep in mind to ensure it is successful.
Detail-Oriented: As a truck dispatcher, you must pay close attention to detail when scheduling, tracking, and managing shipments. Make sure to highlight your detail-oriented skills in your resume, as they are essential to your job.
Communication Skills: You must have excellent communication skills when communicating with drivers, customers, and other staff members. Highlight any experience you have in customer service or public relations to demonstrate your skills.
Organizational Skills: It is important for truck dispatchers to keep accurate records and maintain an organized working environment. Emphasize any experience you have in data entry, filing, or other similar tasks to showcase your organizational abilities.
Problem-Solving & Decision-Making: As a truck dispatcher, you must be able to think quickly and troubleshoot any problems that may arise. Focus on any experience or related skills that showcase your problem-solving and decision-making capabilities.
Computer Proficiency: You must be knowledgeable and proficient in various computer programs, such as shipping and routing software. Make sure to highlight any relevant computer skills in your resume.
These are the key takeaways to remember when writing a resume as a truck dispatcher. Make sure to emphasize any skills or experience that demonstrate your abilities in detail-orientation, communication, organization, problem-solving, and computer proficiency.
Let us help you build
your Resume!
Make your resume more organized and attractive with our Resume Builder