Your resume is your key to a successful career as a transporter. It should be professional, attractive and memorable. A transporter resume should include your experience, certifications, and training. It should highlight your unique skills and accomplishments in a way that will make you stand out from the crowd. This guide provides tips and examples for creating the perfect transporter resume. You will learn what information to include, how to format and organize your resume, and how to make the most of your strengths. With the right approach and attention to detail, you can create a resume that will make you stand out from the pack and land the job of your dreams.
If you didn't find what you were looking for, be sure to check out our complete library of resume examples.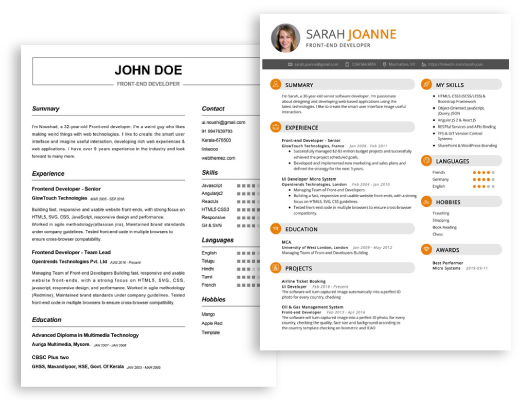 Start building your dream career today!
Create your professional resume in just 5 minutes with our easy-to-use resume builder!
Transporter Resume Examples
John Doe
Transporter
123 Main Street | Anytown, USA 99999 | Phone: (123) 456-7890 | Email: john.doe@email.com
I am an experienced logistics professional with an extensive background in the transportation industry. I specialize in creating efficient and cost- effective supply chains by utilizing innovative methods and technologies. I possess a strong understanding of safety regulations, freight management, and customer service. My skills and knowledge have been tested and proven on both small and large- scale transportation projects, and I am confident in my ability to provide optimal results.
Core Skills:
Freight management
Logistics planning
Transportation scheduling
Fleet management
Supply chain optimization
Regulatory compliance
Inventory control
Risk management
Budgeting
Client relationship management
Professional Experience:
Royal Logistics, Toronto ON
Senior Logistics Coordinator, 2017 – Present
Develop and implement cost- effective strategies to optimize transportation costs
Monitor and report on supply chain performance metrics to ensure compliance with customer requirements
Ensure the daily management of shipments and their progress to meet customer expectations
Oversee and manage the procurement of freight carriers and third- party providers
Reconcile transportation bills and prepare invoices for payment
Monitor service levels, identify and troubleshoot any issues related to route management
Negotiate contracts with carriers and engage in pricing discussions
ABC Logistics, Toronto ON
Logistics Coordinator, 2015 – 2017
Developed and managed logistics operations, including vendor management and pricing negotiations
Coordinated and scheduled pick- ups, deliveries, and shipments
Prepared and maintained accurate records for all shipments and deliveries
Managed inventory levels and maintained data accuracy in various systems
Developed and maintained relationships with customers and vendors
Established and maintained delivery schedules, routes, and customer service protocols
Education:
Bachelor of Science in Transportation and Logistics, University of Toronto, 2013
Transporter Resume with No Experience
Hardworking and reliable transportation professional with no experience
looking to make a positive contribution to the team
Meticulous attention to detail skills and an ability to learn quickly
A proven commitment to excellent customer service
Skills
Excellent communication and interpersonal skills
Ability to follow directions and safety protocols
Strong problem solving and organizational skills
Flexible and adaptable to changing environments
Ability to lift and maneuver heavy objects
Responsibilities
Safely transport passengers and/or goods
Ensure timely delivery of passengers and/or goods
Maintain cleanliness of transport vehicles
Adhere to all safety protocols at all times
Ensure timely and accurate completion of paperwork
Provide assistance to passengers and/or customers as required
Maintain accurate records of all transported passengers and/or goods
Transporter Resume with 2 Years of Experience
Dedicated and hardworking Transporter with two years of experience in the transportation industry. Experienced in delivering goods efficiently while adhering to all safety regulations. Possess a valid commercial driver's license and a clean driving record. Proven ability to load and unload cargo, maintain documentation, and communicate effectively with clients and dispatch. Committed to providing reliable transportation services while ensuring customer satisfaction.
Core Skills:
Knowledge of safety regulations
Ability to drive a variety of vehicles
Excellent customer service
Ability to follow instructions
Time management
Problem- solving
Strong communication
Responsibilities:
Collecting and loading goods
Delivering goods in a safe and timely manner
Inspecting vehicles for mechanical deficiencies
Ensuring cargo is secured safely in vehicles
Maintaining delivery documentation
Adhering to all safety regulations
Maintaining a clean driving record
Providing excellent customer service
Transporter Resume with 5 Years of Experience
A Results- driven, experienced transporter with a proven track record of making timely deliveries of goods and materials to various locations. Skilled in route planning, budgeting and problem- solving, with excellent communication and customer service skills. Looking to secure a position as a transporter to use my extensive experience to the benefit of a company.
Core Skills:
Excellent customer service and communication skills
Planning and budgeting experience
Navigation and route planning
Good problem solving capabilities
Highly organized and detail- oriented
Responsibilities:
Planning and managing delivery routes
Loading and unloading goods and materials
Ensuring all goods are delivered safely and securely
Maintaining accurate records of deliveries
Maintaining and servicing the delivery vehicle
Monitoring stock levels and ordering supplies when needed
Ensuring compliance with safety and legal regulations
Handling customer inquiries and resolving any issues
Reporting any accidents and incidents to management
Carrying out vehicle inspections and maintenance as needed
Transporter Resume with 7 Years of Experience
Highly experienced and reliable transporter with 7 years of experience in the logistics field. Possess excellent knowledge of freight and cargo transportation regulations. Proven to be a very efficient and organized transport manager in the industry. Have the ability to safely and accurately deliver freight to the destination within the given timeframe.
Core Skills:
Expertise in urban and long- distance transportation of goods
Familiar with operating delivery vehicles and loading/unloading cargo
Skilled in vehicle maintenance and route optimization
Proficient in using tracking software and GPS navigation
Excellent communication and problem- solving skills
Knowledgeable in federal and state transport laws and regulations
Responsibilities:
Inspecting and maintaining transport vehicles for safety and operational efficiency
Planning and optimizing routes for cargo delivery
Loading and unloading goods for transport
Ensuring cargo and goods are properly secured for transport
Maintaining accurate records of shipments, cargo, and goods
Monitoring goods in transit and providing updates to customers
Ensuring freight is delivered in good condition and on time
Transporter Resume with 10 Years of Experience
A Highly experienced, detail- oriented, and committed transporter with over 10 years of experience providing transportation services for a variety of industries. Possessing exceptional organizational, problem solving and communication skills, with a strong focus on customer service and satisfaction. Possesses a comprehensive knowledge of the transportation industry and ensures all equipment, personnel, and materials are transported safely and securely.
Core Skills:
Excellent knowledge of the transportation industry
Exceptional problem solving and communication skills
Excellent customer service and satisfaction skills
Ability to prioritize tasks and work to tight deadlines
Ability to maintain accurate documentation
Ability to follow safety and security procedures
Strong knowledge of road transportation regulations and protocols
Responsibilities:
Providing transportation services for a variety of industries
Coordinating and scheduling transportation of personnel, materials, and equipment
Ensuring safety and security of personnel, materials, and equipment during transport
Loading and unloading of materials, equipment, and personnel
Maintaining accurate and up to date records of all transportation activities
Providing assistance with maintenance and repair of vehicles
Inspecting vehicles for safety and roadworthiness before transport
Monitoring and coordinating transportation activities to ensure timely completion of tasks
Ensuring compliance with all relevant road transportation regulations and protocols
Transporter Resume with 15 Years of Experience
A Highly experienced Transporter with 15 years of experience in the transportation and logistics industry. Possesses a strong understanding of the transportation and logistics system, as well as a wide range of skills, including route planning, cargo loading, customer service, and problem solving. Possesses excellent communication skills and a proven track record of successfully managing large projects. Committed to providing an efficient and safe service to customers.
Core Skills:
Safety Compliance
Vehicle Maintenance
Dispatching and Scheduling
Route Planning
Cargo Management
Customer Service
Problem Solving
Documentation and Record Keeping
Responsibilities:
Follow safety procedures and regulations at all times
Perform scheduled and preventative maintenance on company vehicles
Assist with the dispatching and scheduling of vehicles
Plan routes for drivers, taking into account safety and traffic conditions
Load and unload cargo, ensuring cargo is secure and undamaged
Provide excellent customer service to clients, addressing any issues or concerns
Resolve any problems that may arise during transportation
Maintain accurate records and documentation for all shipments
In addition to this, be sure to check out our resume templates, resume formats, cover letter examples, job description, and career advice pages for more helpful tips and advice.
What should be included in a Transporter resume?
A Transporter resume is the first step in landing the job of your dreams in the transportation industry. Here are some key aspects employers will be looking for when they evaluate your resume:
Personal Information: This should include your name, address, contact number, and email address.
Education: Include any relevant educational qualifications such as a degree, certificate, or diploma in transportation.
Experience: List any prior roles in the transportation industry, such as a commercial driver or dispatcher. Include the name of the company, dates of employment, and job duties.
Skills: Transporters need a range of skills to excel in their role, such as mechanical aptitude, problem-solving ability, and customer service. Highlight any relevant certifications or licenses that you have obtained.
Vehicle Knowledge: Employers will be looking for applicants with in-depth knowledge of various types of vehicles, including cars, buses, and trucks.
Licenses: Transporters must have a valid driver's license, in addition to any special licenses required in their specific field. Be sure to list these licenses on your resume.
Safety Record: Employers want to be sure that potential transporters have a clean safety record. Include any safety courses you have taken or any other safety-related accomplishments.
By including all of the above information on your transporter resume, you will be well on your way to landing the job of your dreams. Good luck!
What is a good summary for a Transporter resume?
A Transporter resume should provide a summary of the skills and experience of an individual in the field of transportation. It should highlight any relevant qualifications, certifications, and licenses that the applicant has, as well as any relevant experience in the field. Additionally, the summary should provide a brief overview of the specialized tasks that the individual has been involved in, such as operating and maintaining vehicles, loading and unloading cargo, inspecting vehicles, and coordinating with other team members. Lastly, the summary should include any additional information that could be beneficial to potential employers, such as experience in customer service, communication skills, and fluency in multiple languages. A good summary for a Transporter resume should provide enough information to give employers an idea of the applicant's skills and qualifications without being overly lengthy.
What is a good objective for a Transporter resume?
A Transporter is responsible for safely and securely transporting items from one location to another, which often requires a great deal of organizational and communication skills. Writing a resume for this position should focus on highlighting your ability to transport items quickly and safely. Here are some good objectives to include in a Transporter resume:
Demonstrate excellent communication and organizational skills to effectively transport items from one location to another
Utilize advanced problem-solving skills to troubleshoot any potential transportation issues
Manage and organize diverse schedules and deadlines to ensure deliveries are completed in a timely manner
Prioritize safety protocols to ensure safety of items and personnel during transport
Adhere to strict compliance standards to guarantee the safe and secure transport of items
Leverage strong interpersonal skills to maintain positive relationships with clients and vendors
How do you list Transporter skills on a resume?
When applying for a job in the field of transportation, it's important to list your transporter skills on your resume. Your transporter skills will help demonstrate to employers your ability to provide safe and efficient transportation services. Here are some tips for listing transporter skills on your resume:
Include relevant certifications: Include any certification that is related to your role as a transporter, such as a commercial driver's license (CDL).
List your experience: Be sure to include any experience you have in the transportation field, such as the type of vehicles you have driven and the number of years you have been driving.
Highlight your problem-solving skills: Employers will be looking for individuals who can think on their feet and solve problems quickly and efficiently. Make sure to include any relevant problem-solving skills you possess.
Describe your safety record: Employers will want to know that you have a good safety record as a transporter. Include any safety accomplishments or awards you have received.
Demonstrate your customer service skills: Transporters must be able to provide excellent customer service, so make sure to include any customer service skills you possess.
By including the above information on your resume, you will be able to demonstrate to employers that you are a qualified and experienced transporter.
What skills should I put on my resume for Transporter?
When applying for a job as a Transporter, it is important to highlight the special skills and abilities that demonstrate you are the best candidate for the position.
Here are some skills that you should include on your resume for a Transporter position:
Strong Organizational Skills: Transporters need to be able to organize and manage multiple tasks, prioritize tasks efficiently and work independently.
Time Management: Transporters need to be able to manage their time effectively, plan routes and ensure timely deliveries.
Excellent Driving Skills: Transporters need to have a clean driving record and must be familiar with the rules of the road.
Knowledge of Transport Regulations: Transporters need to be knowledgeable on the relevant regulations and laws to ensure the safe transport of goods.
Customer Service: Transporters need to be able to provide excellent customer service and maintain a positive attitude throughout their work day.
Ability to Lift Heavy Objects: Transporters need to be able to safely lift and move heavy objects.
These skills and abilities demonstrate that you are a great fit for a Transporter position and will help you stand out from the competition. Highlight these skills on your resume and make sure you provide specific examples of how you have used these skills in past positions when possible.
Key takeaways for an Transporter resume
A Transporter resume should highlight the relevant skills and experience you have in the transport industry and provide potential employers with a snapshot of the qualifications that make you a valuable asset. Your resume should demonstrate your ability to effectively move goods, provide customer service and operate vehicles and equipment safely in accordance with government regulations. Here are some key takeaways to keep in mind when crafting your transporter resume.
Showcase your proficiency in operating various types of vehicles, including box trucks, semi-trucks, and delivery vans. Describe your experience in loading, unloading, and maneuvering freight safely, as well as adhering to all applicable laws and regulations.
Highlight your customer service skills, such as providing courteous service and creating a positive customer experience. Detail any experience you have in dealing with customer inquiries, resolving disputes and providing general information.
Demonstrate your knowledge of the transportation industry, such as understanding of load capacity, map reading, and local laws and regulations. Detail any experience you have in managing deliveries, pickups, and other freight-related tasks.
Showcase your safety record and any safety certifications you possess. Describe your ability to safely inspect, maintain, and operate vehicles and other equipment, as well as your familiarity with safety equipment and procedures.
Detail any previous routes you have driven and any customer satisfaction results. This will show employers that you have a good understanding of the transportation industry and can consistently provide excellent services.
By emphasizing the skills and experience that make you a valuable asset in the transportation industry, you can create a resume that will catch the attention of potential employers. Take the time to showcase your knowledge and experience in the transport industry to make your transporter resume stand out.
Let us help you build
your Resume!
Make your resume more organized and attractive with our Resume Builder