If you're looking to get hired as a Traffic Manager, having a well-written resume that showcases your experience and skills is essential. Writing a resume can be a daunting task but with the right guidance, it can be a straightforward process. This guide will provide you with tips and insights on what information you should include, as well as examples of resumes for Traffic Manager positions. With the right resume, you'll have a better chance of standing out from the competition and finding the job you want.
If you didn't find what you were looking for, be sure to check out our complete library of resume examples.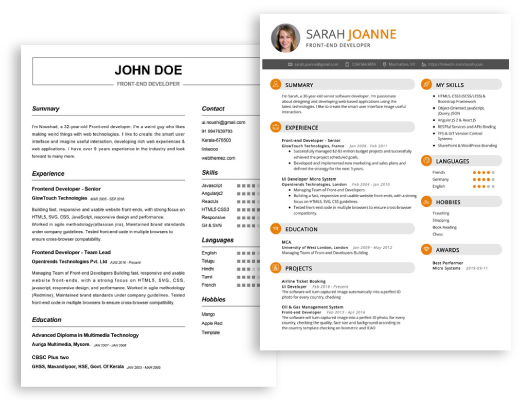 Start building your dream career today!
Create your professional resume in just 5 minutes with our easy-to-use resume builder!
Traffic Manager Resume Examples
John Doe
Traffic Manager
123 Main Street | Anytown, USA 99999 | Phone: (123) 456-7890 | Email: john.doe@email.com
An experienced and results- driven Traffic Manager with 8+ years of professional experience in the media industry. Exceptional leadership and organizational skills, combined with strong technical acumen, have enabled me to successfully lead teams, optimize workflow processes, and ensure that all projects are completed on time and on budget. Proven record of success in managing multiple projects at a time, while maintaining impeccable attention to detail and accuracy.
Core Skills:
Project management
Budgeting and forecasting
Traffic optimization
Team management
Scheduling
Risk assessment
Conflict resolution
Professional Experience:
ABC Media Group – Traffic Manager (2015- Present)
Responsible for the oversight of traffic operations, ensuring that campaigns are properly scheduled
Managed daily traffic operations and scheduling of advertising campaigns, ensuring accuracy and timely delivery
Developed and implemented traffic optimization strategies to reduce cost and improve efficiency
Managed a team of 10 traffic coordinators, setting performance goals and providing guidance as needed
Created and maintained budget forecasts for all campaigns
Negotiated contracts and vendor agreements
Monitored the effectiveness of campaigns and made adjustments as needed
Education:
B.S. in Media Management, XYZ University (2014)
Traffic Manager Resume with No Experience
Focused and results- driven traffic manager with a passion for managing and monitoring the movement of goods and personnel. Possess excellent organizational skills, attention to detail, and an ability to multi- task.
Skills
Strong organizational skills
Excellent communication and interpersonal skills
Ability to prioritize tasks
Able to work independently
Proficient in Microsoft Office
Strong problem- solving skills
Responsibilities
Maintain accurate records of traffic flow
Develop and implement transportation policies and procedures
Monitor and coordinate vehicle and personnel movement
Assist in developing and tracking budgets for traffic- related expenses
Coordinate loading, unloading, and delivery of goods and personnel
Negotiate shipping and transportation rates
Traffic Manager Resume with 2 Years of Experience
Experienced Traffic Manager with more than two years of experience in managing traffic, planning and coordinating workflows, and optimizing production processes. Highly proficient in planning and optimizing production projects, preparing and implementing traffic schedules, and developing strategies to ensure efficient and timely delivery of products. Possess excellent organizational and communication skills, as well as an in- depth knowledge of current trends in the traffic and scheduling industry.
Core Skills:
Strong organizational and problem solving skills
Strong communication and interpersonal skills
Excellent multitasking skills
Ability to identify areas of improvement
Knowledge of traffic management systems
Ability to develop and implement traffic schedules
Ability to analyze data and identify patterns
Responsibilities:
Create, maintain and optimize traffic schedules and projects
Monitor progress of projects and identify areas of improvement
Develop strategies to ensure efficient and timely delivery of products
Work with production teams to discuss project progress and performance
Coordinate with internal departments to ensure effective communication
Provide accurate and timely updates to senior management on production progress
Identify opportunities for efficiency gains and cost savings
Analyze data to identify patterns and trends in production processes
Traffic Manager Resume with 5 Years of Experience
A Highly experienced Traffic Manager with 5 years of experience in developing, executing and managing traffic operations. Skilled in planning, scheduling and coordinating transportation plans, ensuring efficient and safe delivery of goods. Experienced in managing delivery crews, planning route strategies, and developing traffic safety strategies. Demonstrates exemplary problem solving skills, leadership capabilities, and a commitment to delivering exceptional customer service.
Core Skills:
Strong organizational and time management skills
Excellent communication and customer service skills
Extensive knowledge of transportation and traffic laws
Proficient in Microsoft Office Suite
Ability to train and supervise staff
Ability to work under pressure and in hazardous situations
Responsibilities:
Plan, schedule and coordinate transportation plans
Develop traffic safety strategies to ensure safe delivery of goods
Manage delivery crews and plan route strategies
Monitor and analyze traffic flow to identify trends and develop strategies to improve efficiency
Train and supervise staff to ensure strict adherence to safety regulations
Enforce traffic laws and regulations in order to ensure safe and efficient transport of goods
Develop and maintain strong relationships with customers
Investigate and resolve customer complaints in a timely manner
Calculate transport costs and provide estimates to clients
Analyze traffic data to identify areas of improvement and develop strategies accordingly
Traffic Manager Resume with 7 Years of Experience
Highly organized and creative Traffic Manager with 7 years of experience, offering a unique blend of strategic planning, operational oversight, and problem- solving skills. Excellent communicator and project manager, with a proven track record of success in meeting deadlines and achieving goals. Skilled in coordinating and leading teams to develop and implement effective solutions in a fast- paced environment.
Core Skills:
Project Management
Budgeting and Forecasting
Problem Solving
Organizational Development
Strategic Planning
Team Building
Leadership
Responsibilities:
Defined and monitored traffic processes, ensuring compliance with established policies and procedures.
Developed strategies to increase operational efficiency and reduce costs.
Maintained accurate and up- to- date records of all traffic operations.
Managed and tracked advertising campaigns, ensuring on- time delivery and successful ROI.
Analyzed and monitored traffic patterns to identify areas for improvement and cost savings.
Organized and coordinated production schedules and timelines for campaigns.
Coordinated with internal and external stakeholders to ensure timely delivery of all projects.
Developed and maintained relationships with vendors and suppliers for efficient traffic operations.
Provided training and mentoring to team members on industry best practices.
Traffic Manager Resume with 10 Years of Experience
Experienced Traffic Manager with 10+ years of experience coordinating resources, managing timelines, and optimally scheduling allocating resources to ensure on- time delivery of products and services. Adept at developing, implementing and improving traffic management processes and procedures to ensure client satisfaction and team success. Passionate about streamlining processes, increasing efficiency and using advanced tools to achieve superior outcomes.
Core Skills:
Traffic Management
Logistics
Scheduling
Resource Allocation
Process Improvement
Problem Solving
Project Management
Team Leadership
Risk Management
Data Analysis
Communication
Time Management
Responsibilities:
Developed and implemented traffic management procedures to ensure on- time delivery of products and services.
Assisted in managing the day- to- day logistics of the traffic department.
Proactively identified potential issues, communicated potential solutions and implemented corrective action.
Scheduled and allocated resources to ensure the efficient flow and delivery of products and services.
Monitored trends and analysed data to identify process improvement opportunities.
Developed and maintained relationships with key stakeholders to ensure business objectives were met.
Worked with teams to ensure deadlines were met and customer satisfaction was maintained.
Assisted in identifying and managing risks associated with projects and ensured compliance with safety rules and regulations.
Developed and tracked performance metrics and KPIs to measure traffic performance and report on key findings.
Mentored and trained team members in traffic management processes and procedures.
Traffic Manager Resume with 15 Years of Experience
A Highly efficient, organized, and detail- oriented Traffic Manager with 15 years of experience managing the day- to- day operations of busy logistics departments. Skilled in overseeing campaigns, negotiating contracts, and ensuring customer deadlines and requirements are met. A team player with excellent problem- solving skills and a committed customer service mindset.
Core Skills:
Logistics Management
Resource Allocation
Contract Negotiations
Campaign Oversight
Customer Service
Problem Solving
Team Leadership
Data Analysis
Vendor Relationships
Responsibilities:
Developed and maintained relationships with key vendors and carriers to ensure maximum efficiency and cost- effectiveness of all shipments.
Optimized freight routes, negotiated contracts and secured favorable rates, and analyzed data to minimize costs and ensure on- time delivery.
Ensured that customer deadlines and requirements were consistently and accurately met.
Supervised and trained staff, managed inventory, and maintained records and budgets.
Monitored and reported on key performance indicators, managed project timelines, and allocated resources.
Utilized quality assurance techniques to ensure services met customer expectations.
Oversaw campaigns, including tracking expenses and setting goals and objectives.
In addition to this, be sure to check out our resume templates, resume formats, cover letter examples, job description, and career advice pages for more helpful tips and advice.
What should be included in a Traffic Manager resume?
Your traffic manager resume should be detailed and comprehensive, highlighting all the important skills and experience necessary to make a great impression. Here are some suggestions for what to include in a traffic manager resume:
Summary of Qualifications: A brief summary of your professional experience and skills that make you a great candidate for the position.
Professional Experience: Provide a list of your professional experience, including job titles, dates of employment, and brief descriptions of your duties and accomplishments.
Education: List any relevant degrees and certifications you have earned.
Skills: Highlight your skills relevant to the position, such as knowledge of traffic management software, understanding of traffic laws, and ability to manage multiple projects.
Areas of Expertise: Detail any areas of expertise related to traffic management, such as safety regulations, routing, and data analysis.
Achievements: Include any awards or other accomplishments you have achieved in the field of traffic management.
References: Provide at least two professional references who can confirm your expertise and experience in traffic management.
What is a good summary for a Traffic Manager resume?
A Traffic Manager resume is a summary of a Traffic Manager's experience, skills, and qualifications. It must be tailored to the specific employer and industry, and should emphasize the skills and knowledge necessary to be successful in the traffic management field. The summary should include the individual's experience in managing traffic, creating and implementing efficient traffic strategies, and working with other departments to ensure that traffic flows smoothly. It should also demonstrate the individual's knowledge of the traffic industry, including industry trends and updated technologies. Additionally, the summary should highlight the Traffic Manager's ability to communicate effectively, solve problems, and collaborate with both internal and external stakeholders.
What is a good objective for a Traffic Manager resume?
A Traffic Manager is an important role in any organization's operations. As such, it is important to have an effective resume objective to help you stand out from the competition. Your objective should show employers how your skills and experience will help their organization succeed.
Here are some examples of a good objective for a Traffic Manager resume:
To leverage my expertise in traffic management, project management, and analytics to help the organization maximize their efficiency and reach their goals.
To effectively manage traffic and logistics operations while ensuring deadlines and goals are met.
Seeking a Traffic Manager role to utilize my experience in project management and communication to help the company reach their objectives.
To utilize my background in analytics and logistics to help the organization reduce costs and improve efficiency.
To use my experience in traffic management, customer service, and business intelligence to help the organization reach their goals.
By crafting an effective objective for your resume, you can show employers that you are prepared to take on the Traffic Manager role and help them achieve their goals. Make sure to tailor your objective according to the specific position you are applying for. Good luck!
How do you list Traffic Manager skills on a resume?
Your resume should demonstrate your Traffic Manager skills to potential employers. Here are some tips on how to list them:
Include a "Traffic Manager Skills" section on your resume.
Highlight the skills relevant to the position you're applying for, such as project management, budgeting, and communication.
Describe how your experience has helped you hone these skills.
Include any awards you've received for your work in Traffic Management to demonstrate your expertise.
Use keywords from the job posting to showcase your knowledge and experience.
Include any certifications you have related to Traffic Management.
Tailor the skills section to each job you're applying for, emphasizing the skills that are most relevant.
Demonstrate a track record of success with your Traffic Management projects.
Showcase any creative solutions you've come up with to optimize traffic flow in the past.
What skills should I put on my resume for Traffic Manager?
A Traffic Manager plays a key role in any marketing strategy, making sure that campaigns are running on time and on budget. If you are looking to pursue a career in this field, there are certain skills that you should emphasize on your resume. Here are some of the must-have skills for a Traffic Manager:
Project Management: Being able to manage multiple projects and campaigns, while also navigating any obstacles that arise, is a key role of a Traffic Manager. Showcase your organizational and problem-solving skills on your resume.
Time Management: You need to be able to manage a range of deadlines, while ensuring that campaigns are delivered on time. Highlighting any previous experience in project management or working with tight deadlines will be beneficial.
Budget Management: An important part of any campaign is making sure that it runs within the allocated budget. Show that you have the ability to manage and monitor a budget, and any experience working with accounts or finance is sure to help.
Client Management: A Traffic Manager needs to be able to work with a range of clients and stakeholders, managing their expectations as well as timelines. Demonstrate your ability to collaborate and communicate with clients, preferably from previous roles.
Analytical Skills: Analyzing data and metrics is essential for a Traffic Manager. Showcase any relevant experience in data analysis, as well as any past experience in interpreting and responding to the results.
By highlighting these skills on your resume, you can demonstrate to potential employers that you have the right skillset to be an effective Traffic Manager.
Key takeaways for an Traffic Manager resume
As a Traffic Manager, you need to have a resume that stands out from the competition and highlights your strengths as a leader and master of logistics. Here are some key takeaways to make sure that your resume stands out and lands you the job you desire.
Include specifics on your past campaigns. Be sure to include the campaigns that you have worked on in the past, and include any successes you achieved through them. This will show potential employers that you have a proven track record of success in managing campaigns.
Demonstrate your understanding of digital marketing. Show that you understand how digital marketing fits into the larger picture of a company's marketing strategy by including details about how you've managed campaigns across various channels, such as display advertising, search engine marketing, and social media.
Highlight your ability to analyze data. Traffic Managers often need to make decisions based off of data, so make sure to include examples of how you've used data to make decisions in past campaigns. Showing that you can analyze data and adjust campaigns based off of the results is a great way to show that you're a skillful Traffic Manager.
Show your creativity. A traffic manager needs to be able to think outside the box and come up with creative solutions to problems they face. Showcase any creative solutions you've implemented in the past, or any ideas you may have for future campaigns.
Emphasize your leadership skills. Traffic Managers often have to manage and oversee a team of other marketing professionals, so make sure to include any past experience you may have in leading a team and delegating tasks.
By following these tips, you'll be sure to create a resume that stands out and shows potential employers why you're the best candidate for the job. Good luck!
Let us help you build
your Resume!
Make your resume more organized and attractive with our Resume Builder