Are you looking to bring your skills as a Traffic Engineer to the next level? Writing a strong resume is essential in today's competitive job market, especially when applying for a job in the transportation industry. A Traffic Engineer resume needs to demonstrate that you have the technical skills and expertise to analyze traffic patterns, develop road safety and transportation systems, and evaluate projects for compliance with local and federal regulations. This guide will walk you through resume writing tips and provide concrete examples to help you create a winning resume.
If you didn't find what you were looking for, be sure to check out our complete library of resume examples.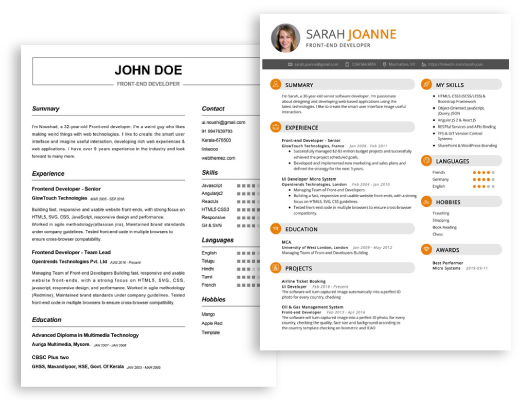 Start building your dream career today!
Create your professional resume in just 5 minutes with our easy-to-use resume builder!
Traffic Engineer Resume Examples
John Doe
Traffic Engineer
123 Main Street | Anytown, USA 99999 | Phone: (123) 456-7890 | Email: john.doe@email.com
I am a highly organized, proactive and motivated Traffic Engineer with 6+ years of experience in the field. I specialize in traffic flow optimization and traffic signal design. I am proficient in AutoCAD, GIS and Microsoft Office. My goal is to use my skills and knowledge to improve safety and traffic flow on the roads.
Core Skills:
Traffic Flow Optimization
Traffic Signal Design
AutoCAD
GIS
Microsoft Office
Project Management
Professional Experience:
Traffic Engineer, ABC Corporation, 2014- 2020
Developed traffic signal designs, optimized traffic flow and managed multiple projects
Reviewed layout plans, design documents and project cost estimates
Presented project updates to staff and stakeholders
Conducted traffic surveys, collected data and analyzed results
Developed and implemented traffic safety plans
Education:
Bachelor of Science in Civil Engineering, XYZ University, 2010- 2014
Traffic Engineer Resume with No Experience
A Passionate Traffic Engineer with no experience looking to apply the theoretical skills obtained from studies to practical, hands- on applications. Possesses fundamental knowledge of traffic engineering, transportation engineering, civil engineering, surveying and mapping, and geographic information systems. Possesses excellent problem solving, communication, and interpersonal skills and the ability to work both independently and in a team environment.
Skills
Traffic Engineering
Transportation Engineering
Civil Engineering
Surveying and Mapping
Geographic Information Systems
Problem Solving
Communication
Interpersonal Skills
Responsibilities
Assist with the preparation of traffic engineering plans, designs, and reports
Collect data from existing conditions and prepare reports
Develop traffic models to predict future conditions
Assist in designing and/or implementing traffic and safety improvement projects
Coordinate with other engineering, design, and construction staff
Assist in the preparation of cost estimates for proposed projects
Conduct field surveys and inspections to gather data for traffic counts, speed studies, and turning movement counts
Prepare feasibility studies by collecting and analyzing existing conditions, traffic, and data
Maintain and update traffic engineering databases, digital engineering models, and geographic information systems.
Traffic Engineer Resume with 2 Years of Experience
A Dedicated and detail- oriented Traffic Engineer with two years of experience in transportation planning and management. Solid background in developing transportation system strategies and plans, including development of traffic engineering plans and designs, traffic operations analysis and modeling, roadway safety, and traffic impact studies. Demonstrated ability to understand and apply established engineering principles and practices to the design and analysis of traffic engineering projects.
Core Skills:
Traffic Studies and Analysis
Roadway Safety
Traffic System Design
Transportation Planning
Traffic Impact Studies
Advanced Traffic Design
Traffic System Maintenance
Knowledge of Federal, State, and Local Regulations
Responsibilities:
Developed and presented traffic engineering plans, designs, and analyses to municipal governments and other stakeholders
Conducted traffic impact studies to analyze existing or proposed traffic patterns
Prepared reports that summarized the results of traffic studies, plans, and designs for review and presentation to clients
Monitored and evaluated traffic flow characteristics, traffic operations, and safety data to identify system deficiencies
Developed traffic safety programs to reduce the severity and number of traffic accidents
Performed traffic analysis and design on a variety of transportation system projects
Developed and maintained traffic engineering plans and designs for roadway improvement projects
Coordinated with other transportation professionals to ensure accuracy and consistency in traffic engineering plans
Assisted in the preparation of traffic engineering reports and documents
Traffic Engineer Resume with 5 Years of Experience
Driven and detail- oriented Traffic Engineer with 5 years of experience in traffic safety, engineering principles, and roadway construction. Possess strong communication skills and an analytical approach to problem- solving. Aptitude for identifying and implementing cost- effective solutions while upholding public safety regulations.
Core Skills:
Expertise in roadway design and traffic engineering principles
Excellent interpersonal, verbal, and written communication skills
Analytical and creative problem- solving capabilities
Proficient in the use of the latest traffic engineering software
Highly knowledgeable of traffic safety regulations
Responsibilities:
Designed and implemented projects to improve roadway safety and reduce congestion
Conducted traffic studies and prepared reports for new roadway projects
Collaborated with other engineers in the development of traffic management plans
Utilized traffic engineering software to identify and analyze traffic patterns
Researched and evaluated potential traffic control solutions
Inspected construction sites to ensure compliance with local regulations
Developed accident prevention programs and conducted related studies
Traffic Engineer Resume with 7 Years of Experience
Dedicated and experienced Traffic Engineer with 7+ years of experience in the analysis, design, and implementation of traffic operations and safety improvements within a range of transportation- related projects. Proven track record of successful collaboration with stakeholders, government bodies, and contractors to ensure the timely delivery of successful projects. Expertise in traffic impact studies, traffic signal, and roadway design.
Core Skills:
Traffic Impact Studies
Traffic Signal Design
Traffic Management & Safety Improvements
Roadway Design
Stakeholder Collaboration
Project Management
Transportation Engineering Fundamentals
Traffic Analysis & Design
Responsibilities:
Conducted traffic impact studies to evaluate potential impacts and formulate recommendations to mitigate impacts.
Developed traffic signals and other safety measures to improve traffic flow and safety.
Assisted in the design of roadway improvements to improve traffic flow and safety.
Collaborated with clients, government bodies, and contractors to ensure the successful delivery of projects.
Prepared and managed project budgets, schedules, and deliverables.
Performed traffic signal design and analysis using computer programs.
Conducted traffic analysis to evaluate the impacts of proposed developments.
Investigated and analyzed traffic patterns and traffic flow data to identify areas of improvement.
Traffic Engineer Resume with 10 Years of Experience
An experienced and detail- oriented Traffic Engineer with 10+ years of experience in planning, designing and overseeing of highway systems and public transportation networks. Possess strong analytical and problem- solving skills and a proven ability to manage multiple projects, communicate effectively and deliver projects on- time and within budget. Proven track record in developing and implementing projects that have reduced traffic congestion and improved safety measures and highway infrastructure.
Core Skills:
Analytical and problem- solving skills
Project management
Traffic engineering
Traffic flow analysis
Highway system design
Public transportation network planning
Road safety and infrastructure
Data analysis
Software development
Budgeting and cost control
Responsibilities:
Developed and implemented projects that improved traffic flow, reduced traffic congestion and improved safety measures
Conducted detailed traffic flow analysis to identify optimal solutions for traffic control and road design
Designed and managed highway systems, public transportation networks and intersection improvements
Developed software for traffic engineering applications and data analysis
Managed the budget and cost control for projects
Coordinated with local agencies and city officials on the implementation of traffic improvement projects
Coordinated with contractors on the construction of roadways and intersections
Provided training and mentoring to junior traffic engineers
Traffic Engineer Resume with 15 Years of Experience
A Highly experienced Traffic Engineer with 15+ years of professional experience in traffic management, optimization, and engineering design. Adept in developing and implementing traffic control plans utilizing cutting- edge technologies. Proven record of successfully conducting traffic engineering studies and analysis while maintaining high standards of safety and efficiency. Adept in managing and troubleshooting transportation systems as well as executing infrastructure projects.
Core Skills:
Knowledge of traffic engineering design and principles
Proficiency in utilizing software for traffic engineering analysis
Demonstrated ability to analyze and interpret traffic data
Highly organized and detail- oriented
Ability to develop and implement effective traffic management plans
Excellent written and verbal communication skills
Ability to work in a fast- paced environment
Responsibilities:
Evaluate and analyze traffic data to identify trends and recommend solutions
Develop and implement traffic control plans and strategies
Provide technical support for various traffic engineering and safety projects
Conduct traffic engineering studies and analysis including flow, capacity, speed, and safety studies
Design and implement traffic signal systems, traffic signs, and pavement markings
Supervise and manage traffic engineering projects and initiatives
Maintain safety standards in traffic engineering designs and operations
Provide guidance and support to project teams in the areas of traffic engineering and analysis
Evaluate and manage traffic systems and infrastructure projects.
In addition to this, be sure to check out our resume templates, resume formats, cover letter examples, job description, and career advice pages for more helpful tips and advice.
What should be included in a Traffic Engineer resume?
Are you looking to create an impressive resume for a Traffic Engineer position? With the right elements, you can create the perfect resume that will demonstrate your skills and set you apart from other applicants. Here are some helpful tips for what should be included in a Traffic Engineer resume:
Detailed Education Information: Make sure to include your educational background, including the degree you earned and any certifications you may have.
Experience Related to Traffic Engineering: Make sure to list any experience you have related to Traffic Engineering, such as positions within the field, research or projects you've worked on, or relevant experience from other fields.
Technical Skills: Highlight any technical skills relevant to Traffic Engineering, such as knowledge of traffic analysis software or traffic engineering principles. Demonstrate how you have used these skills in the past in your experience section.
Unique Skills: Don't forget to include any unique skills that make you stand out. This could include project management experience, problem-solving skills, or any special qualifications you may have.
Professional Accomplishments: This is your chance to showcase your professional achievements. Include any awards or recognitions you've received, as well as any Traffic Engineering-related presentations or papers you've written.
By following these tips, you can make sure that your Traffic Engineer resume is comprehensive and impressive. Good luck!
What is a good summary for a Traffic Engineer resume?
A Traffic Engineer resume should be concise and highlight the skills and accomplishments that make you an ideal candidate for the position. A summary should include your education, technical abilities, and experience in managing traffic systems and working with other professionals to analyze and improve roadway safety. Emphasize your ability to use advanced technology to devise, analyze, and implement traffic engineering plans and activities. Your summary should also include the projects you have worked on and any awards or certifications you have obtained in the field of traffic engineering. Finally, you should highlight any leadership and organizational experience you have and emphasize your commitment to safety and efficiency in the traffic engineering field.
What is a good objective for a Traffic Engineer resume?
A Traffic engineer resume should include an objective that outlines the applicant's strengths, experience, and qualifications relevant to the position. The objective should be concise and clearly demonstrate why you are the best candidate for the job. An effective resume objective should be tailored to the specific traffic engineer position and highlight your abilities and accomplishments that are most relevant to the role.
Here are some examples of good objectives for a traffic engineer resume:
Professional traffic engineer with 5+ years of experience in urban traffic planning, signal timing, and traffic operations management.
Passionate traffic engineer with expertise in conducting traffic studies, analyzing traffic flow, and implementing traffic safety strategies.
Detail-oriented traffic engineer with experience in preparing traffic reports and developing traffic engineering plans.
Experienced traffic engineer with extensive knowledge of traffic signal design, traffic engineering principles, and traffic control procedures.
Creative traffic engineer with strong project management skills and ability to develop innovative traffic solutions.
How do you list Traffic Engineer skills on a resume?
When applying for a position as a Traffic Engineer, it is important to showcase your relevant skills on your resume. This will show employers that you have the necessary expertise to do the job well. Here are a few key skills to include on your resume:
Knowledge of traffic engineering principles and concepts: As a Traffic Engineer, you will need to be well-versed in the various principles and concepts related to the field. This includes understanding traffic flow and capacity, traffic signal design and operation, and mobility engineering.
Proficiency with software programs: Traffic Engineers often rely on various software programs to complete their tasks. Make sure to list any software programs you're proficient with, such as transportation analysis and design software, traffic signal control and design software, and traffic simulation software.
Ability to analyze traffic data: Traffic Engineers need to be able to analyze data gathered from various sources in order to identify patterns and trends. Show employers that you have the ability to analyze and interpret data related to traffic conditions, traffic safety, and other related topics.
Excellent communication skills: As a Traffic Engineer, you will be in regular contact with colleagues, clients, and other stakeholders. It is important to demonstrate that you have excellent communication skills, both written and verbal, in order to carry out your work effectively.
Attention to detail: Finally, you should emphasize your ability to pay close attention to detail and accuracy when completing your work. This is especially important when it comes to developing and evaluating traffic engineering projects, as minor errors can have significant consequences.
By including these skills on your resume, you can demonstrate to employers that you have the skills and expertise to be a successful Traffic Engineer.
What skills should I put on my resume for Traffic Engineer?
Writing a resume for a traffic engineer position requires careful consideration to make sure you highlight your relevant skills and experience for the role. It's important to take the time to research the job description and create a resume that is well-tailored to the position.
Below are some key skills that should be included on your resume when applying for a traffic engineer position:
Knowledge of Traffic Design: Traffic engineers are responsible for designing the safest and most efficient routes for vehicles to travel. It's important to demonstrate your knowledge of traffic design principles to show that you can create and implement solutions that are both effective and safe.
Knowledge of Traffic Laws: As a traffic engineer, you will be responsible for making sure that all designs adhere to local and federal traffic laws. Demonstrating your understanding of these laws will show employers that you are able to create solutions that are compliant with all relevant regulations.
Problem Solving Skills: Traffic engineers must be able to think quickly and creatively in order to solve complicated traffic-related problems. Showcasing your problem-solving skills will demonstrate that you are capable of creating solutions to complex traffic issues.
Computer Aided Design (CAD) Software: Many traffic engineers use computer-aided design software to create and implement their solutions. Demonstrating your expertise in these types of software will show employers that you are capable of using the latest technology to create solutions.
Research Skills: Traffic engineers must be able to conduct research in order to make sure their solutions are effective and safe. Showcasing your research skills on your resume will demonstrate to employers that you are capable of finding the necessary information to create solutions.
By including these skills on your resume, you will be able to demonstrate your qualifications and show employers that you are the right fit for the position.
Key takeaways for an Traffic Engineer resume
As a traffic engineer, your resume is an important part of finding a job in your field. It should effectively highlight your skills and experience, as well as your understanding of traffic engineering principles and techniques. Here are a few key takeaways to help you create an effective traffic engineer resume:
Focus on your skills: Make sure that your resume emphasizes your technical abilities and knowledge. Demonstrate that you understand how to analyze traffic data, plan and design traffic systems, and apply engineering principles to traffic solutions.
Highlight your experience: Include any projects that you have completed related to traffic engineering and show how you used your skills and experience to solve problems.
Include relevant certifications: If you have any certifications related to traffic engineering, make sure to include them on your resume. These can demonstrate your commitment to the profession and your expertise.
Showcase your knowledge of traffic technology: Include any experience that you have with software or other technology related to traffic engineering.
Showcase your ability to work in a team: Emphasize any team projects that you have worked on and demonstrate how you were able to contribute to the success of the project.
By including these key elements in your resume, you can help to ensure that you stand out among other applicants and catch the attention of hiring managers.
Let us help you build
your Resume!
Make your resume more organized and attractive with our Resume Builder