Writing a resume for a position as a Parking Supervisor can be challenging. It requires a unique combination of technical knowledge, customer service skills, and an understanding of both public and private parking regulations. In this guide, we provide an overview of what should be included on a Parking Supervisor resume as well as a few examples to help you craft your own. With these tools, you will be able to highlight your qualifications for the position and create a resume that is sure to stand out from the competition.
If you didn't find what you were looking for, be sure to check out our complete library of resume examples.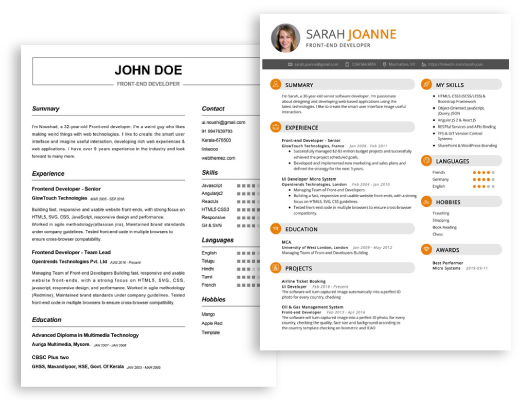 Start building your dream career today!
Create your professional resume in just 5 minutes with our easy-to-use resume builder!
Parking Supervisor Resume Examples
John Doe
Parking Supervisor
123 Main Street | Anytown, USA 99999 | Phone: (123) 456-7890 | Email: john.doe@email.com
I am an experienced and knowledgeable Parking Supervisor, with a proven track record of success and expertise in managing, organizing, and supervising operations associated with parking lots and garages. My experience in overseeing parking lot operations, coordination of staff, and customer service has enabled me to develop a keen set of abilities that can be applied to any situation. My professional experience allows for an awareness of the most efficient and cost- effective methods for parking lot maintenance, and I am always striving for ways to enhance customer satisfaction.
Core Skills:
Employee Management
Parking Lot Maintenance
Customer Service
Scheduling
Problem Solving
Conflict Resolution
Recordkeeping
Professional Experience:
Parking Supervisor, ABC Parking Lot, 2020- Present
Oversee day- to- day operations of parking lot including customer service, scheduling, recordkeeping, and staff management.
Monitor parking lot to ensure compliance with all regulations, policies, and procedures.
Coordinate staff schedules, providing support as needed and ensuring that all tasks are completed on time.
Handle customer complaints promptly and professionally.
Develop and implement efficient parking lot plans to maximize space utilization and ensure customer satisfaction.
Education:
Bachelor's degree in Business Administration, University of Wisconsin, Madison, WI, 2020
Parking Supervisor Resume with No Experience
Dedicated and motivated individual with a strong desire to work in a team environment and successfully manage the operations of a parking facility. A quick learner, who is able to prioritize tasks, efficiently and effectively solve problems, and ensure a safe and secure environment.
Skills
Effective verbal and written communication
Strong analytical and problem solving skills
Ability to prioritize tasks and manage multiple responsibilities
Excellent customer service and interpersonal skills
Strong organizational and planning ability
Proficient in Microsoft Office Suite
Responsibilities
Creating and implementing policies and procedures
Supervising and training parking staff
Monitoring and evaluating parking facility performance
Enforcing parking regulations and rules
Responding to customer complaints and inquiries
Collecting and processing fees and payments
Performing daily maintenance and safety checks
Maintaining accurate and complete records
Parking Supervisor Resume with 2 Years of Experience
Energetic and experienced Parking Supervisor with more than 2 years of hands- on experience in the parking industry. Possesses a comprehensive knowledge of parking routes and locations. Demonstrates excellent communication and problem- solving skills. Demonstrates a commitment to safety and customer service while managing a team of parking attendants.
Core Skills:
Supervising and Scheduling Staff
Time Management
Conflict Resolution
Record Keeping
Customer Service
Interpersonal Communication
Problem Solving
Delegation
Leadership
Responsibilities:
Supervising and scheduling staff to ensure coverage of all parking areas.
Assisting with customer inquiries and resolving customer complaints in a professional manner.
Ensuring all parking areas are maintained in a safe and clean condition.
Enforcing all parking rules and regulations.
Investigating and resolving any parking disputes.
Maintaining records of all parking payments and violations.
Assigning and delegating duties to parking attendants.
Assisting with the coordination of special events related to parking.
Developing and implementing strategies to improve efficiency in parking operations.
Parking Supervisor Resume with 5 Years of Experience
An experienced Parking Supervisor with 5 years of success in overseeing the operation of parking garages and lots. A motivated leader with the ability to manage staff, develop policies and procedures, and ensure that the safety of employees and customers is the top priority. Excellent communicator and problem- solver with a knack for managing the day- to- day operations of a parking facility.
Core Skills:
Strong organizational and time management skills
Ability to develop and implement operational policies and procedures
Excellent customer service and problem solving skills
Proficient in Microsoft Office Suite
Knowledge of safety and security regulations
Ability to manage and motivate staff
Responsibilities:
Supervise the daily operations of a parking facility, including the hiring and training of new staff
Ensure the safety and security of employees, customers, and the facility
Develop and implement operational policies and procedures
Monitor the facility for any potential threats or hazards
Respond to customer complaints in a timely and professional manner
Maintain accurate records and reports of parking operations
Manage the budget and financial operations of the facility
Enforce regulations and ensure compliance with rules and regulations
Parking Supervisor Resume with 7 Years of Experience
An experienced Parking Supervisor with 7 years of experience in the parking industry. I specialize in ensuring the safety and security of all customers and enforcing parking regulations. With excellent customer service, communication and problem- solving skills, I have the ability to work under pressure in fast- paced environments. I am also highly organized, detail- oriented and capable of managing multiple projects simultaneously.
Core Skills:
Customer Service
Problem Solving
Communication
Organization
Time Management
Safety & Security
Regulation Enforcement
Responsibilities:
Ensure the safety and security of all customers
Oversee the enforcement of parking regulations
Coordinate customer service activities
Provide assistance to customers in locating parking spots
Train and supervise parking staff
Ensure the accuracy and timeliness of all payments
Maintain an orderly and secure environment
Perform checks on customer vehicles to ensure they are in compliance with parking regulations
Inspect parking facilities and equipment regularly
Respond to customer inquiries and complaints
Enforce parking regulations and issue tickets
Resolve customer disputes and complaints
Parking Supervisor Resume with 10 Years of Experience
Highly organized and motivated Parking Supervisor with 10 years' extensive experience in managing and supervising a large team of parking attendants. An effective leader, able to identify and solve potential problems quickly, and maintain a positive working environment. Possesses excellent communication, problem- solving, and customer service skills. Always willing to go the extra mile to ensure that customers and colleagues are satisfied with the services provided.
Core Skills:
Supervision of parking attendants
Excellent customer service
Excellent problem- solving skills
Knowledge of parking regulations and protocol
Ability to manage a large team
Ability to handle difficult situations
Ability to multitask
Strong communication skills
Responsibilities:
Supervising a team of parking attendants
Ensuring compliance to all parking regulations and protocol
Maintaining order and discipline among the parking attendants
Assessing customer complaints and resolving them
Ensuring the safety and security of the parking lot
Negotiating and mediating disputes between customers and employees
Maintaining a high level of customer service
Performing periodic audits of the parking lot
Coordinating with vendors and suppliers to ensure quality services
Monitoring the use of resources and equipment
Parking Supervisor Resume with 15 Years of Experience
A Highly experienced and dependable Parking Supervisor with 15 years of professional experience in providing excellent customer service, managing staff and ensuring overall safe and secure parking facilities. Possess in- depth knowledge of parking policies and procedures. Effectively managed and organized all operational activities relating to parking management and staff. Ability to multitask and prioritize tasks to ensure a safe environment and efficient customer service.
Core Skills:
Excellent customer service
Organizational and management skills
Strong problem- solving skills
Parking policies and procedures
Interpersonal and communication skills
Ability to multitask and prioritize
Responsibilities:
Managed staff and provided direction and instruction when needed
Developed policies and procedures to ensure safe and secure parking areas
Maintained database of payment records and customer information
Ensured accuracy of daily, monthly and annual parking revenue
Collected fees and maintained accurate financial records
Planned and implemented promotional activities to increase parking revenue
Responded to customer queries and complaints and provided solutions
Analyzed and monitored performance of staff and took corrective action when needed
Ensured parking areas are clean and free of debris
Maintained up- to- date knowledge of parking policies and regulations
In addition to this, be sure to check out our resume templates, resume formats, cover letter examples, job description, and career advice pages for more helpful tips and advice.
What should be included in a Parking Supervisor resume?
A Parking Supervisor resume should include key skills and experience in a comprehensive and organized manner. Specific qualifications should be highlighted in the resume to make it stand out.
Here are some of the items that should be included in a Parking Supervisor resume:
Professional Summary: A brief summary of your career and qualifications as a Parking Supervisor should be included at the top of the resume.
Work Experience: Be sure to include any past work experience that relates to being a Parking Supervisor. This should include the name of the employers, job titles, and a description of the roles and responsibilities.
Education: Include any educational qualifications relevant to the job.
Job Skills: List any job-specific skills that are necessary for the role of a Parking Supervisor. These can include customer service skills, technical proficiency, organizational skills, and problem-solving skills.
Certifications: Include any certifications related to the job that you have obtained.
Professional References: Provide contact information for three to four professional references.
By including these items in a Parking Supervisor resume, you can demonstrate to potential employers that you have the experience and skills necessary to excel in the role.
What is a good summary for a Parking Supervisor resume?
A Parking supervisor is responsible for overseeing parking operations, including enforcing rules and regulations, directing and supervising staff, and maintaining the facilities. The perfect resume for a parking supervisor should include a summary of your professional skills, such as your experience in parking operations and management, as well as your ability to work well with staff and customers. It should also emphasize your knowledge of parking industry standards, your excellent customer service skills, and your strong organizational and problem-solving abilities. Additionally, your resume should demonstrate your commitment to safety and security, as well as your dedication to providing a positive customer experience. Finally, your summary should highlight any relevant certifications and qualifications you possess, such as a valid driver's license and first aid certification.
What is a good objective for a Parking Supervisor resume?
A Parking supervisor plays a vital role in any parking facility, managing staff, handling customer complaints, and enforcing safety and security regulations. A well-written objective on a resume can demonstrate your skills and experience to potential employers.
When writing your objective for a parking supervisor resume, be sure to include the following:
Demonstrate your knowledge of parking facility regulations, safety policies, and customer service practices
Highlight your ability to manage staff and lead a team
Showcase your problem-solving skills and ability to handle customer complaints
Communicate your dedication to promoting a safe and secure parking environment
Express your commitment to providing exceptional customer service
By emphasizing these qualities in your objective statement, you can demonstrate that you have the necessary qualifications and experience to excel as a parking supervisor.
How do you list Parking Supervisor skills on a resume?
Including a parking supervisor skills section on your resume is an effective way to show employers you have the qualifications they're looking for. Though the specific skills you'll need will depend on the company's environment and the specific job opening, there are several general abilities that are essential for any parking supervisor.
Professionalism: Parking supervisors must possess a professional demeanor in all interactions with customers, coworkers, and other professionals. They must have the ability to respond quickly and appropriately to challenging customer situations.
Leadership: Parking supervisors must have strong leadership skills to effectively manage and motivate their team. They must have the ability to delegate tasks, guide colleagues, and enforce safety regulations.
Communication: Parking supervisors must have excellent communication skills to effectively explain procedures to customers, resolve customer complaints, and communicate with team members.
Organizational skills: Parking supervisors must be organized and detail-oriented in order to ensure that all tasks are completed in a timely and accurate manner. They must have the ability to manage multiple tasks at once and prioritize tasks based on urgency and importance.
Problem-solving: Parking supervisors must be able to use their problem-solving skills to quickly identify and resolve customer and parking issues. They must be analytical and able to think clearly and logically in a variety of situations.
Computer skills: Parking supervisors must have basic computer skills to manage online databases and create reports. They should also be able to quickly learn new software and applications.
Safety: Finally, parking supervisors must be knowledgeable about safety policies and procedures and be able to enforce them. They must be prepared to handle emergency situations in a calm and effective manner.
By including these skills on your resume, you can demonstrate to employers that you have the qualifications to be an effective and successful parking supervisor.
What skills should I put on my resume for Parking Supervisor?
As a Parking Supervisor, you need to have a comprehensive skillset that you can showcase on your resume to employers. It is important to ensure that you present a resume that highlights your abilities in order to stand out from other applicants. Here are a few skills you should include on your resume when applying for a Parking Supervisor role:
Supervisory Experience: A Parking Supervisor is responsible for managing other personnel, so having prior supervisory experience is essential. Demonstrate your ability to lead a team and manage employees on your resume by providing specific examples of team projects you have overseen, employees you have managed, or initiatives you have implemented.
Customer Service: Demonstrate your aptitude for dealing with people in a polite and professional manner. Show your ability to resolve disputes, provide support when needed, and maintain a professional attitude when it comes to dealing with customers.
Problem Solving: As a Parking Supervisor, it is essential to be able to think on your feet and make quick decisions when necessary. Provide examples of how you have used your problem-solving skills in the past to solve conflicts, find solutions to challenges, and resolve customer complaints.
Leadership: Show your ability to lead a team and motivate others to excel. Provide examples of how you have led projects and initiatives, as well as how you have inspired and motivated others.
Organizational Skills: Parking Supervisors need to be organized and able to manage multiple tasks at once. Showcase your ability to create schedules, manage resources, and prioritize tasks on your resume.
Communication: Provide examples of how you have used effective communication to convey information, keep employees up-to-date, and ensure everyone is on the same page.
By highlighting these skills on your resume, you will be able to demonstrate your qualifications and abilities as a Parking Supervisor. Your resume should showcase your past experiences, as well as your ability to lead and manage
Key takeaways for an Parking Supervisor resume
If you are an experienced parking supervisor looking for a new job, your resume should reflect your expertise in the field. To make sure your resume effectively communicates your qualifications, here are some key takeaways to keep in mind.
First, list any special skills or qualifications you have. These may include certifications, specialized training, or experience in other areas of parking-related management. Make sure to include your experience supervising parking attendants, and any special procedures you have implemented as a supervisor.
Second, include any successes or accomplishments you've achieved as a parking supervisor. Possibly include any awards or recognition you have received, or any cost-savings initiatives you may have implemented.
Third, be sure to list any customer service or client relations training or experience you have. This will show potential employers that you have the skills to handle any customer service or client relations issues that may arise within the parking lot.
Finally, include any references you have from your past employers. These will help demonstrate to potential employers that you are a dependable and reliable parking supervisor.
By keeping these key takeaways in mind, you can ensure that your resume will effectively communicate your qualifications and experience as a parking supervisor. Good luck in your job search!
Let us help you build
your Resume!
Make your resume more organized and attractive with our Resume Builder