Writing a resume as a parking manager can be challenging, especially when you are trying to create one that stands out and is tailored to the job you are applying for. To make the process easier, this resume writing guide will provide you with a comprehensive overview of how to create an effective resume that showcases your skills and experience, as well as provide several examples of successful resumes from parking managers. With this guide, you will be able to create a resume that will help you stand out from the competition and increase your chances of landing the job.
If you didn't find what you were looking for, be sure to check out our complete library of resume examples.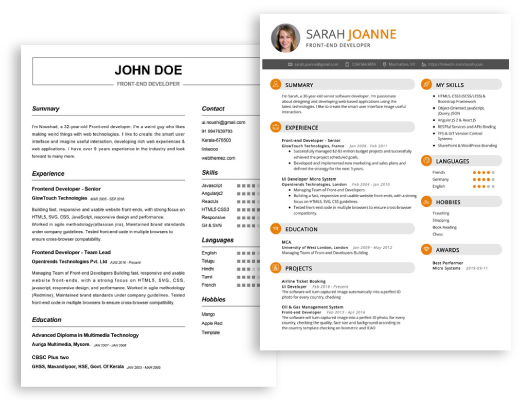 Start building your dream career today!
Create your professional resume in just 5 minutes with our easy-to-use resume builder!
Parking Manager Resume Examples
John Doe
Parking Manager
123 Main Street | Anytown, USA 99999 | Phone: (123) 456-7890 | Email: john.doe@email.com
I am an experienced Parking Manager with 6+ years of experience in the management of parking operations. I possess a deep understanding of the principles of parking management and the ability to provide efficient management to ensure the optimal utilisation of available resources. My experience includes the successful management of daily parking operations, the development of parking policies and procedures, and the enforcement of parking regulations. I am well- versed in customer service and possess an eye for detail, problem- solving and organisational skills. I am confident that my expertise and comprehensive knowledge of parking management can be of great value to any organisation.
Core Skills:
Expertise in Parking Management
Excellent Organisational Skills
Knowledge of Parking Policies & Procedures
Effective Problem- Solving
Excellent Customer Service
Ability to Enforce Parking Regulations
Professional Experience:
Parking Manager, ABC Corporation
Managed daily operations of parking facility and staff of 50 employees
Developed and implemented parking policies and procedures
Oversaw the enforcement of parking regulations and maintained records of violations
Improved communication between staff and customers regarding parking services
Worked with other departments to ensure efficient parking operations
Monitored and evaluated staff performance and provided feedback
Parking Supervisor, XYZ Corporation
Supervised staff of 40 in daily parking operations
Developed and enforced policies and procedures for parking operations
Managed customer relations and provided customer service
Monitored and evaluated staff performance and provided feedback
Coordinated with other departments on parking related issues
Ensured compliance with laws, regulations and safety requirements
Education:
Bachelor of Science in Parking Management, University of XYZ
Parking Manager Resume with No Experience
Dynamic and organized Parking Manager with no experience in the field but with organizational and leadership skills, to manage the parking operations of a large organization. Possesses strong communication and people skills, with the ability to prioritize tasks and maintain order in the workplace.
Skills
Excellent organizational and multitasking abilities
Strong leadership skills
Excellent communication and people skills
Ability to maintain order in the workplace
Strong problem- solving skills
Self- motivated and detail- oriented
Responsibilities
Organize, direct and supervise the daily operations of the parking lot
Ensure the safety of vehicles and the security of the parking facility
Ensure vehicles have the necessary permits and payment
Ensure the cleanliness of the parking lot and its surroundings
Provide customer service to patrons and answer any inquiries
Maintain records and logs of parking transactions
Perform daily inspections of the parking facility for maintenance needs
Parking Manager Resume with 2 Years of Experience
Dynamic parking manager with 2 years of experience in managing and leading teams of parking lot attendants and valets. Proven ability to work in any parking lot environment, handle customer requests and complaints, and motivate a team to provide exceptional customer service. Possesses excellent interpersonal, communication, and problem- solving skills.
Core Skills:
Leadership
Customer Service
Interpersonal Communication
Organization
Time Management
Proactive Problem- solving
Responsibilities:
Supervised, trained, and evaluated personnel in all aspects of parking lot operations.
Ensured the safety and security of parking lot patrons and employees through implementation of safety protocols and procedures.
Coordinated daily operations, including assigning duties, scheduling staff, and managing workflow.
Reviewed and monitored parking lot security systems, cameras, and traffic flow.
Enforced parking regulations and violations and issued citations to violators.
Ensured compliance with relevant state and local ordinances.
Responded promptly and professionally to customer inquiries and complaints.
Assisted customers with parking questions, directions, and requests.
Offered creative solutions to improve customer experience in the parking lot.
Monitored and maintained accurate records of parking lot operations.
Parking Manager Resume with 5 Years of Experience
Results- driven Parking Manager with 5+ years of experience in ensuring smooth day- to- day operations in fast- paced parking areas. Proven success in supervising staff, providing customer service, monitoring parking areas, and resolving customer disputes. Skilled in developing, implementing, and enforcing parking policies. Well- versed in budgeting, forecasting, and managing staff performance.
Core Skills:
Team Management
Parking Lot Administration
Customer Service
Policy Development
Financial Management
Problem- Solving
Analysis and Reporting
Conflict Resolution
Responsibilities:
Supervise and train staff to ensure safe, secure and efficient operations at assigned parking areas
Develop, implement and enforce parking policies
Monitor safety and security of the parking lot and its visitors
Provide exceptional customer service by responding to customer complaints and resolving disputes
Prepare daily, weekly, and monthly reports on the status of parking areas
Actively participate in budgeting and forecasting of parking lot operations
Maintain and update records of parking lot activities and transactions
Enforce parking regulations and manage access control to the parking lot
Parking Manager Resume with 7 Years of Experience
A Motivated and organized professional with 7 years of experience as a Parking Manager. Possess an excellent ability to manage staff, enforce rules and regulations, and ensure that all patrons are following safety regulations. Detail- oriented with an exceptional ability to handle any parking- related problems. Possess a valid driver's license and a strong background in customer service.
Core Skills:
Excellent leadership and problem solving skills
Strong knowledge of parking regulations and laws
Solid understanding of parking operations
Excellent customer service and communication skills
Ability to handle multiple tasks simultaneously
Ability to manage budgets and financial records
Responsibilities:
Monitoring parking operations on a daily basis
Enforcing parking regulations and laws
Directing and managing staff
Maintaining financial records and budgets
Resolving customer complaints quickly and efficiently
Assisting patrons with payment options
Implementing safety policies and procedures
Conducting regular inspections to ensure compliance with regulations
Ensuring that all parking lots are well maintained and secure
Parking Manager Resume with 10 Years of Experience
A Professional parking manager with 10 years of experience in the industry, I specialize in planning, implementing, and evaluating parking management processes and systems. With my proven ability to develop motivating and results- oriented strategies, I have improved parking operations and generated significant cost savings. My expertise lies in partnering with stakeholders to ensure that all parking needs are met while promoting a safe and secure environment.
Core Skills:
Project Management
Customer Service
Parking Regulations
Lot Management
Parking Revenue
Technology Solutions
Data Analysis
Parking System Design
Responsibilities:
Developed and implemented effective parking management strategies.
Developed and implemented user- friendly parking systems that integrate with existing software.
Analyzed parking utilization trends to maximize revenue potential and create cost savings.
Negotiated contracts with parking vendors and monitored performance.
Ensured compliance with parking regulations and enforced parking rules.
Researched and implemented the latest technology and equipment for efficient parking management.
Provided customer service and resolved customer complaints.
Managed parking operations, including lot maintenance, signage and lighting.
Oversaw the collection of parking fees and monitored parking revenue.
Parking Manager Resume with 15 Years of Experience
A Seasoned and reliable Parking Manager with 15 years of experience in coordinating and managing parking operations, ensuring customer satisfaction and maintaining safe and secure parking environment. Possesses adept knowledge of parking rules and regulations, and proven ability to promote customer loyalty and develop customer relationships. Demonstrated record of successfully managing staff and utilizing effective strategies to optimize parking availability.
Core Skills:
Leadership
Communication
Problem Solving
Customer Service
Organization
ParkingLot Management
Policy & Procedure Development
Responsibilities:
Managed and coordinated parking operations, including parking lot maintenance and security.
Developed and implemented policies and procedures to ensure safe, secure and efficient parking operations.
Ensured customer satisfaction by responding to inquiries and complaints in a timely manner.
Supervised, trained and evaluated parking staff.
Maintained up- to- date records of lot occupancy and parking fees.
Enforced parking regulations, ensuring that all violations were documented and reported.
Implemented strategies to maximize parking availability.
Monitored and improved customer service levels, driving customer loyalty and repeat business.
Identified and reported potential security risks and emergencies.
In addition to this, be sure to check out our resume templates, resume formats, cover letter examples, job description, and career advice pages for more helpful tips and advice.
What should be included in a Parking Manager resume?
Writing a resume for a Parking Manager position can be a daunting task. You need to showcase your experience and skills, while at the same time highlighting your ability to lead and manage a parking lot. To help you create a successful resume, here are some points to consider:
Include a concise yet detailed summary of your experience in managing a parking lot. Highlight any projects you've taken part in, and any awards or recognition you've received.
Describe any responsibilities you've had that are related to parking operations. This can include setting up and implementing parking policies, supervising parking staff, and handling customer service issues.
Mention any relevant qualifications you have, such as a degree in a related field or certifications from a parking management association.
Provide details of any software you are proficient in that is related to parking operations. This could include software related to ticketing, validation, and monitoring systems.
Showcase your ability to lead and manage a team. This can include any teambuilding activities or initiatives you've implemented.
Highlight any accomplishments you've had regarding improving efficiency, customer satisfaction, and revenue.
By carefully including these points in your resume, you'll give yourself the best chance of being considered for the Parking Manager role. Good luck!
What is a good summary for a Parking Manager resume?
A Parking Manager is responsible for overseeing various aspects of a parking facility or garage, including personnel management, customer service, security, revenue management and operations. A strong summary for a Parking Manager resume should demonstrate the candidate's experience in the field, their management and interpersonal skills, and their ability to provide an efficient and safe parking environment. The summary should also highlight the candidate's exceptional customer service, problem-solving, and communication skills. Additionally, the summary should showcase the candidate's ability to maximize revenue and adhere to organizational goals. Finally, the summary should emphasize the candidate's commitment to safety and security, as well as their knowledge of relevant laws and regulations.
What is a good objective for a Parking Manager resume?
A Parking Manager is responsible for overseeing the day-to-day operations of a parking lot or garage. Their primary role is to ensure that customers receive the best quality customer service, that the facility meets all safety and maintenance regulations and that the facility is profitable. As a parking manager, you need to have strong leadership skills and a knack for problem-solving. A good objective for a Parking Manager resume includes:
Provide customer service excellence and ensure high-quality customer experience
Oversee overall management and operations of parking lot or garage
Ensure facility remains compliant with all safety and maintenance regulations
Develop strategies to increase customer satisfaction and profitability
Train, motivate and lead the staff to maximum performance
Manage and coordinate with vendors and suppliers to ensure effective operations
Handle customer complaints and disputes quickly and effectively
How do you list Parking Manager skills on a resume?
When applying for a role as a Parking Manager, it's important to showcase the skills, experience, and qualifications that make you the best fit for the job. A great way to do this is to list your relevant skills in your resume. Here are some examples of Parking Manager skills to include on a resume:
Familiarity with parking regulations and parking lot management: Show that you know what it takes to manage a parking lot and the regulations that govern it.
Ability to handle customer complaints: Being able to take customer complaints and handle them in a professional and accommodating manner is crucial for a Parking Manager.
Knowledge of parking equipment: Demonstrate that you understand how to use and maintain parking equipment, such as payment machines, cash registers, and ticketing systems.
Organization and time management skills: A Parking Manager needs to be able to manage their time effectively and stay organized.
Problem-solving skills: A Parking Manager needs to be able to think on their feet and come up with solutions to any possible issues that may arise.
Ability to work in a team: As a Parking Manager, you'll need to be able to collaborate effectively with other team members to ensure that the parking lot runs smoothly.
By including these skills on your resume, you can show employers that you have the experience and qualifications necessary to excel as a Parking Manager.
What skills should I put on my resume for Parking Manager?
A Parking manager is responsible for ensuring smooth operations in parking lots and garages for their employers. To be a successful parking manager, there are a variety of skills and qualities that you should highlight on your resume to stand out from the competition.
Leadership: As a parking manager, you will need to be an effective leader in order to oversee a lot or garage's operations. This includes the ability to delegate tasks, make decisions and motivate your team.
Communication: As a parking manager, you will need to be able to communicate effectively with customers, vendors, and other staff members. This includes being able to clearly and concisely explain parking policies and procedures to customers.
Problem-Solving: As a parking manager, you will need to be able to think on your feet and troubleshoot any issues that may arise. This includes being able to think quickly and come up with creative solutions to unexpected problems.
Organization: As a parking manager, you will need to be able to stay organized and keep track of multiple tasks at once. This includes being able to juggle multiple projects, prioritize tasks, and manage your team's workload.
Customer Service: As a parking manager, you will need to possess excellent customer service skills in order to effectively handle customer complaints and resolve any issues that may arise. This includes being able to provide efficient and courteous service.
Technical Knowledge: As a parking manager, you should have a basic knowledge of computers and technology in order to effectively manage the operations of a lot or garage. This includes working with software programs, creating reports, and keeping track of inventory.
By highlighting these skills on your resume, you will be able to show potential employers that you have what it takes to be an effective and successful parking manager.
Key takeaways for an Parking Manager resume
When it comes to writing a resume for a Parking Manager position, there are a few key takeaways that should be included. These key takeaways will help you stand out from the competition and demonstrate your qualifications for the position.
First, your resume should demonstrate your extensive knowledge of parking operations and the laws and regulations related to parking. It is essential that you display your ability to manage parking lots and ensure they remain efficient while providing a safe environment for customers. You should also showcase your experience in customer service, as your role requires you to interact with customers and resolve their issues.
Second, your resume should highlight your problem-solving skills and ability to think on your feet. As a Parking Manager, you will have to respond quickly to any issues that arise in the parking lot. You should be able to think outside of the box and come up with innovative solutions to any potential problems.
Finally, your resume should showcase your financial expertise. The Parking Manager is responsible for setting rates, maintaining budgets, and collecting revenue. You must demonstrate that you are knowledgeable about financial strategies and can effectively manage a budget.
By including these key takeaways in your resume, you will be sure to stand out from the competition and show employers that you are the ideal candidate for the Parking Manager position.
Let us help you build
your Resume!
Make your resume more organized and attractive with our Resume Builder