A Package handler is a great way to put your organizational and customer service skills to use. If you're looking to enter this role, the first step is to create an impressive resume. Writing a package handler resume can be tricky, but this guide will provide you with all the necessary tips and examples to ensure your resume stands out from the crowd. With this guide, you'll have a resume that will make a lasting impression with potential employers.
If you didn't find what you were looking for, be sure to check out our complete library of resume examples.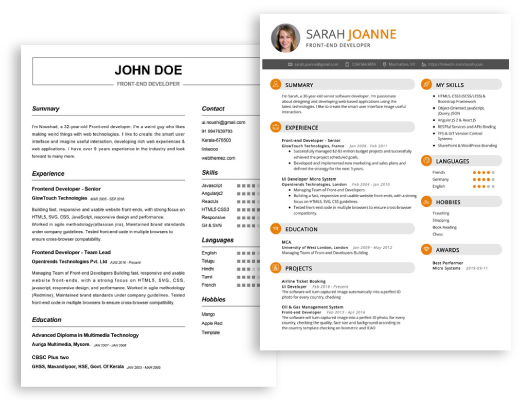 Start building your dream career today!
Create your professional resume in just 5 minutes with our easy-to-use resume builder!
Package Handler Resume Examples
John Doe
Package Handler
123 Main Street | Anytown, USA 99999 | Phone: (123) 456-7890 | Email: john.doe@email.com
Highly experienced Package Handler with over 8 years of experience in handling packages with extreme care and efficiency, while on time and on budget. A results- oriented and reliable individual with a strong customer service ethic and an ability to quickly learn and master new tasks. Team player with an excellent record of attendance and a strong commitment to safety protocols.
Core Skills:
Physically Fit and able to lift 75- 100lbs on a regular basis
Proficient in operating a forklift, pallet jack and other package- handling machinery
Excellent customer service and problem- solving skills
Proficient in MS Office and other software applications
Skilled in receiving, sorting and delivering packages accurately
Highly organized with strong attention to detail
Professional Experience:
Package Handler, ABC Company, 2016- present
Receive and sort packages, ensuring they are labeled and placed in the proper locations
Load and unload packages onto delivery trucks, using a forklift and pallet jack
Ensure all packages are loaded and unloaded safely, following company safety protocols
Assemble customer orders and package them for shipment
Monitor and maintain inventory levels
Maintain a clean and safe work environment
Package Handler, XYZ Company, 2012- 2016
Received, sorted, and delivered packages accurately and on time
Loaded and unloaded packages with a forklift and pallet jack
Assembled customer orders and packaged them for shipment
Maintained inventory levels and a clean work area
Operated the package- handing machinery according to safety protocols
Education:
High School Diploma, ABC High School, 2012
Package Handler Resume with No Experience
Recent college graduate with enthusiasm and enthusiasm for logistics and package handling.
Highly organized, energetic, eager to learn, and able to work well in fast- paced environments.
Looking to begin a career in package handling with a reputable company.
Skills
Good communication and customer service skills.
Familiar with computers and computer software.
Able to lift and move heavy packages.
Good problem- solving skills and attention to detail.
Able to work in a team environment.
Responsibilities
Receive and properly store incoming packages.
Keep accurate records of packages received and shipped.
Inspect packages for any damage before shipment.
Manage inventory of packages and store properly.
Ensure packages are shipped on time.
Load and unload trucks for delivery.
Package Handler Resume with 2 Years of Experience
A Seasoned and motivated Package Handler with 2 years of experience in the shipping and receiving field. Possesses a strong work ethic, is detail- oriented, and has solid organizational skills and the ability to multitask. Able to quickly learn new procedures and processes and can efficiently manage and track inventory.
Core Skills:
Expert knowledge in all shipping and receiving practices
Strong communication, organizational, and problem- solving skills
Ability to work under pressure and meet tight deadlines
Proficient in operating inventory tracking software
Good at maintaining safety standards and following safety procedures
Responsibilities:
Inspect and verify incoming shipments against delivery orders
Unload and package deliveries and transport them to designated areas
Receive and organize materials, supplies, and tooling
Track and maintain inventory records and manage stock levels
Utilize pallet jacks and other material handling equipment safely
Load and unload trucks and trailers
Ensure all shipments are delivered on time and accurately
Follow safety regulations and ensure the warehouse is clean and organized
Package Handler Resume with 5 Years of Experience
Highly experienced Package Handler with 5 years of experience in FedEx, UPS, and USPS. Skilled in package sorting, scanning, and loading/unloading trucks. Adept in troubleshooting issues with packages, handling customer inquiries, and maintaining a safe work environment. Exceptionally organized, detail- oriented, and efficient in meeting deadlines.
Core Skills:
Package sorting
Scanning
Loading/unloading trucks
Troubleshooting issues with packages
Handling customer inquiries
Maintaining a safe work environment
Organizational skills
Detail- oriented
Efficient in meeting deadlines
Responsibilities:
Load and unload packages onto and off of trucks and other delivery vehicles
Sort packages according to size, weight, and other specific criteria
Scan packages using barcodes and other tracking systems
Ensure packages reach the correct destinations
Troubleshoot any issues with packages, such as incorrect addresses or damaged items
Answer customer inquiries about packages and delivery times
Maintain a safe work environment by following safety regulations
Ensure packages are loaded in a secure manner, with no risk of damage
Update records about packages, including delivery times, destinations, and customer information
Package Handler Resume with 7 Years of Experience
Results- oriented package handler with 7 years of experience in the transportation and logistics industry. Possesses a strong understanding of shipping and receiving processes and an ability to multi- task and work to tight deadlines. Outstanding communication, problem- solving, and team collaboration skills. Looking to share extensive knowledge and expertise with a new employer.
Core Skills:
Forklift operation
Unloading and Loading
Pallet Jack operation
Packaging and Shipping
Freight Sorting
Labeling
Time Management
Inventory Tracking
Responsibilities:
Unloaded and loaded delivery trucks and containers
Transported packages to designated locations
Applied proper labeling and sorting to freight
Operated manual, electric and pallet jacks
Picked and packed orders to meet customer specifications
Ensured accuracy of incoming and outgoing shipments
Processed receipts, returns and other documentation
Updated inventory tracking systems with accurate data
Maintained a safe and clean work environment at all times
Package Handler Resume with 10 Years of Experience
Highly competent and reliable Package Handler with 10 years of experience working in the shipping and delivery industry. Skilled in handling, sorting, and tracking packages for a variety of customers and businesses. Possessing strong communication and problem solving skills and a courteous attitude. Able to work in a fast- paced environment and deliver packages efficiently and safely.
Core Skills
Package handling and sorting
Tracking packages and ensuring delivery
Loading and unloading packages
Communication and customer service
Time management and multitasking
Problem solving
Strong work ethic
Safety and risk management
Responsibilities
Loading and unloading packages of various sizes and weights
Sorting and organizing packages for delivery
Tracking packages using a variety of methods
Delivering packages to customers in a timely and safe manner
Assisting customers with inquiries regarding packages
Utilizing proper safety guidelines when handling packages
Inspecting packages for any signs of damage
Maintaining accurate records and filing delivery paperwork
Ensuring packages are delivered on schedule
Adhering to safety regulations and handling protocols
Package Handler Resume with 15 Years of Experience
A Highly experienced package handler with 15+ years of experience working in warehouse and logistics. Possesses a great attention to detail, a reliable work ethic and the ability to lift up to 50 lbs. Experienced in receiving, stocking, loading, and unloading packages with a proven track record of accuracy and timely delivery.
Core Skills:
Strong physical fitness and endurance
Excellent attention to detail
Ability to operate pallet jacks, forklifts, and other warehouse equipment
Excellent organisational and problem- solving skills
Ability to work in a fast- paced environment
Responsibilities:
Receive, check and unload packages from delivery trucks
Sort packages according to company policy
Store packages in designated locations
Load and unload packages manually on pallets
Ensure accuracy of packages and addresses
Operate powered industrial equipment such as forklifts and pallet jacks
Maintain a clean and safe work environment
Identify and report damaged packages
In addition to this, be sure to check out our resume templates, resume formats, cover letter examples, job description, and career advice pages for more helpful tips and advice.
What should be included in a Package Handler resume?
A Package Handler resume should include the following information:
Contact Information: Full name, address, email, phone number
Objective: A concise statement of your career goals and intentions
Skills: A comprehensive list of your abilities related to package handling, including but not limited to loading, unloading, warehousing and transportation
Education: List all educational qualifications relevant to the position
Work Experience: A detailed list of relevant work experience, including job titles, company names, dates of employment and a description of duties
Licenses: Any licenses or certifications related to package handling
Additional Information: Any other relevant information such as volunteer experience, extracurricular activities or special skills
What is a good summary for a Package Handler resume?
A Package Handler's resume should focus on showcasing their ability to handle and move packages of varying sizes and weights with ease and accuracy. It should emphasize their ability to work quickly and efficiently with little to no supervision, as well as their attention to safety when loading and unloading packages. The summary should also highlight any customer service or warehouse experience, as well as any special certifications or relevant skills. By presenting a strong and concise summary, employers will have an easier time understanding why a Package Handler is the right person for the job.
What is a good objective for a Package Handler resume?
A Package Handler is a professional who works in a warehouse and is responsible for the receiving, packing, and shipping of goods. A Package Handler resume should demonstrate proficiency in the following areas:
Delivering goods in a timely and efficient manner
Ensuring packages are properly labeled and recorded
Following safety protocols for handling materials
Maintaining warehouse in an organized and tidy condition
Working with a team to complete tasks
A good objective for a Package Handler resume should focus on the ability to effectively manage the day-to-day operations of the warehouse and ensure that all packages are accurately labeled, recorded, and shipped on time. The objective should also highlight the individual's ability to work well with a team and maintain the warehouse in an organized and safe manner.
How do you list Package Handler skills on a resume?
When creating a resume, it is important to list any skills related to the job you are applying for. When applying for a package handler position, there are certain skills that employers look for. Here are some of the most important skills to list on your package handler resume:
Ability to lift heavy objects: Package handlers are responsible for quickly and accurately moving packages between destinations. This requires the ability to lift and carry heavy items without damaging them.
Attention to detail: Package handlers must take care to ensure that packages are labeled correctly and that the correct items are delivered.
Time management skills: Package handlers must be able to handle a high volume of packages and deliver them on time. This requires good time management skills.
Organizational skills: Package handlers must be organized in order to accurately move packages as quickly as possible. This includes knowing where to store packages and how to arrange them in order of delivery.
Interpersonal skills: Package handlers should have good communication and problem-solving skills in order to work well with customers and other employees.
Computer skills: Some package handlers may be required to use warehouse software or other computer programs in order to track packages and schedule deliveries.
By including these skills on your package handler resume, you can show employers that you are the ideal candidate for the job.
What skills should I put on my resume for Package Handler?
Resumes for package handlers should showcase skills that demonstrate your ability to successfully perform the job. These skills may include:
Physical Strength: Package handlers must be able to lift and move heavy items, so employers value physical strength in job applicants.
Attention to Detail: Package handlers need to identify and accurately manage packages as they are processed.
Time Management: Package handlers must be able to manage time effectively in order to complete tasks in a timely manner.
Communication: Package handlers must be able to communicate effectively with customers, supervisors, and other members of the team.
Organization: Package handlers must be able to organize packages in an efficient way and keep track of orders.
Computer Knowledge: Knowledge of basic computer systems is important in order to accurately process and track packages.
These skills should be highlighted on a package handler resume to show potential employers that you have the necessary qualifications for the job. In addition, you should include other job-related skills such as customer service, problem solving, and teamwork.
Key takeaways for an Package Handler resume
When you are creating a resume for a position as a package handler, there are some key takeaways that can help you make it stand out from the competition. Here are some of the main takeaways for creating an effective package handler resume:
Highlight Your Physical Abilities: Package handlers must be able to lift, carry, and move packages of varying sizes. It is important to emphasize your physical abilities in your resume so that employers will know that you are capable of handling the job.
Include Any Relevant Experiences: Any prior experience as a package handler or in a related field should be included on your resume. If you do not have prior experience, focus on any related activities such as being a delivery driver or working in a warehouse.
Demonstrate Attention to Detail: As a package handler, attention to detail is essential. Be sure to emphasize any experiences that demonstrate your ability to pay close attention and follow instructions accurately.
Showcase Your Organization Skills: Employers will want to see that you are organized and can handle multiple packages at once. Show examples on your resume of times when you successfully managed multiple tasks or packages at once.
Emphasize Your Safety Record: Package handlers must be aware of safety protocols and be able to follow them carefully. Showcase any safety records you may have or any experience you have had with safety training.
By following these key takeaways and using them as a guide when creating your package handler resume, you can create a resume that stands out from the competition and puts you in the best position possible to land an interview.
Let us help you build
your Resume!
Make your resume more organized and attractive with our Resume Builder