Writing a resume for a fleet manager position is a complex task, as you must showcase a combination of business acumen, technical expertise, and management skills. With the right approach, however, you can create an effective resume that will get you noticed by potential employers. This guide will provide tips on how to tailor your fleet manager resume for the best chance of getting an interview. Examples of resumes for fleet managers will also be discussed to give you a better idea of what employers expect from a successful job application.
If you didn't find what you were looking for, be sure to check out our complete library of resume examples.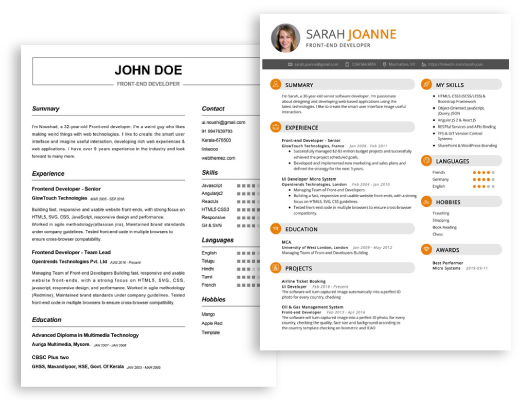 Start building your dream career today!
Create your professional resume in just 5 minutes with our easy-to-use resume builder!
Fleet Manager Resume Resume Examples
John Doe
Fleet Manager Resume
123 Main Street | Anytown, USA 99999 | Phone: (123) 456-7890 | Email: john.doe@email.com
I am an experienced Fleet Manager with over 10 years of experience in the transportation industry. I have a proven track record of success in optimizing fleet operations and systems, leading teams, and delivering results. My core skills include fleet management, fleet safety and compliance, budget management, and problem- solving. I am knowledgeable in logistics, supply chain management, and procurement. I have a strong commitment to providing effective customer service and have a proven ability to work well with a variety of people. I am looking for a position in which I can use my experience and expertise to deliver results and make a positive contribution to the organization.
Core Skills:
Fleet management
Fleet safety and compliance
Budget management
Problem solving
Logistics
Supply chain management
Procurement
Customer service
Team leadership
Professional Experience:
Fleet Manager, ABC Company, 2015- Present
Manage a fleet of over 500 vehicles and 40 drivers
Monitor and coordinate fleet safety and compliance regulations
Implement effective policies and procedures to optimize fleet performance
Develop and manage annual budget and track expenses
Monitor and analyze KPIs and generate accurate and timely reports
Supervise a team of 10 fleet coordinators and drivers
Fleet Coordinator, XYZ Company, 2010- 2015
Managed a fleet of 300 vehicles and 20 drivers
Ensured compliance with federal, state, and local regulations
Monitored and reported on fleet performance and daily operations
Established and maintained collaborative relationships with suppliers
Generated weekly, monthly, and quarterly reports
Education:
Bachelor of Science in Logistics, University of XYZ, 2006- 2010
Certifications in Fleet Management and Supply Chain Management, ABC Certification, 2011
Fleet Manager Resume with No Experience
A highly motivated and organized individual seeking to leverage my extensive knowledge of customer service and organizational skills to become a Fleet Manager. I am a hardworking and reliable individual, capable of efficiently managing complex projects and using problem solving strategies to drive results.
Skills
Excellent customer service skills
Strong organizational skills
Ability to multi- task and prioritize tasks
Proficient with Microsoft Office Suite
Knowledge of fleet management software
Excellent communication and interpersonal skills
Responsibilities
Develop and implement fleet management policies and procedures
Maintain records of all vehicles in the fleet
Monitor vehicles and fuel usage
Prepare reports on fleet performance
Ensure compliance with safety and regulatory standards
Inspect vehicles upon return and log any issues or repairs needed
Coordinate maintenance and repair services for fleet vehicles
Conduct driver training and safety programs
Fleet Manager Resume with 2 Years of Experience
I am a dynamic Fleet Manager with over two years of experience in the transportation industry. I have a passion for the detailed, nuanced work of fleet operations, and have a track record of success in maximizing efficiency, reducing costs, and ensuring compliance. I excel in leading teams, understanding customer needs, and leveraging data to identify opportunities for improvements. I am looking to leverage my expertise, experience, and successes in a new role.
Core Skills:
Proactive problem- solving
Fleet efficiency and cost optimization
Team building and development
Process and workflow improvement
Data- driven decision making
Vendor and supplier management
Regulatory compliance
Logistic and supply chain
Responsibilities:
Planned, coordinated, and managed fleet operations, including vehicles, drivers, and scheduling
Monitored fleet maintenance and repairs, ensuring vehicles were properly serviced and up to standards
Analyzed data and generated reports for leadership, identifying opportunities for cost savings and efficiency
Developed and enforced safety policies and procedures to ensure compliance with state and federal regulations
Managed vendor and supplier relationships, negotiating contracts and ensuring timely delivery of services and supplies
Created and implemented systems and processes to improve driver performance, reduce overall costs, and increase efficiency
Assessed drivers and vehicles to ensure they met expectations, provided feedback and counseling when necessary
Led, trained, and managed a team of drivers, providing direction and support to ensure successful completion of daily tasks
Fleet Manager Resume with 5 Years of Experience
Fleet manager with five years of experience in the transportation and logistics industry. Proven ability to lead and motivate teams, develop effective business strategies, and ensure timely and safe delivery of goods. Experienced in managing and optimizing fleet performance, evaluating driver performance, and creating efficient routes. Possesses a comprehensive knowledge of DOT regulations, safety protocols, and supply chain operations.
Core Skills:
Leadership
Business strategy
Fleet management
Logistics
Problem- solving
Regulatory compliance
Route optimization
Responsibilities:
Manage and optimize fleet utilization, ensuring all necessary vehicle checks are completed
Monitor driver performance and route progress, ensuring DOT compliance and safety protocols are followed
Develop and implement business strategies to improve standards of service and cost efficiency
Monitor and review daily operational reports to ensure quality of service and accuracy of data
Supervise and motivate staff, providing support and guidance when necessary
Liaise with customers, suppliers, and other stakeholders to ensure operational requirements are met
Ensure efficient logistics operations, from planning to delivery
Maintain employee records, monitor absenteeism and issue disciplinary action when necessary
Fleet Manager Resume with 7 Years of Experience
Experienced Fleet Manager with 7 years of experience in managing a fleet of vehicles to ensure operational efficiency. Skilled in developing and implementing procedures and standards, overseeing utilization and maintenance of vehicles, and ensuring compliance with safety regulations. Possess excellent communication, problem- solving, and organizational skills.
Core Skills:
Fleet Operations
Vehicle Maintenance
Safety Compliance
Organizational Skills
Problem- solving
Communication
Procurement
Responsibilities:
Maintained fleet inventory and documents for accuracy and compliance.
Scheduled and coordinated maintenance, repairs, and preventative maintenance for vehicles.
Ensured that all vehicles in the fleet were properly maintained and in good working order.
Managed drivers and other staff assigned to fleet operations.
Developed and implemented policies and procedures related to fleet operations.
Conducted regular safety inspections of the fleet and ensured compliance with safety regulations.
Tracked costs and budget for the fleet.
Negotiated contracts and procured parts, supplies, and services as needed.
Fleet Manager Resume with 10 Years of Experience
A Passionate and experienced individual with 10 years of Fleet Manager experience, I have developed a successful track record of managing day- to- day operations in a diverse range of industries. My industry knowledge and skills include vehicle maintenance, budgeting, and customer service. I am highly organized, efficient, and capable of leading a team as well as working independently. My experience spans from managing a fleet of vehicles to developing and implementing cost- effective strategies for fleet acquisition and maintenance.
Core Skills:
Vehicle maintenance
Budgeting
Fleet acquisition and management
Team leadership
Customer service
Problem solving and troubleshooting
Organizational and planning
Strong communication and interpersonal skills
Attention to detail
Responsibilities:
Developing and implementing comprehensive fleet management strategies to ensure cost efficiency.
Developing and maintaining fleet maintenance and safety protocols.
Overseeing fleet acquisition and operating expenses.
Ensuring all vehicles are maintained safely, serviced and repaired in accordance with manufacturers' specifications.
Supervising and training staff on fleet operations and safety procedures.
Preparing and analyzing reports on fleet performance and cost savings.
Ensuring compliance with local, state, and federal laws.
Negotiating with vendors to ensure the lowest prices on materials and services.
Investigating and troubleshooting any operational problems.
Liaising with customers to provide excellent customer service.
Fleet Manager Resume with 15 Years of Experience
An accomplished and results- driven Fleet Manager with 15 years of experience in the transport and logistics industry. Proven track record in managing and leading a team of drivers and mechanics to ensure efficient and timely service delivery. Highly skilled in creating and monitoring operational plans, scheduling and budgeting to maximize operational efficiency and cost- effectiveness. Possess superior problem- solving and communication skills.
Core Skills:
Fleet Management
Staff Management
Logistics and Scheduling
Operational Planning
Maintenance and Repair
Budgeting and Cost Control
Safety Compliance
Customer Service
Responsibilities:
Develop and maintain an efficient fleet of vehicles and staff
Manage scheduling of vehicles, staff and resources
Implement operational plans to ensure efficient and cost- effective service delivery
Monitor and manage vehicle maintenance and repair
Supervise and lead a team of drivers and mechanics
Track and report on fleet performance and budgeting
Ensure compliance with safety and legal regulations
Respond to customer inquiries and complaints effectively and efficiently
In addition to this, be sure to check out our resume templates, resume formats, cover letter examples, job description, and career advice pages for more helpful tips and advice.
What should be included in a Fleet Manager resume?
A Fleet Manager is responsible for overseeing a company's fleet of vehicles. This role requires a range of knowledge and skills, and an effective resume should demonstrate this. When crafting a resume for a Fleet Manager position, there are some key points to include:
Detailed Experience: A Fleet Manager needs to have a comprehensive understanding of the operations of a fleet of vehicles. Your experience should include the different types of vehicles you have managed, the size of the fleet, and any other relevant experience.
Strong Communication Skills: A Fleet Manager needs to be able to effectively communicate with drivers, mechanics, and other stakeholders. It is important to demonstrate your ability to communicate both verbally and in writing.
Safety Knowledge: A Fleet Manager needs to be knowledgeable of safety regulations and protocols in order to ensure the safety of vehicles and drivers. List any safety certifications or courses you have taken.
Technical Skills: Fleet Managers need to be able to make decisions and solve problems. Demonstrate any technical skills you have such as computer skills, problem-solving, and decision-making.
Organizational Skills: Fleet Managers need to be able to organize and manage a fleet of vehicles. Showcase your ability to prioritize and manage multiple tasks efficiently.
Budgeting Skills: A Fleet Manager needs to be able to manage a budget effectively. Demonstrate your ability to track expenses, create budgets, and manage cost-effectively.
By including these key points in your resume, you can effectively demonstrate your qualifications for the job. With a well-crafted resume, you will be sure to stand out to employers and make a strong impression.
What is a good summary for a Fleet Manager resume?
A Fleet Manager resume should provide a well-rounded summary of the candidate's professional experience, skills, and abilities. It should highlight their experience with managing fleets of vehicles, overseeing operations, and managing personnel. Additionally, the resume should include any certifications, awards, special training, and any other qualifications related to the position.
Specifically, a Fleet Manager resume should demonstrate the candidate's ability to ensure that all fleet operations run smoothly, efficiently, and safely. This may include day-to-day activities such as scheduling maintenance, resolving accidents, and enforcing safety protocols. Additionally, a successful Fleet Manager will also have experience with budgeting, as well as managing personnel and overseeing customer service.
Overall, a Fleet Manager resume should be comprehensive, showing the candidate's experience in the industry, any certifications or awards they have, and any other qualifications they possess. It should also be tailored to the position they are applying for, to demonstrate their aptitude and potential to excel in the role.
What is a good objective for a Fleet Manager resume?
A Fleet manager is responsible for managing a company's motorized vehicle fleet. A successful resume objective will highlight the key skills and experience necessary to be a successful fleet manager. A good objective for a fleet manager resume should be tailored to the specific job requirements and demonstrate the candidate's ability to handle the duties of the job. Here are some examples of objectives for a fleet manager resume:
Ability to manage a fleet of vehicles and ensure their efficient operation and maintenance.
Experienced in efficient fleet management, including scheduling and budgeting.
Proficient at developing and implementing policies and procedures for fleet management.
Proven track record of managing a fleet of vehicles with safety and cost-effectiveness in mind.
Excellent organizational and communication skills, with the ability to manage multiple projects simultaneously.
Knowledgeable in the latest fleet management technologies, including GPS tracking and fleet management software.
Highly organized, with the ability to prioritize tasks, manage time, and meet deadlines.
Self-motivated with a strong work ethic and commitment to providing quality customer service.
How do you list Fleet Manager skills on a resume?
When writing your resume, it is important to list all of the skills and qualifications you have that make you an ideal candidate for the job. As a Fleet Manager, you possess unique skills that set you apart and make you a great candidate for any position. Here are some tips for listing your Fleet Manager skills on your resume:
Highlight your technical skills: Fleet Managers must be knowledgeable in a variety of technical systems and software related to fleet management. Be sure to list any technical training you've taken, and the software you are proficient in.
Showcase your organizational skills: Fleet Managers must be able to organize large amounts of information and prioritize tasks. Demonstrate your organizational abilities by citing past experiences and accomplishments.
Detail your budgeting and financial skills: Fleet Managers have to have a good understanding of budgeting and financial management. If you've ever saved a company money through your management skills, be sure to include that on your resume.
Emphasize your interpersonal skills: Fleet Managers have to be able to interact with a diverse range of people. List any customer service or team building experience you have to demonstrate your interpersonal skills.
Focus on your problem-solving abilities: Fleet Managers must be able to identify and address potential problems quickly. Describe any times you've successfully implemented solutions to complex issues.
By highlighting your Fleet Manager skills on your resume, you can demonstrate to potential employers why you are the ideal candidate for the job.
What skills should I put on my resume for Fleet Manager?
Fleet Managers play an important role in the logistics industry, overseeing all aspects of transportation operations. As such, they need to possess a variety of skills to be successful. Your resume should include any skills related to the job, including those that demonstrate your leadership, organizational, and problem-solving abilities. Here are some skills you should consider including on your resume when applying for a Fleet Manager position:
Leadership: Fleet Managers are responsible for leading a team of professionals and ensuring that all operations run smoothly. Demonstrate your ability to lead and inspire a team by listing examples of successful initiatives you have implemented on past projects.
Organizational Skills: Fleet Managers must have strong organizational skills to be successful. Your resume should include examples of how you have used your organizational skills to streamline operations and improve efficiency.
Problem-Solving: Fleet Managers are expected to be able to troubleshoot and diagnose issues quickly and efficiently. List examples of when you have used your problem-solving skills to solve complex issues.
Communication: Fleet Managers need to be able to communicate effectively with customers, vendors, and other stakeholders. Showcase your ability to communicate clearly by including examples of successful negotiations or customer service initiatives you have taken part in.
Knowledge of Logistics Industry: Finally, you should demonstrate your knowledge of the logistics industry on your resume. Include any relevant certifications, trainings, or workshops that you have completed related to the industry.
By including the abovementioned skills on your resume, you will be able to show potential employers that you have the necessary skills and experience to be an effective Fleet Manager.
Key takeaways for an Fleet Manager resume
If you are a fleet manager looking to show prospective employers your qualifications and experience, you need to make sure that your resume is optimized to showcase your skills. To maximize the impact of your resume and secure the job you want, here are some key takeaways on how to write a resume as a fleet manager:
Highlight your experience and qualifications. A fleet manager will need to demonstrate a variety of skills and abilities, so make sure to include specific information about your experience and qualifications. Include any relevant certifications, training or education that you have completed, as well as any current or past positions you have held in the industry.
Showcase your technical skills. A fleet manager will be required to understand and use a variety of IT systems, so highlight any experience you have in this area. List specific technologies and software that you are familiar with and any areas where you have expertise.
Demonstrate your understanding of the industry. Include specific examples of your knowledge and understanding of the industry, such as regulations and safety guidelines. Showcase how you have been able to use your knowledge to increase efficiency and reduce costs.
Show your ability to lead and manage. Fleet managers must be able to lead teams, motivate staff and manage budgets. Include any roles where you have had to manage people and resources, and outline how you have been able to successfully meet targets and drive results.
By following these key takeaways, you can create a resume that will demonstrate your qualifications and experience to potential employers. With a well-crafted resume, you can be sure that you will have the best chance of landing the job you want as a fleet manager.
Let us help you build
your Resume!
Make your resume more organized and attractive with our Resume Builder