Writing a resume as a Flagger can be a daunting task. After all, you want to make sure that you're presenting yourself in the best possible light and presenting your experience in a way that will stand out from other applicants. This guide will provide tips and tricks on writing a Flagger resume that will help you make an outstanding impression on potential employers. Additionally, we will provide examples of resumes for Flaggers that you can use as a guide for creating your own resume. With this guide, you'll be able to craft the perfect resume to get your foot in the door in your next Flagger position.
If you didn't find what you were looking for, be sure to check out our complete library of resume examples.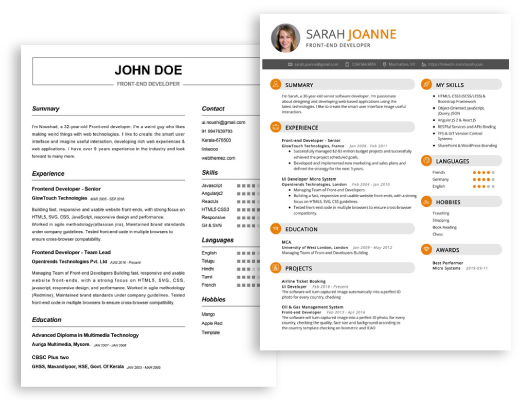 Start building your dream career today!
Create your professional resume in just 5 minutes with our easy-to-use resume builder!
Flagger Resume Examples
John Doe
Flagger
123 Main Street | Anytown, USA 99999 | Phone: (123) 456-7890 | Email: john.doe@email.com
I am an experienced Flagger looking to contribute my expertise and skills to a reputable organization. I have 5 years of flagging experience in construction, roadwork, and maintenance projects. I am familiar with a wide range of flagging operations and possess a keen eye for detail and safety. I am adept at working in a fast- paced environment and possess excellent communication skills. I am looking for a challenging and rewarding role in a team- oriented environment.
Core Skills:
Ability to work quickly and efficiently in a fast- paced environment
Knowledge of flagging operations
Keen attention to detail
Excellent communication skills
Ability to follow instructions
Knowledge of traffic safety regulations
Professional Experience:
Flagger, ABC Construction Company, 2017- present
Set up and managed traffic control devices to redirect or control traffic
Ensured the safety of workers, pedestrians, and motorists
Monitored traffic flow and adjusted flagging operations accordingly
Ensured compliance with applicable traffic safety regulations
Supervised and trained flagging personnel
Education:
High School Diploma, XYZ High School, 2016
Flagger Resume with No Experience
Highly motivated and organized individual with excellent customer service and problem solving skills.
Experienced in managing challenging customer interactions in stressful environments.
Ability to provide clear instruction and guidance in difficult and unfamiliar situations.
Able to take on multiple tasks simultaneously and work with minimal supervision.
Skills
Excellent communication and interpersonal skills
Ability to work effectively in fast- paced and changing environments
Strong organizational and problem- solving abilities
Ability to remain composed and focused in high- pressure situations
Proficient in MS Office Suite
Familiarity with flagging and traffic control regulations
Responsibilities
Ensure that all traffic control safety regulations are adhered to
Manage traffic movement at intersections and other high- traffic areas
Set up and maintain appropriate signs and devices for safe flow of traffic
Supervise and direct the activities of other flagers
Respond to emergency situations and provide assistance as needed
Maintain a neat and orderly work area
Complete paperwork associated with safety regulations and other required documentation.
Flagger Resume with 2 Years of Experience
I am a highly motivated Flagger who has two years of experience in the construction industry. I have a proven ability to direct traffic, provide safety guidance, and stand for long periods of time in all types of weather. I have outstanding communication and organizational skills which allow me to effectively communicate with drivers and pedestrians. My work ethic and strong sense of responsibility makes me an ideal candidate for any flagging position.
Core Skills:
Ability to direct traffic
Effective communication skills
Proven safety guidance
Ability to stand for long periods of time
Excellent organizational skills
Strong sense of responsibility
Responsibilities:
Manage traffic flow with help of flag and other hand signals
Provide instructions to drivers and pedestrians
Alert drivers to hazards, road closures, and other issues
Report any incidents or violations to the supervisor
Monitor safety conditions and take appropriate action when necessary
Work in various environmental conditions, including heat, cold, rain, and snow
Flagger Resume with 5 Years of Experience
A highly- skilled Flagger with 5 years of experience in managing traffic flow and pedestrian safety at construction sites, road projects and public events. A dependable and responsible individual who is an expert in managing the flow of traffic, providing safe access and a safe worksite for pedestrians and crews. Proficient at reading and understanding construction plans, flagging hand signals and basic traffic control devices. Possesses strong communication, customer service, problem- solving and organizational skills.
Core Skills:
Expert knowledge of flagging and traffic control
Ability to read and interpret construction plans
Knowledge of flagging hand signals and traffic control devices
Proficient in providing a safe worksite for crews and pedestrians
Exceptional customer service and communication skills
Strong problem- solving and organizational skills
Responsibilities:
Set up and maintain traffic control barricades and signage
Monitor and direct traffic to ensure safety and flow of traffic
Provide customer service and answer questions related to traffic control
Follow construction plans and understand flagging hand signals
Monitor the work site and ensure safe access for pedestrians and vehicles
Use basic traffic control devices to maintain a safe work area
Flagger Resume with 7 Years of Experience
I am an experienced Flagger, capable of managing construction sites, setting up traffic signs and equipment, and directing motorists and pedestrians away from construction sites. During my seven years as a Flagger, I have gained both theoretical and practical experience in traffic control, safety, and customer service. My core skills include: adherence to safety protocols, attention to detail, excellent communication skills, and the ability to think quickly and act calmly in any situation. My responsibilities have included: monitoring traffic in construction zones, setting up signs and equipment, and providing directions to motorists and pedestrians. I have always been mindful of the safety of both workers and passersby and my attention to detail has resulted in the successful completion of many projects.
Core Skills:
Adherence to safety protocols
Attention to detail
Excellent communication skills
Ability to think quickly and act calmly in any situation
Responsibilities:
Monitoring traffic in construction zones
Setting up signs and equipment
Providing directions to motorists and pedestrians
Maintaining a safe work environment
Ensuring that all safety protocols are followed
Responding to any potential hazards and taking appropriate action
Flagger Resume with 10 Years of Experience
I am a highly accomplished Flagger with over 10 years of experience in providing guidance to drivers, pedestrians, and construction crews. My expertise lies in effectively managing traffic flow and properly utilizing signage, cones, and barricades to ensure the safety of all personnel within the work zone. My knowledge of road construction, traffic control, and public safety have been acquired through my various projects both large and small. I am highly organized and capable of serving as a liaison to all members of the construction crew, ensuring a safe and efficient project.
Core Skills:
Traffic Control
Road Construction
Public Safety
Signage
Cone Setup
Barricade Setup
Conflict Resolution
Liaison Services
Project Management
Responsibilities:
Directing traffic around construction zones
Setting up and monitoring road signs, cones, and barricades
Ensuring the safety of all personnel within the work zone
Serving as a point of contact for the construction crew
Resolving conflicts between drivers, pedestrians, and construction crews
Maintaining records of construction projects
Inspecting construction sites for safety compliance
Working with other members of the construction team to ensure project timelines are met
Overseeing the completion of construction projects
Flagger Resume with 15 Years of Experience
With 15 years of professional experience and a proven track record of reliability and success, I am an outstanding candidate for the position of Flagger. I have a great eye for detail, strong organizational skills and a remarkable ability to direct traffic in a way that is both safe and efficient. My interpersonal skills and professional disposition make me an ideal candidate for this type of position. I am familiar with all the local laws and regulations that apply to flagging and have a wealth of experience in the arena of traffic management. I am confident that my performance in this role would exceed expectations.
Core Skills:
Excellent organizational and communication skills
Proficiency in local laws and regulations related to flagging
Able to direct traffic in an efficient and safe manner
Strong attention to detail
Positive, professional demeanor
Proficiency in traffic management
Responsibilities:
Installing and maintaining traffic control devices
Monitoring traffic flow to ensure safety
Directing traffic around construction zones
Ensuring that motorists adhere to all traffic regulations
Monitoring traffic to ensure compliance with local laws
Communicating with the public to explain traffic regulations
Maintaining a safe and orderly flow of traffic
In addition to this, be sure to check out our resume templates, resume formats, cover letter examples, job description, and career advice pages for more helpful tips and advice.
What should be included in a Flagger resume?
A Flagger resume should contain all the necessary information to demonstrate a candidate's experience, skills, and qualifications for a flagging position.
Professional Summary: A concise summary of the flagger's experience, qualifications, and skills, including any relevant certifications.
Work Experience: All relevant work experience as a flagger and any flagger certifications the candidate may have.
Education: A list of any degree or certifications the flagger may have obtained.
Skills: A comprehensive list of the flagger's flagging skills and abilities.
Certifications: A list of any flagger certifications, such as traffic control and flagging certification, that the flagger may have obtained.
Knowledge: A list of any relevant knowledge the flagger may have of the flagging industry.
References: The names and contact information of any references the candidate may have.
By including all of the above information, a flagger resume will be properly prepared to demonstrate the candidate's experience, skills, and qualifications to potential employers.
What is a good summary for a Flagger resume?
A Flagger resume should be concise and to-the-point, summarizing the flagger's experience, skills, and qualifications. It should emphasize the flagger's knowledge of roadway safety and construction, traffic control, and customer service. The resume should also list any certifications the flagger has, such as OSHA 10 or 30, First Aid/CPR, or any other safety certifications that may be relevant. Any awards or recognition should be included, as well as any volunteer or military service that the flagger may have. Other key points to consider in a flagger resume include communication skills, problem solving, and teamwork. The overall goal of a flagger resume is to demonstrate to potential employers that the flagger is a qualified and knowledgeable individual who can safely and effectively direct traffic and guide construction crews.
What is a good objective for a Flagger resume?
A Flagger is a type of traffic control professional who is responsible for controlling traffic and keeping roads safe. They use signs, hand signals, and other equipment to direct vehicular and pedestrian traffic. If you are looking for a job as a Flagger, you will need to create a resume that highlights your qualifications and experience. The following is a good objective statement to use on your Flagger resume:
To secure a position as a Flagger with a reputable company, utilizing my skills in traffic control, communication, and problem-solving.
Your Flagger resume should include details of any relevant experience you have, such as previous Flagger jobs or similar positions. You should also highlight any certification or training you have in traffic control. Make sure to include any safety initiatives you have taken, as well as any relevant awards or recognition you may have received. Finally, make sure to showcase your interpersonal skills, as these are essential for effectively communicating with drivers and pedestrians. With the right objective statement, you will be well on your way to securing a job as a Flagger.
How do you list Flagger skills on a resume?
When listing your Flagger skills on a resume, you want to make sure that you emphasize your abilities and experiences in the field. A thorough list of your Flagger skills demonstrates your qualifications and gives potential employers an idea of what you can contribute to their company.
Be sure to list all of the Flagger courses and certifications that you have received. This includes any safety trainings, flagging regulations, and traffic control courses.
Detail your experience in working in the field. Indicate how long you have been a flagger and the types of projects you have worked on.
Highlight any specialized equipment and tools you are familiar with. This may include tools for pavement markings, traffic cones, and other flagging materials.
Demonstrate your familiarity with traffic safety and control protocols. Explain how you are able to recognize and respond to dangerous situations.
Describe your interpersonal skills and ability to work with a team. Note your ability to effectively communicate with a variety of coworkers and personnel.
Showcase any awards or recognition you have received for your flagging work. This may include recognitions from the state or local government.
What skills should I put on my resume for Flagger?
A Flagger's job is to control traffic and ensure the safety of pedestrians and other roadway users. To be effective in this role, there are a few key skills to include on your resume.
Ability to Follow Directions: As a flagger, you must be able to follow the instructions of supervisors, police, and other traffic control personnel.
Confidence: Flagging requires the ability to take charge and make decisions in stressful situations.
Physical Endurance: The job of a flagger involves physical activity, such as standing for long periods of time and facing traffic in all kinds of weather.
Communication Skills: Flagging requires the ability to communicate effectively with other people, including drivers and pedestrians.
Attention to Detail: To be effective, you must be able to pay close attention to your surroundings and be aware of any potential hazards.
Problem-Solving: Flagging requires the ability to think quickly and come up with solutions to problems on the fly.
By highlighting these skills on your resume, you can demonstrate your qualifications for the position of flagger.
Key takeaways for an Flagger resume
Flagging is a highly sought after position in many industries, but it can be difficult to stand out in the crowd of applicants. In order to create a resume that is sure to impress potential employers, it is important to include the following key takeaways:
Demonstrate your attention to detail and high level of accuracy by including any certifications or qualifications that you have received.
Emphasize your experience in the field by detailing any past flagging jobs you have had and the duties that you performed.
Showcase your organizational skills by including any time management or multitasking abilities you have acquired.
Highlight any safety or hazard training that you have undertaken and any safety protocols you are familiar with.
Demonstrate your ability to work with a team by including any jobs or projects that you have completed in a group setting.
Detail any experience you have in problem-solving or risk assessment and explain any strategies you used to overcome any difficulties.
If you have had any experience working with a supervisor, point out any noteworthy accomplishments or goals you achieved while working under their direction.
By including these key takeaways on your resume, you are sure to stand out among other job seekers and present yourself as a qualified and experienced flagger.
Let us help you build
your Resume!
Make your resume more organized and attractive with our Resume Builder