Writing an effective resume can be a daunting task. The resume is the first impression a potential employer will have of you, and it needs to be done right. This makes the whole process quite intimidating. This guide will provide you with an overview of what a conductor resume should include, as well as tips and examples to help you create a resume that will stand out to employers. Whether you are a beginner or an experienced conductor, this guide will provide you with an actionable plan for creating a great resume. With this guide, you'll have the tools and knowledge you need to craft a resume that is sure to turn heads.
If you didn't find what you were looking for, be sure to check out our complete library of resume examples.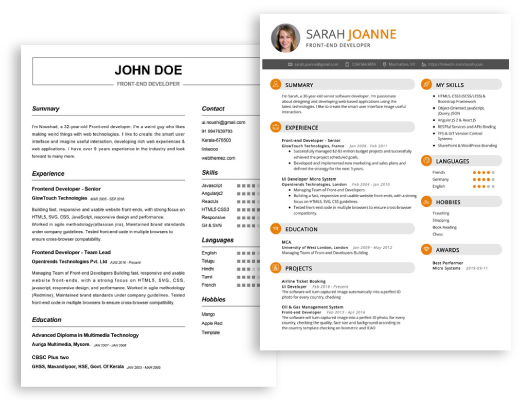 Start building your dream career today!
Create your professional resume in just 5 minutes with our easy-to-use resume builder!
Conductor Resume Examples
John Doe
Conductor
123 Main Street | Anytown, USA 99999 | Phone: (123) 456-7890 | Email: john.doe@email.com
A Highly experienced Conductor with a proven track record of success in the railway industry. Skilled in directing and coordinating train activities, monitoring crew performance, and adhering to safety regulations. Assertive and organized with a passion for excellence.
Core Skills:
Safely direct and coordinate train activities
Monitor crew performance
Ensure adherence to safety regulations
Train and mentor new crew members
Conduct regular inspections of tracks and equipment
Resolve operational issues quickly
Excellent communication and problem- solving skills
Proficiency with Microsoft Office applications
Professional Experience:
Railway Conductor, ABC Rail, Chicago, IL
October 2016 – Present
Safely direct and coordinate activities of train crew in accordance with established rules and regulations
Mentor and train new crew members on safety regulations and job duties
Perform regular inspections of tracks, equipment, and personnel
Communicate with train crew, transit dispatchers, and other personnel to ensure smooth operations
Analyze train performance and recommend improvements to operations and procedures
Correctly document all incidents and train activities
Railway Conductor, XYZ Rail, Chicago, IL
June 2011 – October 2016
Directed and coordinated train activities for Chicago- bound routes
Safeguarded train against theft, vandalism, and trespassing
Successfully and quickly resolved operational issues
Verified cargo for damages and properly documented cargo
Maintained records of train inspections
Complied with all safety regulations and enforced them among crew members
Education:
Bachelor of Science in Railroad Management, University of Illinois, Chicago, IL
Graduated: 2010
Conductor Resume with No Experience
Resourceful, hardworking, and motivated individual looking to pursue a career as a Conductor. Experienced in customer service and problem- solving with excellent communication and interpersonal skills, able to prioritize tasks and manage time efficiently.
Skills:
Excellent customer service skills
Strong communication and interpersonal skills
Solid problem- solving abilities
Ability to prioritize tasks and manage time efficiently
Ability to work in a fast- paced environment
Responsibilities:
Greet customers before boarding the train
Ensure safety of passengers by enforcing rules and regulations
Monitor and check tickets of passengers
Resolve customer complaints effectively and efficiently
Assist customers with any questions or inquiries
Provide information about schedules and destinations
Address any emergencies and/or incidents on the train
Keep the train running on time and in a safe manner
Conductor Resume with 2 Years of Experience
A Highly experienced, organized and driven Conductor with 2+ years of experience in the railroad industry. Demonstrated ability to effectively and safely see to the completion of essential tasks, including providing directions to the train crew, ensuring compliance with signal regulations, operating switches and performing coupling and uncoupling operations. Possesses a strong sense of responsibility and commitment to safety regulations and procedures.
Core Skills:
Knowledge of railroad rules, regulations, and safety procedures
Ability to operate switches, signal systems, and other railroad equipment
Demonstrated safety awareness and commitment
Excellent communication skills
Ability to make quick decisions in a fast- paced environment
Outstanding multitasking and organizational abilities
Responsibilities:
Safely ran trains according to signal indications, switch settings, and railroad rules
Guided Engineer in operating the train and interpreted signals
Ensured the train crew's compliance with signal regulations
Monitored the condition of the tracks and reported any safety issues
Assisted in the inspection of rolling stock and equipment
Performed coupling and uncoupling operations
Maintained constant communication with the train crew, railroad personnel, and dispatchers
Utilized radio and telephone communication to coordinate with other engineers
Conductor Resume with 5 Years of Experience
Highly accomplished and organized Conductor with 5 years of experience in the railroad industry. Adept at working in a fast- paced environment while providing excellent service and maintaining safety regulations. Proven ability to handle stressful situations with poise, ensure on- time arrivals, and handle scheduling issues. Skilled in utilizing strong communication skills to provide customers with advice and assistance.
Core Skills:
Reliable and organized
Excellent communicator
Ability to multitask
Attention to detail
Solid problem- solver
Knowledge of safety regulations
Excellent customer service
Responsibilities:
Conducted inspections to ensure compliance with safety regulations
Supervised onboard activities and ensured that passengers were not causing disruption
Monitored railway tracks for signs of any damage or vandalism
Collaborated with engineers and other staff members to ensure successful on- time arrivals
Communicated with passengers to explain schedules and estimated arrival times
Assisted passengers with directions and advice on regional attractions
Provided assistance to passengers with special needs
Ensured that all safety regulations were followed
Conductor Resume with 7 Years of Experience
A Results- driven and reliable professional with over seven years of experience as a conductor. Comprehensive knowledge of operating and managing trains and ensuring the safety of passengers. Proven expertise in operating and monitoring train systems, ensuring compliance with safety regulations, and gathering fare collection. An individual with excellent problem- solving, communication, and interpersonal skills.
Core Skills:
Train Operation
Safety Regulations
Fare Collection
Troubleshooting
Communication
Interpersonal Skills
Responsibilities:
Checked the condition of the train prior to the departure and ensured that the train was ready for travel.
Ensured that the carriages and couplings were done correctly.
Checked the safety equipment in the train and made sure that it was functioning properly.
Ensured that the seats and other amenities provided in the train were in good condition.
Ensured that all passengers were allowed on the train only after they had valid tickets.
Supervised the activities of the crew and ensured that the tasks were completed in a timely manner.
Communicated with the other train operators and the control centre to ensure that the train was running on schedule.
Monitored the speed of the train and the track conditions to ensure the safety of the passengers.
Assisted passengers with any queries they had regarding the train and its services.
Inspected the train to make sure that it was in an acceptable condition before the end of the journey.
Maintained records of daily activities related to the train such as ticket sales and other services provided.
Conductor Resume with 10 Years of Experience
A Highly experienced and results- oriented Conductor with 10 years of experience in the railroad industry. Possesses strong management and leadership ability coupled with excellent technical skills. Experienced in supervising and training personnel, monitoring operations, and ensuring compliance with safety regulations. Skilled in coordinating dispatching procedures, rail traffic control, and engineering activities. Committed to providing the highest level of customer service while achieving organizational goals.
Core Skills:
Supervision & Training
Railroad Operations
Safety Compliance
Dispatcher Coordination
Rail Traffic Control
Engineering Activities
Customer Service
Leadership
Management
Responsibilities:
Supervise and train personnel in accordance with all applicable regulations
Monitor operations to ensure accuracy and safety
Enforce safety regulations and maintain records of compliance
Coordinate dispatching procedures, rail traffic control, and engineering activities
Ensure all equipment is maintained and operational
Manage railroad operations to maximize efficiency and productivity
Provide excellent customer service and resolve customer issues
Create and implementing operational protocols and procedures
Analyze railroad operations and identify areas for improvement
Maintain records of operational data and performance metrics
Conductor Resume with 15 Years of Experience
Highly experienced Conductor with 15 years in the railroad industry. Accustomed to working in fast- paced, ever- changing environments and dealing with diverse teams of people. Possesses an excellent ability to operate, inspect, and maintain all types of railroad rolling stock and to facilitate efficient transportation operations. Demonstrates an ability to develop and maintain positive relationships with customers and colleagues.
Core Skills:
Conducting and scheduling of trains
Maintaining railcars and locomotives
Ensuring safety and efficiency of operations
Ability to multitask and prioritize
Knowledge of railroad scheduling and regulations
Excellent communication and interpersonal skills
Ability to work independently and as part of a team
Responsibilities:
Ensure that all safety protocols are followed
Inspect and maintain all rolling stock and ensure it is in good working order
Supervise and coordinate the movement of trains, cars, and locomotives
Manage and maintain accurate records and reports
Communicate with crew members, customers, and other personnel
Manage and control access to rail yards and facilities
Ensure that all cargo is loaded, unloaded, and transported in a safe and efficient manner
Perform regular maintenance and inspections of all rolling stock and locomotives
In addition to this, be sure to check out our resume templates, resume formats, cover letter examples, job description, and career advice pages for more helpful tips and advice.
What should be included in a Conductor resume?
When creating a resume to apply for a Conductor position, there are a few key components that should be included to ensure you capture the attention of employers.
Education: Include any educational background you have that is relevant to the position, such as a degree in transportation or logistics. Also include any relevant certifications and/or training programs you have completed that are related to the position.
Experience: Highlight any experience you may have in the transportation or logistics industry. This can include positions you have held such as conductor, conductor assistant, or freight operations.
Skills: Include any skills you possess that are relevant to the position. This may include knowledge of train layout and operations, railroad safety and operations, customer service, and problem solving.
Achievements: List any awards and recognitions you have received for your work in the transportation or logistics industry. This can include any awards from your employer or from any professional organizations.
References: Include at least three professional references that can speak to your work experience and skills. These should include contact information and a short description of how they know you.
By including these components in your Conductor resume, you will be able to demonstrate your qualifications and give employers a better understanding of your skills and background.
What is a good summary for a Conductor resume?
A Conductor resume should summarize the experience and training that makes the candidate qualified for the position. The summary should include the educational background and other qualifications, such as professional certifications and licenses. It should also include the relevant experience in leadership and management, as well as any specialized skills the conductor has acquired. Finally, the summary should highlight any areas of expertise, such as operational efficiency or passenger safety. A good conductor resume summary should demonstrate why the candidate is the best possible choice for the job.
What is a good objective for a Conductor resume?
A Good objective for a Conductor resume can set you up for success and help you stand out from the competition. Whether you're just starting out or transitioning to a new role, a great objective can help you show potential employers that you're the right person for the job. Here are some tips for crafting a compelling objective for your Conductor resume:
State the specific position you're applying for: Make sure to specify the exact job title that you're seeking.
Highlight your qualifications: Make sure to mention any relevant experience or qualifications that you have that make you well-suited for the role.
Focus on your strengths: Focus on the skills and abilities that make you an ideal candidate for the role.
Show your enthusiasm: Let potential employers know that you're eager to take on the challenge of the job and that you're excited to be considered for the position.
Be concise: Keep your objective to one or two sentences. This will help potential employers quickly and easily understand your qualifications and why you're the best candidate for the position.
How do you list Conductor skills on a resume?
Your resume is an important document for showcasing your skills and experience. In particular, when applying for a Conductor position, it's essential to highlight your related experience, education, and other credentials to demonstrate your qualifications for the role.
Here are some tips for listing Conductor skills on your resume:
Include any relevant experience you possess in the transportation, rail, and/or logistics industry.
Specify any certifications or training related to Conductors and other transportation roles that you have completed.
Include any qualifications related to operating large train cars or other rail transportation.
List any special knowledge or skills related to working with railway signals, ticketing systems, and scheduling.
Mention any foreign languages you speak as Conductors often work in diverse environments.
Highlight any safety certifications you possess related to the job of Conductor.
Demonstrate your skills in customer service, problem-solving, and communication.
Showcase any software or technology skills you have used in your previous positions.
By showcasing your experience and qualifications related to Conductor roles, you can help to make yourself stand out from other applicants. Keep in mind that when listing your skills, it's important to be specific and include details that can demonstrate your value and potential as a Conductor.
What skills should I put on my resume for Conductor?
A Conductor is responsible for managing the daily operations of railway networks, ensuring the safe and efficient movement of trains and passengers. As such, they must possess a wide range of skills in multiple areas. Here are some of the most important skills to include on your resume when applying to a conductor position:
Excellent Communication: Conductor must have strong communication skills in order to effectively and efficiently lead a team of people and manage various tasks.
Problem-Solving: Conductor must have the ability to recognize and solve problems quickly, as well as work through complex situations.
Attention to Detail: As a Conductor, you must be able to pay attention to the small details of your job. You must be able to recognize potential problems before they become major issues.
Time Management: Conductor must be able to manage their time effectively in order to complete all tasks in the allotted time.
Technical Knowledge: It is important for a Conductor to have a solid understanding of the technology used in the operation of the railway network.
Safety Awareness: A Conductor must have a great understanding of railway safety protocols and procedures in order to ensure the safety of passengers and employees.
Including these skills on your resume can help show potential employers that you are the right fit for the Conductor job. It is important to focus on the specific skills that you possess that make you a qualified candidate for the position. With a resume that emphasizes the relevant skills for the job, you can increase your chances of getting the job.
Key takeaways for an Conductor resume
When it comes to standing out in the job market, a well-crafted resume is essential. As a Conductor, you have specific skills, qualifications, and experience that make you uniquely qualified for the job. To ensure that your resume stands out among the many resumes of your peers, here are some key takeaways to consider when crafting your resume.
Firstly, highlight your experience. As a Conductor, you have experience with a variety of operating rules, regulations, and procedures. This experience is essential for the job and should be featured prominently on your resume. Include details on any notable achievements that demonstrate your expertise and be sure to reference any safety training or certification you may have completed.
Secondly, focus on your communication skills. As a Conductor, you are responsible for relaying important information to your team and passengers. Include any details that demonstrate your verbal and written communication skills, such as your ability to operate a public address system or your experience with radio operations.
Finally, emphasize your problem solving skills. As a Conductor, you are often responsible for resolving unexpected issues that may arise in the course of your job. Be sure to highlight any instances where you successfully solved a problem in a timely manner. This will demonstrate your ability to stay calm under pressure and think on your feet.
By following these key takeaways for your Conductor resume, you can be sure that your resume stands out from the rest. With these tips, you can be confident in your ability to demonstrate your expertise and experience as a Conductor.
Let us help you build
your Resume!
Make your resume more organized and attractive with our Resume Builder