Writing a resume as a bus person may feel intimidating at first, but there are some key skills and experience that you should emphasize to make yourself stand out from the crowd. This guide will provide tips for how to write a strong bus person resume, as well as examples of how to format and organize your resume. From highlighting job duties to presenting your experience in the best way possible, this guide will help you create a resume that will catch the eye of hiring managers.
If you didn't find what you were looking for, be sure to check out our complete library of resume examples.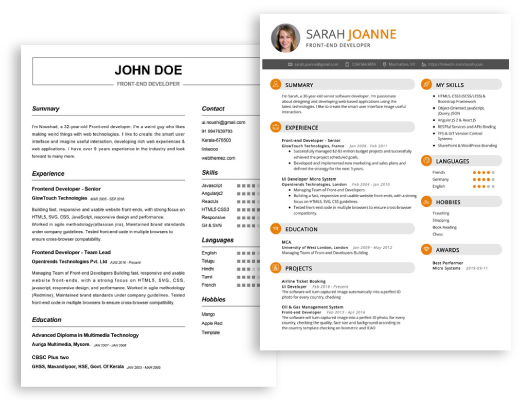 Start building your dream career today!
Create your professional resume in just 5 minutes with our easy-to-use resume builder!
Bus Person Resume Examples
John Doe
Bus Person
123 Main Street | Anytown, USA 99999 | Phone: (123) 456-7890 | Email: john.doe@email.com
I am a highly organized and experienced Bus Person with over 5 years in the hospitality industry. I take pride in my excellent customer service skills and remain calm and composed in both high- pressure and stressful situations. I am passionate about creating an enjoyable environment for customers and diligently adhere to all safety and sanitation standards. I am an effective team player, continuously striving for success in a fast- paced environment.
Core Skills:
Exceptional customer service
Multi- tasking
Crisis management
Food safety
Problem solving
Team coordination
Cash handling
Professional Experience:
ABC Restaurant, Bus Person, 2017- Present
Set up tables and chairs
Greet guests and assist with seating
Sweep and mop floors
Take out trash
Refill condiments and beverages
Clear and reset tables
Assist with cleaning and sanitization of kitchen and dining areas
Education:
High School Diploma, Anytown High School, 2017
Bus Person Resume with No Experience
Hardworking, customer service- oriented individual seeking a position as a Bus Person. Highly organized and able to multi- task in a fast- paced environment. Well- versed in basic hygiene and safety guidelines.
SKILLS
Strong customer service skills
Able to work independently and as part of a team
Knowledge of basic hygiene and safety protocols
Excellent communication and interpersonal skills
Ability to multi- task and handle multiple responsibilities
Excellent organizational skills
Responsibilities
Greet customers and answer inquiries
Set up and clear tables
Provide guests with menus
Change and refill table linens
Clean and sanitize silverware and dishes
Assist the waiters and waitresses in the serving of meals
Assist in the preparation of food items
Ensure the dining area is clean and orderly
Ensure all safety and hygiene regulations are followed
Bus Person Resume with 2 Years of Experience
I am an experienced Bus Person with over 2 years of restaurant experience. My strengths include providing exceptional customer service, efficiently cleaning tables, and working as part of a team. I am reliable, organized, and a quick learner, making me a valuable asset to any restaurant.
Core Skills:
Providing excellent customer service
Preparing and cleaning tables
Organizing dining areas
Working as part of a team
Excellent time management
Strong communication skills
Responsibilities:
Greeting and seating customers
Cleaning tables and other dining areas
Assisting servers with food and beverage service
Replenishing supplies and utensils at tables
Clearing and resetting tables between meals
Disposing of trash and debris in appropriate receptacles
Collecting soiled dishes and delivering them to the kitchen
Bus Person Resume with 5 Years of Experience
Polished and professional Bus Person with five years of experience in the hospitality industry. A reliable and hardworking employee with excellent customer service skills and an exceptional work ethic. Committed to providing quality service and a pleasant dining experience to all patrons.
Core Skills:
Food Service
Cash Handling
Cleaning Duties
Customer Service
Teamwork
Responsibilities:
Greet customers upon arrival, seat them at their table, and provide menus
Assist wait staff with setting and clearing tables
Replenish glassware, silverware, condiments, and other supplies
Clean and polish chairs and tables
Monitor and restock buffet tables
Set up and break down beverage and buffet stations
Clean, sanitize, and sweep dining and kitchen areas
Handle cash transactions and provide change
Ensure customer satisfaction and provide excellent customer service
Bus Person Resume with 7 Years of Experience
An experienced Bus Person with 7 years of experience in providing excellent customer service and ensuring a clean dining environment. Possesses excellent communication skills, organizational skills and a strong attention to detail. Has successfully provided service to customers in a polite and friendly manner while taking all necessary steps to ensure the highest standards of customer service.
Core Skills:
Efficiently served multiple tables in a clean and organized manner
Adept at setting up tables for service
Supplied guests with condiments, napkins and other items as requested
Removed plates, glasses, cups and silverware from tables according to policies
Maintained cleanliness of dining area
Provided outstanding customer service
Followed all safety and health guidelines
Kept updated on menu changes
Responsibilities:
Greeted customers, took orders and provided advice on food and drink selections
Maintained clean dining and serving areas
Set up and cleaned tables and chairs
Checked orders for accuracy and served meals to customers
Assisted with food preparation and delivery
Communicated effectively with other team members
Assisted customers with menu choices
Replenished stocks of condiments and other items
Bussed tables, cleared plates and utensils and reset tables for next customers
Bus Person Resume with 10 Years of Experience
Highly skilled, professional Bus Person with over 10 years of experience providing superior customer service and delivering outstanding food service. Proven track record of maintaining cleanliness, organization and upholding the highest standards of restaurant service. Skilled in accurately taking orders, utilizing proper plate presentation and providing excellent customer service.
Core Skills
Customer Service
Order Taking
Plate Presentation
Sanitation
Food Safety
Time Management
Teamwork
Attention to Detail
Responsibilities
Set- up and clean- up tables, side stations and other areas of the restaurant
Accurately take orders from customers
Greet and welcome customers in a friendly manner
Serve beverages, food items, condiments and other amenities to customers
Attend to special needs and requests of customers
Provide assistance with bussing, seating and other duties as needed
Maintain cleanliness and sanitation within the restaurant
Ensure food safety guidelines are followed
Help maintain cleanliness of the dining area, including tables and chairs
Assist with stocking and inventory management of the restaurant
Bus Person Resume with 15 Years of Experience
Experienced bus person with 15 years of experience in the hospitality industry. Possess an excellent work ethic, as well as strong customer service and team collaboration skills. Able to work well under pressure in a fast- paced, high- volume environment. Has a strong understanding of how to provide excellent service and customer satisfaction.
Core Skills:
Highly organized and detail- oriented
Excellent customer service skills
Ability to work in a fast- paced environment
Excellent communication and interpersonal skills
Strong team collaboration skills
Ability to follow direction and provide feedback
Responsibilities:
Set tables for guests and ensure that all areas are clean and presentable
Greet customers, present menus, and take orders
Serve meals and drinks to customers
Clear away dirty dishes, utensils, and glassware
Ensure that all areas are properly stocked with supplies
Maintain a positive and welcoming atmosphere for guests
Follow safety and sanitation regulations when handling food and beverages
Assist in serving food and drinks to customers as needed
In addition to this, be sure to check out our resume templates, resume formats, cover letter examples, job description, and career advice pages for more helpful tips and advice.
What should be included in a Bus Person resume?
A Resume for a Bus Person should include a variety of relevant experience and qualifications. A successful Bus Person resume should include the following:
Education: List your educational qualifications, including any relevant certifications and trainings.
Experience: List all relevant experience, such as previous positions in the food and beverage industry, customer service experience, and any other experience that would be beneficial in a Bus Person role.
Skills: List any special skills or qualifications that you possess, such as fluency in multiple languages, familiarity with POS systems, and working knowledge of food safety regulations.
Personal Qualities: List any personal qualities that could be beneficial in a Bus Person role, such as a friendly demeanor, excellent organizational skills, and the ability to manage multiple tasks simultaneously.
References: Include the contact information for two to three professional references with your resume.
What is a good summary for a Bus Person resume?
A Bus Person resume should include a summary that outlines the candidate's experience in the hospitality industry. The summary should highlight their relevant skills, such as customer service and time management, as well as any awards or certifications they have received. It should also list any experience they have had in busing tables, such as setting the table and clearing dishes. Finally, the summary should emphasize their commitment to providing exceptional customer service while ensuring a pleasant and safe dining experience. The summary should be concise and to the point, giving a snapshot of the candidate's qualifications and experience.
What is a good objective for a Bus Person resume?
A Bus person is a hospitality professional who is responsible for taking care of customers in a restaurant or any other food service setting. They are in charge of making sure customers have a pleasant dining experience and that all their needs are met. Having a clear objective on a bus person resume is important in order to show employers that you are the right candidate for the job. Here are some good objectives for a bus person resume:
To obtain a bus person position in a reputable restaurant where I can utilize my customer service skills and excellent people skills
Seeking a position in the food service industry where I can use my experience in customer service and hospitality to provide an enjoyable experience for all customers
To leverage my strong communication and interpersonal skills to exceed the expectations of customers in a restaurant setting
To utilize my experience in food service and customer service to ensure that every customer has a pleasant experience
To become a bus person in a restaurant where I can practice my excellent customer service and hospitality skills
To enhance my hospitality skills and gain valuable experience in the food service industry by becoming a bus person
By having a clear objective on a bus person resume, employers will be able to see that you are the right candidate for the job and that you are passionate about working in the food service industry. Your objective should be short and to the point, and should reflect your goals and qualifications.
How do you list Bus Person skills on a resume?
When writing a resume, it is important to include a section to highlight your skills, especially if you are applying for a busperson position. Your skills section should list any experience or abilities you have that are relevant to the job. Here is how to list bus person skills on a resume:
Highlight any customer service experience: If you have worked in the customer service industry before, make sure to highlight this experience in your resume. Explain how you dealt with customer inquiries, handled difficult situations, and kept customers satisfied.
Show that you have knowledge of various beverages: If you have knowledge of various types of beverages, be sure to highlight this. Explain how you are comfortable handling coffee, tea, soda, and other drinks.
Demonstrate your ability to multitask: As a bus person, you need to be able to juggle multiple tasks at once. Show how you are capable of cleaning tables, taking orders, delivering food, and more, all at the same time.
Point out your experience with maintaining a clean environment: Maintaining a clean and sanitary environment is essential for a bus person. Use examples of how you have kept dining areas clean and organized.
Demonstrate your knowledge of food safety: Explain how you know food safety regulations and procedures, and how to ensure that customers are served food that is safe to eat.
By including these skills in your resume, you can demonstrate that you are a qualified and experienced busperson. Make sure to include any relevant experience or training so that employers can see that you are the right person for the job.
What skills should I put on my resume for Bus Person?
One of the core duties of a bus person is to ensure that customers have a pleasant dining experience, so it's important to highlight your customer service skills on your resume. A few skills you should include to demonstrate your qualifications as a bus person are:
Excellent interpersonal skills: A bus person is responsible for interacting with customers on a regular basis, so it's essential to be able to communicate effectively with people of all backgrounds.
Knowledge of food service protocols: A bus person needs to be familiar with table settings, plating techniques, and food safety protocols.
Attention to detail: Bus persons must be able to keep track of multiple tables and ensure that each customer gets their order in a timely fashion.
Professionalism: As a bus person, you'll need to maintain a professional attitude at all times in order to ensure a pleasant dining experience for your customers.
Time management skills: Bus persons need to be able to multitask and manage their time efficiently in order to keep up with the demands of the job.
Ability to lift and move heavy loads: Bus persons are often required to lift and move heavy trays and dishes, so it's important to have the physical ability to do so.
By including these skills in your resume, you'll be able to demonstrate your qualifications for the job and stand out from other applicants.
Key takeaways for an Bus Person resume
If you're looking to make a successful Bus Person resume, you need to be sure to include all the key elements. Here are some key takeaways to help you write a great resume that will catch the attention of potential employers.
Highlight your experience: It's important to highlight the experience you have in the bus person field. This could include your education and work experience. Make sure to include any bus person specific roles you've held, such as serving customers or transporting items to different locations.
Mention your customer service skills: A successful bus person must have excellent customer service skills. Make sure to include any customer service experience you have as well as any additional customer service-related training you have completed.
Show your time management skills: Bus Persons must be able to manage their time effectively. Be sure to include any examples of how you managed your time and were able to meet deadlines or complete tasks on time.
Demonstrate your problem-solving skills: Bus Persons must be able to think on their feet and be able to solve problems quickly. Include any examples of how you used problem-solving skills to solve customer service issues or to ensure tasks were completed efficiently.
Show your safety training: It's important to include any safety training you may have taken as a Bus Person. Employers want to make sure their Bus Persons are safe and that they are following all safety regulations.
By including these key takeaways in your Bus Person resume, you can ensure you stand out from the crowd and make a great impression on potential employers.
Let us help you build
your Resume!
Make your resume more organized and attractive with our Resume Builder