As a university professor, you will be expected to have an impressive resume that accurately reflects your expertise. A well-written resume will help you stand out from other job applicants and demonstrate your qualifications for the job. This guide will provide you with tips for writing a successful university professor resume, as well as some examples to help you get started. With these easy-to-follow tips and advice, you'll be able to create a resume that will make a great impression on potential employers.
If you didn't find what you were looking for, be sure to check out our complete library of resume examples.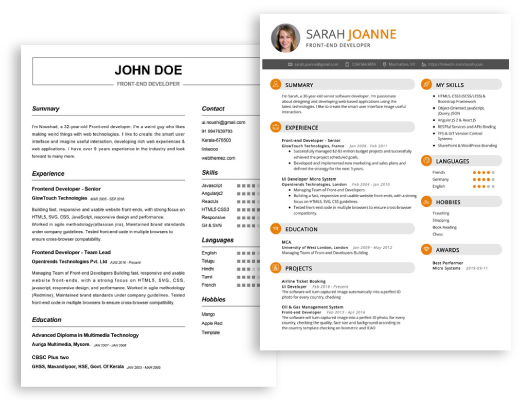 Start building your dream career today!
Create your professional resume in just 5 minutes with our easy-to-use resume builder!
University Teacher Resume Examples
John Doe
University Teacher
123 Main Street | Anytown, USA 99999 | Phone: (123) 456-7890 | Email: john.doe@email.com
I am an experienced University Teacher with an impressive career of more than 10 years in the education sector. My teaching style is personable and engaging, and I have been commended for my ability to communicate complex concepts in a simplified, easy- to- understand manner. I have a passion for helping students reach their academic potential, and I am committed to creating a safe and supportive learning environment. I am highly organized, efficient, and resourceful and have deep experience with a variety of instructional methods and technologies.
Core Skills:
Knowledge of educational theory and methods
Experienced with educational technologies
Superior communication and interpersonal skills
Exceptional organizational and problem- solving skills
Ability to motivate and inspire students
Proficient in Microsoft Office Suite
Professional Experience:
University Teacher, ABC University, 2021 – Present
Utilize a variety of teaching techniques and learning strategies to engage and motivate students
Guide students through coursework, providing individualized and timely feedback
Design and implement various assessments to evaluate student progress
Monitor student attendance and provide support to at- risk students
Serve as a mentor to new teachers, providing guidance and support
University Teacher, XYZ University, 2019 – 2021
Planned, prepared, and delivered lessons to undergraduate students
Conducted weekly lectures and labs for multiple courses
Created assignments and activities to assess progress and evaluate learning
Provided individualized support to students who are struggling
Developed and maintained relationships with students and colleagues
Education:
Master of Education, ABC University, 2019
Bachelor of Science in Education, XYZ University, 2017
University Teacher Resume with No Experience
Recent college graduate with great enthusiasm for education and passion for teaching. Eager to learn and develop new skills, with a strong dedication to motivating students to reach their full potential.
Skills
Strong written and verbal communication
Excellent organizational and time management skills
Ability to create and deliver effective lesson plans
High degree of attention to detail
Proficient in Microsoft Office Suite and various educational software
Ability to use technology to enhance class lectures and activities
Responsibilities
Developing engaging lesson plans that meet the needs of all students
Creating a positive and engaging learning environment
Monitoring student progress and providing feedback
Assisting students in understanding course material and developing critical thinking skills
Collaborating with other educators to develop educational materials
Participating in professional development activities to enhance teaching skills
University Teacher Resume with 2 Years of Experience
A highly experienced and passionate University Teacher with 2 years of experience in teaching undergraduate and postgraduate courses in Anthropology. Demonstrated ability to motivate students, facilitate learning, and build a good rapport by using engaging methods, such as question and answer sessions, interactive activities, and effective lectures. Experienced in developing innovative curriculum, evaluating student performance, and providing constructive feedback. Possesses excellent communication and interpersonal skills and is committed to professional development.
Core Skills:
Knowledge of Anthropology and related concepts
Excellent teaching and communication skills
Ability to create an engaging learning environment
Ability to use modern technology for teaching
Highly organized and able to handle multiple tasks
Ability to develop creative and innovative curriculum
Excellent problem- solving skills
Responsibilities:
Developing and preparing lesson plans
Instructing students in a range of topics related to Anthropology
Assessing student performance through tests and assignments
Establishing and maintaining effective communication with students
Developing innovative and engaging teaching methods
Assisting students in developing skills necessary for completing research projects
Monitoring student progress and providing feedback
Assisting in the development of course materials and textbooks
Participating in department meetings and professional development workshops
University Teacher Resume with 5 Years of Experience
Highly experienced University Teacher with five years of experience in developing and delivering comprehensive lecture materials to students. Possess a proven track record of increasing student engagement and participation in class activities. Demonstrates a passion for helping students learn and succeed, utilizing innovative approaches and utilizing new technologies to engage with students.
Core Skills:
Strong knowledge and understanding of instructional methodologies
Excellent organizational skills
Outstanding communication and presentation skills
Ability to think creatively and develop engaging activities
In depth understanding of classroom technology
Responsibilities:
Develop, plan, and deliver engaging lectures and tutorials for a range of undergraduate and postgraduate courses
Create appropriate learning objectives and assessments
Encourage student participation in class activities
Provide regular feedback to students on their progress
Integrate educational technologies into the classroom
Assist in program development and curriculum review
Engage in research and scholarly activities
Participate in departmental and university committees
Research and apply for available grants
Participate in professional development activities
Collaborate with other faculty members on projects
University Teacher Resume with 7 Years of Experience
A highly experienced and knowledgeable university teacher with 7 years of experience in teaching a variety of courses. Proven abilities in creating and delivering engaging lectures, encouraging active participation in classroom discussions, and providing personalized assistance to struggling students. Adept in implementing innovative teaching strategies to impart knowledge in an effective and efficient manner, and developing hands- on educational activities to reinforce learning.
Core Skills:
Strong knowledge of curriculum and educational theories
Excellent verbal and written communication skills
Able to build rapport with students of all levels
Proficient in educational technologies and software
Superior classroom management skills
Ability to motivate and inspire students
Excellent organization and time management skills
Responsibilities:
Developing and delivering engaging lectures on assigned topics
Creating and grading tests and assignments to measure student progress
Guiding and assisting students in developing their skills
Evaluating student performance and providing guidance for improvement
Designing and implementing innovative teaching strategies
Organizing and supervising field trips and educational activities
Mentoring and counseling students on academic and personal issues
Maintaining records of student attendance and performance
University Teacher Resume with 10 Years of Experience
A highly experienced and motivated University Teacher with 10 years of experience teaching English, Math, Science and Social Science to students of all levels. Possesses excellent communication and organizational skills, as well as the ability to develop and implement effective classroom activities to ensure students learn the material. Committed to staying up to date with the latest teaching strategies, methods, and curricula.
Core Skills:
Excellent communication and organizational skills
In- depth knowledge of the subject matter in English, Math, Science, and Social Science
Innovative ideas for creating meaningful learning experiences
Ability to craft curriculum and lesson plans
Strong classroom management skills
Responsibilities:
Instruct classes in English, Math, Science, and Social Science
Design, prepare, and deliver lesson plans to ensure student comprehension
Assess student progress and provide feedback
Create and grade tests and assignments
Facilitate a safe and comfortable learning environment
Facilitate discussions among students
Keep up to date on the latest teaching methods and trends
Attend faculty meetings and professional development seminars
Create and manage classroom websites
Organize and lead field trips and other educational activities
Provide individualized instruction to students in need of extra help.
University Teacher Resume with 15 Years of Experience
With a proven track record of teaching success, I am a highly effective university instructor with 15 years of experience in the academic field. I have a proven ability to develop creative lesson plans, design engaging activities, and create an exciting learning environment for students. I have a strong background in curriculum development and an extensive knowledge of the subject material. My extensive work experience has also strengthened my leadership and communications skills, allowing me to successfully guide and mentor my students.
Core Skills:
Instructional Design
Curriculum Development
Classroom Management
Student Assessment
Leadership
Communication
Conflict Resolution
Responsibilities:
Create lesson plans and course materials to effectively engage students
Develop curriculum to meet learning objectives
Monitor and assess student performance
Guide students to reach their academic potential
Establish and maintain positive relationships with students
Facilitate discussions and manage classroom activities
Provide additional support and resources to students
Participate in faculty meetings and other professional development activities
In addition to this, be sure to check out our resume templates, resume formats, cover letter examples, job description, and career advice pages for more helpful tips and advice.
What should be included in a University Teacher resume?
A University Teacher resume should demonstrate your teaching and research expertise. It should also show your commitment to your students. Here are essential points that should be included in a University Teacher resume:
Education: Your educational background should be listed in detail. Include the school, degree, and date of graduation.
Teaching Experience: List all teaching experience, including classes taught, grade levels, and any awards you have received.
Research: Any research or publications should be highlighted.
Professional Development: List any workshops you have attended, conferences you have presented at, or any other professional development activities.
Skills: Include any computer skills, foreign languages, or other skills that may be relevant to the job.
Professional Memberships: List any professional organizations or associations you belong to.
Other Experience: Include any volunteer work or other activities that show your commitment and dedication to teaching.
References: Include two to three professional references with contact information.
What is a good summary for a University Teacher resume?
A well-written summary for a university teacher resume should highlight the applicant's qualifications, abilities, and experience that makes them an ideal candidate for the position. The summary should include the applicant's educational background, teaching experience, and any special skills or knowledge. It should also explain how the applicant has used their skills to improve the educational environment for their students. Additionally, the summary should demonstrate the applicant's enthusiasm and commitment to their profession. Finally, the summary should demonstrate how the applicant can leverage their experience to contribute to the success of the university and to the success of its students. With the right summary, a university teacher resume can make a great first impression and help the applicant stand out from the competition.
What is a good objective for a University Teacher resume?
A university teacher is responsible for providing students with a quality and comprehensive education. As such, a good objective for a university teacher resume should emphasize qualifications, teaching experience, and the ability to provide students with a positive learning environment.
Demonstrate a passion for teaching and the ability to effectively communicate with students
Utilize creative and innovative teaching methods to ensure all students understand the material
Develop and maintain a positive learning environment for students to foster their academic success
Possess a commitment to ongoing professional development
Have a solid understanding of the curriculum and associated materials
Display a dedication to staying up-to-date with the latest advancements in the teaching field
Possess strong organizational and time management skills
Possess the ability to work with a variety of student populations and learning styles
Possess strong communication and interpersonal skills
Demonstrate the ability to combine theory and practical application in the classroom
Have the ability to handle challenging student behavior in a professional, compassionate manner.
How do you list University Teacher skills on a resume?
When creating a resume, it is important to include all relevant skills and experience, including those related to teaching at the university level. Including these skills will help you to stand out to potential employers and showcase your qualifications. Here are some of the skills to consider including when listing your university teacher qualifications on a resume:
Instruction: Demonstrating the ability to effectively teach and communicate complex material in an organized and logical manner.
Curriculum Development: Designing syllabi, course plans, and assessments to meet the needs of the students.
Subject Matter Expertise: Applying specialized knowledge of the subject matter to provide students with a comprehensive understanding of the material.
Classroom Management: Creating a learning environment that is conducive to student success and maintaining order in the classroom.
Technology: Utilizing current technologies to enhance the learning experience, such as online platforms, multimedia tools, and adaptive software.
Communication and Interpersonal: Effectively communicating both verbally and in writing with students, faculty, and staff.
Research: Conducting research on educational trends and best practices to ensure that courses are up-to-date and relevant.
By including these skills on your resume, you can highlight your qualifications to potential employers and demonstrate your commitment to providing quality educational instruction.
What skills should I put on my resume for University Teacher?
When applying for a university teaching position, your resume should demonstrate your expertise in the subject you are teaching, as well as any related skills that will give you an edge over other applicants. The following are some of the skills and experiences you should consider adding to your resume:
Academic Expertise: Make sure to highlight any relevant academic credentials and experience you have, such as a master's degree or PhD in a related field. If you have published research or written any books or papers on the subject, be sure to include that as well.
Classroom Experience: If you have prior teaching experience, particularly at a university level, be sure to include it on your resume. Showcase any classes you have taught, your teaching methods and any awards or accolades you have won for your teaching.
Technology Proficiency: With the rapid advancement of technology, many universities require their faculty to be proficient in the use of technology. Showcase your knowledge of various educational technology platforms, such as Blackboard and Moodle.
Interpersonal Skills: As a university teacher, you will be working with students from all backgrounds and levels of knowledge. Demonstrate your ability to communicate effectively and collaborate with a diverse student body.
Student Engagement: Highlight any activities or teaching methods you have used to engage students and encourage learning. Show how you have incorporated technology and other innovative strategies to reach students in a meaningful way.
By promoting your expertise and relevant abilities, you can make your resume stand out for a university teaching position. Make sure to highlight any special qualifications you have in order to make your resume more attractive to potential employers.
Key takeaways for an University Teacher resume
When it comes to writing a strong resume for a university teacher position, there are some key takeaways to keep in mind. Understanding the most important points to include in your resume, as well as the best way to present them, can help you stand out from the competition and land the job.
First, it's important to highlight your teaching experience, whether it's from a current or past university, or from teaching positions you have held at other educational institutions. Be sure to include any awards or recognition you have received as a teacher, such as student teaching awards.
You should also showcase your educational background. List the university where you earned your degree and any other schools you attended. Highlight any specializations you may have and any advanced degrees, such as a master's or PhD.
Be sure to emphasize your research and scholarship, as this is an important part of being a university teacher. List any professional organizations you are a part of and any accomplishments or publications related to your research.
Finally, include any skills that make you a great teacher, such as classroom management strategies, expertise in a particular subject area, and knowledge of new technologies.
By including all of the above information in your resume, you can craft a compelling summary of your qualifications that will get the attention of potential employers. Follow these takeaways and you will be well on your way to landing your dream job as a university teacher.
Let us help you build
your Resume!
Make your resume more organized and attractive with our Resume Builder