Writing an effective resume when applying to a university professor position can be a daunting task. Between the different expectations of academic institutions and the wide range of skills and experience required, it can be difficult to know where to begin in crafting a professional and polished document that will help you stand out from the competition. This guide will provide guidance on how to construct a standout university professor resume, from how to highlight your relevant skills and experience to tips for writing a compelling summary. Additionally, this guide includes a variety of examples of effective university professor resumes to provide further insight into how to best present yourself to potential employers.
If you didn't find what you were looking for, be sure to check out our complete library of resume examples.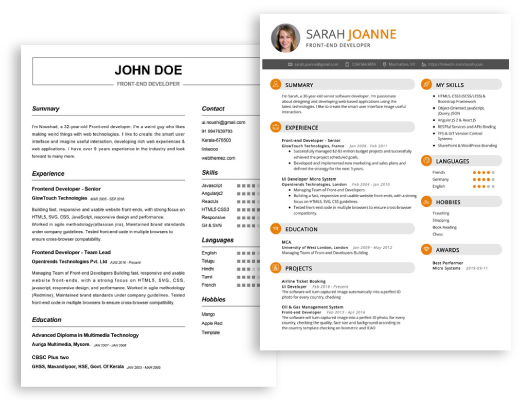 Start building your dream career today!
Create your professional resume in just 5 minutes with our easy-to-use resume builder!
University Professor Resume Examples
John Doe
University Professor
123 Main Street | Anytown, USA 99999 | Phone: (123) 456-7890 | Email: john.doe@email.com
A highly motivated and passionate University Professor with 10 years of experience in teaching, research, and mentorship. Possesses a strong educational background with a Master's Degree in Education and a PhD in History. Possesses excellent interpersonal, communication and organizational skills. A strong leader with an enthusiasm for teaching and a passion for education.
Core Skills
Extensive knowledge in the areas of education, history, and social sciences
Excellent communication and organizational skills
Ability to create and maintain positive relationships with students
Proficient in Microsoft Office, Google Suite and online teaching platforms
Strong time management, problem solving and leadership skills
Professional Experience
University Professor, Education Department
Developed and delivered lectures and teaching materials for undergraduate courses
Evaluated student performance through examinations and assessments
Assessed student understanding of material and provided additional support when needed
Provided guidance and mentorship to students
Conducted and supervised research projects
University Professor, History Department
Developed and delivered lectures and teaching materials for undergraduate courses
Managed course syllabus and assessed student understanding of material
Provided guidance and mentorship to students
Conducted and supervised research projects
Assisted in the preparation of students for examinations and assessments
Education
PhD in History, University of California
Master's Degree in Education, University of California
Bachelor's Degree in Social Sciences, University of California
University Professor Resume with No Experience
Recent college graduate with a Bachelor's degree in Anthropology and a passion for teaching. Experienced in working collaboratively in a team setting, with a strong commitment to excellence in education. Possesses excellent communication and leadership skills, eager to contribute to the development of the university.
Skills
Excellent communicator
Organizational skills
Leadership
Interpersonal skills
Adaptability
Ability to work as part of a team
Critical thinking
Responsibilities
Developing course syllabi and lesson plans
Assisting with research projects
Evaluating student performance
Providing guidance and support to students
Contributing to departmental initiatives
Participating in professional development activities
Delivering lectures and presentations
Creating a supportive learning environment
University Professor Resume with 2 Years of Experience
Dedicated and knowledgeable university professor with two years of experience teaching college- level courses and supervising student research projects. Possesses excellent communication and research skills, as well as a strong dedication to providing students with a meaningful educational experience. Valued for the ability to provide structure and guidance, as well as for leading engaging and effective lectures.
Core Skills:
Excellent communication and research skills
Strong classroom management
Dedicated to providing students with a meaningful educational experience
Effective teaching methods
Ability to evaluate student performance
Team player with excellent leadership ability
Responsibilities:
Develop and deliver engaging and effective lectures
Create, implement and assess learning objectives
Prepare and grade exams, including midterms and final papers
Advise students in their course selection and research projects
Develop and maintain relationships with students and parents
Participate in department meetings and curriculum planning
Maintain student records and prepare reports on student performance
University Professor Resume with 5 Years of Experience
Highly motivated and experienced University Professor with 5 years of teaching experience in a variety of disciplines. Proven ability to effectively engage students in the learning process through innovative methods and an approachable, friendly demeanor. Adept at creating engaging lesson plans as well as cultivating relationships with students and colleagues.
Core Skills:
University Professor Resume with 5 Years of Experience
Knowledge of various teaching methods
Ability to use technology in the classroom
Strong communication and interpersonal skills
Creative problem solving and analytical thinking
Excellent organizational and time management skills
Responsibilities:
Develop and implement lesson plans that engage students
Evaluate student performance and provide feedback
Organize and facilitate student activities
Prepare course materials and materials for lectures
Facilitate learning beyond the classroom though activities such as field trips and guest lectures
Maintain and update student records, grades, and attendance
Encourage students to reach their full potential, both academically and personally
University Professor Resume with 7 Years of Experience
A seasoned university professor with seven years of experience, I have a deep understanding of the higher education landscape and the ability to create engaging learning experiences for my students. I am an expert in classroom management, course planning and development, assessment design and student evaluative techniques. My dedication to developing a student's capacity for independent learning and self- discovery have enabled me to develop rewarding relationships with students and colleagues.
Core Skills:
Educational Leadership
Curriculum Development
Student Evaluations
Assessment Design
Classroom Management
Student Mentoring
Student Engagement
Responsibilities:
Developing, delivering and evaluating educational materials
Assisting in the design and development of new courses
Integrating student- centered learning strategies that are tailored to the needs of each student
Monitoring and assessing student progress
Conducting individual and group instruction
Developing and maintaining relationships with other faculty and staff
Providing guidance and support for students in need of academic assistance
Collaborating with colleagues to develop and implement new initiatives.
University Professor Resume with 10 Years of Experience
A highly experienced and knowledgeable University Professor with 10 years of teaching experience. Possesses a graduate degree in the field of education, along with a vast understanding of the subject matter. Possess excellent communication and organizational skills, able to plan and implement effective lessons and deliver them in an engaging and informative style. A team player who is able to work closely with both colleagues and students to achieve desired academic results.
Core Skills
Demonstrated knowledge of educational principles
Keen eye for detail
Excellent oral and written communication
Strong organizational and problem- solving skills
Able to foster an engaging and informative learning environment
Proficient in the use of technology in the classroom
Responsibilities
Develop syllabus and lesson plans
Develop and administer exams
Provide mentorship to students
Attend faculty meetings and professional development sessions
Maintain accurate records of student academic progress
Conduct office hours and parent- teacher conferences
Mentor student research projects and independent studies
Develop and update curriculum
Provide guidance to teaching assistants
Serve on department and university committees
University Professor Resume with 15 Years of Experience
With 15+ years of experience in higher education, I have a profound understanding of teaching, research, and administrative operations. My expertise includes course development and design, student success and engagement, and strategic planning and implementation. I have a passion for cultivating an environment of intellectual growth and collaboration, and have had great success in building effective relationships with students, faculty, and staff.
Core Skills:
Curriculum Design
Course Development
Student Engagement
Strategic Planning
Academic Leadership
Research and Data Analysis
Budget and Resource Allocation
Collaborative Learning
Conflict Resolution
Responsibilities:
Developing and teaching courses, syllabi, and curriculum
Mentoring and advising students
Leading faculty and staff committees
Creating and implementing policies and procedures
Developing and administering budgets
Evaluating student performance
Collaborating on research and publication projects
Analyzing data and trends to inform decision- making
Participating in committees, workshops, and conferences
In addition to this, be sure to check out our resume templates, resume formats, cover letter examples, job description, and career advice pages for more helpful tips and advice.
What should be included in a University Professor resume?
A University Professor resume should be highly detailed, as their role requires a broad range of skills and qualifications. It should include the following information:
Education: Include university degrees and diplomas as well as any other higher education qualifications.
Professional Experience: List any teaching and lecturing positions held in the past.
Publications: Include any research papers, books, or articles that you have had published.
Special Skills: Any special skills in a particular field should be highlighted, such as experience with foreign languages, computers, etc.
Awards and Honors: Include any awards and honors that you have received.
References: Provide contact information for at least two references.
Teaching Philosophy: Provide a brief overview of your teaching style and philosophy.
Teaching Highlights: Include any examples of successful teaching initiatives or experiences.
Professional Memberships and Associations: List any memberships or associations that you may have.
Community Involvement: Detail any involvement in the local community.
By including all of these components, a University Professor resume will provide an accurate and comprehensive representation of the individual's professional profile.
What is a good summary for a University Professor resume?
A good summary for a University Professor resume should clearly demonstrate the applicant's professional background, education and qualifications, special areas of expertise, research and/or teaching experience, and any extracurricular activities or awards. The summary should also demonstrate the applicant's enthusiasm and commitment to the field of teaching and higher education, as well as their ability to work with a wide range of students and faculty. Additionally, the summary should reflect the applicant's positive attitude and ability to work effectively with colleagues, administrators, and other stakeholders. Finally, the summary should highlight any unique qualities or experiences the applicant may have, such as international experience or fluency in another language.
What is a good objective for a University Professor resume?
A University Professor resume should have an objective that clearly articulates a candidate's goals and qualifications. It should also be tailored to the specific position and demonstrate their potential for success. A good objective should:
Highlight the candidate's qualifications and experience in the field of higher education
Showcase the candidate's commitment to the mission and goals of the university
Demonstrate the candidate's ability to teach and inspire students
Demonstrate the candidate's commitment to research and academia
Showcase the candidate's leadership and communication skills
Illustrate the candidate's commitment to professional development and staying up-to-date with current trends in the field
A well-crafted objective is an essential part of a University Professor resume, as it will help the candidate stand out from the competition. Tailoring the objective to the specific position and demonstrating the candidate's potential for success is key. With a strong objective, a University Professor candidate can be confident that their resume will capture the attention of their potential employer.
How do you list University Professor skills on a resume?
When applying for a job as a professor, having a resume that showcases your qualifications is essential to securing the position. In addition to laying out your academic background and teaching experience, you should also include a section that outlines the skills you possess. Here are some tips for listing your professor skills on a resume:
Emphasize Essential Teaching Skills: Highlight your abilities to effectively manage a classroom, create lesson plans, deliver lectures, and engage students. Make sure to provide specific examples of cases where you have utilized these skills to great success.
Demonstrate Your Knowledge Base: Your resume should showcase the breadth of your academic knowledge. Mention your expertise in certain areas, such as research methodologies, linguistics, or literature.
Showcase Your Professional Network: In addition to teaching, professors are often expected to advise and mentor students. Showcase your abilities to connect with colleagues and students by providing examples of successful collaboration and networking.
Highlight Your Leadership and Communications Skills: As a professor, you will be expected to lead meetings, present lectures, and serve as a role model for students. Include skills in interpersonal communication and public speaking to show that you are well-equipped to handle the job.
Detail Your Professional Development: Professors are also expected to stay up-to-date on the latest developments in their field. Mention any conferences or seminars you have attended, as well as any professional memberships you have participated in.
By taking the time to create a comprehensive list of your professor skills, you can provide potential employers with an accurate depiction of the value you can bring to the job.
What skills should I put on my resume for University Professor?
When creating a resume for a University Professor role, it is important to showcase the skills and qualifications that make you an ideal candidate for the job. Here are some of the key skills to consider highlighting on your resume:
Teaching: As a University Professor, you will be responsible for teaching students in higher education. Make sure to demonstrate any teaching experience you have, as well as any awards or certifications that support your success as an educator.
Leadership: As a professor, you will be expected to lead your students and help guide them throughout their academic journey. You should highlight any experience or notable accomplishments that demonstrate your ability to lead and motivate others.
Research: Professors are often required to complete research and scholarly work in order to advance their field of study. Be sure to showcase any research projects you have completed, as well as any publications you may have been a part of.
Subject Expertise: To be an effective professor, you must have an in-depth knowledge of your subject. Make sure to emphasize any education or experience you have in the field you will be teaching.
Technology: It is essential to be proficient in using technology in order to teach in an effective manner. Showcase any specific software or programs that you are comfortable using, as well as any related certifications you may have.
Communication: As a professor, you will need to be able to effectively communicate with both students and colleagues. List any awards or certifications related to communication, as well as any experience you have in public speaking.
By highlighting your most relevant skills and qualifications, you can ensure that your resume for a University Professor role is as impressive as possible. Good luck!
Key takeaways for an University Professor resume
A well-crafted resume is essential for any job seeker, especially a University Professor. Having a resume that stands out from the rest is even more important for a Professor, as they are subject to many more scrutiny than those in other fields.
In this blog post, we'll go over some key takeaways for a University Professor resume. These tips will help you create a resume that is professional, organized, and easy to read.
Tailor Your Resume for Each Job: While crafting a resume for a professor position, it is important to tailor it to the specific job you are applying for. Applying for a position in the humanities department? Tailor your resume to showcase your experience and skills in that field.
Emphasize Your Professional Experience: As a professor, it is important to emphasize your professional experience. Include any research projects, teaching awards, or other accomplishments that make you a great candidate for the job.
Highlight Relevant Publications: Many professors have published works in their fields. Showcase any relevant publications on your resume to demonstrate your expertise.
Showcase Your Teaching Credentials: As a professor, your teaching credentials should be front and center on your resume. Include any certifications, awards, or honors you may have earned for your teaching.
Demonstrate Your Commitment to Education: Universities want professors who are passionate about teaching and education. Showcase any extracurricular activities or volunteer work that demonstrates your commitment to education and learning.
By following these key takeaways, you can create an impressive resume for a professor role. An organized, professional resume will help you stand out from the competition and increase your chances of landing the job.
Let us help you build
your Resume!
Make your resume more organized and attractive with our Resume Builder