Are you in search of a new tutoring job? Do you need to update your resume? Writing a resume can be stressful and time-consuming, but it's an essential part of the job search process. It serves as your first impression to potential employers and is a great way to showcase your skills and qualifications. To help make creating a resume easier, this guide will provide you with tips and advice for writing a standout tutor resume, as well as resume examples and templates to help get you started.
If you didn't find what you were looking for, be sure to check out our complete library of resume examples.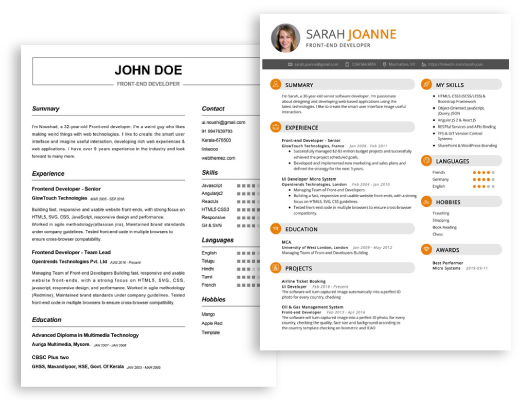 Start building your dream career today!
Create your professional resume in just 5 minutes with our easy-to-use resume builder!
Tutor Resume Resume Examples
John Doe
Tutor Resume
123 Main Street | Anytown, USA 99999 | Phone: (123) 456-7890 | Email: john.doe@email.com
I am a passionate and experienced tutor with a focus on helping students meet their educational goals. I have a strong background in curriculum development and instructional design, as well as in- depth knowledge of mathematics and science. With my experience and dedication to providing high- quality instruction, I am confident I can help students of all levels reach their full potential.
Core Skills:
Extensive experience in instructional design
Proven success in curriculum development
Excellent communication and interpersonal skills
Proficient in mathematics and science
Skilled in Microsoft Office Suite and online learning platforms
Professional Experience:
Tutor at Peak Tutoring (2018- Present)
Worked with students in grades 7- 12 to improve math and science skills
Developed and implemented individualized learning plans
Guided and monitored student progress
Maths and Science Tutor at Friends of Learning (2016- 2018)
Tutored students in math, science and computer science
Assisted students in understanding difficult concepts
Developed and taught lesson plans
Education:
Master of Education in Instructional Design, University of Washington (2020)
Bachelor of Science in Mathematics and Computer Science, University of California (2016)
Tutor Resume with No Experience
Hard- working and motivated individual seeking a Tutor position to develop teaching and communication skills. Focused on helping students to reach their highest potential through effective instruction and guidance.
Skills
Excellent communication skills
Proficient in Microsoft Office
Ability to understand and connect with students
Capable of working independently
Responsibilities
Provide high quality instruction for students
Maintain organized and accurate records of student progress
Develop relevant lesson plans
Assist in the preparation of tests and other assessment materials
Adhere to school policies and procedures
Assist in the supervision of students in the classroom
Tutor Resume with 2 Years of Experience
Dynamic and passionate tutor with 2+ years of experience in tutoring and mentoring students of all ages. Possesses excellent communication and interpersonal skills and a knack for understanding student requirements. Demonstrated success in developing and delivering effective tutoring sessions that are tailored to the individual student's needs and have resulted in significant improvement in their academic performance.
Core Skills:
Strong communication and interpersonal skills
Problem solving and critical thinking
Organizational and time management skills
Innovative and creative teaching approaches
Ability to remain patient and positive
Flexible and reliable
Responsibilities:
Develop and implement lesson plans that meet the individual tutoring needs of the student
Assess student's current level of knowledge, abilities and needs
Provide feedback to students on their performance and progress
Encourage and motivate students to reach their potential
Monitor student's performance and progress
Maintain student records and document tutoring sessions
Assist students with their academic assignments and projects
Provide resources and materials to enhance student learning
Provide effective and constructive feedback to students on their work
Create a comfortable and safe learning environment for students
Conduct assessments to determine student's educational needs
Tutor Resume with 5 Years of Experience
Motivated and organized Tutor with 5 years of experience in providing quality instruction to students. Accomplished in adapting to different learning styles and creating engaging lessons that students can easily learn and remember. Demonstrates a high level of commitment to student success through individualized instruction and creative problem- solving.
Core Skills:
Strong knowledge of math and science
Excellent communication and organizational skills
Creative problem solving
Commitment to student success
Flexibility and patience
Demonstrates proper classroom management
Responsibilities:
Developed curriculums and lesson plans to improve student understanding
Tailored instruction to student needs
Instructed individual and small groups of students
Fostered an engaging and collaborative learning environment
Assessed student progress and understanding
Provided timely feedback to students
Encouraged student participation and interaction
Tutor Resume with 7 Years of Experience
I am an experienced Tutor with over 7 years of experience in teaching and mentoring. My experience has included working with students of all ages and backgrounds, from elementary school to college level. I have a passion for helping students of all levels to learn and grow, and I am committed to using my knowledge and skill to help my students achieve their best. I have a strong background in Math, English, Science, History, and the Arts and I am an enthusiastic and patient teacher who is dedicated to inspiring the students I work with.
Core Skills:
Strong knowledge of Math, English, Science, History, and the Arts
Excellent communication and interpersonal skills
Strong organizational, problem- solving and critical thinking skills
Ability to use technology and online tools to create engaging learning experiences
Ability to multitask and manage multiple projects simultaneously
Superior customer service and client relationship management skills
Ability to work independently and as part of a team
Responsibilities:
Developing individualized and group lessons plans that are aligned with the state and national standards
Planning and delivering engaging lessons and activities that reflect the age and abilities of the students
Assessing student progress, providing feedback and adjusting plans accordingly
Creating and maintaining effective communication with parents, administrators and other teachers
Modeling and reinforcing positive behavior, encouraging independent thinking and promoting self- confidence and self- esteem
Providing resources, support and advice to students as needed
Developing and maintaining a positive and motivating learning environment
Tutor Resume with 10 Years of Experience
I am an experienced Tutor with 10 years of experience tutoring students in a variety of subject areas ranging from elementary school to college. I have a passion for teaching and take great pride in helping students learn and reach their potential. I have a strong knowledge base in a variety of subject areas and have experience working with all types of learners. I am a patient and understanding teacher and strive to create an environment where students feel comfortable and motivated to learn.
Core Skills:
Strong Knowledge Base in a Variety of Subject Areas
Excellent Communication and Interpersonal Skills
Ability to Create Engaging and Effective Lessons
Proficient in Utilizing Technology in the Classroom
Understanding and Patience to Work with All Types of Learners
Responsibilities:
Developing lesson plans and curricula to meet student needs and requirements
Facilitating classroom instruction and providing individualized tutoring
Assisting students in developing strategies to better understand course material
Creating assessment tests and monitoring student progress
Organizing and maintaining educational resources and materials
Collaborating with other teachers to develop teaching strategies
Providing students with effective study skills and practice tests
Tutor Resume with 15 Years of Experience
A highly experienced, passionate and motivated tutor with 15 years of experience in providing personalized educational services to students of all ages. Skilled in creating individualized lesson plans to effectively cater to student needs, utilizing a range of teaching techniques, and providing support for parents. Possesses a strong commitment to the success of students and a dedication to the continuous improvement of educational standards.
Core Skills:
Excellent communication and interpersonal skills
Deep understanding of different learning styles
Highly organized and able to develop effective plans
Ability to assess student performance and create meaningful objectives
Strong command of the English language
Proficiency in MS Office and other educational technology tools
Knowledge in psychology, cognitive development, and educational theory
Responsibilities:
Develop individualized lesson plans to meet the needs of diverse student capabilities
Develop student assessment tools to measure progress
Organize and lead interactive teaching sessions
Promote student engagement, learning, and advancement
Provide guidance and feedback to parents regarding student progress
Maintain detailed records of student progress and activities
Ensure a safe and secure learning environment for students
In addition to this, be sure to check out our resume templates, resume formats, cover letter examples, job description, and career advice pages for more helpful tips and advice.
What should be included in a Tutor resume?
Creating a resume for a tutoring position requires highlighting the knowledge and experience that you can use to help students. To ensure that you present yourself in the best light possible, there are several important components to include in a tutor resume.
Education: Include all relevant educational experiences, such as a degree, certificates, or specialized training. Mention any awards or honors you received, and list any courses you taught or tutored.
Work Experience: Describe any past experience as a tutor, including the areas of expertise you covered and any successes you achieved.
Skills & Qualifications: Highlight the skills that make you an effective tutor, such as patience, communication, problem-solving, and organization. Demonstrate any specialized knowledge you have, such as a foreign language or subject area.
Professional References: List references that can attest to your skills as a tutor. Include contact information, such as name, phone number, and email address.
By including all of these elements, you can create a strong resume that will showcase your qualifications and help you stand out from the competition.
What is a good summary for a Tutor resume?
A tutor resume should capture the skills, experience, and accomplishments of a professional tutor. It should emphasize their educational background, any certifications, and any other relevant training or qualifications. It should also include relevant work experience, a list of courses or subjects taught, and any awards or recognition received. In addition, a tutor resume should include any special skills that would be beneficial in a tutoring role, such as organizational and communication skills, as well as any relevant hobbies or interests. It should be concise, clear, and easy to read, and should be tailored to the specific needs of the potential employer.
What is a good objective for a Tutor resume?
A tutor resume should have a concise and well-defined objective that outlines both the goal of the tutor and the skills they bring to the role. Crafting an effective objective can be a great way to grab the attention of potential employers and give them an idea of what you can bring to the table.
Here are some good objectives to consider when creating a tutor resume:
To leverage my strong background in teaching, mentoring, and tutoring to create a positive and productive learning environment for students
To bring my expertise in mathematics and science to help students improve their problem-solving and understanding of basic concepts
To provide individualized support and guidance to students to help them achieve their educational goals
To use my knowledge of different learning styles to create an effective and engaging learning environment
To maximize student success through the use of innovative techniques and teaching methods
To help students build the skills and knowledge necessary for college and career readiness
To foster a positive and encouraging approach to learning that encourages students to excel academically
How do you list Tutor skills on a resume?
When creating a resume, it is important to include a section that focuses on your tutoring skills. This section should focus on the skills, qualifications, and experiences you have as a tutor.
When listing tutor skills on a resume, you should include the following:
Knowledge of various tutoring methods: Demonstrate your understanding of different approaches to tutoring, such as one-on-one, group, or online tutoring.
Subject-specific expertise: Showcase your expertise in the subjects you've tutored, such as Mathematics, English, Science, etc.
Experience in lesson planning: Highlight your ability to plan lessons and create teaching materials tailored to the student's needs.
Excellent oral and written communication: Demonstrate your ability to effectively communicate with students and colleagues.
Patience and interpersonal skills: Showcase your ability to remain patient and motivate students to learn.
Ability to assess and evaluate student performance: Show that you're able to assess and evaluate student performance, and provide constructive feedback.
By including these tutor skills on your resume, you can showcase your qualifications and experiences in a way that will attract tutoring opportunities.
What skills should I put on my resume for Tutor?
A tutor is an individual who provides specialized instruction in a particular subject or field. When applying for a tutor position, it's important to understand what skills are needed for the job and to highlight them on your resume. Here are some key skills to include on your resume for a tutor position:
Excellent communication skills: Being a tutor requires you to effectively communicate with students in order to help them learn. It's important to have strong verbal and written communication skills in order to help students understand the concepts being taught.
Organizational skills: Tutors need to be organized in order to effectively manage the material they are teaching and ensure that students are understanding the concepts.
Patience: Tutoring requires patience in order to help students understand and learn new concepts.
Knowledge of subject matter: It's important to have a high level of knowledge in the subject matter that you are teaching.
Flexibility: Being able to adapt and adjust to different learning styles and levels of understanding is an important skill for a tutor to have.
Creativity: Tutors need to be creative in order to come up with engaging activities and lessons that will help students learn.
It's important to include these skills on your resume when applying for a tutor position in order to demonstrate that you have the necessary skills for the job.
Key takeaways for an Tutor resume
Writing a tutor resume can be a daunting task. After all, how do you accurately convey your expertise and skills in a way that will attract the attention of potential employers? Fortunately, there are key takeaways that you can use to make sure your resume stands out from the competition.
The first key takeaway for an effective tutor resume is to focus on your teaching experience. If you have prior teaching experience, be sure to highlight it on your resume. Include details such as the classes you taught, any awards you have received, and the impact you had on your students' performance. This will show potential employers that you have the skills and experience necessary to excel as a tutor.
Another key takeaway for an effective tutor resume is to highlight your professional qualifications. Include any certifications, degrees, or other credentials that demonstrate your expertise in the subject area. This will help employers recognize your qualifications and will make you stand out from the crowd.
Finally, it is important to include any awards or honors that demonstrate your passion and commitment to the teaching profession. These awards may include recognition from organizations such as the National Association for the Education of Young Children (NAEYC), the National Council for the Accreditation of Teacher Education (NCATE), or the National Board for Professional Teaching Standards (NBPTS). These awards are a great way to show employers that you are dedicated to your profession and have the qualifications to be a successful tutor.
By following these key takeaways, you can create an effective and impressive tutor resume that will help you stand out from other applicants. By focusing on your teaching experience, professional qualifications, and awards, you can convey to potential employers that you have the skills and qualifications necessary to be an effective tutor.
Let us help you build
your Resume!
Make your resume more organized and attractive with our Resume Builder