Writing a resume can be an intimidating task, especially when you are applying for a position as a theatre teacher. It is important to demonstrate your experience, skills, and qualifications in a way that will stand out to potential employers. To ensure that your resume is as effective as possible, it is essential to follow a few key guidelines. This theatre teacher resume writing guide provides helpful tips on how to create an effective and attention-grabbing resume. Additionally, this guide includes several examples of resumes specifically tailored to the theatre teacher profession. By following this guide, you can create a resume that will impress potential employers and help you get the job of your dreams.
If you didn't find what you were looking for, be sure to check out our complete library of resume examples.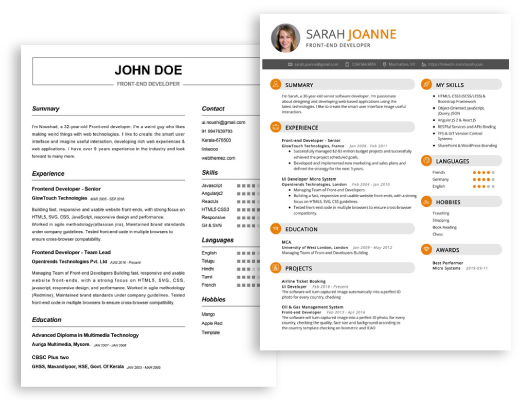 Start building your dream career today!
Create your professional resume in just 5 minutes with our easy-to-use resume builder!
Theatre Teacher Resume Examples
John Doe
Theatre Teacher
123 Main Street | Anytown, USA 99999 | Phone: (123) 456-7890 | Email: john.doe@email.com
A highly skilled and enthusiastic theatre teacher with a passion for inspiring students to reach their potential. I have 8 years of teaching experience, ranging from middle school to college level. My core skills include directing, curriculum development, and creating dynamic and engaging lesson plans. I am experienced in teaching all aspects of theatre, including acting, directing, writing, and design. I also have a strong understanding of theatrical history and theory. I believe in creating a safe and collaborative learning environment, and fostering a spirit of exploration and experimentation.
Core Skills:
Directing
Curriculum Development
Lesson Planning
Teaching
Acting
Writing
Design
Theatrical Theory
Theatre History
Professional Experience:
Theatre Teacher, St. Mark's Prep School, 2014- Present
Developed and implemented a comprehensive theatre curriculum for students in grades 6- 12
Directed three full- length productions each year for the school's theatre program
Taught acting, directing, writing, and design classes
Mentored students in private coaching sessions
Collaborated with colleagues to create dynamic theatre projects
Managed a budget for the program's annual productions
Education:
University of Southern California, Master of Fine Arts in Theatre Education, 2010- 2012
University of California, Los Angeles, Bachelor of Arts in Theatre, 2006- 2010
Theatre Teacher Resume with No Experience
Dedicated and motivated Theatre Teacher with a passion for inspiring and educating young minds. Seeking to bring enthusiasm, creativity, and versatility to the classroom. No prior experience teaching theatre, however, willing to learn and develop with the support of a professional institution.
Skills
Creative problem solving
Excellent organizational skills
Strong communication and interpersonal skills
Patient and understanding of the learning process
Ability to work independently or as part of team
Responsibilities
Plan, develop and implement theatre- based learning activities
Design course schedules and lesson plans
Assess student performance and provide feedback
Engage students with interactive activities and dynamic discussions
Collaborate with colleagues to create an inspiring learning environment
Encourage students to express themselves in a safe and accepting environment.
Theatre Teacher Resume with 2 Years of Experience
An experienced Theatre Teacher with over two years of experience providing instruction to students in all aspects of theatre. Possesses great patience and the ability to engage and motivate students to reach their full potential. Excellent communication, organizational and problem- solving skills. Able to plan, coordinate and manage the various aspects of putting on a production, including auditions and rehearsals.
Core Skills:
Teaching
Conflict Resolution
Public Speaking
Communication
Creative Thinking
Time Management
Student Engagement
Presentation
Theatre Production
Responsibilities:
Planning, coordinating and delivering theatre classes in accordance with the curriculum
Assessing students' abilities and progress throughout the course
Creating lesson plans and activities to engage students
Maintaining a safe, clean and comfortable classroom environment
Encouraging students to participate in theatre productions
Organizing and managing teams of students to work on theatre productions
Assisting with auditions, rehearsals and performances
Evaluating students' performances and providing constructive feedback
Building relationships with students and their parents
Ensuring students are aware of the rules and regulations of the classroom
Addressing any questions or concerns from parents or colleagues.
Theatre Teacher Resume with 5 Years of Experience
Dynamic theatre teacher with 5 years of experience developing and leading creative curriculums for students of all ages. Proven track record of success in guiding students to explore their interest in acting, choreography, and production. Motivated to foster a collaborative and encouraging environment for each student to find their individual voice and grow their talents.
Core Skills:
Thorough knowledge of theatre techniques, acting, and production
Excellent communication and interpersonal skills
Strong organizational and problem- solving abilities
Excellent critical thinking and creative expression
Proficient in Microsoft Office and Mac OS
Responsibilities:
Develop, implement, and assess creative learning curriculum for theatre courses
Provide guidance and direction to students to promote creative expression
Lead rehearsals and workshops to ensure students understand the production process
Organize and supervise field trips to live theatre performances
Collaborate with parents and administration to ensure student success
Mentor and motivate students to reach their full potential
Theatre Teacher Resume with 7 Years of Experience
Experienced and dynamic theatre teacher with seven years of experience in teaching theatre, designing and developing engaging and creative lessons and assessing student progress. Highly knowledgeable in theatre, theatre history, literature, and performance. Excellent record of developing in student's understanding, skills and appreciation of the theatre experience.
Core Skills:
Ability to assess student's progress in the areas of theatre, theatre history, literature, and performance
Excellent classroom management abilities
Ability to cultivate and maintain strong relationships with students
Ability to design and develop engaging and creative lessons
Highly organized and motivated
Ability to motivate, inspire and challenge students
Responsibilities:
Developing and delivering high- quality theatre classes
Assessing student progress in the areas of theatre, theatre history, literature, and performance
Designing and developing engaging and creative lessons
Encouraging students to explore their talents and express themselves
Researching and implementing new teaching methods to enhance the learning experience
Supervising visits to rehearsals and performances
Assisting in school productions
Assisting in directing and choreographing theatre productions
Participating in school committees and extracurricular activities
Keeping accurate records of student progress
Theatre Teacher Resume with 10 Years of Experience
Experienced theatre teacher with 10 years of experience in the field. Creative, organized and reliable professional with a passion for theatre, arts, and education. Expert in developing and implementing creative theatre curriculums and teaching strategies to engage students in theatre production. Possess excellent comprehension and communication skills to establish strong partnerships with staff, students, and parents.
Core Skills:
Theatre teaching and production
Curriculum development
Classroom management
Creative problem solving
Performance directing
Student motivation
Communication and collaboration
Responsibilities:
Developed and implemented theatre curriculums for various grade levels
Ensured that the students understand and follow safety protocols
Effectively planned and directed theatrical performances
Encouraged students' creativity, self- expression, and self- confidence
Assisted with stage design and production
Collaborated with staff, parents, and students in the theatre production
Utilized effective teaching strategies to help students understand theatre content and production
Provided support to students in developing their theatrical skills and understanding of theatre production
Theatre Teacher Resume with 15 Years of Experience
A theatre teacher with 15 years of experience in providing exemplary education and instruction in the performing arts. I am a passionate educator who enjoys inspiring students and helping them expand their creative potential. My expertise is in providing curriculum guidance, directing and producing theatrical performances, and creating a safe and encouraging learning environment. I am highly organized, creative, and committed to students achieving their highest potential.
Core Skills
Outstanding classroom instruction and curriculum design
Excellent communication and interpersonal skills
Superior verbal and written communication
Creative, organized, and patient
Talent to teach and motivate students
Knowledge of the performing arts
Responsibilities
Design and implement an innovative and comprehensive theatre curriculum.
Direct and produce theatrical performances.
Prepare and lead rehearsals and other related activities.
Mentor and advise individual students.
Integrate theatre instruction with other disciplines.
Create a safe, supportive, and encouraging learning environment.
Monitor and evaluate student progress.
Develop and enforce rules and regulations for student behavior.
Foster positive relationships with students and their families.
Remain up- to- date with the latest educational trends.
In addition to this, be sure to check out our resume templates, resume formats, cover letter examples, job description, and career advice pages for more helpful tips and advice.
What should be included in a Theatre Teacher resume?
A theatre teacher resume should include specific information about an individual's experience in the theatre, as well as the skills related to the job. The following items should be included in a theatre teacher resume:
Name and contact information: Include your name, address, phone number, and email address.
Education: List your educational qualifications such as degrees, certifications, or training related to the job.
Work experience: Include any relevant experience in the theatre such as acting, directing, teaching, or producing.
Skills: Detail the specific skills related to the job such as writing, editing, scripting, and directing.
Performance history: List any roles you've played, the theatre companies you've worked with, and any awards you've received.
References: Include three professional references with their contact information.
Extracurricular activities: List any extracurricular activities related to the theatre such as clubs, workshops, or festivals.
By including all of these items in a theatre teacher resume, you can be sure that you have provided employers with a comprehensive picture of your qualifications and skills.
What is a good summary for a Theatre Teacher resume?
A good summary for a theatre teacher resume should highlight an individual's experience teaching theatre, as well as their unique skills and knowledge in the field. The summary should also make mention of any awards or recognitions the theatre teacher has earned, as well as any special workshops or seminars they may have attended. Finally, a summary should emphasize the theatre teacher's passion for the craft and dedication to their students. This will help employers get a sense of the teacher's qualifications and enthusiasm for the job.
What is a good objective for a Theatre Teacher resume?
A theatre teacher resume should be focused on the qualifications and experiences that are essential to the position. The objective of a theatre teacher resume should demonstrate the applicant's ability to manage and motivate students while teaching them the fundamentals of theatre. Here are a few objectives that you can use to write an effective resume:
Create a positive and creative learning environment for students to explore their passion for theatre.
Demonstrate teaching strategies and theatre fundamentals to students in an engaging and hands-on manner.
Share knowledge of theatre history and literature to students through lectures and activities.
Develop theatrical activities and projects to help students build their skills and knowledge.
Inspire students by fostering their creative abilities and artistic expression.
Promote collaboration and team-building through theatre activities and projects.
Evaluate student performances and provide constructive feedback.
Mentor and support students in their development as actors.
Monitor student progress and provide progress reports to parents.
Organize and manage theatrical productions, run rehearsals and coordinate stage crews.
How do you list Theatre Teacher skills on a resume?
When creating a Theatre Teacher resume, it is important to highlight your theatre-related skills and experiences. A theatre teacher should be skilled in directing, organizing, teaching, and inspiring actors. Here are some of the important skills to list on a theatre teacher resume:
Directing: A theatre teacher should have strong directing skills, including the ability to develop and communicate a creative vision for a production.
Organization: Theatre teachers must be able to effectively organize and manage a rehearsal process. This includes the ability to coordinate and delegate tasks, create and manage schedules, and keep track of resources.
Teaching: Theatre teachers need to be skilled instructors, able to provide clear instructions, offer constructive feedback, and foster an environment conducive to learning.
Performance: A theatre teacher should have a strong understanding of acting techniques and be able to help actors refine their performances.
Inspiration: Theatre teachers need to be passionate and inspiring, capable of motivating actors to strive for excellence.
Collaboration: Theatre teachers must be able to work in collaboration with actors, directors, and other members of the creative team in order to create a successful production.
By highlighting these skills on your resume, you will be able to demonstrate your qualifications and experience as a theatre teacher.
What skills should I put on my resume for Theatre Teacher?
Having an effective resume as a theatre teacher is important for showcasing your qualifications and experience to potential employers. Your resume should include all the skills necessary to be successful in this role.
To ensure your resume stands out, here are some key skills to highlight:
Communication Skills: As a theatre teacher, you'll need to be able to communicate your ideas effectively and clearly to students and collaborate with other faculty members.
Drama Instruction: You need to be able to teach a variety of dramatic techniques, such as improvisation, scene work, and character development.
Theatre History: You should be knowledgeable in theatre history, particularly in the history of theatrical forms, such as opera, ballet, and comedy.
Leadership Skills: You will need to be able to lead rehearsals and productions, as well as motivate and inspire your students.
Technical Knowledge: You should have a basic understanding of theatre technology, such as lighting and sound design, to help you successfully oversee a theatre production.
By including these key skills and qualifications on your resume, you'll be able to demonstrate to potential employers that you're the ideal candidate for the theatre teacher role.
Key takeaways for an Theatre Teacher resume
As a theatre teacher, your resume should be a reflection of your knowledge and experience as an instructor. When creating your resume, there are a few key takeaways to keep in mind.
First, emphasize any teaching experience you have that is related to the theatre. This could include directing plays at a theater, teaching students about theater, or even teaching stages and technical theater. Be sure to list any professional organizations you are part of and your current certification in any theater-related programs.
Second, showcase your specific skill sets related to theater. These could include set design, lighting design, costuming, playwriting, directing, or any other areas you feel passionate about. It's important to highlight any awards or recognition you have received in your role as a theater teacher as well.
Finally, be sure to make note of any additional activities you may have engaged in related to theater. This could include working on a film set, attending theater-related workshops or seminars, or participating in a professional theater company. All of these activities help to demonstrate your passion for theater and your commitment to the profession.
By following these key takeaways, you can ensure that your resume stands out amongst other theater teachers. You can also be confident that any potential employers are well aware of your experience and qualifications.
Let us help you build
your Resume!
Make your resume more organized and attractive with our Resume Builder