Are you looking for a job in teaching technology to students? If so, you will need a resume that stands out from the competition. This comprehensive guide will provide you with the tips, tricks, and strategies you need to create a strong resume that will make you an ideal candidate. You will find example resumes, advice on highlighting your skills, and tips for writing a standout cover letter. With this guide, you can make sure you have the best chances of getting the job you want.
If you didn't find what you were looking for, be sure to check out our complete library of resume examples.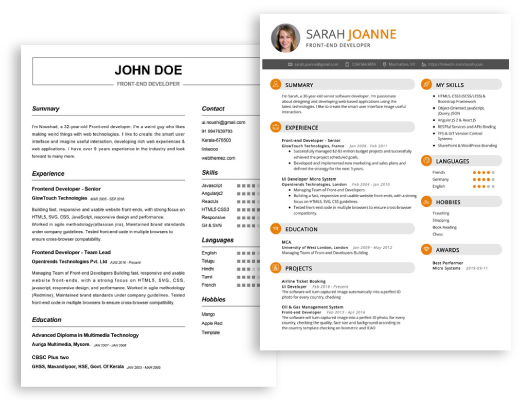 Start building your dream career today!
Create your professional resume in just 5 minutes with our easy-to-use resume builder!
Technology Teacher Resume Examples
John Doe
Technology Teacher
123 Main Street | Anytown, USA 99999 | Phone: (123) 456-7890 | Email: john.doe@email.com
Highly qualified and experienced Technology teacher with over 10 years of experience in teaching and guiding students to learn basic computer and technical skills. Well versed in various software, hardware and other technical aspects. Proven ability to provide practical assistance and hands- on experience to the students with technical troubleshooting and problem- solving. Possesses excellent communication and interpersonal skills to establish an effective rapport with students, parents and faculty.
Core Skills:
Software Knowledge
Computer Troubleshooting
Network Administration
Hardware Maintenance
Technical Assistance
Teaching and Instructing
Problem- Solving
Communication
Interpersonal Skills
Professional Experience:
Technology Teacher, ABC School, October 2014 – Present
Developed and implemented lesson plans for teaching computer technology to students
Provided guidance and support to students on how to properly utilize technology
Taught students how to use various applications such as Microsoft Office, Adobe Photoshop and others
Assisted students with troubleshooting and resolving technical issues
Conducted assessments and tests to evaluate students' knowledge and progress
Mentored and encouraged students to take part in extra- curricular activities related to technology
Technology Teacher, XYZ School, August 2009 – October 2014
Provided instructions to students on how to use various software and hardware
Demonstrated to the students the efficient and effective use of technology
Assisted students with troubleshooting and solving technical problems
Provided practical assistance to the students in utilizing classroom technology
Assisted the students in obtaining proper certification and training in several computer programs
Education:
Bachelor of Science in Computer Science, ABC University, 2009
Associate of Science in Information Technology, XYZ College, 2006
Certified Technology Teacher, DEF Institute, 2014
Technology Teacher Resume with No Experience
Recent college graduate looking to break into the technology teaching field. Passionate about instilling students with the knowledge of a technology- driven future and preparing them for success in STEM- related fields.
Skills
Excellent communication and interpersonal skills
Expertise in a variety of software and hardware
Strong problem- solving and technical troubleshooting skills
Knowledge of lesson planning and instructional design
Ability to manage and mentor students
Ability to use different learning techniques and technologies
Responsibilities
Developing and delivering lessons plans to engage students in technology
Integrating technological resources into the classroom to promote student learning
Engaging students in interactive activities to promote learning
Monitoring student progress and providing feedback
Assisting students in the use of technology to complete assignments
Collaborating with colleagues to develop new educational strategies
Technology Teacher Resume with 2 Years of Experience
Qualified and passionate Technology Teacher with two years of experience in teaching technology courses to various grade levels. Possess excellent ability to communicate essential technology topics to learners and experience in developing lesson plans, grading assignments, and managing student records. Adept at teaching the required course material while providing an engaging learning environment.
Core Skills:
Advanced knowledge in the fundamentals of technology
Proficient in teaching technology to various grade levels
Excellent communication, problem solving, and analytical skills
Proficient in using various software programs
Ability to develop innovative teaching methods
In- depth understanding of student management and assessment techniques
Responsibilities:
Instructed students on technology subjects and principles
Developed and evaluated lesson plans, assignments, and tests
Provided assistance to students as needed
Facilitated group discussions and assignments
Monitored student progress and provided feedback
Assisted with troubleshooting technology related problems
Conducted research in order to stay current on technology developments
Technology Teacher Resume with 5 Years of Experience
Motivated and experienced Technology Teacher with five years of experience in teaching technology- related subjects, including computer science, information technology, and web development. Experienced in creating engaging lesson plans and providing students with individualized instruction to help them develop their technical knowledge and problem- solving skills. Possess exceptional communication and organization skills, able to collaborate with other teachers and school administrators to ensure students receive the most up- to- date education.
Core Skills:
Strong understanding of technology- related subjects
Experience in creating engaging lesson plans
Excellent communication and organizational skills
Able to provide personalized instruction
Capable of collaborating with school administrators
Responsibilities:
Developing and implementing technology- related lesson plans
Instructing students in computer science, information technology, and web development
Assessing student performance and providing feedback to help them develop their technical skills
Maintaining up- to- date record of student performance and attendance
Collaborating with other teachers and school administrators to ensure the most effective learning environment for students
Technology Teacher Resume with 7 Years of Experience
A highly experienced Technology Teacher with seven years of professional experience. Skilled in a variety of technologies and teaching methods, including iPads, video editing, and troubleshooting. Possesses excellent communication and organizational skills and a deep passion for teaching technology. Committed to creating engaging learning experiences, fostering student engagement, and enabling digital fluency.
Core Skills:
Technology Knowledge: Skilled in a variety of technologies, including iPads, video editing, and troubleshooting.
Communication: Excellent communication, both verbal and written, to effectively explain difficult concepts.
Problem- Solving: Identify and troubleshoot technical issues quickly and accurately.
Organization: Manage multiple tasks while maintaining organization and attention to detail.
Creativity: Design engaging learning experiences and methods to foster student engagement.
Responsibilities:
Teach technology to students of all ages, with a focus on digital fluency.
Design, develop, and implement technology curriculum.
Assist students with troubleshooting and other technical issues.
Lead technology- based activities, such as video- editing, coding, and robotics.
Monitor student progress and provide feedback and guidance.
Create and maintain a safe and effective learning environment.
Technology Teacher Resume with 10 Years of Experience
Experienced Technology Teacher with 10 years of teaching experience providing engaging and creative instruction to students of all ages in the technology field. Skilled in designing and implementing innovative and effective lessons to promote learning and increase student engagement. Ability to build relationships with students and parents while maintaining a positive learning environment.
Core Skills:
Innovative lesson planning
Student engagement
Student and parent relationships
Technology instruction
Classroom management
Technology integration
Responsibilities:
Developed and implemented comprehensive lesson plans for technology lessons.
Instructed students in the use of computers, programming, and other technology skills.
Provided instruction to students on a variety of technology related topics.
Assisted students with project- based work and troubleshooting issues.
Conducted regular assessments and provided feedback to students.
Maintained a positive learning environment in the classroom.
Built relationships with students and parents to foster a positive learning environment.
Integrated technology into classroom instruction to increase engagement and student learning.
Technology Teacher Resume with 15 Years of Experience
Highly experienced Technology Teacher with 15 years of teaching experience in the technology sector. Proven ability to design and implement individualized instruction plans that cater to the needs of each student. Track record of success in helping students achieve their learning objectives. Adept in designing and leading group activities, creating dynamic lesson plans, and utilizing instructional technology.
Core Skills:
Utilizing Instructional Technology
Designing Individualized Instruction Plans
Leading Group Activities
Dynamic Lesson Plans
Creating Assignments
Motivating Students
Assessing Student Progress
Cultivating Positive Relationships
Responsibilities:
Developing weekly lesson plans and assignments that were aligned with curriculum standards
Developing and delivering technology- based lesson plans
Integrating instructional technology into lesson plans
Monitoring student progress and providing feedback
Conducting individual student meetings to discuss progress and set goals
Collaborating with administrators and other faculty members to ensure student success
Leading extracurricular activities such as robotics and computer programming clubs
Assisting with the maintenance and repair of technology- related equipment
In addition to this, be sure to check out our resume templates, resume formats, cover letter examples, job description, and career advice pages for more helpful tips and advice.
What should be included in a Technology Teacher resume?
Technology teachers are an important part of the academic environment, as they provide students with the skills they need to be successful in the digital world. As such, having an up-to-date, comprehensive resume is key to being considered for these jobs. Here are some of the key components of a Technology Teacher resume:
Contact Information: Start your resume off with your name and contact information, including email address and phone number.
Education: Include all relevant degrees and certifications that demonstrate your qualifications for teaching Technology.
Teaching Experience: List any prior teaching experience you have, as well as any teaching awards or accolades you have received.
Technical Experience: List any technical experience you have, such as coding, data analysis, or web development.
Classroom Experience: List any classroom experience you have, such as working with students on projects, helping them troubleshoot, or providing technical guidance.
Special Skills: List any special skills you have that would be beneficial in teaching Technology, such as being able to work with a wide range of technologies or having the ability to teach multiple classes.
Professional Development: Include any professional development courses you have taken that help you stay up-to-date on the latest technologies and teaching methods.
Having a well-crafted Technology Teacher resume can be the difference between getting an interview and getting overlooked. By including all the pertinent details and showcasing your experience and skills, you can make yourself stand out from the crowd and land the job you want.
What is a good summary for a Technology Teacher resume?
A technology teacher is responsible for providing instruction in the principles, practices, and applications of technology in order to prepare students for the future. These professionals must demonstrate a strong mastery of technology-related topics, as well as a deep knowledge of teaching best practices. When crafting a resume for this position, it is important to showcase your qualifications, experiences, and accomplishments in a concise and engaging way.
Start by highlighting your qualifications with a summary statement that briefly outlines your teaching background and expertise in technology. In the body of your resume, include your educational background, any certifications you have, and any specialized training. Make sure to list the school systems, companies, and organizations that have employed you and include descriptions of the classrooms and programs in which you have taught.
In the skills section of your resume, draw attention to your technical and teaching skills. Demonstrate your proficiency with various software and hardware and describe your ability to quickly learn new programs and technologies. Additionally, mention your ability to create engaging lessons and activities for students, as well as any experience you have in providing technology-related instruction.
Finally, be sure to include any professional affiliations and awards or honors you have received. This will provide further evidence of your professional accomplishments. By incorporating these elements, you can create a resume that accurately reflects your qualifications and experience as a technology teacher.
What is a good objective for a Technology Teacher resume?
A technology teacher resume should demonstrate knowledge of consumer and business technology and an ability to teach a variety of technology topics. A good objective should establish both the qualifications of the candidate and the type of teaching position they are targeting.
Demonstrate strong knowledge of technology, such as computer programming, software applications and operating systems
Exhibit excellent communication and teaching skills
Demonstrate the ability to develop and facilitate engaging, informative technology courses
Utilize effective classroom management strategies to create a positive learning environment
Foster student understanding of technology through one-on-one instruction and classroom activities
Dedicated to staying current with the latest technology developments and trends
Utilize educational technology to assist in teaching and learning
How do you list Technology Teacher skills on a resume?
Technology Teachers are responsible for providing instruction to students in an array of technology-related topics. When crafting your resume, it is important to highlight the skills and knowledge you have that enable you to be a successful Technology Teacher. Here are some essential Technology Teacher skills to highlight on a resume:
Knowledge of Different Types of Technology: Technology Teachers must have a good understanding of the technology they are teaching, including hardware, software, applications, and networks.
Instruction and Presentation Skills: Technology Teachers need to be able to effectively present the material they are teaching, and to provide clear instructions to students.
Patience: Technology Teachers need to be patient when working with students, especially those who are struggling to understand the material.
Creativity: Technology Teachers need to be creative in order to make the material interesting and engaging for students.
Problem-Solving: Technology Teachers need to have strong problem-solving skills in order to troubleshoot any technical difficulties that may occur in the classroom.
Adaptability: Technology Teachers must be able to quickly adapt to new technologies and changes in the curriculum.
By including these skills on your resume, you will be able to demonstrate to potential employers your qualifications as a Technology Teacher.
What skills should I put on my resume for Technology Teacher?
When it comes to a technology teacher's resume, the skills section is particularly important. Technology teachers need to possess strong technical knowledge and be able to transfer that knowledge to their students. To ensure that all the skills you possess are properly highlighted on your resume, here are the most important skills to consider incorporating.
Software Knowledge: As a technology teacher, it is important to have in-depth knowledge of the software and programs that you will be teaching. You should have a thorough understanding of all the technical aspects of the software, such as scripting and coding, so you can properly teach your students.
IT Troubleshooting: Technology often fails or malfunctions and as a technology teacher, you must be able to quickly diagnose and troubleshoot IT issues. You should include any experience with troubleshooting and problem-solving on your resume.
Instructional Design: Technology teachers often build their own course material and must be able to effectively design instruction. Showcase any experience you have in designing lessons, creating activities, and developing course materials.
Communication: Technology teachers must be able to communicate technical concepts to a range of learners. You must be able to explain difficult concepts in easy-to-understand terms and ensure the students understand the material.
Adaptability: Technology is ever-changing, so technology teachers must be adaptable and open to learning new tools and techniques. Include any experience you have with learning new software or technologies on your resume.
By highlighting your skills and experience in each of these areas, you can give potential employers confidence that you are the right candidate for the job. Make sure you include any technical certifications or training you have taken to demonstrate your knowledge and preparation for the technology teaching field.
Key takeaways for an Technology Teacher resume
As a technology teacher, it is important to create an effective resume that highlights your skills and experience. With the right resume, you can make sure that you stand out among the competition and increase your chances of getting hired for the perfect job. Here are some key takeaways to keep in mind when creating your technology teacher resume:
Professional Summary: Start your resume off with a strong professional summary that summarizes your experience, qualifications, and key skills. This should be brief and concise, but comprehensive enough to give potential employers a clear understanding of what you bring to the table.
Education: Include your education credentials, including any degrees or certifications that you have received. Don't forget to include any trainings, workshops, or other technology-related courses that you have taken.
Work Experience: Include a list of your past positions and what you were responsible for in each role. Make sure to emphasize any technology-related tasks that you were assigned, such as developing online modules, creating online assessments, or delivering training sessions.
Technical Skills: Technology teachers should have a comprehensive understanding of various technologies, so make sure to list any technical skills that you have. Include any software, hardware, or coding languages that you're familiar with.
Additional Skills: Don't forget to include any additional skills that you possess that are related to technology teaching. Think about any teaching methods you've developed, such as the use of multimedia or interactive learning techniques.
By following these key takeaways for an technology teacher resume, you can create a resume that will stand out from the competition and get you noticed by potential employers. Remember to highlight your skills and experience, and to emphasize your knowledge of technology. Best of luck with your job search!
Let us help you build
your Resume!
Make your resume more organized and attractive with our Resume Builder