Writing a resume for a teacher trainer position can be a daunting task. With a combination of educational background, teaching experience, and training experience, it can be difficult to highlight all of your qualifications in an effective way. This guide will provide detailed advice on how to approach the task of crafting an effective resume for a teacher trainer. It will provide a few examples of resumes from successful teacher trainers that can be used as a guide for your own resume. Additionally, it will provide a few key tips and tricks to ensure your resume stands out from the rest. By the end of this guide, you will have all the tools and resources you need to create an effective resume that highlights your strengths as a teacher trainer.
If you didn't find what you were looking for, be sure to check out our complete library of resume examples.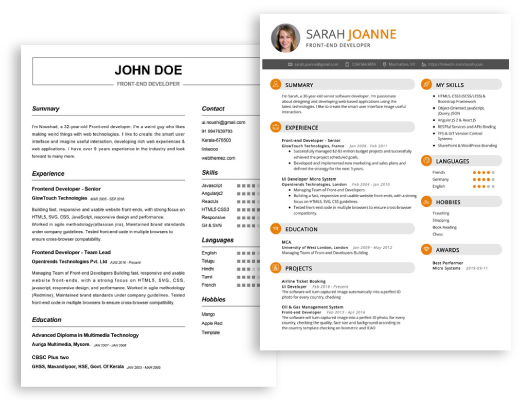 Start building your dream career today!
Create your professional resume in just 5 minutes with our easy-to-use resume builder!
Teacher Trainer Resume Examples
John Doe
Teacher Trainer
123 Main Street | Anytown, USA 99999 | Phone: (123) 456-7890 | Email: john.doe@email.com
I am an experienced Teacher Trainer with over 10 years of educational experience. I have a strong background in curriculum development, teaching methodology, and training materials. I have worked with a variety of educational institutions, from primary schools to universities, helping to improve student performance and outcomes. My excellent communication, organizational, and problem- solving skills make me an ideal candidate for a Teacher Trainer role.
Core Skills:
Curriculum Development
Teaching Methodology
Training Materials Creation
Excellent Communication
Organizational Skills
Problem Solving
Adaptability
Collaboration
Professional Experience:
Teacher Trainer, XYZ Education, 2016- Present
Design and implement new training materials
Create and implement curriculum
Lead team of trainers in the development and delivery of educational materials and programs
Engage with educational stakeholders to continually develop and improve training processes
Monitor, assess, and report on the effectiveness of training
Teacher, ABC Elementary School, 2010- 2016
Developed and implemented curriculum in mathematics, science, and language arts
Conducted group and individual instruction
Assessed and reported on student progress
Utilized a variety of instructional strategies to engage students
Collaborated with colleagues on curricular and instructional practices
Education:
Bachelor of Education, ABC University, 2010
Master of Education, XYZ University, 2016
Teacher Trainer Resume with No Experience
Highly motivated and enthusiastic teacher trainer with strong interpersonal and communication skills. Dedicated to helping teachers gain the skills they need to effectively educate their students. Knowledgeable in curriculum development, teacher evaluation, and instructional methodologies.
Skills
Excellent communication and interpersonal skills
Ability to develop and implement effective teaching strategies
Proficient in curriculum development and assessment
Knowledge of instructional methodologies
Proficiency in Microsoft Office Suite
Strong organizational skills
Responsibilities
Evaluate and observe teachers to ensure they are utilizing effective teaching strategies
Provide feedback to teachers on their performance in the classroom
Develop and implement instructional methodologies to improve teaching outcomes
Develop and facilitate teacher training workshops and seminars
Assist in the development and implementation of curriculum
Assist teachers in the development of lesson plans
Develop and administer assessments to evaluate student learning outcomes
Teacher Trainer Resume with 2 Years of Experience
A passionate teacher trainer with over 2 years of experience in providing quality education to adult students. Proficient in designing and conducting interactive and innovative programs through use of technology and current teaching practices. Self- motivated with excellent problem solving and communication skills.
Core Skills:
Presentation Skills
Demonstrating & Teaching
Classroom & Online Training
Training Program Development
Instructional Design
Adult Education
Motivation & Conflict Resolution
Project & Time Management
Responsibilities:
Prepared lesson plans and facilitated group discussion for adult learners.
Developed and delivered instructional training in classroom, online and field based settings.
Assessed learning needs of adult learners and designed individualized plans.
Established positive relationships with learners and evaluated their progress.
Developed training materials such as handouts and activities.
Demonstrated and instructed new concepts and techniques.
Encouraged learners to apply new knowledge and skills in their work.
Monitored and documented training activities and results.
Teacher Trainer Resume with 5 Years of Experience
I am an experienced teacher trainer with 5 years of experience in the education field. I am a highly organized and motivated trainer with a passion for unlocking the potential of teachers to reach their fullest potential. I have a strong background in curriculum development, educational technology, instructional design, and professional development that has enabled me to support teachers in the classroom. My extensive experience in the areas of classroom teaching, assessment, and program development have provided me with the knowledge and skills necessary to create and implement successful teacher training strategies.
Core Skills:
Curriculum Development
Educational Technology
Instructional Design
Professional Development
Classroom Teaching
Assessment
Program Development
Responsibilities:
Designing and delivering professional development and training programs to teachers
Assisting teachers in incorporating new technologies into their curriculum
Developing and implementing lesson plans designed to meet the needs of teachers
Assisting teachers in creating and evaluating assessments
Supporting teachers with troubleshooting and problem- solving
Facilitating workshops and seminars for teachers
Analyzing and summarizing data to assess the effectiveness of training programs
Assisting teachers in developing strategies for differentiated instruction
Teacher Trainer Resume with 7 Years of Experience
With seven years of experience as a teacher trainer, I have extensive knowledge of curricula development and education reform strategies. I have a proven track record of effectively leading training initiatives and successfully designing and delivering professional development programs. My enthusiasm for teaching and training is infectious, and I have an excellent ability to motivate and inspire those I work with.
Core Skills:
Curriculum Development
Education Reform Strategies
Training Initiatives
Professional Development Program Design and Delivery
Teaching and Training
Motivation and Inspiration
Strategic Planning
Responsibilities:
Evaluated the effectiveness of teaching materials and techniques to ensure that student learning objectives are met.
Collaborated with colleagues to develop and deliver professional development courses for teachers.
Developed training objectives, agendas and lesson plans.
Assisted in creating and implementing effective learning strategies.
Monitored the teacher's progress and providing feedback.
Conducted assessments of student competency and modified training program accordingly.
Assisted in the implementation of curriculum reform initiatives.
Provided technical assistance and support to teachers and staff.
Teacher Trainer Resume with 10 Years of Experience
I am an experienced Teacher Trainer with over 10 years of experience in the field of education. I am adept in the development of curriculum and instruction that meets the needs of diverse learners. I possess excellent communication and interpersonal skills, with a proven ability to establish rapport with students and staff. I am also dedicated to professional development, regularly attending conferences and workshops to stay up to date with educational trends.
Core Skills:
Professional instructional design
Curriculum development
Classroom management
Student assessment
Educational technology
Problem solving
Facilitating workshops
Public speaking
Time management
Data analysis
Responsibilities:
Develop and implement curriculum for teacher training programs
Conduct teacher training workshops
Assess the effectiveness of training programs
Monitor teachers' progress during training
Provide guidance and support to teachers
Design and implement evaluation tools for assessing student learning outcomes
Analyze data to evaluate the impact of training
Utilize technology to enhance instruction
Collaborate with other teachers and staff to ensure effective learning
Maintain up- to- date records of all training activities
Teacher Trainer Resume with 15 Years of Experience
Dynamic and highly motivated Teacher Trainer with 15 years of experience in K- 12 education. Proven track record of creating successful, data- driven training programs to prepare teachers for their new roles. Possesses a wealth of knowledge in instructional technology, instructional design and teacher coaching. Highly skilled in developing course materials and presenting training seminars. Focused on optimizing training strategies and enhancing student performance.
Core Skills:
Instructional Design
Teacher Coaching
Instructional Technology
Curriculum Development
Training Delivery
Performance Evaluation
Classroom Instruction
Responsibilities:
Design, develop and deliver classroom training programs
Develop and implement customized teacher training courses
Evaluate student performance and provide feedback to teachers
Prepare and present classroom lectures, seminars and workshops
Monitor teacher progress and provide guidance and support
Utilize data- driven instruction and assessments to maximize student achievement
Develop and implement instructional technology tools to enhance student learning
Collaborate with school administrators to develop effective teacher training strategies
In addition to this, be sure to check out our resume templates, resume formats, cover letter examples, job description, and career advice pages for more helpful tips and advice.
What should be included in a Teacher Trainer resume?
A Teacher Trainer resume should be designed to showcase relevant teaching experience, certifications, and any specialized skills. To create an effective resume, the following components should be included:
Professional Summary: A concise and attention-grabbing summary that provides an overview of your teaching experience and qualifications.
Teaching Experience: A detailed list of your past teaching experiences, including the dates of employment, the institutions where you worked, and the age range and subject matter of the students you taught.
Certifications: A list of any relevant teaching certifications that demonstrate your expertise and qualifications.
Education: A list of educational degrees and any relevant coursework.
Specialized Skills: Any special skills that are relevant to the position, such as familiarity with certain teaching methods, experience with educational software, or knowledge of a foreign language.
Additional Experience: If you have any additional experiences that are relevant to teaching, such as tutoring or teaching assistant experience, this should be included as well.
By including these elements in your resume, you will be able to create a comprehensive document that effectively showcases your suitability for a Teacher Trainer role.
What is a good summary for a Teacher Trainer resume?
A Teacher Trainer resume should provide a summary of your professional experience in the area of teaching and training. It should include information about your experience as an instructor, course design, instructional methods and materials, curriculum development, and assessment of student learning. Your resume should also highlight any certifications and specializations you hold, such as a special education certification or an advanced degree in educational technology. Additionally, include any professional development activities you have taken part in, such as teaching seminars, workshops, or conferences. Finally, be sure to include any awards or recognition you have received for your teaching efforts.
What is a good objective for a Teacher Trainer resume?
A Teacher Trainer is a professional who works to ensure that teaching staff is properly trained to carry out their roles and responsibilities effectively. A good objective for a Teacher Trainer resume should include the following:
Utilize expertise and experience to provide comprehensive teacher training and support
Develop and execute innovative training programs to ensure that teachers stay up-to-date on best practices
Create and implement strategies to support teachers in meeting instructional goals
Assess and evaluate teacher performance, providing feedback and resources for improvement
Act as a resource for teachers and administrators on educational trends, policies, and strategies
Foster collaboration among teachers to promote effective teaching practices
Lead professional development workshops and seminars to enhance teacher skills
How do you list Teacher Trainer skills on a resume?
Having the necessary skills to be a successful Teacher Trainer is essential for anyone looking to make a career out of training. When putting together your resume, it is important to list your skills and qualifications in a way that will show employers that you have what it takes to succeed as a Teacher Trainer. Here are some skills and qualifications you should consider adding to your resume:
Experience in teaching and/or training: Employers are looking for Teacher Trainers who have a deep understanding of the concepts they are teaching. This means having experience in teaching and/or training, showing that you can provide valuable instruction to your students.
Knowledge of educational systems: It is important that any Teacher Trainer is familiar with the educational systems of the countries they are operating in. This will help ensure that you are teaching your students the lessons they need to succeed.
Organizational skills: As a Teacher Trainer, you will need to be organized in order to keep track of all the materials, lesson plans, and other information related to your students.
Interpersonal skills: Having strong interpersonal skills is essential for a Teacher Trainer, as you will likely be working with a variety of students from different backgrounds. Being able to connect with your students and build a positive rapport will help ensure a successful learning experience.
Time management skills: Being able to manage your time and prioritize tasks is critical for any Teacher Trainer. You will need to ensure that you are staying on top of your lesson plans and that you are providing your students with the best possible education.
By listing these skills and qualifications on your resume, you can show employers that you have what it takes to be a successful Teacher Trainer.
What skills should I put on my resume for Teacher Trainer?
A resume for a Teacher Trainer should highlight the skills and experience that is specific to teaching. This can include knowledge of educational methodologies, experience with instructional technology, and the ability to design educational materials. Here are some skills that are commonly listed on a Teacher Trainer's resume:
Knowledge and understanding of educational methodology: Teacher Trainers should have excellent knowledge of educational methodologies. This includes an understanding of the principles of learning theories, curriculum development, instruction and assessment.
Instructional design and materials development: Teacher Trainers should be able to design and develop materials that are appropriate for the intended learners. This should include an understanding of instructional design and an ability to create instructional materials.
Technology and software applications: Teacher Trainers should be proficient in the use of technology and software applications that are used to design, deliver and assess instruction. Teacher Trainers should also be able to use various digital tools to create instructional materials.
Instructional delivery: Teacher Trainers should have the ability to deliver instruction in a manner that is engaging and effective. This includes the ability to motivate, guide and assess learners.
Classroom management: Teacher Trainers should have good classroom management skills and be able to create a positive classroom environment. This includes the ability to create and enforce rules, manage student behavior and create a safe learning environment.
Professional development: Teacher Trainers should have the ability to facilitate professional development activities for teachers. This should include an understanding of adult learning principles and an ability to create and deliver effective professional development activities.
Key takeaways for an Teacher Trainer resume
Writing a Teacher Trainer resume can be a daunting task. After all, you want to highlight your qualifications and experience in a way that encourages potential employers to give you an interview. To make the process easier, here are some key takeaways to help you craft an effective resume:
Focus on certifications and relevant qualifications. Employers are looking for applicants with the right qualifications, so make sure to showcase your certifications and any other relevant qualifications that make you an ideal candidate for the position.
Include your teaching experience. Be sure to highlight your teaching experience, including the number of years of teaching, the type of subjects you have taught, and the ages or grade levels you have worked with.
Highlight any relevant professional development. If you have participated in any relevant professional development courses, include those as well.
Include any relevant training or workshops. If you have attended any training workshops or seminars related to teacher training, include those on your resume.
Tailor your resume to the job. Every resume should be tailored to the job you're applying for. Read through the job description and make sure that the skills and experience you list are relevant to the position.
Use keywords. When you're crafting your resume, use keywords that are relevant to the position. This will help ensure that your resume gets noticed by potential employers.
By following these key takeaways, you can ensure that your Teacher Trainer resume stands out and helps you land the job of your dreams.
Let us help you build
your Resume!
Make your resume more organized and attractive with our Resume Builder