Writing a resume as a teacher assistant can be a challenge. You need to find ways to showcase your skills, education, and experience that set you apart from other applicants. This guide will give you the tools you need to write an effective resume that will help you land the teacher assistant job you have been looking for. We will cover what information to include, what information to use, and provide multiple examples of resumes that you can use as a template and inspiration. With the right resume, you can highlight your qualifications and make yourself stand out from the competition.
If you didn't find what you were looking for, be sure to check out our complete library of resume examples.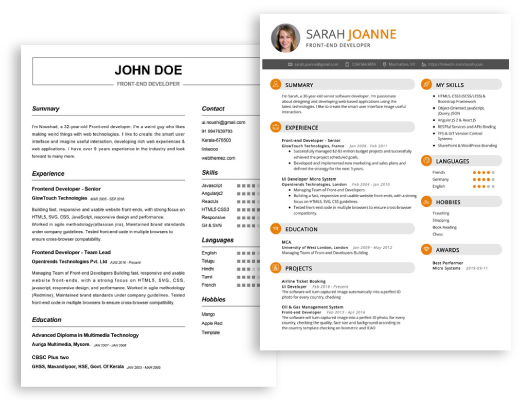 Start building your dream career today!
Create your professional resume in just 5 minutes with our easy-to-use resume builder!
Teacher Assistant Resume Examples
John Doe
Teacher Assistant
123 Main Street | Anytown, USA 99999 | Phone: (123) 456-7890 | Email: john.doe@email.com
I am a highly organized, self- motivated Teacher Assistant with 5+ years of experience providing invaluable support to teachers and students alike. My background and knowledge in education, combined with excellent communication and interpersonal skills, makes me an ideal candidate for any teaching assistant role. I am passionate about helping students create a learning environment where they are able to reach their highest potential.
Core Skills:
Excellent communication and interpersonal skills
Advanced knowledge of classroom operations
Highly organized and detail- oriented
Ability to assist with lesson plans and homework
Skilled in Microsoft Office Suite, Google Drive, and other education technologies
Experience with record keeping and data entry
Professional Experience:
Teacher Assistant, ABC School (2017- present)
Assist teachers in planning, delivering and evaluating lessons in a variety of subjects
Monitor student progress and provide support and feedback to enhance learning
Help to maintain the school's Learning Management System (LMS)
Manage and update student records, attendance, and other data
Assist with organizing various activities, field trips, and projects
Supervise, tutor, and mentor students
Education:
Bachelor of Education, ABC University (2017)
Major: Education
Minor: Child Psychology
GPA: 3.5/4.0
Teacher Assistant Resume with No Experience
Recent college graduate with strong communication and organizational skills looking to contribute to an academic setting as a Teacher Assistant. Passionate about helping students learn and excel in their studies, and eager to support the efforts of teachers and staff in an elementary school or other educational environment.
Skills
Excellent communication and organizational skills
Ability to motivate and encourage students
Ability to monitor student progress and provide guidance
Knowledge of classroom management and teaching strategies
Computer proficiency in Microsoft Office, Google Suite
Responsibilities
Assisting the classroom teacher with day- to- day activities
Supervising students in the classroom, lunchroom, recess and other school activities
Assisting with grading and record keeping
Helping to create lesson plans and activities
Supporting teachers with individual and group instruction
Assisting with student behavior monitoring and management
Providing support for after- school events and activities
Teacher Assistant Resume with 2 Years of Experience
A hardworking, motivated and organized individual with two years of experience as a Teacher Assistant. I have a passion for working with students to help them succeed and thrive. I have experience in helping to create and design lesson plans, developing curriculum, creating and running student projects, and assisting with the implementation of objectives. I am adept in the use of technology in the classroom and have a strong understanding of the latest trends in educational technology. My ambition is to continue to develop and increase my knowledge in the field of education and to help students reach their educational goals.
Core Skills:
Excellent communication and interpersonal skills
Strong organizational and problem- solving skills
Proficient in the use of educational technology
Ability to collaborate effectively with teachers, staff, and students
Flexible and open to new ideas
Responsibilities:
Assisting teachers in the implementation of lesson plans and curriculum
Helping to create and run student projects
Developing materials and resources to supplement curriculum
Assisting with student assessments and grading
Supervising students in classrooms, during field trips, and other activities
Helping to create and maintain a safe, positive learning environment
Providing individualized support to students with special needs
Teacher Assistant Resume with 5 Years of Experience
I am an experienced Teacher Assistant with 5 years of experience working in school and classroom settings. During my time in various roles, I have gained a comprehensive understanding of student learning strategies and facilitation skills. I have a proven track record of quickly connecting with, building rapport with, and motivating students to achieve their full potential. I also have exceptional communication, problem- solving, and organizational skills. All of my prior experiences have supported my belief that all students have the capacity to learn and grow.
Core Skills:
Facilitating group discussions
Developing creative lesson plans
Monitoring student behavior
Creating a positive classroom environment
Implementing IEPs
Providing individualized instruction
Using technology in the classroom
Working with diverse student populations
Responsibilities:
Assisting teachers in developing, planning, and delivering lessons
Supervising and monitoring student behavior
Assisting students with special needs
Providing individualized instruction for struggling students
Organizing materials, activities, and class projects
Managing student data, records, and reports
Collaborating with other educators and administration
Helping to develop and implement IEPs
Using technology such as interactive whiteboards, tablets, and other educational resources
Interacting with parents, guardians, and families
Administering assessments, tests, and surveys
Organizing field trips and other activities for the classroom
Managing the classroom library
Teacher Assistant Resume with 7 Years of Experience
An experienced teacher assistant with 7 years of experience in the education system, I possess a genuine passion for helping students learn and grow. I have a track record of success working with students, teachers, and parents in a variety of education settings. I have extensive knowledge of instructional strategies, diverse learners, and classroom management. I am committed to helping create a safe and engaging learning environment for all students.
Core Skills:
Strong knowledge of instructional strategies
Organizational and classroom management skills
Ability to communicate and collaborate with teachers, parents, and students
Knowledge of diverse learners
Proficient in Microsoft Office Suite and other educational software
Ability to work independently and as part of a team
Responsibilities:
Assist classroom teachers in implementing daily lesson plans
Facilitate small group instruction
Lead small group activities and provide individual tutoring
Participate in parent- teacher conferences
Assist students in developing study skills and problem solving techniques
Supervise students in the classroom and outside of the classroom
Maintain records and document student progress
Collaborate with other staff members such as special education teachers and administrators
Provide guidance and support to students
Teacher Assistant Resume with 10 Years of Experience
Ten years of experience as a teacher assistant have given me the valuable skills needed to succeed in an educational setting. I am an organized, creative, and highly motivated professional with a passion for helping students learn and grow. I have extensive experience in providing classroom support, developing lesson plans, and working with teachers and administrators to ensure student success. I am also well- versed in using technology to enhance the educational process. Above all, I strive to provide a safe and positive learning environment for students of all ages.
Core Skills:
Classroom Support
Lesson Planning
Collaborative Learning
Technology Integration
Communication
Student Engagement
Conflict Resolution
Responsibilities:
Assisted teachers with daily classroom activities
Developed and implemented lesson plans based on state and district standards
Assisted with grading, record keeping, and report preparation
Monitored student progress and provided feedback
Assisted with student behavior management and conflict resolution
Provided individual and small group instruction
Supported teachers in preparing materials and resources
Utilized technology, such as interactive whiteboards, to enhance instruction
Collaborated with other staff members to create a positive and supportive learning environment
Teacher Assistant Resume with 15 Years of Experience
A highly experienced Teacher Assistant with 15 years of experience in providing support to teachers, helping with the preparation of lessons and materials, and providing classroom instruction. Possesses strong organizational, communication, and interpersonal skills, as well as an excellent ability to work as part of a team with students, teachers, and other school staff. Demonstrates a commitment to providing students with a safe, comfortable, and stimulating learning environment.
Core Skills:
Strong organizational and administrative skills
Excellent communication and interpersonal skills
Knowledge of classroom instructional techniques
Proficient in the use of computers and related software
Ability to work autonomously as well as in a team
Capable of creating effective lesson plans
Demonstrates a commitment to the education process
Responsibilities:
Assisting teachers with lesson preparations and planning
Providing assistance to students with their studies
Assisting with classroom instruction and supervision
Organizing and setting up classroom materials
Maintaining student records and assessment data
Providing feedback to teachers
Assisting with extracurricular activities such as field trips and special events
Providing support to teachers and administrators during parent- teacher conferences
Ensuring a safe and orderly environment in the classroom.
In addition to this, be sure to check out our resume templates, resume formats, cover letter examples, job description, and career advice pages for more helpful tips and advice.
What should be included in a Teacher Assistant resume?
A Teacher Assistant provides support to a classroom teacher by performing a variety of duties, including administrative tasks, instructional support and classroom management. If you're looking to get into this role, you'll need to create a resume that highlights your skills and experience. Here are some key points to include on a Teacher Assistant resume:
Professional Summary: A brief overview of your experience in the education field and your qualifications for the Teacher Assistant role.
Education: Your highest level of education, school, year of graduation and any special certifications.
Work Experience: Describe any relevant work experience, including previous Teacher Assistant or related roles.
Skills: Include any technical or administrative skills that you possess, such as Microsoft Office or experience with educational software.
Activities: List any activities or special projects that you've been involved in, such as after-school programs or tutoring.
Awards: Mention any awards or recognition you've received for your work as a Teacher Assistant.
References: List two to three professional references who can speak positively about your work.
By including all of these sections on your Teacher Assistant resume, you can ensure that you provide a comprehensive overview of your experience and qualifications. This will help you stand out from other candidates and demonstrate your suitability for the role.
What is a good summary for a Teacher Assistant resume?
A Teacher Assistant resume should highlight an individual's educational background, teaching experience, and any additional skills that may be beneficial to the position. The summary should provide a brief overview of the candidate's qualifications, educational background, and experience in the field. It should include a brief overview of the candidate's teaching experience, including the number of years in the profession and the types of classes they have taught. It should also provide an overview of any additional skills that the candidate possesses, such as fluency in a foreign language, computer skills, or classroom management. Finally, the summary should also provide a brief explanation of why the candidate is uniquely suited for the position of Teacher Assistant.
What is a good objective for a Teacher Assistant resume?
Having the perfect resume objective when applying for a Teacher Assistant role is essential, as it is a reflection of how suitable you are for the job. A good objective should be clear, concise, and demonstrate your enthusiasm for the job as well as your qualifications.
Below are key points to include in a Teacher Assistant resume objective:
Express your appreciation for the teaching profession: Show your enthusiasm for the job and demonstrate your understanding of the importance of the role of a Teacher Assistant.
Highlight relevant qualifications: List any relevant qualifications you have, such as being a certified teacher assistant or having a college degree in a related field.
State your personal goals: Explain your goals and what you hope to achieve in the role.
Show your dedication: Express your commitment to providing students with a positive and supportive learning environment.
By including all these points in your Teacher Assistant resume objective, you can ensure that you have a clear and effective objective. This will help you stand out from other applicants and demonstrate to employers that you are the right person for the job.
How do you list Teacher Assistant skills on a resume?
When creating a resume for a Teacher Assistant position, it's important to showcase your relevant skills that you bring to the role. This can include both technical skills related to teaching and classroom management, as well as more general interpersonal skills. Here are some examples of Teacher Assistant skills to consider listing on your resume:
Classroom Management: Ability to create and maintain a safe, productive and organized learning environment; ability to foster a respectful and engaging atmosphere in the classroom.
Communication: Ability to effectively communicate with students, teachers, and other staff members to ensure clear understanding and adherence to expectations.
Data Management: Ability to accurately document, track and manage student performance data; knowledge of data software and systems.
Instructional Support: Ability to assist teachers in the classroom and provide individualized support for students.
Resource Management: Knowledge of classroom resources and ability to effectively use them to develop engaging lesson plans and activities.
Technology: Familiarity with technology and tools used in the classroom; ability to effectively use these tools in instruction.
Classroom Technology: Ability to troubleshoot technical issues for students and teachers; knowledge of online learning platforms and other classroom technology.
Organizational Skills: Ability to plan, prioritize and organize tasks effectively; ability to manage multiple projects simultaneously.
Teamwork: Ability to collaborate with teachers, administrators, and other staff members to ensure smooth and efficient operations.
Patience: Ability to remain patient and calm in difficult or stressful situations; capacity to remain focused and professional in the classroom.
By highlighting these Teacher Assistant skills on your resume, you can demonstrate to employers that you are the right candidate for the job!
What skills should I put on my resume for Teacher Assistant?
When applying for a teaching assistant position, it is important to highlight the skills that make you an ideal candidate. Your resume should emphasize the qualifications and experiences that are relevant to the role. Here are some skills to consider including on your teaching assistant resume:
Strong communication skills: As a teaching assistant, you'll likely be in charge of communicating with parents, teachers, and students alike. It is necessary to have strong communication skills in order to effectively communicate expectations and instructions to students.
Organization: Teaching assistants must be organized and detail-oriented in order to ensure that all tasks are completed in a timely manner. Show off your organizational skills by providing examples of tasks you have completed in the past.
Patience: Working with children requires patience, understanding, and the ability to remain calm in difficult situations. Showing that you are able to handle difficult situations in a calm and professional manner is a valuable asset for any teaching assistant.
Flexibility: Teaching assistants are often expected to juggle multiple responsibilities at once. You should be able to demonstrate that you are able to adapt to changing situations and handle different tasks as needed.
Professionalism: As a teaching assistant, you must remain professional at all times. Show that you are able to maintain professional boundaries, follow protocol, and use appropriate language in the classroom.
By including these skills on your resume, you will be able to demonstrate that you are a well-rounded and qualified candidate for the teaching assistant position.
Key takeaways for an Teacher Assistant resume
As a Teacher Assistant, your resume should reflect your ability to effectively support the educational process and provide students with the tools to succeed. To make sure your resume stands out from the competition, here are some key takeaways to include when crafting your resume:
Highlight relevant experiences: Showcase any past teaching experience you have and list any education-related volunteer work you've done, as this may give you an edge in the hiring process.
Demonstrate your expertise in educational technology: Many schools are increasingly relying on digital classroom management tools, so highlighting your familiarity with these technologies can make you a more attractive candidate.
Showcase your work with students: If you've had success motivating or inspiring students, make sure to include your achievements in this area.
Highlight your communication skills: As a Teacher Assistant, you will be required to effectively communicate with both students and teachers. Make sure to showcase your ability to effectively and clearly convey information.
Emphasize your organizational skills: Teacher Assistants are expected to have excellent organizational skills, so make sure to include highlights of your ability to create and manage schedules and plans.
By following these tips, you can make sure your Teacher Assistant resume stands out from the competition and gives you a better chance of getting the job.
Let us help you build
your Resume!
Make your resume more organized and attractive with our Resume Builder