Writing a resume as a secondary school teacher can be both exciting and intimidating at the same time. It is a great opportunity to reflect on your educational and professional accomplishments, as well as to highlight the skills and qualifications that make you the best fit for the job. Crafting a resume that stands out from the competition requires careful thought and consideration, as there are certain qualifications and criteria that employers look for in a potential candidate. In this guide, we will provide helpful tips for writing a secondary teacher resume, as well as some examples of resumes that have been successful in the past. By following these guidelines, you will be well on your way to creating a professional and effective resume that will help you secure the job of your dreams.
If you didn't find what you were looking for, be sure to check out our complete library of resume examples.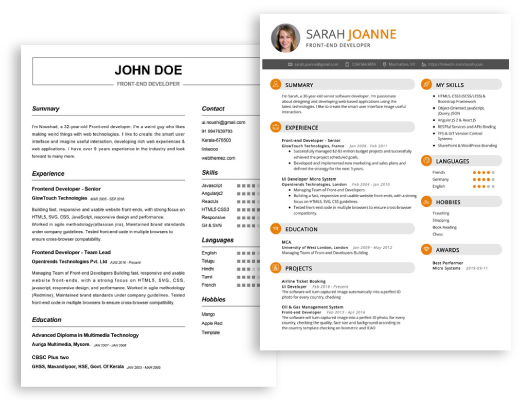 Start building your dream career today!
Create your professional resume in just 5 minutes with our easy-to-use resume builder!
Secondary Teacher Resume Examples
John Doe
Secondary Teacher
123 Main Street | Anytown, USA 99999 | Phone: (123) 456-7890 | Email: john.doe@email.com
I am an experienced secondary teacher with 8 years of experience in teaching English, History, and Science. My experience ranges from working with children from kindergarten to high school and I have a proven track record of improving student performance. I am passionate about education and have a strong commitment to providing students with the best learning experience possible. I am highly organized and committed to creating engaging lessons and activities that are tailored to the needs of my students.
Core Skills:
Excellent communication, writing, and presentation skills
Strong classroom management and teaching strategies
Ability to motivate and inspire students
Up- to- date with current educational technology and trends
Adaptable and able to develop appropriate learning materials
Proficient in Microsoft Office and other related software
Professional Experience:
Secondary Teacher, ABC School – June 2014 – Present
Developed and implemented engaging and effective lesson plans
Used modern technologies and techniques to facilitate the learning process
Adapted and created new resources to meet the needs of the students
Encouraged student engagement and participation
Maintained accurate records of student performance and progress
Education:
Bachelor of Arts in Education, ABC University – 2010
GPA 3.5
Graduated with Honors
Secondary Teacher Resume with No Experience
I am a dedicated, enthusiastic and eager Secondary Teacher with no experience, looking to make a positive and lasting difference in the lives of my students. I have a strong understanding of the different learning styles and I am well- versed in various teaching strategies and techniques. I am passionate about providing students with a safe and nurturing environment and helping them to develop their potential.
Skills:
Knowledge of modern teaching methods and best practices
Ability to create effective lesson plans
Excellent communication and interpersonal skills
Proficiency in using educational technology
Adaptability to evolving classroom dynamics
Strong organizational and problem- solving abilities
Proficiency in Microsoft Office applications
Responsibilities:
Establish and enforce rules for behavior and procedures
Develop and implement engaging lesson plans
Monitor student progress and provide feedback
Design interactive activities to promote student engagement
Manage classroom supplies and materials
Maintain accurate records of student progress
Foster a positive learning environment for students
Collaborate with other teachers, administrators, and parents on a regular basis
Prepare instructional materials and presentations as needed
Participate in faculty meetings and school activities
Keep up- to- date with changes in curriculum, teaching resources, and technology
Secondary Teacher Resume with 2 Years of Experience
A dedicated and passionate Secondary Teacher with two years of experience in teaching English, Social Studies, and Physical Education. Strong communication and organizational skills, as well as the ability to foster positive relationships with students, parents and staff. Committed to creating a positive and productive learning environment where students can reach their full potential.
Core Skills:
Creative Lesson Planning
Adherence to School Guidelines
Classroom Management
Assessment and Evaluation
Parent and Student Relations
Lesson Delivery
Time Management
Technology Integration
Responsibilities:
Preparing and delivering lessons to students
Developing engaging lesson plans
Organizing a variety of learning activities to stimulate student learning
Maintaining student records
Engaging in ongoing training and professional development
Monitoring student progress and providing regular feedback
Communicating with parents and guardians on student progress
Assisting with extra- curricular activities such as sports, drama and music
Ensuring that the classroom is a safe and positive learning environment
Secondary Teacher Resume with 5 Years of Experience
A passionate and experienced secondary school teacher with 5 years of experience in developing engaging lesson plans and fostering a positive learning environment for students from diverse backgrounds. Skilled in a wide range of educational topics and implementing innovative teaching techniques to maximize student engagement and learning. Committed to providing feedback that encourages students to develop a strong self- image and reach their academic goals.
Core Skills:
Planning and delivering lessons in a variety of subjects
Implementing modern teaching techniques
Developing positive learning environments
Collaborating with staff, students, and parents
Utilizing effective communication and classroom management skills
Crafting assessments and encouraging student feedback
Integrating educational technology into the classroom
Staying up to date with curriculum and industry trends
Responsibilities:
Developing engaging lesson plans and instructional materials
Assessing student performance and providing constructive feedback
Establishing and enforcing rules for classroom behavior
Encouraging creativity and critical thinking
Establishing positive relationships with students, staff, and parents
Maintaining accurate and complete student records
Collaborating with other teachers and staff to design grade- level activities
Utilizing educational technology to enhance learning
Ensuring compliance with state and local education standards
Secondary Teacher Resume with 7 Years of Experience
A highly motivated and dedicated Secondary Teacher with 7 years of experience in teaching and facilitating learning in middle school educational settings. Possesses an enthusiastic and determined attitude to succeed in any instruction environment. Excels in the integration of technology into curriculum to create an interactive and engaging learning experience. Skilled in providing a safe and stimulating environment that encourages students to thrive and reach their full potential.
Core Skills:
Creating an engaging learning environment
Curriculum development
Technology integration
Excellent communication
Organizational and time management skills
Adaptability
Team building
Assessment and evaluation
Responsibilities:
Planning and developing lesson plans for middle school students
Integrating technology into the curriculum to create a more interactive and engaging learning environment
Teaching a variety of subject areas including English, math, science, and social studies
Encouraging critical thinking and independent learning
Providing individual feedback to students
Organizing field trips and extracurricular activities
Creating an effective student assessment and evaluation system
Utilizing effective classroom management techniques
Collaborating with other educators to develop student- centered learning programs
Maintaining records of student performance
Assisting in student personal and social development
Maintaining a safe and inclusive learning environment.
Secondary Teacher Resume with 10 Years of Experience
Highly effective and dedicated secondary teacher with 10 years of teaching experience. Proven track record of providing high quality instruction, developing innovative lesson plans, and engaging students in learning activities in the classroom. Demonstrated ability to analyze student performance, recognize strengths and weaknesses, and determine appropriate educational strategies. Possess a commitment to promoting students' social, emotional, and cognitive development.
Core Skills:
Lesson Planning
Classroom Management
Curriculum Design
Testing and Assessment
Student Engagement
Communication
Technology Integration
Collaborative Problem Solving
Cultural Competence
Professional Development
Responsibilities:
Developing and implementing curriculum aligned with school goals and standards.
Leading all aspects of the learning environment, including creating lesson plans, teaching, and grading.
Monitoring student progress and providing timely feedback to ensure learning objectives are met.
Facilitating collaborative problem- solving and decision- making activities.
Engaging students in critical thinking skills and fostering their independent learning.
Establishing and maintaining positive and supportive relationships with students and families.
Assigning and grading homework, tests, and assessments.
Providing meaningful instruction with an emphasis on student development.
Utilizing various technologies to enhance the learning experience.
Secondary Teacher Resume with 15 Years of Experience
An experienced and knowledgeable secondary school teacher with 15 years of experience in cultivating student's minds and helping them to reach their full potential. Possesses extensive experience in teaching Math and Science, as well as developing curriculum and handling student discipline. Excellent at problem solving and communication with both student's and parents, and striving for the best for their students.
Core Skills:
Creative problem solving
Excellent communication
Creating and writing curriculum
Extensive knowledge of Math and Science
Student guidance
Student discipline
Responsibilities:
Creating lesson plans and teaching Math and Science
Leading classroom activities and discussions
Implementing lesson plans
Providing individualized instruction
Assigning and grading homework
Maintaining student records
Supervising students in the classroom and on school grounds
Providing extra help to struggling students
Tutoring students
Leading extracurricular activities
Developing effective classroom rules and expectations
Participating in school events and activities
Maintaining discipline in the classroom
Communicating with parents and guardians
In addition to this, be sure to check out our resume templates, resume formats, cover letter examples, job description, and career advice pages for more helpful tips and advice.
What should be included in a Secondary Teacher resume?
A secondary teacher resume should include a variety of details that demonstrate your qualifications for the teaching role. The resume should be organized in a way that is easy for potential employers to quickly scan and review. Here are some important elements to include in your secondary teacher resume:
Professional Summary: This section should provide a quick overview of your education, experience, and qualifications for the teaching role. It should be tailored to the position and emphasize your willingness to take on new challenges and help students meet their educational goals.
Education: List your highest degree first and then include any relevant certificates or other qualifications. Note any special training or programs you have completed and any honors or awards you have received.
Relevant Experience: Include any teaching positions you have held, the dates you held them, and the grade level you taught. If you have any volunteer teaching experience, list that as well.
Skills & Qualifications: This section should highlight any relevant skills or qualifications you have that relate to teaching. This could include experience with different learning technologies, adaptability to different classroom settings, experience in curriculum development, or anything else that is pertinent to the job.
Professional Associations: List any professional memberships or associations that you are a part of.
Additional Skills: Include any other relevant skills or qualifications you have, such as fluency in another language, proficiency in computer applications, or knowledge of special education techniques.
Finally, make sure to proofread your resume for any errors and make sure the information is up-to-date. This will help you create a strong and impressive resume that will help you stand out from other candidates.
What is a good summary for a Secondary Teacher resume?
A strong resume summary for a Secondary Teacher should highlight your teaching certifications, as well as your experience working in a classroom setting. It should also emphasize your knowledge of the subject matter, your ability to connect with students, and the results you have achieved in the classroom. Additionally, you should include any awards and accolades that you have earned, as well as any other accomplishments. With this summary, you will be able to demonstrate to potential employers why you are the ideal candidate for the job.
What is a good objective for a Secondary Teacher resume?
A secondary teacher is responsible for instructing students in Grades 6-12 in a particular subject, so it's important for a resume to convey a teacher's knowledge and teaching abilities. A good objective for a secondary teacher resume should demonstrate an understanding of the job, a commitment to the student, and the ability to help students learn.
Here are some ideas for good objectives for a secondary teacher resume:
To obtain a teaching position in a secondary school, where I can use my knowledge and experience to create an engaging and motivating learning environment for students.
To create a successful classroom of motivated students by implementing innovative teaching methods and fostering a safe and encouraging learning atmosphere.
To become a successful secondary teacher and mentor, who is dedicated to helping students reach their potential and excel in their studies.
To teach with enthusiasm and creativity, while providing students with the support and guidance they need to make the most of their educational experience.
To use my expertise in developing lesson plans and providing assessments that challenge students, while still allowing them to have fun and stay engaged in their learning.
To create a positive learning environment that encourages students to express their opinions and engage in meaningful dialogue.
To utilize my skills in adapting lesson plans to meet the needs of individual students and to foster critical thinking and problem-solving skills.
To collaborate with colleagues to design and develop curriculum that engages students and encourages them to reach their fullest potential.
How do you list Secondary Teacher skills on a resume?
When creating a resume for a Secondary Teacher position, it is important to highlight your unique skills and experience in order to stand out to potential employers. Listing your skills on your resume can help showcase the value you can bring to the classroom. Here are some essential secondary teacher skills to consider including on your resume:
Classroom Management: Secondary teachers must be able to maintain order and discipline in the classroom. They must be familiar with various classroom management techniques and policies for behavior management.
Instructional Design: Secondary teachers must be able to design and deliver effective lesson plans that engage students and help them reach their learning objectives.
Multitasking: Secondary teachers often manage multiple tasks at once, such as grading, preparing lesson plans, and providing individualized instruction to students.
Communication: Secondary teachers must be able to effectively communicate with students, parents, and other teachers in the school. They should be able to explain complex concepts in a way that is meaningful and easy to understand.
Technology: As technology continues to become an integral part of the classroom, it is important for secondary teachers to have a working knowledge of various educational technology tools.
Relationship Building: Secondary teachers must be able to build strong relationships with students and parents. They should be able to create a positive learning environment that encourages student engagement and success.
By including these essential skills on your resume, you can demonstrate to employers that you have the necessary qualifications for a successful secondary teaching career.
What skills should I put on my resume for Secondary Teacher?
Having the right skills on your resume can help you land a teaching job as a secondary teacher. To be successful in the job, you need to be knowledgeable, organized, and patient. Here are some of the most important skills to include on your resume when applying for a secondary school teaching position.
Subject Matter Expertise: As a secondary teacher, you will be responsible for teaching students a wide range of subjects. Make sure to highlight the subjects you specialize in on your resume to show potential employers you're knowledgeable.
Classroom Management: Secondary teachers must be able to manage their classroom effectively. Include skills like discipline, organization, and communication on your resume to show potential employers you know how to handle a class of students.
Technology Skills: Technology is becoming increasingly important in the classroom. Show potential employers you know how to use technology in the classroom by listing skills like online learning management systems, presentation software, and educational apps.
Collaboration: Secondary teachers often work in teams with other teachers, administrators, and parents. Highlight your ability to collaborate effectively to show potential employers you can work with other groups.
Creativity: Secondary teachers must be able to come up with creative ways to engage their students. Include skills like project-based learning, hands-on activities, and differentiated instruction on your resume to show potential employers you have the ability to come up with unique ways to teach.
By including all these skills on your resume, you can demonstrate to potential employers that you have what it takes to be a successful secondary teacher.
Key takeaways for an Secondary Teacher resume
As a secondary teacher, your resume should be concise and easy to read, while also showcasing your unique skills and experiences. When creating your resume, there are some key takeaways to keep in mind.
First and foremost, it's important to highlight any teaching credentials you may have. This can be done by listing certificates and degrees relevant to your teaching field. It's also a good idea to highlight any teaching awards you may have won. This will show potential employers that you are a successful and capable educator.
Secondly, be sure to include any teaching experiences you've had. This is a great way to show potential employers what skills and expertise you possess. When describing your experiences, be sure to include the subjects you taught and any successes that you achieved.
Thirdly, list any additional qualifications or certifications you may have. This can include any special training or workshops you've attended or any additional certification or certifications you might have. This will show potential employers that you are dedicated to staying up-to-date in your field.
Finally, be sure to include a section of skills. This section should showcase any special skills that you may have that are relevant to teaching. This can include anything from technology skills to communication skills.
By taking these key takeaways into account, you'll be able to create a successful and effective resume for your secondary teaching job. Be sure to keep these tips in mind when crafting your resume, and you'll be sure to make a great impression on potential employers.
Let us help you build
your Resume!
Make your resume more organized and attractive with our Resume Builder