Are you a school teacher looking to write your resume? Writing a resume can be a tricky process and it can be difficult to know where to start. With the right guidance and a few helpful examples, you can create a resume that stands out and helps you land your dream teaching job. This blog post will provide an in-depth guide to writing a school teacher resume, as well as some helpful examples. From listing your qualifications to highlighting your teaching experience, this guide will help you create an effective resume that will make you stand out from the crowd.
If you didn't find what you were looking for, be sure to check out our complete library of resume examples.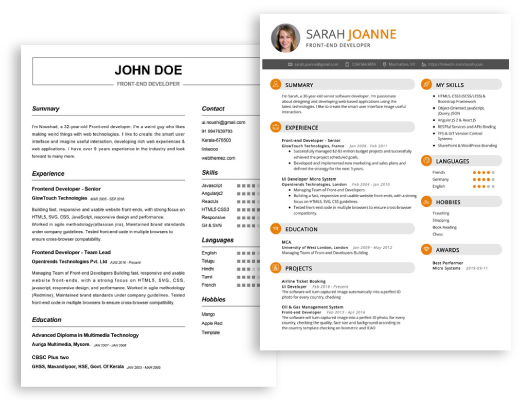 Start building your dream career today!
Create your professional resume in just 5 minutes with our easy-to-use resume builder!
School Teacher Resume Examples
John Doe
School Teacher
123 Main Street | Anytown, USA 99999 | Phone: (123) 456-7890 | Email: john.doe@email.com
Highly experienced and dedicated School Teacher with over 8 years of experience in teaching and mentoring students. Possess strong communication skills, excellent problem solving skills, and a passion for teaching. Strong ability to develop and maintain positive working relationships with faculty, staff, parents, and students.
Core Skills:
Classroom Management
Student Engagement
Lesson Design
Behavioral Management
Collaboration
Counseling
Curriculum Development
Professional Experience:
Ridgewood High School, Ridgewood, NJ
School Teacher (2009 – 2017)
Developed and taught lesson plans aligned with state standards and the school's curriculum.
Facilitated open discussions to encourage student participation.
Assessed student performance and progress.
Mentored students on an individual level.
Conducted parent- teacher meetings.
Provided academic support to students as needed.
Ridgewood Middle School, Ridgewood, NJ
School Teacher (2007 – 2009)
Prepared lesson plans and taught courses on different subjects.
Assisted students with their coursework.
Created and administered tests.
Provided feedback on student performance.
Counseled students on academic and behavioral issues.
Education:
Master of Education, Educational Studies, Rutgers University, 2006
Bachelor of Arts, English Literature, Rutgers University, 2004
School Teacher Resume with No Experience
Recent college graduate with strong interpersonal and organizational skills, seeking a school teacher position with a focus on fostering meaningful connections with students. Dedicated to creating a positive learning environment by implementing creative and effective teaching methods.
Skills
Strong interpersonal and communication skills
Excellent organizational and time management skills
Creative problem- solving abilities
Excellent classroom management abilities
Ability to develop engaging educational materials
Proficient in using modern educational tools
Knowledge of instructional technology
Responsibilities
Planning, preparing and delivering instruction to students
Creating meaningful lesson plans and activities
Maintaining a safe and orderly classroom
Monitoring student progress and providing timely feedback
Collaborating with other teachers to develop new teaching methods
Assessing student's abilities and learning needs
Providing a positive and supportive learning environment
School Teacher Resume with 2 Years of Experience
Dedicated and passionate educator with over two years of experience teaching elementary school students. Proven track record of success in developing interactive and engaging curricula, building strong relationships with students and parents, and creating a supportive, inclusive classroom environment. Committed to helping youth reach their highest potential and develop a lifelong love of learning.
Core Skills:
Exceptional communication and interpersonal skills
Strong classroom management and discipline techniques
Knowledge of best practices for student engagement
Proficient in Microsoft Office, Google Suite and online learning platforms
Ability to differentiate instruction for diverse learners
Excellent organizational and time management skills
Responsibilities:
Developed and implemented interactive and engaging curricula for students
Monitored student progress and provided academic support to students on an individual and group basis
Maintained communication and strong relationships with parents, administrators and other staff
Created a supportive and respectful learning environment in the classroom
Provided feedback to facilitate student growth and development
Utilized various teaching approaches to engage all students in the learning process
School Teacher Resume with 5 Years of Experience
I am an experienced elementary school teacher of 5 years, with a vast range of knowledge in educating children in various age groups. I am passionate about creating motivating and engaging learning experiences for my students, and I strive to ensure that each student achieves his/her own individual learning goals. I have developed strong classroom management skills and an effective approach to teaching in order to keep my students active, engaged, and successful. My experience also includes utilizing innovative technology and teaching methods to support student learning.
Core Skills:
Excellent classroom management
Strong organizational skills
Innovative teaching methods
Effective communication
Ability to create fun and motivating learning experiences
Knowledge of educational technology
Responsibilities:
Developing engaging and effective lesson plans
Organizing classroom materials and supplies
Implementing innovative teaching techniques
Assisting students with coursework and activities
Administering tests and assessing student progress
Maintaining accurate records and data
Creating a safe and productive learning environment
Providing individualized instruction to meet individual learning needs
Collaboratin with other teachers and school staff
Attending professional development seminars and workshops
School Teacher Resume with 7 Years of Experience
I am an experienced and passionate school teacher with seven years of teaching experience. I have a commitment to providing quality education and creating a learning environment that is conducive to student academic success. My teaching style is cooperative, engaging and innovative. I have a deep understanding of classroom technology and how to use it as a tool for student learning. My core skills include lesson planning, classroom management, and assessing student performance. I have a strong background in creating meaningful lesson plans, managing a classroom, and motivating students to exceed expectations.
Core Skills:
Lesson planning
Adaptability
Classroom management
Student assessment
Technology integration
Interpersonal communication
Problem- solving
Responsibilities:
Developing and implementing lesson plans that meet curriculum standards
Adapting to the needs of students to create a positive learning atmosphere
Managing student behavior and enforcing rules and regulations
Monitoring and assessing student progress
Integrating technology into the classroom environment
Communicating effectively with students, parents, and staff
Collaborating with colleagues on various projects and initiatives
Identifying and addressing problem areas in a timely manner
School Teacher Resume with 10 Years of Experience
I am an experienced school teacher with over 10 years in the education field. I have a thorough knowledge of teaching methods and educational approaches, as well as excellent communication, organizational and multitasking abilities. I am passionate about helping students reach their potential and my enthusiasm for teaching is contagious. I am detail- oriented and able to tailor my teaching strategies to meet the individual needs of each student.
Core Skills:
Curriculum development
Classroom management
Student assessment
Differentiated instruction
Creative lesson planning
Communication
Organization
Guidance and mentorship
Responsibilities:
Designing and implementing lesson plans
Planning and delivering instruction according to grade level standards
Assessing student performance and providing feedback
Monitoring student progress
Developing individualized educational plans
Collaborating with other educators and administrators
Utilizing technology in the classroom
Maintaining a safe and supportive learning environment
School Teacher Resume with 15 Years of Experience
An experienced and dedicated school teacher with 15 years of experience in teaching and mentoring students. Possesses strong educational background, excellent communication skills, and a passion for inspiring and motivating students. Skilled at cultivating positive relationships with students and peers, and creating a positive and meaningful learning environment.
Core Skills:
Efficient classroom management
Strong communication and presentation skills
Highly organized and proactive
Ability to create effective lesson plans
Ability to motivate and inspire students
Ability to work with diverse student backgrounds
Responsibilities:
Developing and implementing effective curriculum and lesson plans
Evaluating students' progress and providing feedback
Developing effective communication strategies for students
Creating a positive and inspiring learning environment
Developing and implementing innovative and effective teaching strategies
Collaborating with other educators and administrators to enhance student learning
Providing guidance and mentoring to students
Maintaining classroom and administrative duties accordingly
In addition to this, be sure to check out our resume templates, resume formats, cover letter examples, job description, and career advice pages for more helpful tips and advice.
What should be included in a School Teacher resume?
A school teacher resume should contain information that highlights your best attributes and experience. It should include the following items:
Contact Information: This includes your name, address, phone number, and email address.
Summary Statement: This should be a brief statement that summarizes your qualifications and experience in a few sentences.
Education: A list of all the educational institutions you attended and the degrees you earned.
Certifications: List any relevant teaching certifications or licenses that you possess.
Work Experience: This should include all your experience as a school teacher, including the schools you've taught at, the age groups you've taught, and the subjects you've covered.
Teaching Skills: This should include any special skills you have that relate to teaching, such as experience with special needs students or knowledge of curriculum development.
Additional Skills: This should include any other relevant skills you have, such as computer skills, abilities to work with students from diverse backgrounds, or experience with developing lesson plans.
References: List contact information for three professional references.
What is a good summary for a School Teacher resume?
A school teacher resume should provide a concise summary of a teacher's experience, educational background, skills, and accomplishments. A strong teacher resume should be concise and clearly highlight the candidate's qualifications and expertise. It should provide solid evidence of the teacher's abilities and experiences, as well as showcase their dedication to the educational field.
The summary of a teacher's resume should present their experience in a way that showcases the teacher's experience and qualifications. It should be clear and concise, and should make clear the teacher's commitment to the education field. It should mention the types of teaching methods and pedagogical approaches they are familiar with, as well as their breadth of experience with different age groups.
In addition, the teacher's resume summary should highlight any special certifications or awards they have received, as well as their ability to work in a collaborative environment. It should also make clear their knowledge of teaching practices and current education trends in the field.
Overall, a good summary for a school teacher's resume should provide a concise overview of their experience, educational background, and qualifications. It should have a clear focus and be able to quickly and effectively communicate the teacher's suitability for the position.
What is a good objective for a School Teacher resume?
A school teacher is an educator who is responsible for providing students with instruction in specific subject areas. When writing a resume for a school teacher position, a good objective statement should demonstrate your dedication to helping students learn and grow. Here are some objectives you can use on your resume:
To motivate and inspire students to reach their highest potential in the classroom.
To foster a safe and positive learning environment where students can thrive.
To implement innovative teaching methods that engage and challenge students.
To use my knowledge and experience to help students reach their educational goals.
To develop an effective lesson plan that meets the needs of all learners.
To provide individualized instruction to help every student succeed.
To nurture an environment of respect and collaboration within the classroom.
To create engaging activities that stimulate student learning.
To foster a love of learning in all students.
To encourage critical thinking and creative expression in students.
How do you list School Teacher skills on a resume?
When applying to teaching positions, it is important to highlight your skills on your resume. This will demonstrate to prospective employers that you are the right fit for the job. Here are some key skills and qualifications to consider including on your resume when applying for a school teacher position:
Strong Communication: A teacher needs to be able to clearly and effectively communicate with students, colleagues, and administrators.
Adaptability: Teachers must be able to adjust their teaching approach to meet the needs and interests of their students.
Patience: Working with children can be difficult, and teachers need to have the ability to remain patient and encouraging even in challenging situations.
Organization: Teachers must be organized and prepared for each day in order to keep the classroom running smoothly.
Knowledgeable: Teachers should have a deep knowledge of the subjects they are teaching in order to effectively convey the material to their students.
Creativity: A teacher needs to be able to think outside the box to engage students in learning.
Leadership: Teachers need to be strong leaders in the classroom, able to command the attention and respect of their students.
Collaboration: Teaching is often a team effort, and teachers must be comfortable in collaborating with other teachers and staff.
Enthusiasm: Passion for teaching is essential to inspiring students to learn.
What skills should I put on my resume for School Teacher?
If you are applying for a school teacher position, the skills you include on your resume should showcase your ability to effectively teach students. Here are some skills that you should consider adding to your resume:
Strong Communication Skills: School teachers must be able to communicate effectively with students, parents, and colleagues. You should highlight any experience you have in facilitating successful communication, such as teaching classes in public speaking.
Interpersonal Skills: A school teacher should have excellent interpersonal skills to foster positive relationships with students, parents, and other teachers. You should mention any teaching experience you have, as well as any other work that has honed your interpersonal skills.
Adaptability: School teachers must be able to adapt to the different needs of their students. Consider listing any experience you have in working with a variety of students, such as teaching in a multi-age classroom or working with students who have special needs.
Creativity: School teachers should be creative and able to think outside the box to engage their students. Any experience you have in creating unique lesson plans or activities should be included.
Organization: School teachers must be organized to ensure that their students receive the best education. List any experience you have in creating and managing lesson plans, grading assignments, or creating schedules.
By including these skills on your resume, you are highlighting your qualifications to be a successful school teacher. You should also include any teaching certifications or awards you have earned, which will help to further demonstrate your ability to be an effective teacher.
Key takeaways for an School Teacher resume
When preparing a resume for a School Teacher position, there are several important points to consider. These key takeaways can help a prospective School Teacher stand out from the crowd and help them secure an interview.
First, an ideal School Teacher resume should highlight any relevant classroom experience. Include any student teaching placements, classroom management skills, and other educational jobs such as teaching assistant or tutor. This will demonstrate an aptitude for the job and show that you are well-prepared for teaching.
Second, emphasize any teaching certifications or qualifications that you may have. This can include Teacher of English as a Second Language, Early Childhood Education and related certifications. These demonstrate your commitment to being a professional and your knowledge of the educational field.
Third, showcase any awards or recognition that you may have received in your role as a School Teacher. This can include awards for classroom excellence, curriculum development, or any other recognition you have received.
Finally, don't forget to add any hobbies or extracurricular activities that you have engaged in. This can show potential employers that you have a life outside of teaching, and that you are well-rounded and active in your life.
By following these key takeaways, you can give yourself a great advantage when preparing your School Teacher resume. Be sure to emphasize any relevant experience and qualifications, and showcase any awards or recognition you may have received. Finally, don't forget to include any hobbies or extracurricular activities that you have engaged in to demonstrate that you are well-rounded and active in your life. With these tips in mind, you can create an excellent resume for a School Teacher position.
Let us help you build
your Resume!
Make your resume more organized and attractive with our Resume Builder