Writing an effective resume for a position as a preschool assistant teacher requires a blend of relevant information, educational background, and professional accomplishments. This guide will provide you with tips on how to frame your resume, what essential skills and qualifications to highlight, and successful examples of preschool assistant teacher resumes. By taking the time to craft a resume that captures the attention of your future employer, you will be one step closer to landing the perfect preschool assistant teacher job.
If you didn't find what you were looking for, be sure to check out our complete library of resume examples.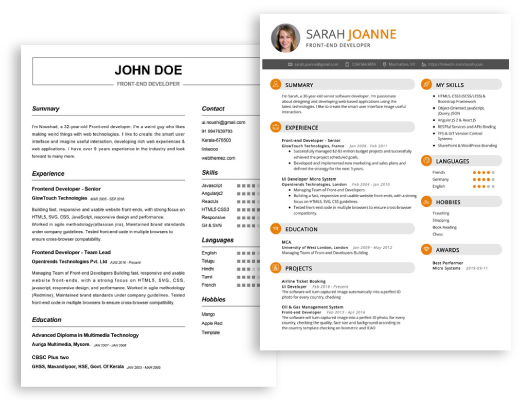 Start building your dream career today!
Create your professional resume in just 5 minutes with our easy-to-use resume builder!
Preschool Assistant Teacher Resume Examples
John Doe
Preschool Assistant Teacher
123 Main Street | Anytown, USA 99999 | Phone: (123) 456-7890 | Email: john.doe@email.com
Highly motivated and organized Preschool Assistant Teacher with over three years of experience working with children from three to five years of age. A passion for creating a safe, nurturing, and stimulating environment for young learners. Proven ability to foster an atmosphere of respect and creativity. Familiarity with early childhood education curriculum and best practices.
Core Skills:
Childcare and Development
Positive Reinforcement
Creative Lesson Planning
Classroom Management
Behavioral Guidance
Child Safety
Early Education
Professional Experience:
Preschool Assistant Teacher, ABC Daycare, 2019- Present
Collaborate with Lead teacher to support lesson plans, create classroom activities, and plan field trips.
Supervise and monitor the safety of children in the classroom and on the playground.
Lead interactive activities that promote learning while incorporating fun and play.
Assist with classroom transitions, snack time, and lunchtime.
Participate in parent- teacher conferences and provide feedback to families.
Assist with the planning and implementation of special projects and events.
Education:
Bachelor of Arts in Early Education, ABC University, 2018
Preschool Assistant Teacher Resume with No Experience
Highly motivated and compassionate Preschool Assistant Teacher with a passion for helping young children learn, grow and develop. Proven ability to foster a positive and nurturing learning environment. Experienced in developing age- appropriate activities and providing guidance to children in a range of settings.
Skills
Knowledgeable in early childhood development
Ability to create age- appropriate activities
Proficiency in classroom management
Excellent verbal and written communication
Ability to provide individualized attention
Certified in First Aid and CPR
Responsibilities
Assisting head teacher with daily activities and instruction
Supervising children in the classroom and on field trips
Participating in group activities with children
Encouraging learning through play
Planning and leading activities to stimulate physical, emotional, intellectual, and social growth
Preparing and maintaining learning materials, supplies, and snacks
Preschool Assistant Teacher Resume with 2 Years of Experience
Dedicated and passionate preschool assistant teacher with two years of experience in developing individualized learning plans for preschool- aged children. Possesses an extensive understanding of child development, the ability to create an engaging environment that promotes learning, and excellent communication and organizational skills. Experienced in working with children from diverse backgrounds, providing guidance and support to colleagues, and developing and leading age- appropriate activities.
Core Skills:
Curriculum and Lesson Plan Development
Classroom Management
Interpersonal Communication
Parent- Teacher Collaboration
Behavior Management Strategies
Classroom Organization
Creative Problem Solving
Child Development Knowledge
First Aid and CPR Certified
Responsibilities:
Developed and implemented age- appropriate learning activities while creating a safe and healthy learning environment.
Monitored classroom participation and created individualized educational plans for each student.
Conducted small- group and one- on- one instruction and assessment to address individual student needs.
Assisted lead teacher with classroom management, including providing guidance to students and promoting positive behavior.
Developed and implemented indoor and outdoor activities to improve student physical, emotional, and social development.
Assisted with preparing and maintaining records related to children's progress, behavior, and routines.
Participated in parent- teacher conferences, providing feedback and suggestions for improvement.
Collaborated with the lead teacher and other staff to plan curriculum activities and special events.
Preschool Assistant Teacher Resume with 5 Years of Experience
A passionate and professional Preschool Assistant Teacher with 5+ years of experience in delivering high- quality instruction and care to young children. Adept at maintaining a safe and nurturing learning environment while providing leadership and guidance to preschool staff. Adhere to all federal and state regulations and standards of health and safety. Experienced in early childhood education, curriculum development, and classroom management.
Core Skills:
Creative and innovative problem- solving
Strong communication and collaboration skills
Knowledge of developmentally appropriate practices
Familiar with common early childhood assessment tools
Ability to develop and implement lesson plans
Proficiency in Microsoft Office Suite
Ability to support and mentor peers
Professional appearance and demeanor
Responsibilities:
Supervised and engaged with children in activities such as games, arts and crafts, and other recreational activities.
Developed and planned lesson plans to teach social, physical, and cognitive development and other areas of the curriculum.
Developed, implemented, and evaluated age- appropriate activities and lesson plans.
Assisted in providing a safe and secure environment for the children.
Assisted the lead teacher in maintaining accurate student records and tracking student progress.
Worked with the lead teacher to create individualized instruction plans for students.
Addressed student behavior issues in a supportive and encouraging manner.
Collaborated with other teachers and staff to coordinate team- teaching efforts.
Encouraged students to explore their environment to enhance their learning.
Preschool Assistant Teacher Resume with 7 Years of Experience
Dynamic and passionate preschool assistant teacher with seven years of experience in developing and executing engaging lesson plans and activities that nurture a child's intellectual, physical, and social development. Dedicated to upholding the highest standards of early education, child safety and development, and family engagement. Strong organizational and communication skills and the ability to create an interactive and educational learning environment for young children.
Core Skills:
Early Childhood Education
Lesson Plan Design
Child Safety Practices
Classroom Management
Creative Thinking
Student Assessment
Organization
Parent Communication
Responsibilities:
Developing themes and activities to promote physical, social, emotional, and cognitive development in children
Developing an engaging, interactive and safe classroom environment
Creating a positive learning atmosphere and ensuring a safe, healthy, and nurturing environment
Assisting in student assessment and documentation
Supervising students and providing positive reinforcement
Working with parents to ensure students are meeting educational goals
Providing guidance to volunteers and other staff members
Collaborating with other teachers to develop and modify curriculum
Preschool Assistant Teacher Resume with 10 Years of Experience
An experienced preschool assistant teacher with over 10 years of experience working in a childcare environment. Proven ability to create a safe and engaging learning environment for young children. Skilled in developing educational activities to introduce and reinforce academic concepts. Strong communication and interpersonal skills, with an ability to create positive relationships with families and faculty.
Core Skills:
Child Development
Classroom Management
Organizational Skills
Creative Learning Activities
Communication
Documentation
Responsibilities:
Developing age- appropriate educational activities to introduce and reinforce basic academic concepts
Assisting lead teacher in managing a classroom of children
Modeling appropriate social and behavioral expectations
Creating a safe and nurturing environment for children
Supervising children during lunch, playground time, and other activities
Documenting daily activity and behavior updates
Assisting with family communication and involvement
Preschool Assistant Teacher Resume with 15 Years of Experience
I am a preschool assistant teacher with 15 years of experience in providing quality learning for young children. I have excellent communication and collaboration skills, as well as a deep understanding of early childhood education. I am experienced in providing instruction in a variety of learning settings, developing lesson plans, and maintaining a safe and supportive learning environment. Additionally, I have extensive knowledge of child development, classroom management, and developmental activities.
Core Skills:
Knowledge of child development
Excellent communication and collaboration skills
Ability to develop lesson plans
Ability to provide instruction in a variety of settings
Experience with classroom management and developmental activities
Experience in developing safe and supportive learning environments
Responsibilities:
Provide quality instruction for preschool aged children
Develop and implement age- appropriate lesson plans
Monitor and guide children's behavior in a positive and supportive manner
Supervise children in the classroom and outdoors
Maintain a safe and supportive learning environment
Assist with curriculum development and implementation
Collaborate with other teachers, staff, and parents to ensure the best learning experience for children
Assist with daily activities and routines
In addition to this, be sure to check out our resume templates, resume formats, cover letter examples, job description, and career advice pages for more helpful tips and advice.
What should be included in a Preschool Assistant Teacher resume?
A Preschool Assistant Teacher resume should include a focus on the skills and experiences that are most relevant to the position. As an Assistant Teacher in a preschool setting, you will need to be able to utilize creative problem solving, show strong communication abilities, and demonstrate a genuine commitment to working with children. It is important to include the following skills, experiences, and qualifications when creating your resume.
Previous experience working with children in a preschool or daycare setting
Knowledge of age-appropriate educational materials and activities
Ability to create a fun and nurturing environment
Understanding of developmental milestones in young children
Strong communication and organizational skills
Creative problem-solving skills
Patience and understanding
CPR and First Aid certification
Valid driver's license
Including this type of information in your resume will help demonstrate to potential employers that you are the right candidate for the position. It is also important to customize your resume to the job posting and highlight the skills that are most important to the employer. Showcasing your experience, knowledge, and qualifications in a Preschool Assistant Teacher role will help you stand out from the crowd and get you the job you want.
What is a good summary for a Preschool Assistant Teacher resume?
A good summary for a Preschool Assistant Teacher resume should provide an overview of a candidate's skills, experience, and qualifications as they relate to the position. It should be no longer than two or three sentences in length and should highlight a candidate's ability to provide a safe learning environment, develop creative teaching plans, and collaborate with teachers and families. It should also demonstrate the candidate's commitment to the promotion of children's physical, emotional, and social development and their enthusiasm for working with young children. A strong summary should be tailored to the specific position and highlight the key qualifications and experience that make an ideal candidate for the preschool assistant teacher position.
What is a good objective for a Preschool Assistant Teacher resume?
When considering what to include in a resume for a position as a preschool assistant teacher, the objective statement can be essential to making an impression and setting the tone for the rest of your application. An effective objective statement should concisely describe your qualifications, experience, and career aspirations, while also demonstrating an understanding of the requirements of the position.
A good objective for a preschool assistant teacher resume might look something like this:
Experienced and compassionate preschool assistant teacher with a strong background in early childhood development and learning.
Seeking to utilize my expertise and commitment to learning in a stimulating and supportive classroom setting.
Passionate about creating an engaging and fun learning environment for young children, helping them to reach their full potential.
Aiming to contribute to a positive and collaborative team environment.
How do you list Preschool Assistant Teacher skills on a resume?
When creating a resume for a preschool assistant teacher, you'll want to include skills that match the job description. It's important to list the skills that make you the best candidate for the job. Here are the skills employers are looking for when they review resume:
Collaboration: Able to work well with other teachers, parents, and staff to create a positive learning environment.
Communication: Possess excellent listening, speaking, and writing skills.
Patience: Demonstrate the ability to stay calm and patient when dealing with young children.
Creativity: Showcase the ability to be inventive and come up with new ideas and activities.
Problem-solving: Possess the capacity to think on your feet and handle unexpected situations.
Organization: Ability to keep classrooms and materials in neat and orderly condition.
Time management: Demonstrate the ability to manage time efficiently and meet deadlines.
Knowledge of Child Development: Possess the knowledge of child development principles and the ability to adapt them to the classroom environment.
Safety Awareness: Knowledge of safety rules and regulations, as well as best practices for keeping children safe.
Interpersonal Skills: Possess the ability to build relationships with children, parents, and staff.
By including these skills on your resume, you can show potential employers that you are the best candidate for the job.
What skills should I put on my resume for Preschool Assistant Teacher?
When applying for a position as a Preschool Assistant Teacher, your resume should include a variety of skills that demonstrate your qualifications and suitability for the job. These skills can be divided into three categories: educational, personal, and professional.
Educational: Candidates should have a degree in Early Childhood Education or a related field, as well as a background in child development. Additionally, having experience with pre-K curriculum is important.
Personal: A successful preschool assistant teacher should have excellent communication skills, as well as the ability to listen and empathize with children. They should also have strong organizational skills and be able to multitask.
Professional: Preschool teachers must be patient, punctual, and reliable. They should also be able to work well with other staff members and parents. Additionally, having experience with technology and classroom management is beneficial.
By including all of these skills on your resume, you show employers that you have the qualifications and background necessary to be an effective preschool assistant teacher.
Key takeaways for an Preschool Assistant Teacher resume
As a preschool assistant teacher, you have the opportunity to play a critical role in the growth and development of young children. A strong resume is the key to landing your dream job in this field. Here are some key takeaways for crafting a standout resume:
Highlight Your Education & Credentials: An assistant teacher job requires at least a high school diploma. List your education, certifications, and any other qualifications you have that show your suitability for this position.
Show Your Passion & Experience: Working with young children is a calling, and it's important that your resume shows your passion for the profession. Include any relevant experience you've had, such as previous teaching positions or volunteer work.
Demonstrate Your Flexibility: Preschool assistant teachers need to be flexible and able to adjust their teaching methods to fit the needs of their students. Showcase any experience you have in adjusting lesson plans or working with different learning styles.
Highlight Your Interpersonal Skills: Working with children is a team effort, so it's important to show that you have the interpersonal skills to build relationships with other staff, parents, and children.
Demonstrate Your Creativity: Preschoolers learn best through creative activities and play. Include any examples of creative activities you've used in the classroom.
By following these steps, you can create a standout resume that will help you land your dream job as a preschool assistant teacher.
Let us help you build
your Resume!
Make your resume more organized and attractive with our Resume Builder