Resume writing is a critical step for any job hunt, and physics lecturers are no exception. Crafting an impressive and effective resume is a must for physics lecturers wishing to make an impact on hiring managers and land their dream job. This guide offers an overview of the key features of a strong physics lecturer resume, as well as tips and tricks on how to write an impressive and effective resume. Additionally, several example resumes are included to serve as a resource for potential job seekers. With the right resume, physics lecturers will be well on their way to making a great first impression and starting their dream job.
If you didn't find what you were looking for, be sure to check out our complete library of resume examples.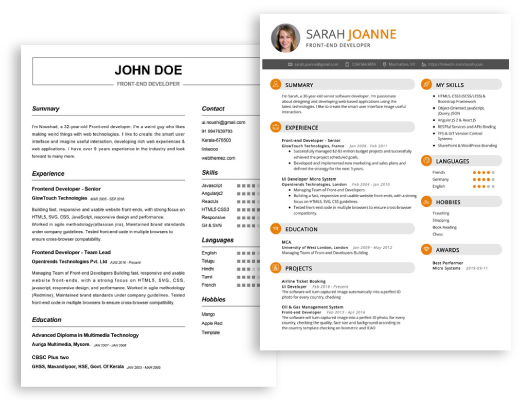 Start building your dream career today!
Create your professional resume in just 5 minutes with our easy-to-use resume builder!
Physics Lecturer Resume Examples
John Doe
Physics Lecturer
123 Main Street | Anytown, USA 99999 | Phone: (123) 456-7890 | Email: john.doe@email.com
I am an experienced Physics Lecturer with 5 years of teaching experience in the higher educational sector. I have developed and implemented innovative teaching methods for both theoretical and practical courses. My extensive knowledge of the subject matter, combined with my passion for teaching, has enabled me to engage students and equip them with the skills and knowledge they need to succeed.
Core Skills:
Outstanding knowledge and understanding of physics
Excellent communication and interpersonal skills
Ability to effectively teach theoretical and practical courses
Ability to engage students and ensure a positive learning environment
Proven ability to assess and evaluate student performance
Ability to incorporate technology into teaching
Strong organizational and time management skills
Professional Experience:
Physics Lecturer, ABC University, 2019 – Present
Responsible for delivering theoretical and practical physics courses to undergraduate and graduate students.
Developed innovative teaching methods that increase student engagement and enhance understanding of the material.
Evaluated student performance and provided feedback to improve learning outcomes.
Incorporated technology into teaching to facilitate learning.
Education:
PhD in Physics, ABC University, 2019
Master of Science in Physics, XYZ University, 2017
Bachelor of Science in Physics, XYZ University, 2015
Physics Lecturer Resume with No Experience
Recent physics graduate with a passion for teaching, looking for an entry- level position as a physics lecturer. Possesses a deep understanding and knowledge of physics and its applications, supplemented by strong organizational and problem- solving skills. Uses these skills to create a safe and productive learning environment.
Skills
Strong grasp of physics concepts and theories
Excellent written and verbal communication skills
Ability to explain complex concepts in an easy- to- understand manner
Proficient computer skills
Organizational and problem- solving skills
Responsibilities
Develop and execute lesson plans that are tailored to the students' learning needs
Provide individualized instruction to students
Encourage and foster critical thinking skills in students
Create and administer tests, quizzes, and assignments to measure student progress
Keep accurate records of student progress and attendance
Maintain positive relationships with students and parents/guardians
Attend and participate in faculty meetings and professional development activities
Physics Lecturer Resume with 2 Years of Experience
A highly experienced and dedicated Physics Lecturer with over two years of experience in teaching and mentoring students. Educated and experienced with a background in physics and mathematics, I bring excellent communication and instruction skills, as well as the ability to transfer the knowledge effectively to students. I have a passion for teaching and have the skills necessary to make a positive difference in the classroom.
Core Skills:
Excellent knowledge of physics and mathematics
Strong problem solving and analytical skills
Excellent communication and public speaking abilities
Ability to motivate and inspire students
Ability to create and deliver engaging lectures
Proficient in the use of technology for teaching purposes
Ability to evaluate student progress
Responsibilities:
Developing course materials and syllabus
Delivering lectures and providing tutorials to students
Creating and grading assignments and exams
Providing feedback and guidance to students
Organizing and conducting laboratory sessions
Organizing guest lectures and field trips
Researching and publishing scholarly articles
Organizing and attending conferences and seminars
Mentoring and advising students
Physics Lecturer Resume with 5 Years of Experience
A highly motivated and result- driven Physics lecturer with 5 years of experience in developing and delivering quality educational programs for college students. Possessing excellent communication and leadership skills. Able to develop a positive learning environment for students and motivate them to achieve their goals. Skilled in preparing lectures, leading seminars, and providing feedback to students.
Core Skills:
Excellent teaching and communication skills
Ability to develop and implement effective educational programs
In- depth knowledge of physics
Ability to use technology and digital media in teaching
Strong organizational, planning and problem- solving skills
Excellent knowledge of physics and related subjects
Responsibilities:
Developing and delivering lectures and seminars on a variety of physics topics
Providing guidance and support to students in their assigned projects
Planning and organizing laboratory experiments related to the topics
Evaluating student's performance with regular assessments
Designing and updating course materials, syllabus, and handouts
Organizing educational trips and visits to the science- related places
Holding regular office hours to answer student queries
Physics Lecturer Resume with 7 Years of Experience
A highly experienced Physics Lecturer with 7 years of teaching experience with a proven track record of success in helping students learn, understand, and apply the principles and theories of Physics. Proficient in developing innovative and interactive ways to engage and motivate students in the learning process. Possesses strong organizational, communication, and problem- solving skills. Highly committed to the success of the students, faculty, and institution.
Core Skills:
Knowledge of physics principles, theories, and concepts
Ability to effectively communicate information
Proficient in developing lesson plans and activities
Excellent problem solving and organizational skills
Ability to effectively manage difficult students
High level of patience and understanding
Proficient in the use of computers and technology for teaching
Responsibilities:
Designing and delivering lectures and lessons on physics subjects
Preparing and grading exams, quizzes, and assignments
Assisting students with lab experiments and data collections
Creating and implementing innovative teaching strategies
Maintaining discipline in the classroom and evaluating student performance
Monitoring and evaluating student progress and providing feedback
Supervising and mentoring student projects and research activities
Developing course materials and updating existing materials
Holding conference and office hours for student support
Participating in professional development activities
Collaborating with colleagues on the development and implementation of curricula
Physics Lecturer Resume with 10 Years of Experience
A highly qualified and experienced Physics Lecturer with over 10 years of experience in developing and delivering physics curriculum to students of all levels. Possesses a Master's degree in Physics and a deep understanding of current trends in the field. Experienced in employing innovative teaching methods to motivate and engage students as well as in creating lesson plans and preparing course materials. Proven ability to assess progress and provide feedback to students.
Core Skills:
Innovative teaching methods
Excellent communication and presentation skills
Knowledge of the latest physics innovations
Proficiency in Microsoft Word and Excel
Strong organizational and problem solving skills
Ability to create a positive learning environment
Responsibilities:
Developing and delivering engaging physics curriculum
Creating lesson plans, course materials and assessments
Evaluating student performance and providing feedback
Instructing students on key concepts and processes
Supporting extra- curricular activities related to physics
Collaborating with other teachers to design and implement programs
Physics Lecturer Resume with 15 Years of Experience
A Physics Lecturer with 15 years of experience in teaching and research in the field of Quantum Mechanics and Thermodynamics. Expert in developing comprehensive lesson plans and performing comprehensive reviews of student work. Possesses an excellent ability to interact with students and develop a strong rapport. Highly organized, detail- oriented, and able to multitask in an educational setting.
Core Skills:
Comprehensive understanding of physics principles and theories
Strong knowledge of quantum mechanics and thermodynamics
Ability to analyze and interpret data and form theories
Excellent interpersonal and communication skills
Ability to create and implement effective lesson plans
Strong organizational and multitasking skills
Responsibilities:
Teach and mentor students in the topics of quantum mechanics and thermodynamics
Develop and implement comprehensive lesson plans and syllabi
Observe, evaluate and provide feedback on student performance
Monitor and grade student assessments
Provide individual student guidance and support
Conduct research in the field of quantum mechanics and thermodynamics
Develop and present seminars and guest lectures
Assist in the development of laboratory experiments and activities
In addition to this, be sure to check out our resume templates, resume formats, cover letter examples, job description, and career advice pages for more helpful tips and advice.
What should be included in a Physics Lecturer resume?
For many physics students, a career as a physics lecturer is an ideal goal. A physics lecturer is responsible for teaching students the fundamentals of physics in the classroom and introducing them to the field of physics research. In addition to teaching, a physics lecturer may also be involved in research, publications, and professional development. As such, a physics lecturer resume should include a variety of skills and qualifications that demonstrate a wide range of knowledge and experience in the field.
Below are some of the key elements that should be included in a physics lecturer resume:
Demonstrated knowledge and experience teaching physics courses at the college level
Research experience in a field related to physics
Publications in academic journals or books
Experience with professional development activities
Proficiency with software or equipment related to physics
Ability to communicate complex ideas in an understandable manner
A passion for teaching and the ability to inspire students
Strong organizational and time management skills
Ability to work independently or as part of a team
Excellent written and verbal communication skills
Ability to work to deadlines
Ability to teach students in diverse backgrounds and of different academic levels
What is a good summary for a Physics Lecturer resume?
A Physics Lecturer should have a concise, impressive resume that outlines their educational background and teaching experience. This includes details about the courses they have taught, their research projects, and the awards they have received. The summary should explain the lecturer's qualifications, such as the number of years they have worked in the field and any specializations they may have. It should also provide an overview of their teaching style, such as their ability to engage students and explain complex concepts in an understandable way. Finally, the summary should emphasize the lecturer's enthusiasm for teaching and their commitment to keeping up with current trends in physics. By providing a comprehensive summary of their skills and qualifications, a Physics Lecturer can make an excellent first impression on potential employers.
What is a good objective for a Physics Lecturer resume?
A Physics Lecturer should demonstrate a wide range of knowledge and skills in their resume. To stand out from the competition, a good objective should emphasize the applicant's ability to teach, research, and mentor students while providing the best learning experience possible. Here are some examples of objectives that Physics Lecturers may include in their resume:
To utilize my expertise in physics and teaching experience to provide engaging and impactful lectures that help students gain a comprehensive understanding of the fundamentals of physics
To create an environment in which students feel motivated and inspired to learn, think critically and apply their knowledge
To develop and implement innovative lesson plans and activities that encourage students to explore complex topics in physics
To collaborate with colleagues to develop effective teaching strategies and assessment methods
To foster an environment of collaboration and cooperation between students and faculty
To mentor students, providing support and guidance throughout their studies in the field of physics
To stay up-to-date with new developments in the field, and incorporate these advancements into lectures and course materials
To contribute to the academic community through research and professional development
How do you list Physics Lecturer skills on a resume?
When listing Physics Lecturer Skills on a resume, it is important to highlight the skills and qualifications necessary for the position. Physics Lecturers typically need advanced knowledge in physics, excellent communication and teaching skills, and the ability to work with students at all levels. Below are some common skills to list on a Physics Lecturer resume:
In-depth knowledge of physics: Physics Lecturers must have a strong knowledge of physics, including a deep understanding of theories, equations, and methods.
Teaching and communication abilities: Physics Lecturers need outstanding communication and teaching abilities in order to effectively present lessons, answer questions, and explain concepts to students.
Ability to work with various levels of students: Physics Lecturers must be able to work with students at all levels, from beginner to advanced.
Problem-solving skills: Problem-solving abilities are essential for Physics Lecturers to help students understand difficult concepts and to solve challenging physics problems.
Computer literacy: Physics Lecturers must be computer literate in order to use technology in the classroom, such as presentation software and simulations.
Research and analytical skills: Physics Lecturers must have strong research and analytical skills to stay up-to-date on developments in the field and to be able to effectively use data to inform teaching.
By including these skills and qualifications on a resume, potential employers will be able to quickly see that a candidate is qualified for the position of Physics Lecturer.
What skills should I put on my resume for Physics Lecturer?
When applying for a position as a Physics Lecturer, it is important to showcase your professional qualifications and competencies in your resume. Having a comprehensive list of skills and qualifications allows employers to quickly assess your suitability for the role. Here are some of the key skills and qualifications to include on your resume for a Physics Lecturer role:
Education: A doctoral degree in physics or a related field is usually required to be considered for a Lecturer role. Be sure to include any relevant post-secondary education such as a Master's Degree or undergraduate degree in physics.
Teaching Experience: As a Lecturer, you will need to demonstrate an ability to effectively teach students. Include any relevant teaching experience such as undergraduate or graduate teaching assistant positions as well as any other professional teaching experience.
Research: Employers will be looking for evidence that you have experience conducting research in the field of physics. Include any relevant research experience such as publications, research grants and awards, or presentations that you have given at conferences.
Communication Skills: As a Lecturer, you will need to be able to communicate complex concepts and ideas effectively. Include any relevant experiences such as public speaking or teaching seminars to demonstrate your communication skills.
Language Proficiency: If English is not your first language, include any language proficiency qualifications, such as a TOEFL score, to demonstrate your ability to communicate in English.
Computer Proficiency: Include any skills related to computer programming, software engineering, or database management to demonstrate your computer proficiency.
Leadership: Showcase any relevant leadership experiences such as project management or leading a research team.
By including these qualifications and skills in your resume, you can demonstrate your aptitude for a Physics Lecturer role.
Key takeaways for an Physics Lecturer resume
When it comes to crafting a resume for a Physics Lecturer position, there are a few key takeaways that you should keep in mind. First and foremost, it is essential to highlight your knowledge and experience of Physics as a subject. This could include teaching experience, research, publications, and any special skills you may have such as working with scientific equipment or computer programming. Additionally, it's important to demonstrate your teaching experience, such as the courses you have taught or any educational events or seminars you have presented.
Another point to focus on is your ability to create engaging lesson plans and activities. Highlight the types of teaching methods you are familiar with and emphasize the innovative approaches you have taken to help students understand complex concepts. It's also beneficial to include any awards or recognition you have received for your teaching, as well as any special projects you may have taken on.
Finally, it's important to demonstrate your commitment to professional development. Include any certifications, professional memberships, or conferences you have attended since your last position. Showing your dedication to sharpening your skills and staying up-to-date on the latest research and teaching strategies can make you a more attractive candidate.
By following these key takeaways, you can create a compellling Physics Lecturer resume that stands out from the crowd.
Let us help you build
your Resume!
Make your resume more organized and attractive with our Resume Builder