Are you a personal tutor looking for a job? Writing a good resume can be key to getting hired. Finding the right words and phrases to describe your skills and experience can be a challenge. With the right resume, you can stand out among other job seekers and increase your chances of getting an interview. This guide will provide you with tips on how to write a great personal tutor resume, along with some examples to get you started.
If you didn't find what you were looking for, be sure to check out our complete library of resume examples.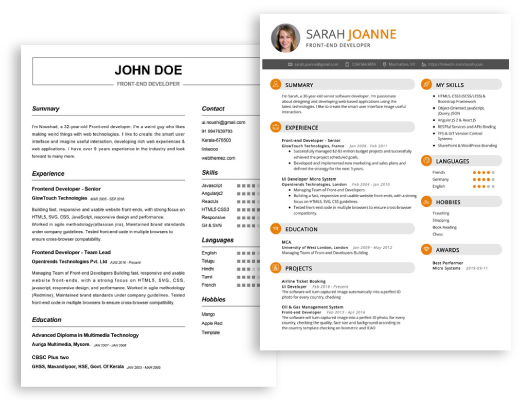 Start building your dream career today!
Create your professional resume in just 5 minutes with our easy-to-use resume builder!
Personal Tutor Resume Examples
John Doe
Personal Tutor
123 Main Street | Anytown, USA 99999 | Phone: (123) 456-7890 | Email: john.doe@email.com
I am an experienced Personal Tutor with a history of success in helping students of all ages and abilities to reach their academic goals. I am passionate about helping others to learn and I take pride in my ability to develop effective and engaging lesson plans tailored to the individual needs of my students. With my excellent communication skills, I am able to build strong relationships with my students and their families in order to create an atmosphere of trust and support.
Core Skills:
Excellent communication and interpersonal skills
Strong organizational and time- management skills
Ability to create individualized and engaging lesson plans
Proficiency in a variety of teaching strategies
Adaptability and flexibility in challenging situations
Knowledge of educational trends and best practices
Professional Experience:
Tutored high school and college students in Math, English, and History
Developed individualized lesson plans to help students reach their academic goals
Created engaging activities and multi- media lesson plans to help students stay motivated and engaged
Monitored student progress and provided support and guidance to help students succeed
Collaborated with parents and teachers to ensure a student's success
Assisted students in developing effective study skills and problem- solving skills
Education:
Bachelor's degree in Education from the University of California, Los Angeles
Master's degree in Secondary Education from the University of Southern California
Personal Tutor Resume with No Experience
Highly motivated and detail- oriented recent graduate with excellent interpersonal and communication skills
Seeking a position as Personal Tutor to help others reach their academic goals and aspirations
Knowledgeable in various subjects and proficient in teaching techniques
Skills:
Excellent communication and interpersonal skills
Strong understanding of various subjects and teaching techniques
Ability to monitor student progress and modify teaching methods accordingly
Patience, understanding, and a passion for helping others
Responsibilities:
Work with students to identify and anticipate their learning needs
Develop relevant teaching plans and materials
Explain complex topics in an easy to understand manner
Monitor student progress and provide feedback
Listen to and answer student questions
Adapt teaching methods and materials to meet student needs
Provide guidance and mentorship to students
Assist and support students with their coursework and other academic projects
Personal Tutor Resume with 2 Years of Experience
Enthusiastic and committed personal tutor with 2 years of experience helping students reach their educational goals. Skilled in developing individualized and targeted learning plans to effectively increase knowledge and self- confidence in both academic and non- academic areas. Excellent organizational, communication and interpersonal skills, with the ability to build strong relationships with students and parents.
Core Skills:
Educational Coaching
Curriculum Development
Academic Aid
Parent- Teacher Relations
Homework Assistance
Assessment Strategies
Student Mentoring
Classroom Management
Student Support
Responsibilities:
Assisted in the development of individualized learning plans to meet the needs and goals of students
Provided support to students in academic and non- academic areas
Served as a mentor for students who needed additional guidance and support
Maintained a professional relationship with parents and provided them with updates on the student's progress
Facilitated classroom activities and projects to promote an interactive learning environment
Assisted with assessment strategies, such as exams and quizzes, to evaluate student progress
Created lesson plans and homework assignments to supplement the curriculum
Provided assistance to students in completing assignments and understanding concepts
Personal Tutor Resume with 5 Years of Experience
Objective
To work in an organization where I can utilize my 5 years of experience as a Personal Tutor to help students achieve their academic goals.
I am a motivated and experienced Personal Tutor with 5 years of experience in helping students excel academically. I strive to help my students become organized and learn the necessary skills to comply with the highest academic standards. My expertise lies in developing personalized teaching methods and managing relationships with students to ensure their success. I have a strong focus on problem- solving, communication, and collaboration. In addition, I strive to create an interactive learning environment and encourage students to think independently.
Core Skills:
Extensive experience in developing effective teaching methods
Exceptional communication and interpersonal skills
Proficient in planning and managing student- teacher relationships
Outstanding problem- solving and critical thinking abilities
Proficiency in creating an interactive learning environment
Responsibilities:
Develop individualized teaching plans for each student based on their academic needs
Monitor student progress and provide feedback to parents
Provide advice and support for students during the teaching process
Create lesson plans and handouts for each lesson
Maintain relationships with students and parents
Manage student records and attendance records
Collaborate with other teachers to ensure the best academic outcomes for each student
Personal Tutor Resume with 7 Years of Experience
A dedicated Personal Tutor with 7 years of experience providing customized instruction in a variety of subjects. Possesses an impressive record of student improvement, along with excellent communication skills, a strong work ethic, and an ability to motivate students. Committed to helping students succeed through individualized learning plans and targeted instruction.
Core Skills:
Patient Instruction
Tailored Lesson Plans
Assessment and Evaluation
Communication and Interpersonal
Group Instruction
Classroom Management
Motivating Students
Responsibilities:
Develop and implement individual learning plans tailored to each student's needs
Assist students in understanding key concepts in a variety of subjects
Identify and address areas of improvement
Maintain up- to- date student records
Provide assessment and evaluation of student progress
Collaborate with other teachers and administrators
Motivate and encourage students to reach their potential
Organize and lead group sessions
Ensure a safe and supportive learning environment
Personal Tutor Resume with 10 Years of Experience
I am an experienced Personal Tutor with over 10 years of experience in providing educational support and guidance to diverse student populations. I have vast knowledge in multiple subject areas, including mathematics, science, language arts, and social studies, as well as a strong understanding of the needs of learners of all ages. I am highly organized and able to effectively manage multiple assignments and deadlines. I am an excellent communicator with a passion for helping students reach their full potential.
Core Skills:
Expertise in curriculum development and lesson planning
Extensive knowledge of various educational theories and approaches
Excellent communication and interpersonal skills
Ability to motivate and inspire students
Proficient in a range of technology and software
Strong organizational and time management skills
Ability to evaluate student performance
Responsibilities:
Develop individualized lesson plans to meet the needs of each student
Provide guidance and support to students to help them achieve their educational goals
Manage student assignments, projects, and tests to ensure a successful learning experience
Track and analyze student performance, providing feedback and support as needed
Liaise with teachers and other education professionals to ensure the smooth running of lessons
Assist with college and career planning, offering advice and guidance on subjects, courses, and institutions
Maintain clear and accurate records of student progress and attendance
Personal Tutor Resume with 15 Years of Experience
I am a dedicated and experienced Personal Tutor with 15 years of experience in providing individualized support to students of varying ages and abilities. My ability to develop rapport with students, tailor instruction to individual student needs, and foster an engaging learning environment have enabled me to create a successful record of academic achievement. My core skills include instructional planning, assessment, and individualized instruction. I am also skilled in the use of various technologies and software programs to improve student learning. Additionally, I possess a strong passion for educating and inspiring students.
Core Skills:
Instructional planning
Assessment
Individualized instruction
Utilizing various technologies
Utilizing software programs
Passion for educating and inspiring
Responsibilities:
Developing and maintaining relationships with students and their families
Tailoring instruction to individual student needs
Monitoring student skills and progress
Developing and implementing Individual Education Plans (IEPs)
Assisting with the development of learning plans
Implementing instructional strategies to improve student learning
Promoting student engagement and independence
Working collaboratively with school personnel to ensure student success
In addition to this, be sure to check out our resume templates, resume formats, cover letter examples, job description, and career advice pages for more helpful tips and advice.
What should be included in a Personal Tutor resume?
A personal tutor resume should include all the relevant information needed to demonstrate your skills, experience and qualifications for the role. Here are some key elements to include in your resume:
Professional Summary: Include a short overview of your professional experience and qualifications as a personal tutor.
Education: Include your highest degree or diploma, school or institution, and graduation year.
Tutoring Experience: Describe your tutoring experience, who you have tutored, and the topics you have covered.
Skills: List any relevant skills that you have—such as teaching, communication, and problem-solving—that are applicable to the role.
Achievements: Provide any awards or achievements that you have received as a tutor.
Additional Experience: List any other related working experience, such as teaching or mentoring, that you may have.
References: Include contact details and references from previous tutoring experiences.
By including these elements in your resume, you can create a comprehensive profile of your personal tutoring experience and qualifications. This will ensure potential employers can quickly and easily understand your skills and experience, making you an attractive candidate for the role.
What is a good summary for a Personal Tutor resume?
A personal tutor resume should include a summary that highlights an individual's education, experience, and qualifications for tutoring. The summary should demonstrate an ability to develop and implement successful teaching strategies that benefit students. It should also emphasize any relevant qualifications such as curriculum development and classroom management. Additionally, it should showcase any specializations or areas of expertise such as language studies and test prep. Finally, the summary should demonstrate an individual's passion for teaching and helping students reach their goals.
What is a good objective for a Personal Tutor resume?
A personal tutor is a professional who provides private instruction to individuals or small groups of students to help them learn specific skills and concepts. Because of the individualized nature of their work, tutors typically need to have strong interpersonal skills and a deep understanding of the subject matter they are teaching. When writing a resume for a personal tutoring role, it is important to include an objective that clearly outlines the applicant's qualifications and goals.
Here are some good objectives for a personal tutor resume:
To leverage my expertise in mathematics and pedagogical methods to provide personalized instruction and impart essential academic and life skills to students.
To use my creative teaching style and enthusiasm for knowledge to help students develop a thorough understanding of the material and find success in the classroom.
To leverage my in-depth knowledge of English language and literature, as well as my strong communication skills, to help students learn effectively and reach their academic goals.
To use my organized and efficient approach to teaching to help students develop the confidence and critical thinking skills they need to excel in the classroom.
To utilize my problem-solving and analytical skills to help students understand complex concepts and develop their academic ability.
How do you list Personal Tutor skills on a resume?
Before you jump into adding your personal tutor skills to your resume, it's important to understand what skills are beneficial for a tutor. As a tutor, you will be responsible for providing guidance and instruction to students looking to further their education. Therefore, having strong teaching and communication skills are a must.
When listing your personal tutor skills on a resume, you should include abilities that demonstrate your capabilities as a tutor. Here are some skills you should include:
Patience: As a tutor, you must remain patient, especially when dealing with students who are struggling to understand a concept.
Knowledge: You must be knowledgeable on the subject matter you are teaching to ensure your students can understand the material.
Communication: Being able to effectively communicate and explain difficult concepts is essential to successful tutoring.
Flexibility: You should be able to adjust to different learning styles and be able to adapt your teaching style to match the student's needs.
Time-Management: You should be able to effectively manage your time so that you can meet deadlines and ensure the student's needs are met.
Organization: You must be organized to ensure you are able to effectively plan lessons and activities.
By including these skills on your resume, you can show potential employers that you have the qualities necessary to be a successful personal tutor.
What skills should I put on my resume for Personal Tutor?
When creating a resume for a personal tutor position, the skills section should highlight the most important qualities you possess. This section should include any relevant skills and certifications that demonstrate your ability to tutor effectively. Below is a list of skills to consider adding to your resume for a personal tutor position.
Subject Matter Expertise: Demonstrate your expertise and knowledge in the academic subjects you will be tutoring. Include any college degrees, specialized certifications, or coursework that you have completed in the area of instruction.
Communication Skills: Highlight your ability to effectively communicate with students, parents, and other colleagues. Include any areas of expertise such as public speaking, writing, or teaching.
Patience and Understanding: Emphasize your ability to be patient and understanding when working with students. Demonstrate your ability to provide clear and effective instruction in a manner that is mindful of a student's age, learning ability, and cultural background.
Interpersonal Skills: Showcase your interpersonal skills by focusing on your ability to work with a variety of people. Include your experience working in collaborative or team settings to illustrate your ability to work well with others.
Technology Skills: Include any technology skills that you possess that could be beneficial for a tutoring position. This could include proficiency in popular computer programs, familiarity with online tutoring platforms, or experience using educational technology tools.
Time Management Skills: Showcase your ability to manage your time effectively and work with tight deadlines. Include any experience you have teaching students how to effectively manage their own time and prioritize tasks.
By incorporating these skills into your resume, you will be able to showcase your qualifications and experience to potential employers. With the right skills, you will be more likely to stand out as a qualified and experienced personal tutor.
Key takeaways for an Personal Tutor resume
Tutoring is a rewarding way to make a living, and a great resume is key to landing the perfect tutoring job. To stand out from the competition and attract the attention of potential employers, it is important to demonstrate your qualifications, skills and experience in the best possible way. Here are some key takeaways for creating an effective personal tutor resume.
Make sure your resume is tailored to the job. Before writing your resume, make sure you research the position and customize your resume to show how your experience, skills and qualifications are relevant to the job. Highlight any specific qualifications that are mentioned in the job posting and make sure to draw attention to successes from your previous tutoring positions.
Showcase your qualifications. Include any relevant certifications, degrees or other qualifications in your resume and provide detail on how your qualifications have enabled you to excel in past tutoring positions.
Highlight past success. Tutoring is all about results, so be sure to include any successes you've had in past positions. For example, include a list of the students you've tutored and the results they achieved.
Demonstrate your subject knowledge. Tutors are expected to be knowledgeable in their subject area, so be sure to demonstrate your knowledge of the subject. Highlight any key textbooks you've read, any seminars you've attended or any other relevant activities you've participated in.
Make use of keywords. Employers often use resume screening software, so make sure to include relevant keywords from the job posting throughout your resume.
With these key takeaways in mind, you'll be able to craft an effective personal tutor resume that will help you stand out from the competition and land your ideal tutoring job.
Let us help you build
your Resume!
Make your resume more organized and attractive with our Resume Builder