Writing a resume can seem daunting and be overwhelming, especially if you're writing one for the first time. However, with the right guidance and examples, you can be on your way to creating an impressive and effective resume that will help you land your desired job. In this blog post, I will provide a peer tutor resume writing guide with examples to help you write a strong resume. We'll cover the step by step process of creating a resume, the different sections to include, and useful tips to make your resume stand out from the rest. Let's get started!
If you didn't find what you were looking for, be sure to check out our complete library of resume examples.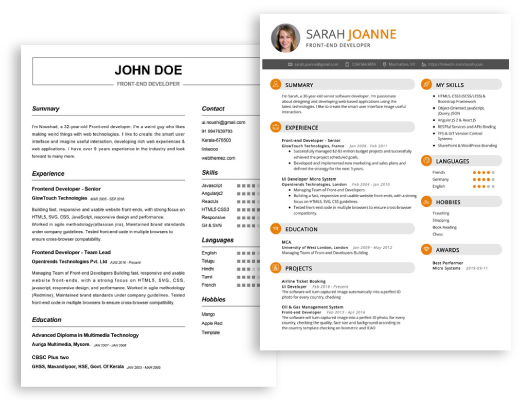 Start building your dream career today!
Create your professional resume in just 5 minutes with our easy-to-use resume builder!
Peer Tutor Resume Examples
John Doe
Peer Tutor
123 Main Street | Anytown, USA 99999 | Phone: (123) 456-7890 | Email: john.doe@email.com
Highly organized and detail- oriented individual seeking a position as a Peer Tutor. I have experience providing tutoring services with the ability to quickly identify and provide solutions to educational and technical issues. I possess strong communication and interpersonal skills, which allow me to effectively guide and support clients. Additionally, I am very knowledgeable of a variety of academic topics and have a passion for helping others reach their educational goals.
Core Skills:
Excellent communication and interpersonal skills
Ability to quickly identify and solve educational and technical issues
Proficient in Microsoft Office Suite
Strong research and problem- solving skills
Familiarity with a variety of academic topics
Able to work independently and in a team environment
Professional Experience:
Peer Tutor, ABC Learning Center – August 2018 to Present
Provide tutoring services for students in a variety of subjects
Assist with course selection and registration
Develop and execute individualized learning plans
Assist in creating and grading assessments
Instruct students on effective study techniques
Education:
ABC University – Bachelor of Science, Education – 2016 to 2020
Cumulative GPA: 3.5
Received Dean's list honors four semesters
Peer Tutor Resume with No Experience
Recent college graduate with a passion for helping others succeed. Looking to leverage my communication, problem solving and leadership skills in a Peer Tutoring position.
Skills
Verbal and written communication
Leadership
Problem solving
Adaptability
Patience
Organization
Creative thinking
Time management
Responsibilities
Assist students in understanding core concepts
Answer questions and provide guidance to students
Explain relevant material in a logical and efficient manner
Develop personalized learning plans for students
Monitor student progress and provide feedback
Adapt teaching methods to meet student needs
Organize group activities and exercises to foster learning
Maintain a positive learning environment
Assist with research and other tasks as needed.
Peer Tutor Resume with 2 Years of Experience
A highly motivated and passionate individual with two years of experience as a Peer Tutor. A strong commitment to developing and delivering one- on- one tutoring sessions to students of varying academic levels. A highly organized and efficient worker with strong communication skills, and the ability to guide students to their educational goals.
Core Skills:
Strong communication and interpersonal skills
Excellent organizational skills
Ability to provide guidance and advice
Adaptable to various teaching methods
Experienced in tutoring students of all academic levels
Proficient in all major computer applications
Responsibilities:
Design and deliver tutoring sessions tailored to the student's needs
Listen and understand student's requirements
Create effective learning plans
Develop lesson plans and provide homework help
Conduct assessments to track progress
Identify areas of improvement and provide feedback
Provide counsel and advice to students
Collaborate with other tutors to ensure quality of services
Maintain student records and track progress
Assist in the development of teaching materials
Ensure a safe, comfortable and distraction- free learning environment.
Peer Tutor Resume with 5 Years of Experience
I am an experienced peer tutor with five years of experience in providing guidance and assistance to students on a wide range of topics. I have a strong background in math, science, and English and have experience in teaching a variety of courses at the middle and high school level. My primary goal is to help students understand the material better, improve their grades, and develop the essential skills needed for success in the academic setting. My teaching style is tailored to each individual student, offering personal attention and extensive support while encouraging critical thinking and problem- solving skills.
Core Skills:
Expertise in math, science, and English
Ability to create and teach engaging lessons
Experience in developing study plans and tutoring schedules
Highly adept at understanding individual student needs
Excellent communication and interpersonal skills
Patience and understanding in a teaching environment
Proficient in using technology for instruction
Responsibilities:
Worked with students individually and in small groups to build academic skills
Developed and implemented lesson plans in math, science, and English
Assisted students in understanding and mastering course material
Established realistic goals and expectations for students
Created and evaluated course materials to ensure their accuracy
Provided one- on- one tutoring and tailored teaching plans
Monitored student progress and offered feedback
Developed strategies to improve learning and academic performance
Collaborated with teachers to ensure quality instruction
Participated in professional development activities.
Peer Tutor Resume with 7 Years of Experience
A highly experienced peer tutor with seven years of experience educating students at the K- 12 level in a variety of subject matters. Expertise in utilizing evidence- based teaching strategies to ensure that students are engaged in the material and that their learning needs are met. Proven record of successfully enhancing student learning and achievement through one- on- one and small group tutoring.
Core Skills:
Subject knowledge in Math, English, History, and Science
Strong communication and interpersonal skills
Knowledge of evidence- based teaching strategies
Ability to create engaging, student- centered learning environments
Excellent organizational and time management skills
Responsibilities:
Work one- on- one and in small groups with students to provide individualized instruction
Adapt teaching strategies to meet the needs of diverse learners
Provide clear explanations of concepts and assignments
Monitor student progress and provide feedback
Create and implement individualized plans to help students achieve learning outcomes
Assist students in identifying areas of improvement and develop strategies for success
Collaborate with teachers to review and improve tutoring plans
Peer Tutor Resume with 10 Years of Experience
A highly experienced Peer Tutor with 10 years of professional expertise in providing academic assistance to students in all subject areas. Experienced in understanding student's individual needs and tailoring learning strategies to foster academic success. Possesses a strong academic background and has a natural ability to motivate and encourage students. Proficient in analyzing student progress and developing innovative approaches to learning.
Core Skills:
Effective Tutoring Techniques
Analyzing Student Progress
Monitoring Student Progress
Motivating Students
Developing Innovative Approaches to Learning
Developing Strategies for Academic Success
Managing Student Behavior
Providing Academic Assistance
Excellent Verbal and Written Communication
Responsibilities:
Providing one- on- one tutoring services to students in all subject areas
Developing individualized learning plans to meet student needs
Monitoring student progress and providing feedback to students and their families
Instructing and motivating students in the use of effective learning strategies
Conducting student assessments to identify areas of strength and weakness
Developing and implementing strategies to improve student performance
Collaborating with teachers and other school staff to ensure student success
Maintaining accurate student records and providing them to school personnel
Creating a positive learning environment and fostering a love of learning.
Peer Tutor Resume with 15 Years of Experience
A highly experienced and organized Peer Tutor with 15 years of experience providing individualized and small group instruction to help students of all ages and abilities improve their academic and social skills. Possesses a strong track record of success in providing tailored instruction to meet the individual needs of each student. Skilled in developing and delivering lesson plans, setting clear expectations for behavior and performance, and monitoring progress. Specializes in making learning fun and engaging, and enjoys the challenge of helping students successfully reach their goals.
Core Skills:
Strong knowledge of academic and social skill development
Ability to design and deliver tailored instruction
Skilled in developing engaging lesson plans
Confident in setting clear expectations and monitoring progress
Expertise in adapting instruction to meet individual needs
Excellent communication and interpersonal skills
Responsibilities:
Assessed individual student needs, identified educational goals, and created individualized learning plans
Developed and implemented engaging curriculum to meet goals
Monitored student progress and provided feedback to parents and teachers
Developed creative activities and materials to help students understand and retain information
Established and enforced clear expectations for student behavior
Motivated and encouraged students to reach their goals
Tutored students in a variety of subjects including math, language arts, science, and history
In addition to this, be sure to check out our resume templates, resume formats, cover letter examples, job description, and career advice pages for more helpful tips and advice.
What should be included in a Peer Tutor resume?
A peer tutor resume should include your qualifications and experience in order for potential employers to determine if you're a suitable candidate for the role. It should demonstrate your knowledge and skills in teaching, providing guidance and support to students. Here are some of the key elements to include in your peer tutor resume:
Summary: A brief overview of your experience, qualifications, and skill set.
Education: Include any relevant qualifications in education, teaching, or tutoring.
Experience: List any experience you've gained in teaching, tutoring, or providing guidance and support.
Skills: Describe your skills in communication, problem-solving, and working with students of different ages and abilities.
Other: Include any additional information that could be relevant, such as awards or certifications.
A well-crafted peer tutor resume will show employers that you're qualified to provide guidance and support to students. By including the above elements in your resume, you'll ensure you have the best chance of securing a job as a peer tutor.
What is a good summary for a Peer Tutor resume?
A peer tutor resume should provide a summary of an individual's experience in teaching and learning. It should list any qualifications related to teaching, such as certifications, training, and education. The resume should also provide details of any tutoring experience, including the subjects taught and any successful outcomes. The summary should be succinct and provide highlights of the individual's accomplishments rather than a list of every tutoring job they have held. Finally, it should include any additional education, certifications, or volunteer work related to teaching and learning. A peer tutor resume should represent the best version of an individual's experience and show why they would be a valuable asset to the organization they are applying to.
What is a good objective for a Peer Tutor resume?
A peer tutor is someone who provides academic instruction and mentoring to students. Having a strong objective statement on your peer tutor resume is a great way to stand out from the competition and demonstrate your passion for helping others learn. When crafting your objective statement, consider the following points:
Demonstrate your genuine interest in tutoring and helping others learn
Highlight your relevant educational background and experience
Showcase your strong teaching skills and ability to adapt to different learning styles
Emphasize your communication and interpersonal skills
Display your organizational and time management abilities
Showcase your ability to work independently, as well as with a team
A good objective for a peer tutor resume should communicate your commitment to helping others learn and succeed. It should also showcase your teaching experience, interpersonal skills, and organizational abilities, as well as demonstrate your passion for education and learning.
How do you list Peer Tutor skills on a resume?
When applying for a peer tutoring job, it is important to highlight your relevant skills on your resume. A peer tutor must have excellent communication and interpersonal skills, as well as knowledge in a given subject. Here are some of the most important peer tutor skills to list on a resume:
Excellent communication and interpersonal skills: Peer tutors must be able to effectively communicate with their students, build relationships, and be open to questions.
In-depth knowledge of the subject: A peer tutor should have extensive knowledge in the subject they are tutoring.
Patience and understanding: Peer tutors must be patient with their students and understand that everyone learns differently.
Creative problem-solving and patience: Peer tutors must be able to think of creative ways to explain complex concepts and help their students understand them.
Organizational and time management skills: Peer tutors must be organized and be able to effectively manage their time to create lesson plans, schedule tutoring sessions, and prepare materials.
Knowledge of learning techniques: Peer tutors must understand different learning techniques so they can effectively teach their students.
By including these skills on your resume, you will be able to demonstrate to employers your qualifications to be a successful peer tutor.
What skills should I put on my resume for Peer Tutor?
As a tutor, your resume should demonstrate your strengths in communication, problem-solving, and teaching. To make a strong impression on employers, consider including the following skills in your resume:
Expertise in Subject Matter: Display your knowledge of the material you are qualified to tutor. Demonstrate your education background, such as a degree in the subject matter, as well as any courses taken or certifications earned.
Active Listening: Being a good listener is essential for tutors. Showcase your ability to understand and respond to student challenges and questions.
Patience: Tutoring can be a challenging job, requiring a lot of patience. Demonstrate your ability to stay composed in difficult situations and remain positive when working with students.
Communication: Explain how you are able to break down complex material into simpler concepts and ensure that students are able to understand.
Time Management: Showcase your ability to plan and manage your time and the student's time effectively.
Creativity: Demonstrate your ability to think outside the box and come up with creative solutions to problems.
These are just some of the skills that may be useful to highlight on your peer tutor resume. Consider what skills you can speak to specifically and make sure that you include any relevant experience or qualifications you may have.
Key takeaways for an Peer Tutor resume
When crafting your resume as a peer tutor, it's important to keep in mind the unique skills and abilities you bring to the position. A peer tutor must be knowledgeable, patient, and organized, as well as having excellent communication skills. Below we'll discuss some key takeaways for the perfect peer tutor resume.
Highlight your education.
Your education is key to your success as a peer tutor. Be sure to include all relevant degrees and relevant coursework in your resume. This should include both academic and professional development. If you have any certifications or licenses, also include those.
Include relevant experience.
Do you have any experience as a tutor, either in a formal or informal setting? If so, be sure to include it on your resume. Include details such as the names and ages of the students you tutored, the type of tutoring you did, and the results you achieved. If you have any teaching or leadership experience, include that as well.
Demonstrate your skills.
Peer tutors must have strong communication and problem solving skills in order to be successful. Make sure to highlight these skills on your resume by including examples of how you have used them in the past.
Show your willingness to learn.
Being a peer tutor requires a commitment to continuing education. Demonstrate your enthusiasm for learning by including any relevant professional development activities or certifications you've completed.
Highlight your passion.
Above all, a peer tutor needs to be passionate about the subject they are tutoring. Don't be afraid to include a brief statement about why you love the subject you tutor, as well as any other activities you do that demonstrate your passion.
By following these tips, you'll be sure to have a strong resume that will make you stand out as a peer tutor. With the right combination of education,
Let us help you build
your Resume!
Make your resume more organized and attractive with our Resume Builder