Writing a resume for an online tutor position can be intimidating. You want to demonstrate your ability to teach, but at the same time, you need to create a document that stands out from the competition. It can be difficult to know what to include, what not to include and how to present the information in a way that is both professional and illustrates your skills. Fortunately, this guide will cover all the important details you need to create a standout online tutor resume. By outlining key elements such as outlining the core responsibilities, highlighting education and certification, and providing examples of past achievements, you can create a resume that will be sure to have you at the top of the list of applicants.
If you didn't find what you were looking for, be sure to check out our complete library of resume examples.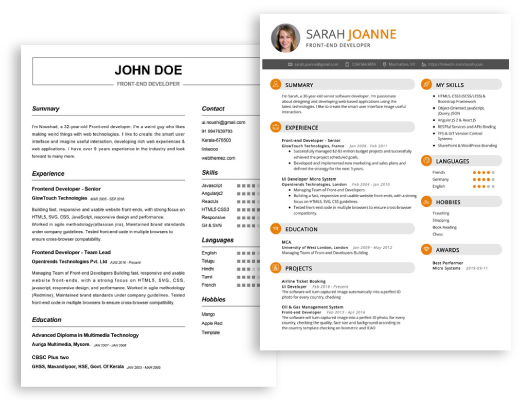 Start building your dream career today!
Create your professional resume in just 5 minutes with our easy-to-use resume builder!
Online Tutor Resume Examples
John Doe
Online Tutor
123 Main Street | Anytown, USA 99999 | Phone: (123) 456-7890 | Email: john.doe@email.com
I am an experienced Online Tutor with over five years of experience in providing in- depth tutoring sessions to students of varying ages and educational backgrounds. I am passionate about helping students unlock their full potential and fostering independent learning skills. I have a strong background in language and writing and am familiar with the latest technology and software programs used in tutoring. I am also adept at maintaining open lines of communication with parents to ensure that the student is making consistent progress.
Core Skills:
Customized Tutoring Programs
Seminar and Group Instruction
Assessment and Evaluation
Curriculum Development
Online Tutoring Experience
Computer- Assisted Learning
Creative and Visual Communication
Student Administration
Professional Experience:
Online Tutor, TutorMe – New York, NY | Jan 2018 – Present
Developed comprehensive classroom materials and lesson plans for a variety of subject areas.
Conducted online tutoring sessions for students of all ages.
Utilized advanced technologies and software for online tutoring.
Monitored student progress and provided feedback to students and parents.
Maintained records of student progress in an organized fashion.
Online Tutor, TutorU – Miami, FL | Sept 2016 – Dec 2017
Structured independent learning plans to meet each student's individual needs.
Assisted students with their homework assignments and special projects.
Implemented creative teaching methods to engage students and maintain interest.
Developed and administered assessments to evaluate student progress.
Education:
Bachelor of Arts in Education, New York University, New York, NY | May 2016
Online Tutor Resume with No Experience
Dedicated and motivated individual looking to begin a career as an online tutor. Have the ability to communicate effectively and a passion for teaching.
Skills:
Strong organizational and communication skills
Ability to explain concepts clearly and concisely
Excellent problem- solving skills
Well- developed interpersonal skills
Patient and understanding
Responsibilities:
Provide students with adequate learning materials
Monitor students' progress and provide feedback
Encourage students to ask questions and engage in discussions
Answer students' questions in a timely and accurate manner
Monitor students' behavior and encourage them to stay on task
Modify lesson plans to suit individual students' learning needs
Online Tutor Resume with 2 Years of Experience
Dedicated, organized, and passionate online tutor with two years of experience in providing high- quality and personalized tutoring services to a wide variety of students. Skilled in developing lesson plans and a teaching style that best fit the individual's needs, as well as in using engaging activities and visual aids. Highly motivated and passionate about teaching, with an enthusiasm for helping students reach their academic goals.
Core Skills:
Excellent communication and public speaking skills
Strong organizational and time management skills
Knowledge of relevant educational theories and methods
Proficiency in using various teaching technologies
Ability to build strong relationships with students
Keen attention to detail
Ability to motivate and inspire students
Responsibilities:
Develop and customize lesson plans based on each student's needs and learning style
Provide students with helpful feedback and additional educational resources
Implement innovative teaching techniques and activities to hold student's attention
Maintain a safe and nurturing learning environment
Monitor and evaluate student performance
Assist students in developing their critical thinking and problem- solving skills
Answer student questions and address any issues they may have
Online Tutor Resume with 5 Years of Experience
I am an experienced and passionate Online Tutor with 5 years of experience in teaching and tutoring. I am a highly motivated and organized individual who excels in planning, implementing, and managing the instruction of students in both group and individual settings. I have a deep understanding of the subjects I teach and have the ability to effectively communicate and share my knowledge with students. I have a proven track record of success in helping students learn and understand complex concepts, and I am confident that I can help make a difference in the lives of my students.
Core Skills:
Excellent communication and interpersonal skills
Highly organized and detail- oriented
Proficient in online tutoring and instruction
Strong problem- solving and analytical skills
Proficient in Microsoft Office Suite and other online instruction tools
Ability to recognize individual student needs
Responsibilities:
Developing and implementing effective instructional strategies
Providing timely and consistent feedback to students
Maintaining strong relationships with students and parents
Assisting students with study and organization skills
Creating and delivering engaging lessons
Designing and implementing assessments to measure progress
Providing support and guidance to students in furthering their academic goals
Collaborating with other staff and teachers to ensure student success
Online Tutor Resume with 7 Years of Experience
A highly experienced Online Tutor with 7 years of experience in providing students with comprehensive learning experiences. Proven ability to develop engaging lessons plans and resources to improve student achievement. Skilled in providing support to students individually and within a group setting. Dedicated to helping students become active and independent learners.
Core Skills:
Ability to create engaging learning experiences
Strong communication skills
Excellent organizational skills
Patient and motivating personality
Proficiency in online tutoring
Knowledge of educational assessment tools
Responsibilities:
Developing and delivering online learning experiences and lessons
Designing and maintaining interactive, student- centered learning environment
Monitoring and assessing student progress
Assisting students with educational objectives
Providing support to students with special educational needs
Creating and managing detailed lesson plans
Creating and utilizing educational assessment tools
Facilitating communication between students and parents
Online Tutor Resume with 10 Years of Experience
Experienced tutor with 10 years' teaching experience in a variety of fields. Skilled in developing strategies to help students of all ages succeed in academic and extracurricular pursuits. Possesses excellent communication and interpersonal skills and a passion for helping others. Specializing in Math and English, with additional skills in Science and History.
Core Skills:
Effective communicator
Relationship- building
Adaptable to different learning styles
Experienced in classroom management
Exceptional problem- solving
Skilled in research and data analysis
Advanced writing and editing
Responsibilities:
Developed and implemented lesson plans tailored to each student
Assessed student progress and provided ongoing feedback
Facilitated one- on- one and small group tutorials
Encouraged positive learning experiences and positive attitudes
Assisted with test preparation and studying techniques
Developed creative learning activities and exercises
Cultivated effective relationships with parents and guardians
Online Tutor Resume with 15 Years of Experience
I am an experienced Online Tutor with over 15 years of experience in providing quality support in educating students from all background, ages, and levels. I have a passion for teaching and have implemented various strategies and techniques to ensure that my students not only understand the material but also have a love for the subject. My core competencies include creating educational materials, assessing student progress, and providing 1- on- 1 tutoring.
Core Skills:
Expert in online teaching, tutoring, and mentoring
Excellent interpersonal and communication skills
Ability to develop relationships with students and families
Experienced in creating innovative teaching materials
Proficient in assessing student performance
Skilled in working with students of varying levels of academic achievement
Responsibilities:
Developing and implementing lesson plans to meet the individual needs of students
Working with students 1- on- 1 in online tutoring sessions
Creating innovative teaching materials to engage students and facilitate learning
Assessing and evaluating student progress to develop individual plans for improvement
Working with parents and families to ensure the best outcome for the student
Participating in team meetings and professional development activities
In addition to this, be sure to check out our resume templates, resume formats, cover letter examples, job description, and career advice pages for more helpful tips and advice.
What should be included in a Online Tutor resume?
Having an online tutor resume that stands out is an important part of successfully finding a job tutoring online. As with any job, employers are looking for certain skills and qualifications and your resume should reflect that. Here is a guide to what should be included in an online tutor resume:
Personal Information: Be sure to include your name, address, and contact details so employers can easily reach out to you.
Education: Include all educational qualifications, such as qualifications from any online courses you have taken and any relevant degrees.
Professional Skills and Qualifications: This is a great opportunity to highlight any skills and qualifications you have acquired through tutoring. List any specializations, areas of expertise, and any other qualifications that can help you demonstrate your ability to tutor online.
Experience: Include any online tutoring experience you may have, such as the length of time you have been tutoring and any specific areas of expertise.
References: Include references from past employers and any other professional contacts you may have.
Areas of Interest: If you have any particular areas of interest that you would like to specialize in, include them in your resume. This can help employers understand what type of work you are qualified to do.
By following this guide, you can create a resume that puts your best foot forward and increases your chances of landing a job as an online tutor. Good luck!
What is a good summary for a Online Tutor resume?
A good summary for an Online Tutor resume should highlight a person's skills and experience in teaching and helping students learn. It should also include their qualifications in the subject area they are teaching and any relevant certifications or degrees. The summary should clearly demonstrate the individual's ability to provide quality instruction, engage and motivate students, and help them reach their learning goals. It should also mention any positive feedback they have received from students and parents. Finally, the summary should make it clear that the individual is committed to helping students succeed and is a reliable, dedicated, and knowledgeable tutor.
What is a good objective for a Online Tutor resume?
A good objective for an Online Tutor resume should communicate your experience in the field and the skills you possess that make you an ideal candidate for the job.
Here are some examples of objectives for an Online Tutor resume:
To secure an Online Tutoring position that utilizes my passion for teaching and my ability to use a variety of interactive tools to engage students in the learning process.
To obtain an Online Tutor role that challenges me to utilize my expertise in developing and delivering educational content
Seeking an Online Tutoring position that will allow me to use my strong interpersonal and communication skills to create positive learning experiences for students.
To obtain an Online Tutoring role that allows me to utilize my creativity and innovative teaching approaches.
To leverage my experience in online tutoring to contribute to the growth and success of a dynamic educational organization.
Seeking an Online Tutor position that offers the opportunity to strengthen my skills in educational technologies and creative problem solving strategies.
To obtain a challenging Online Tutor role that will offer me a chance to use my instructional design and development experience.
How do you list Online Tutor skills on a resume?
When listing online tutor skills on a resume, it is important to emphasize the qualifications and certifications that make you a suitable candidate. Your resume should highlight any training, qualifications, and experience you have that makes you stand out from other applicants. Here are some of the key online tutor skills you should include on a resume:
Knowledge of the Subject Area: Demonstrate your knowledge and experience in the subject you will be tutoring in by citing any relevant qualifications or certifications.
Online Teaching Experience: If you have experience teaching students in an online or virtual setting, mention it. Be sure to include the number of students you've taught, as well as any specific techniques you used to help them learn.
Effective Communication: Highlight your communication skills, such as your ability to explain complex topics in an easily understandable manner.
Patience and Organization: Online tutoring requires patience and organization. Be sure to emphasize both of these skills on your resume.
Time Management: Show that you are able to manage your time effectively and meet deadlines.
Technology Proficiency: Demonstrate you are comfortable with the technology and software used for online tutoring, including video conferencing applications, online whiteboards, and more.
By including these skills on your resume, you can demonstrate that you have the knowledge and expertise necessary to be an effective online tutor.
What skills should I put on my resume for Online Tutor?
Online tutoring is becoming an increasingly popular way to help students master tough subjects—and it can be a great way to make money on the side. To help you get hired, here are some essential skills and qualities you should include on your resume when applying for an online tutor role.
Knowledge of Tutoring Software: The ability to use a variety of software programs designed for tutoring is essential for any online tutor. Be sure to highlight your knowledge of programs such as Skype, Zoom, Google Classroom, and other online tutoring tools.
Interpersonal Skills: The ability to build rapport and effectively communicate with students is key in any teaching role. You should highlight your experience in engaging with students, providing feedback, and helping them understand complex concepts.
Patience: Online tutors must be patient and understanding of their students' needs and learning styles. Be sure to emphasize your experience in working with a variety of students of different ages and levels of knowledge.
Flexibility: As an online tutor, you'll need to be flexible enough to accommodate different student schedules. Make sure to highlight your ability to create lesson plans and be available to tutor during various times of the day and week.
Time Management: Online tutoring requires excellent time management skills. Showcase your ability to work efficiently and stay organized by highlighting any experience you have in managing multiple tasks and staying on top of deadlines.
By showcasing these skills and qualities on your resume, you'll be sure to make an excellent impression on potential employers and increase your chances of becoming an online tutor.
Key takeaways for an Online Tutor resume
When crafting your online tutor resume, there are certain essential elements to include in order to stand out and land the job. Here are a few key takeaways to consider when writing your resume:
Highlight the areas where you excel: An online tutor resume should focus on your areas of expertise and highlight your teaching abilities. Make sure to clearly list any certifications or degrees you may have and any relevant experience such as teaching experience, tutoring experience, or any volunteer work.
Showcase your digital skills: As an online tutor, you must be comfortable with digital technology. Be sure to include any digital skills such as working with online learning platforms, video conferencing, or other relevant software you may use during a tutoring session.
Demonstrate your ability to teach online: You should illustrate that you are confident in your ability to teach online. Include examples of how you have successfully managed online classes, tutoring sessions, or any other online teaching situations.
Demonstrate your ability to work with different types of students: You should be able to show that you are able to work with different types of students, from different backgrounds and cultures. Demonstrate your ability to be flexible and adaptable to different learning styles.
By following these guidelines, you will be able to create a strong resume that will help you stand out from the competition and get the online tutoring job you're looking for.
Let us help you build
your Resume!
Make your resume more organized and attractive with our Resume Builder