One of the most important skills for a nurse to possess is the ability to think critically and quickly in order to make the best decisions for their patients. As such, it's essential for aspiring nurses to have a well-crafted resume that showcases their qualifications and experience. For those who are looking for guidance on crafting the perfect resume, this guide offers tips and advice on how to create an effective nursing tutor resume. In addition, several examples of nursing tutor resumes will be provided to give an idea of what a great resume looks like. With this comprehensive guide and examples, individuals will have the confidence they need to stand out from the competition.
If you didn't find what you were looking for, be sure to check out our complete library of resume examples.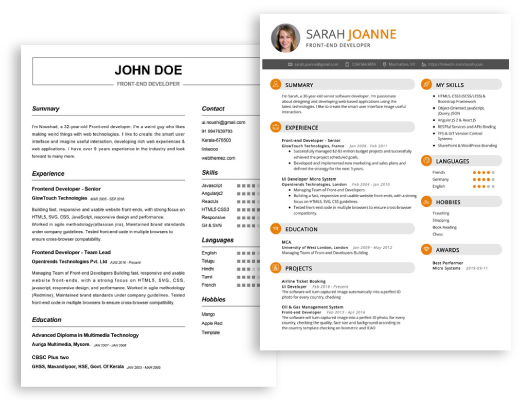 Start building your dream career today!
Create your professional resume in just 5 minutes with our easy-to-use resume builder!
Nursing Tutor Resume Examples
John Doe
Nursing Tutor
123 Main Street | Anytown, USA 99999 | Phone: (123) 456-7890 | Email: john.doe@email.com
I am a registered nurse with more than 20 years of professional experience in the healthcare industry. During this time, I have developed a proven track record of success in providing clinical- based education and training to a wide range of nursing and medical professionals. In my current role, I serve as a nursing tutor, designing and delivering comprehensive learning programs to students. I also provide clinical support and mentorship to both students and faculty, ensuring the highest standards of care are met. My core skills include instructional design, facilitating learning, problem- solving, and evaluation of practice.
Core Skills:
Instructional design
Facilitating learning
Problem- solving
Evaluation of practice
Clinical support
Mentorship
Professional Experience:
Nursing Tutor, ABC Healthcare, 2015- present

Design and deliver comprehensive learning programs to nursing students
Create and maintain a safe and conducive learning environment
Assess student progress through tests and assessments
Provide clinical support and mentorship to both students and faculty

Registered Nurse, Hospital, 2000- 2015

Provided evidence- based nursing care to patients in a variety of settings
Developed patient care plans and administered medications
Assisted in the implementation and maintenance of policies and procedures
Collaborated with interdisciplinary teams to coordinate patient care
Education:
Bachelor of Science in Nursing, University of XYZ, 2000
Nursing Tutor Resume with No Experience
A passionate nursing student looking to gain practical experience in the field by tutoring students of all levels. Experienced in teaching, patient care, and teamwork, with a desire to help others reach their fullest potential.
Skills
Excellent communication and interpersonal skills
Proficient in medical terminology
Strong problem- solving and analytical skills
Ability to work independently and in a team
Knowledge of anatomy and physiology
Compassionate and patient
Strong work ethic
Responsibilities
Provide guidance and support to students on nursing concepts and theories
Work with students to improve their academic performance
Provide feedback on assignments and tests
Stay updated on the latest nursing advances and practices
Assist in the development and implementation of lesson plans
Answer questions and provide support to students
Provide one- on- one tutoring sessions and group sessions for students with learning disabilities
Nursing Tutor Resume with 2 Years of Experience
Highly motivated and experienced Nursing Tutor with two years of experience working in educational settings. Broad knowledge of nursing fundamentals and exceptional communication, problem- solving, and interpersonal skills. Proven success in developing and executing effective lesson plans and activities to engage students in learning and help them develop their nursing skills. Dedicated to providing superior quality education and training to nursing students.
Core Skills:
Exceptional problem- solving and interpersonal skills
Excellent verbal and written communication
Comprehensive knowledge of nursing fundamentals
Ability to create and deliver engaging lesson plans
Competent in planning and organizing educational activities
Proficient in the use of computer applications
Responsibilities:
Develop and implement lesson plans to teach nursing fundamentals
Facilitate group activities and discussions to engage students in learning
Assist students in understanding and applying course material
Monitor students' progress and assess performance
Provide individualized student support and guidance
Maintain records of students' attendance and grades
Monitor and enforce school regulations and policies
Nursing Tutor Resume with 5 Years of Experience
Highly experienced and certified Nursing Tutor with 5+ years of experience teaching nursing to students of all ages. Professional with excellent patient care skills and critical thinking and problem solving abilities. Detail- oriented and organized with the capacity to multitask. Skilled in guiding nursing students through the learning process and providing effective feedback and support to ensure their success.
Core Skills:
Teaching experience
Curriculum development
Communication and interpersonal skills
Patient and staff care
Clinical skills
Critical thinking
Problem solving
Responsibilities:
Developed and implemented curriculum plans to meet the intellectual, physical, and social needs of nursing students.
Established clear objectives and expectations to ensure successful learning outcomes.
Coordinated with faculty, staff, and administrators to provide the best learning environment for students.
Planned and implemented clinical activities and laboratory sessions in accordance with educational standards.
Assessed and provided feedback on student performance on a regular basis.
Evaluated students' academic progress and prepared end- of- term reports.
Developed and applied assessments to measure student learning outcomes.
Assisted with preceptorship programs for new students.
Monitored student behavior and provided guidance on appropriate behavior.
Participated in professional development activities and conferences.
Nursing Tutor Resume with 7 Years of Experience
Nursing Tutor with 7 years of experience in teaching and mentoring nursing professionals. Dedicated educator with a passion for helping students learn and grow in the field of nursing. Committed to facilitating a learning environment that encourages critical thinking, active learning, and collaboration.
Core Skills:
Instructing and Mentoring
Curriculum Development
Demonstrating Clinical Skills
Collaborative Problem- Solving
Classroom Management
Student Assessment
Communication
Responsibilities:
Design and implement curriculum for nursing courses
Instruct and mentor nursing students in clinical, laboratory, and lecture settings
Provide guidance to students as they apply theoretical learning to real- world scenarios
Encourage students to think critically, ask questions, and explore concepts
Develop and administer assessments to evaluate student performance
Collaborate with faculty and staff to ensure curriculum meets standards
Maintain current knowledge of nursing practices, standards, and trends
Nursing Tutor Resume with 10 Years of Experience
Experienced and knowledgeable nursing tutor with 10+ years of experience in providing individualized assistance to nursing students. Possess excellent writing and organizational skills, including the ability to create and deliver lectures and presentations on nursing topics. Adept in coaching and mentoring students to help them build the necessary skills to become successful nurses. Proven track record of connecting with students to create a stimulating learning environment with the goal of student success in mind.
Core Skills:
Strong knowledge of nursing concepts and clinical procedures
Ability to mentor and coach nursing students
Excellent verbal and written communication skills
Extensive experience in curriculum development
Ability to develop individualized lesson plans
Knowledge of various learning styles and teaching methods
Responsibilities:
Instruct and supervise nursing students in a classroom, lab and/or clinical setting
Develop and implement individualized lesson plans to engage students in the learning process
Assess student progress and provide feedback on performance
Prepare lectures, activities and presentations for nursing courses
Assist in the development of new curricula and instructional materials
Engage in research activities to advance the field of nursing
Provide personal attention to students in need of additional support
Nursing Tutor Resume with 15 Years of Experience
Nursing Tutor with 15+ years of experience offering expertise in nursing theory and clinical practice. Possess a broad understanding of diverse evidence- based practice, teaching methods, and curriculum design. Experienced in developing educational materials and assessing academic progress. Dedicated to fostering an environment of learning and student success.
Core Skills:
Strong knowledge of anatomy, physiology, and pathology
Clinical knowledge of medical and nursing terminology
Ability to assess academic progress and learning needs
Excellent communication and teaching skills
Ability to create effective learning materials
Proficient in Microsoft Office and other educational technologies
Responsibilities:
Design and teach courses in nursing theory and clinical practice
Assess student progress and provide individualized feedback
Assist students in developing their clinical skills
Create educational materials such as lesson plans, lecture notes, and assessment tools
Collaborate with faculty members to design and implement curricula
Develop and update course objectives and learning outcomes
Mentor and advise students on academic and career paths
In addition to this, be sure to check out our resume templates, resume formats, cover letter examples, job description, and career advice pages for more helpful tips and advice.
What should be included in a Nursing Tutor resume?
Being a nursing tutor is an incredibly rewarding job, as it allows you to help future nurses succeed in their field. To become a successful tutor, a nursing tutor resume must showcase your qualifications and experience. Here are some tips for what to include in your nursing tutor resume:
Education: List your educational qualifications, including any degree programs in nursing or education that you have completed. Include any licensures, certifications, or special trainings related to nursing education.
Experience: Include any teaching or nursing experience that you have. Make sure to list the courses and topics you have lectured on, as well as the locations you have worked in.
Skills: Showcase your skills as a tutor, such as your ability to develop high-quality course material, to engage with students, and to assess and evaluate student performance.
References: Provide contact information for at least three references that can vouch for your experience and qualifications.
By including the key components mentioned above, you can create an impressive nursing tutor resume that will help you stand out from the competition and get the job!
What is a good summary for a Nursing Tutor resume?
A good summary for a Nursing Tutor resume should highlight the individual's experience, knowledge, and expertise in providing quality instruction to nursing students. It should emphasize the unique educational qualifications, as well as any relevant experience and accomplishments that demonstrate the individual's aptitude for teaching. The summary should also emphasize any specialized training or certification that the individual may possess. Additionally, the summary should clearly state the individual's passion and commitment to the field of nursing, as well as any other relevant skills that the individual may have such as strong communication and problem solving skills.
What is a good objective for a Nursing Tutor resume?
A nursing tutor resume should include an objective that accurately and succinctly outlines the candidate's qualifications, goals and achievements.
A good objective for a nursing tutor resume should include the following points:
Demonstrate knowledge of nursing principles, practices and procedures
Possess strong communication and interpersonal skills
Ability to assess and evaluate student's performance
Capacity to develop and provide effective orientation and training programs
Able to create and implement effective learning strategies
Ability to use computer technologies for instructional purposes
Experience in teaching and demonstrating nursing skills
Motivate and mentor students to reach their highest potential
A strong objective on a nursing tutor resume will help employers to quickly identify the skills and background of the candidate and determine if they are the right fit for the position. By including the above qualities in the objective, the candidate can demonstrate their commitment to helping students learn and excel in the nursing field.
How do you list Nursing Tutor skills on a resume?
Nursing tutors need to possess a wide range of skills to assist students in meeting their educational goals. When listing nursing tutor skills on a resume, it is important to highlight both classroom and clinical skills.
To adequately capture the necessary skills, list competencies that demonstrate your ability to lead, instruct, and assess student performance. You can use the following list of skills as a guide when creating your resume:
Ability to communicate knowledge and instruction in a clear and concise manner
Knowledge of nursing theories, techniques, and best practices
Ability to develop and implement learning plans and activities
Ability to evaluate, assess, and provide feedback on student performance
Proficiency in using educational technology, such as learning management systems, to deliver instruction
Ability to motivate and accommodate different learning styles
Familiarity with various nursing topics, including anatomy, physiology, and pharmacology
Ability to create and maintain a safe and productive learning environment
Strong organizational and problem-solving skills
Ability to work independently and collaboratively with colleagues and students
Demonstrated commitment to continuing education and professional development
By including these skills on your resume, you can ensure that you capture the attention of potential employers and demonstrate your capabilities as a nursing tutor.
What skills should I put on my resume for Nursing Tutor?
Nursing Tutor positions require a variety of skills to be successful in the position. When creating a resume for a Nursing Tutor position, you should emphasize the skills that make you a strong candidate for the job. Here are some skills to consider including on your resume:
Thorough knowledge of nursing concepts: As a Nursing Tutor, you must have a deep understanding of nursing concepts and be able to explain them effectively to your students.
Ability to adapt to different teaching styles: You must be able to identify the best teaching style for each student and adjust your teaching approach accordingly.
Excellent communication skills: As a Nursing Tutor, you must be able to explain complex concepts in a clear and understandable way to your students.
Strong organizational skills: You must be able to organize your course materials and lectures in a way that is easy to follow and understand.
Patience and understanding: You must be able to stay calm and understanding when working with students who are struggling to understand a concept.
Excellent problem-solving skills: You must be able to identify problems and come up with creative solutions to help your students overcome their difficulties.
Creative lesson planning: You must be able to come up with engaging and interactive lesson plans that keep your students interested in the material.
Key takeaways for an Nursing Tutor resume
The nursing profession is a challenging and rewarding one that requires special qualifications. For those who want to serve as a tutor, a resume that highlights the relevant experience and expertise is essential. As an experienced Nursing Tutor, your resume should emphasize the skills and experience you have acquired in the field. Here are a few key takeaways that should be included in any resume for a Nursing Tutor:
A comprehensive understanding of nursing procedures and protocols: Nursing Tutors must be knowledgeable in up-to-date policies, procedures, and protocols in order to effectively support the learning process of their students. They should demonstrate that they have a deep understanding of best practices in the field.
Expertise in teaching methods: Nursing Tutors must be knowledgeable in instructional methods and strategies. They must understand the principles of adult learning and be able to apply them in their teaching.
Excellent communication skills: Tutors must be able to articulate complex concepts in a way that is easy for students to understand. They should be able to communicate with students, faculty, and other medical professionals in a professional and courteous manner.
Demonstrated ability to work collaboratively: Nursing Tutors must be able to work collaboratively with multiple stakeholders in order to provide effective support to their students. They should have experience in working with faculty, students, and other medical professionals in order to ensure that their students are receiving the best possible education.
Including these key takeaways in a resume for a Nursing Tutor will help showcase your qualifications and expertise to potential employers. It is also important to include any relevant volunteer work or professional development activities, as well as relevant certifications or licenses. With the right qualifications, a Nursing Tutor can help students reach their potential in the field.
Let us help you build
your Resume!
Make your resume more organized and attractive with our Resume Builder