Are you a master teacher who wants to make sure your resume stands out? Writing a great resume is an important part of your job search. It gives potential employers an insight into your skills, qualifications and experience. With a master teacher resume, you need to highlight your qualifications, certifications, and expertise. To ensure a great resume and maximize your job prospects, it is important to use the right words and structure. This guide provides an overview of the resume writing process and provides examples of resumes for master teachers.
If you didn't find what you were looking for, be sure to check out our complete library of resume examples.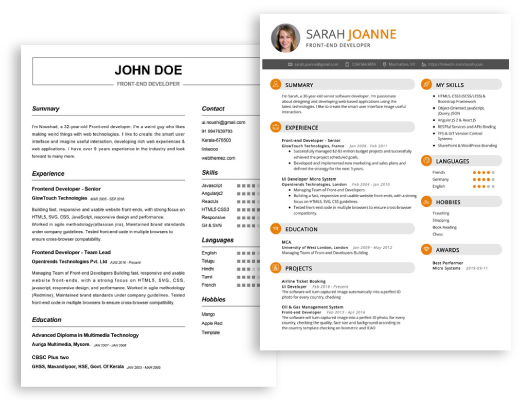 Start building your dream career today!
Create your professional resume in just 5 minutes with our easy-to-use resume builder!
Master Teacher Resume Examples
John Doe
Master Teacher
123 Main Street | Anytown, USA 99999 | Phone: (123) 456-7890 | Email: john.doe@email.com
I am a highly motivated and experienced Master Teacher with a solid background in teaching and curriculum development. I have over 10 years of experience in the education field and have worked with students from all grade levels. I am dedicated to delivering an engaging and rigorous curriculum that both meets and exceeds the needs of my students. I possess a strong understanding of current instructional methodologies and technologies, and I am adept at differentiating instruction to meet the varying needs of my students. I have demonstrated success in creating a positive learning environment and building strong relationships with students, colleagues, and families.
Core Skills:
Strong classroom management and organization skills
Proficient in the use of technology in instruction
Ability to differentiate instruction
Strong problem- solving and communication skills
Highly knowledgeable in curriculum development and implementation
Professional Experience:
Mentored new teachers in classroom management, instructional strategies, and curriculum implementation
Developed and implemented a variety of lesson plans for student enrichment and academic success
Assessed student learning and provided feedback and encouragement
Provided professional development for teachers and staff on current instructional practices
Collaborated with colleagues to develop, implement, and evaluate curriculum
Participated in parent- teacher conferences to discuss student progress
Education:
Master of Education in Curriculum and Instruction, University of XYZ, 2020
Bachelor of Arts in Education, ABC University, 2016
Certified Teacher, State of XYZ, 2015
Master Teacher Resume with No Experience
Recent graduate with a Bachelor of Education and no experience in a master teacher role. Possesses excellent communication and organizational skills, an ability to collaborate and work effectively with others, and a dedication to student learning and success. Seeking a master teacher position to apply knowledge and skills in the classroom.
Skills
Strong communication and interpersonal skills
Excellent organizational and problem- solving abilities
Proficient in Microsoft Office Suite and educational software
Proven ability to collaborate and work effectively with others
Knowledge of current teaching techniques and theories
Committed to student learning and success
Responsibilities
Develop curriculum and lesson plans to ensure student understanding and engagement
Design and implement activities and assessments to evaluate student progress
Maintain a safe and orderly learning environment
Instruct and support students in an effective manner
Monitor student performance, providing feedback and adjusting instruction as needed
Collaborate with administration, staff, families and the community to facilitate student learning and development
Master Teacher Resume with 2 Years of Experience
A dynamic and motivated Master Teacher with two years of experience in educating children and helping them reach their fullest potential. A passionate professional with a proven ability to develop and implement effective teaching methods to foster an engaging learning environment. Highly organized, with strong communication and problem- solving skills, capable of connecting with students of all ages and backgrounds.
Core Skills:
Possess a deep understanding of teaching methods and strategies
Excellent communication and interpersonal skills
Ability to create engaging, dynamic learning environments
Highly organized, able to manage multiple tasks simultaneously
Skilled in assessment tools and techniques
Ability to create lesson plans that promote student comprehension
Responsibilities:
Prepare and deliver lesson plans with engaging activities
Facilitate student learning by maintaining a safe and motivating environment
Provide includes and on- going feedback to students on their academic progress
Monitor student progress and adjust teaching styles accordingly
Collaborate with other teachers to develop and implement innovative strategies
Attend and contribute to workshops, conferences and other educational activities
Develop and assess student performance objectives
Participate in parent- teacher meetings to discuss student progress
Master Teacher Resume with 5 Years of Experience
An experienced Master Teacher with over 5 years of teaching experience in elementary school settings. Possesses a proficient knowledge of the Common Core State Standards, specialized understanding of teaching methods, and an engaging and motivating approach to teaching. Possesses the ability to work collaboratively with colleagues, parents and students to foster an engaging and positive learning environment.
Core Skills:
In- depth knowledge of Common Core State Standards
Strong ability to develop and implement engaging lesson plans
Excellent communication and interpersonal skills
Proven ability to create and maintain positive learning environment
Proficient knowledge in classroom management techniques
Ability to design and modify behavior management strategies
Responsibilities:
Design and deliver lesson plans that meet the Common Core State Standards
Establish and maintain an effective classroom environment to encourage student learning and involvement
Monitor and assess student progress and provide feedback on learning outcomes
Develop and modify behavior management strategies to ensure an effective classroom environment
Collaborate with administrators, teachers, and parents to ensure effective student learning
Utilize technology to enhance student learning and engagement
Maintain student records and assessments to track student progress
Master Teacher Resume with 7 Years of Experience
Results- oriented, experienced Master Teacher with 7+ years of experience in providing exceptional educational experiences to students of all ages. Possessing strong leadership skills, an aptitude for problem- solving and a passion for teaching, I have the expertise to create a positive learning environment that encourages students to reach their full potential. I have a solid understanding of various teaching methods and have the ability to apply these methods to promote academic success.
Core Skills:
Classroom Management
Curriculum Development
Instructional Planning
Lesson Planning
Student Assessment
Student Guidance
Educational Technology
Student Support
Student Engagement
Responsibilities:
Develop lesson plans and instructional materials that meet local, state and national standards
Implementing a variety of instructional methods to accommodate different learning styles and abilities
Create and maintain a positive, encouraging and safe learning environment
Implement assessment tools to evaluate student performance and progress
Provide ongoing support and feedback to ensure student success
Utilize educational technology to enhance student learning
Collaborate with faculty, staff and administration to ensure school- wide goals and objectives are met
Mentor and motivate students to reach their academic and personal goals
Master Teacher Resume with 10 Years of Experience
An experienced and passionate Master Teacher with 10 years of experience in providing quality education in diverse learning environments. Demonstrated ability to develop creative and interactive curriculum to help students reach their full educational potential. Proven track record of success in designing and implementing standards- based instruction through differentiated learning, while creating a safe and nurturing environment to encourage student engagement.
Core Skills:
Classroom Management
Differentiated Instruction
Curriculum Design
Educational Technology
Professional Development
Student Assessment
Collaboration and Communication
Positive Learning Environments
Responsibilities:
Develop strategic lesson plans that meet the needs of all students.
Implement standards- based instruction and assessment methods.
Utilize a variety of educational technologies to create interactive learning experiences.
Monitor student progress to identify areas for improvement and adjust instruction accordingly.
Facilitate collaboration between teachers, administrators, and families.
Design and deliver professional development workshops for staff.
Establish and maintain positive relationships with students and parents.
Model effective instructional practices that promote student engagement.
Master Teacher Resume with 15 Years of Experience
An experienced Master Teacher with 15 years of teaching and administrative experience, possessing excellent interpersonal and communication skills, organizational abilities, and a demonstrated commitment to education. Committed to providing a positive and safe learning environment for students, using innovative methods to foster a lifelong love of learning. Adept at understanding the needs of the teachers, administrators, and students, and working to ensure the success and well- being of all.
Core Skills:
Knowledge of educational technology
Familiar with instructional best practices
Able to effectively manage and balance curricular, co- curricular, and extracurricular activities
Excellent communication and interpersonal skills
Strong organizational and time management skills
Responsibilities:
Developing curriculum, lesson plans, and assessment tools
Providing professional development to teachers
Monitoring and evaluating the performance of students
Creating and maintaining a positive learning environment
Supporting the development of the school community
Collaborating with administrators to meet school goals and objectives
Mentoring new teachers and providing feedback
Leading student activities and clubs
In addition to this, be sure to check out our resume templates, resume formats, cover letter examples, job description, and career advice pages for more helpful tips and advice.
What should be included in a Master Teacher resume?
A Master Teacher resume should highlight a teacher's credentials and experience to best demonstrate their qualifications and value to a school district. As the most experienced and highest-ranking teacher, a Master Teacher should have a strong resume that makes them stand out from the competition.
Here is what should be included in a Master Teacher resume:
Professional Summary: A brief summary of your qualifications, experience and skills as a Master Teacher.
Education: Include your teaching credentials, certifications and degrees.
Experience: List all of your teaching experience and accomplishments, including any awards or recognition you've received.
Leadership Qualities: Showcase any leadership roles you have held, such as department chair, mentor or instructor.
Special Skills: If you have any special skills or expertise that make you an asset to the school, include them here.
Professional Development: List any professional development programs you have attended to stay current with best practices and trends in education.
Professional Affiliations: Include any professional organizations you are a part of that demonstrate your commitment to education.
Community Involvement: Show any volunteer work you've done in the community to demonstrate your commitment to making a positive impact.
By including these elements in your Master Teacher resume, you can show potential employers the value you bring to the table.
What is a good summary for a Master Teacher resume?
A Master Teacher resume should provide a concise overview of the teacher's qualifications, education, certifications, and experience in the field of education. It should highlight the teacher's specialties and accomplishments, as well as any awards and certifications they may have earned. It should also include any teaching-related professional development activities the teacher has completed. Finally, the resume should provide a comprehensive list of the teacher's accomplishments and contributions to the field of education. A Master Teacher resume should be well-written, professional, and tailored to the position the teacher is applying for.
What is a good objective for a Master Teacher resume?
A good objective for a Master Teacher resume should include statements that emphasize the accomplishments of the teacher. It should also identify the key skills, certifications, and experiences that make the teacher an ideal candidate for a teaching position. Here are some examples of objectives that a Master Teacher resume might include:
To utilize my master's degree in education, extensive teaching experience, and creative instructional methods to become an effective and inspiring teacher.
To leverage my expertise in teaching, curriculum development, and classroom management to create a nurturing learning environment for students.
To use my mastery of teaching strategies and my ability to motivate students to help them reach their highest potential.
To work collaboratively with teachers, parents, and administrators to ensure optimal student outcomes.
To employ my certification in the latest teaching techniques and my advanced understanding of learning principles to develop exceptional lesson plans.
To utilize my strong communication and organizational skills to manage a successful classroom.
How do you list Master Teacher skills on a resume?
When applying for a job as a Master Teacher, it is important to make sure that your resume showcases your skills and qualifications that make you the right candidate for the role. To help you list your Master Teacher skills on your resume, here are some tips:
Include specific qualities and experiences that relate to the job posting. This could be classroom management, professional development training, curriculum development, or teaching experience.
Use action verbs to describe your skills and experience. Examples include "mentored," "facilitated," "collaborated," or "coordinated."
Highlight any awards you have received for teaching or professional development.
Detail any professional associations or organizations you are involved in related to your teaching career.
Include any additional qualifications or certifications that you have outside of teaching, such as coaching, tutoring, or language instruction.
Showcase any special projects, programs, or initiatives you have been involved in related to teaching.
List any teaching-related publications you have written or contributed to.
Detail any relevant conferences, workshops, or seminars you have attended related to teaching.
Describe any specific technologies or teaching methods that you have experience working with.
By highlighting your Master Teacher skills on your resume, you can demonstrate to potential employers why you are the ideal candidate for the job. By following these tips, you can create a resume that will stand out from the competition and help you land the position.
What skills should I put on my resume for Master Teacher?
When applying for a job as a Master Teacher, it's important to highlight the skills you have that make you a great candidate. This includes both your teaching and leadership abilities. Here are some skills to include on your resume when applying for a Master Teacher role:
Knowledge of best practices in education: As a Master Teacher, you should be up-to-date on the latest educational innovations and teaching strategies. Demonstrate your expertise in this area by including skills such as lesson planning, classroom management, and curriculum design.
Strong leadership and communication skills: As a Master Teacher, you will be responsible for leading a team of teachers. Showcase your ability to communicate effectively with colleagues and motivate them to reach their goals.
Expertise in assessment and data analysis: As a Master Teacher, you need to be able to analyze student data and use it to inform instruction. Be sure to include skills such as assessment development, data interpretation, and instructional coaching.
Flexibility and adaptability: Education is ever-evolving, and you need to be able to quickly adjust your teaching strategies and approaches in response to changes. Showcase your ability to be flexible and think on your feet by including skills such as problem-solving, collaboration, and creative thinking.
By including these key skills on your resume, you can demonstrate to potential employers that you have the qualifications and abilities necessary to be a successful Master Teacher.
Key takeaways for an Master Teacher resume
As a master teacher, having a well-written resume is essential when looking for a new job or hoping to advance your career. Your resume should be a reflection of your professional qualifications and experience, and should include information that is tailored to the job you are applying for. Aside from the sections that are usually included in a resume, such as education, experience, and skills, you may also want to include additional information that will help you stand out as a master teacher.
Below are some key takeaways for crafting a successful master teacher resume:
Highlight Your Accomplishments: A master teacher resume should include details on the accomplishments you have achieved in the classroom. This could include successful projects that you led, awards you've received, or any other information that will demonstrate your ability to lead a classroom and be an effective teacher.
Demonstrate Your Expertise: As a master teacher, you should include any relevant certifications, advanced training, or other qualifications that you have acquired. This will help demonstrate your expertise and experience in the field.
Show Your Dedication: Employers will want to know that you are committed to the profession and have a long-term plan for your career. Including information about any professional development courses, conferences, or workshops you have attended can help demonstrate your dedication.
Highlight Your Student Relationships: One of the most important roles of a master teacher is to develop positive relationships with students. Describing the relationships you have built with students and the impact you have had on their academic success can make you stand out from other applicants.
By following these key takeaways, you will be able to craft a successful master teacher resume that will help you secure the job you want.
Let us help you build
your Resume!
Make your resume more organized and attractive with our Resume Builder