Write here introduction….
If you didn't find what you were looking for, be sure to check out our complete library of resume examples.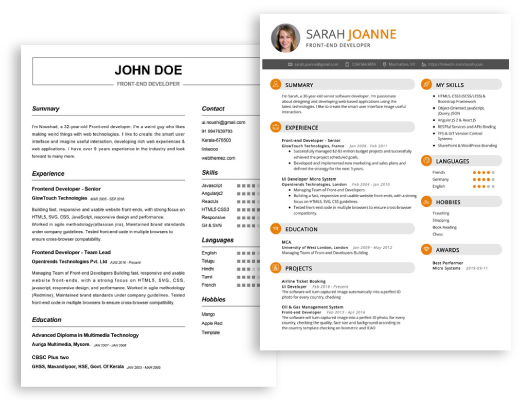 Start building your dream career today!
Create your professional resume in just 5 minutes with our easy-to-use resume builder!
Lecturer Resume Examples
John Doe
Lecturer
123 Main Street | Anytown, USA 99999 | Phone: (123) 456-7890 | Email: john.doe@email.com
I am a highly- skilled and experienced lecturer with a passion for teaching and facilitating learning. I have a long history of working in higher education, developing curriculums and delivering engaging lectures to hundreds of students. I have also provided online lectures and mentoring sessions, developing meaningful connections with students and helping them to achieve their educational and career goals. I am adept at leveraging technology to create interactive and effective learning experiences, while also developing personal relationships with students.
Core Skills:
Excellent communication, interpersonal, and organizational skills
Ability to teach effectively to diverse audiences
Proficiency in developing and delivering lectures
Experienced in online teaching, mentoring, and communication
Ability to develop and manage effective learning experiences
Proficiency in technology for creating interactive learning environments
Expert in curriculum and assessment development
Professional Experience:
Lecturer, ABC University, 2018- present
Develop and deliver lectures, seminars, and tutorials on education and related topics
Create and manage effective learning experiences for students
Mentor students and provide guidance on academic and career planning
Develop interactive and technology- based learning experiences
Teaching Assistant, XYZ University, 2016- 2018
Assisted with the delivery of lectures and seminars
Developed and maintained relationships with students
Organized and facilitated group projects and assignments
Provided feedback and guidance on student work
Education:
Master of Education, ABC University, 2018
Bachelor of Arts (Education), XYZ University, 2016
Lecturer Resume with No Experience
Recent graduate seeking a lecturer role to utilize my communication and teaching skills. Experienced in making educational materials, providing feedback, and motivating students.
Skills:
Strong communication and interpersonal skills
Excellent organizational and problem solving skills
Proficient in Microsoft Office Suite
Knowledge in various educational materials
Responsibilities:
Manage lectures, classes, and group discussions
Evaluate student progress and provide feedback
Develop and promote instructional activities
Prepare course materials such as syllabi, homework assignments, and handouts
Maintain a positive learning environment and motivate students
Organize and oversee activities such as field trips, labs, and workshops
Stay informed of advances in the field and actively seek continuing education opportunities
Prepare and grade exams and provide constructive feedback
Mentor and advise students on academic and career goals
Lecturer Resume with 2 Years of Experience
A motivated and experienced lecturer with over two years of experience in teaching and student mentoring. Possessing excellent communication, organizational, and problem- solving skills. Demonstrated ability to develop and maintain positive working relationships with students, staff, and faculty. Interested in pursuing a career in a stimulating, educational environment that allows for growth and development.
Core Skills:
Efficient teaching methods
Strong organizational skills
Superior communication and interpersonal skills
Curriculum development and implementation
Flexible and adaptable
Strong commitment to student success
Excellent problem- solving skills
Ability to work collaboratively
Responsibilities:
Developing and delivering course materials in an engaging and effective manner
Planning, organizing, and delivering lectures and presentations
Adapting teaching methods to meet the needs of different groups of students
Providing feedback and support to students
Managing and evaluating student progress
Evaluating and grading student assessments
Mentoring and advising students on course content and academic performance
Developing course syllabi and lesson plans
Collaborating with faculty members to ensure effective delivery of courses
Identifying and developing relevant teaching resources
Organizing student activities and field trips
Lecturer Resume with 5 Years of Experience
A highly experienced lecturer with 5 years of experience in a tertiary institution and an established background in teaching and research. Proven ability to develop and deliver engaging learning materials using various methods. Demonstrated leadership in coordinating and guiding students through their academic journey. Possesses strong organizational and interpersonal skills with the ability to operate effectively in a team- based environment.
Core Skills:
Knowledge of learning materials
Written and verbal communication
Research and analysis
Engaging teaching methods
Leadership
Interpersonal skills
Organizational skills
Team- based environment
Responsibilities:
Develop and deliver engaging learning materials
Manage and provide feedback on student assessment
Provide guidance and support to students
Advise students on course content and assignments
Lead the development and implementation of new course materials
Conduct research and prepare papers for publication
Organize and supervise student clubs and activities
Contribute to faculty committees and initiatives
Mentor students and new lecturers
Lecturer Resume with 7 Years of Experience
A highly experienced Lecturer with 7 years of solid experience in the teaching field, highly competent in creating educational goals and objectives, classroom management, assessment, data analysis, and student- teacher relationships. Possesses a positive attitude and strong work ethic which makes them an asset to any school or learning environment. Experienced in using technology to enhance the teaching process, and are committed to incorporating new instructional methods to support student learning and development.
Core Skills:
Excellent communication skills
Innovative and creative teaching methods
Strong knowledge of educational principles and theories
Ability to work independently and as part of a team
Organizational and time management skills
Proficiency in modern technology
Responsibilities:
Develop lesson plans and curriculum
Provide instruction to students in a variety of settings
Monitor students' progress and provide feedback
Assess student learning and adapt teaching methods
Conduct parent- teacher meetings
Ensure a safe and supportive learning environment
Stay up- to- date with new educational technology and teaching methods
Lecturer Resume with 10 Years of Experience
An experienced and dedicated lecturer with 10 years of experience in teaching and developing relevant curricula for students of all ages and levels. Proven track record of exceeding goals, coordinating curriculum and assessment systems, and motivating and retaining students. Highly organized and detail- oriented, with strong interpersonal and communication skills.
Core Skills:
Instructing and developing curricula
Developing assessments
Evaluating student performance
Student motivation and retention
Curriculum coordination and management
Interpersonal and communication skills
Strong organizational and time- management skills
Responsibilities:
Delivering lectures to students of all ages and levels
Developing appropriate and relevant curricula
Developing and administering assessments to evaluate student performance
Coordinating and managing curriculum in an efficient and effective manner
Motivating and retaining students by utilizing effective teaching techniques
Providing academic guidance and advice to students
Collaborating with other faculty members on instructional and assessment strategies
Maintaining accurate records of student performance and progress
Conducting research and developing new methods of instruction
Lecturer Resume with 15 Years of Experience
With over 15 years of experience providing instruction in a wide variety of courses and topics, I have established a track record of successfully engaging students, delivering lectures, and creating learning objectives. I bring strong knowledge in classroom and online teaching, curriculum development, and assessment and evaluation. I am also a capable team leader with excellent communication, interpersonal, and organizational skills.
Core Skills:
Lecturing and Curriculum Development
Assessment and Evaluation
Team Leadership
Communication and Interpersonal Skills
Online Teaching
Responsibilities:
Designing and developing curriculums
Delivering lectures and seminars
Developing course materials such as handouts, slides, and quizzes
Assessing and evaluating student performance
Supporting student learning outside of the classroom
Participating in faculty meetings, departmental activities, and other professional development activities
Maintaining accurate records and reports of student progress
Supervising student projects and providing feedback
In addition to this, be sure to check out our resume templates, resume formats, cover letter examples, job description, and career advice pages for more helpful tips and advice.
What should be included in a Lecturer resume?
A lecturer's resume should contain specific information and accomplishments that demonstrate their ability to teach, motivate and engage students. A comprehensive resume will give potential employers an accurate and complete picture of a candidate's skills and qualifications. Here are some key elements that should be included in a lecturer's resume:
Professional Summary: A brief paragraph summarizing key qualifications and experience.
Education: List all relevant degrees and licenses held, with dates of completion, institutions and field of study.
Teaching Experience: Include any teaching or tutoring experience, such as classes taught, lectures given, and workshops conducted.
Research and Publications: List any research and publications, including articles, books, and reports written.
Professional Affiliations: Any professional organizations, societies, or associations should be listed.
Awards and Honors: Include any professional awards or honors received.
Technical Skills: List any technical skills related to teaching, such as computer software and hardware proficiency.
Leadership Experience: Include any administrative or managerial experience in the field of education.
Presentations: List any presentations or workshops conducted.
Languages Spoken: Include any foreign languages spoken and the level of proficiency.
Additional Relevant Experience: Any other work experience or volunteer activities related to teaching should be included.
By including all of the above elements in a lecturer's resume, potential employers will get a well-rounded picture of the candidate's qualifications and skills. This will help them make an informed decision on the best individual for the job.
What is a good summary for a Lecturer resume?
A lecturer resume should provide a concise overview of your professional experience and qualifications in higher education. It should clearly demonstrate your ability to teach various courses, lead classes and lecture on advanced topics. It should also highlight your related work experience and any research or publications you have completed.
Your resume should also showcase any special skills or accomplishments you have achieved in the field. This may include awards for teaching excellence, grants for research or special accolades for student work. Additionally, any administrative or management experience you have in the field should be included in your summary.
In summary, a lecturer resume should provide an overview of your professional qualifications in higher education. It should include information about your teaching and lecturing skill, any publications or research you have completed and any awards or recognition you have achieved. Any related experience and special skills should also be included in the summary.
What is a good objective for a Lecturer resume?
When creating a lecturer resume, it is important to include an objective that accurately reflects your qualifications, experience, and career goals. A good objective should emphasize your skills, experience, and qualifications, while giving a potential employer a clear understanding of what you hope to achieve. Here are some tips for crafting an effective objective for your lecturer resume:
Focus on your qualifications: Your objective should include your qualifications and experience as a lecturer, such as certifications, training, or degrees.
Highlight your skills: Be sure to emphasize the skills you possess that make you a valuable asset to any university or college. Examples include teaching, research, public speaking, and problem-solving.
Identify your career goals: Outline your career goals for the future and give insight into why you're the best candidate for the job.
Demonstrate your commitment: Show employers your dedication to teaching, your drive to improve student learning, and your enthusiasm for the role.
By following these tips, you can create an effective lecturer resume objective that will help you stand out in the job market.
How do you list Lecturer skills on a resume?
When you're applying for a job as a Lecturer, it's important to make sure that you highlight the skills and qualifications that make you a great teacher and an asset to the school or organization. Your resume should reflect the unique skills and knowledge you have to offer, and provide a comprehensive overview of your qualifications and experience.
Here are some of the most important skills to list on your resume when you're applying for a Lecturer position:
Subject Matter Expertise: As a Lecturer, you should have a deep and comprehensive knowledge of the subject matter you'll be teaching. Make sure to list any relevant training, degrees, or certifications that showcase your expertise.
Presentation Skills: Lecturers must be able to effectively engage and hold the attention of their students. Be sure to list any experience you have with public speaking, as well as any other experiences you've had with presentations or public speaking engagements.
Classroom Management: A successful Lecturer is able to keep their classes on track and manage their students in an effective way. List any experience you have in managing a classroom, either in the form of student teaching or other classroom management experience.
Communication Skills: A Lecturer must be able to communicate complex ideas in a way that's easy to understand for their students. Make sure to list any experience you have in teaching, writing, or public speaking that showcases your ability to communicate.
Technology Skills: In today's world, Lecturers must be comfortable using technology to help them teach. Be sure to list any experiences you have with educational technologies, such as classroom management software, online learning platforms, and other teaching tools.
What skills should I put on my resume for Lecturer?
A successful lecturer's resume should demonstrate a combination of strong communication, organizational, and teaching skills. When creating your resume, be sure to include the following skills:
Excellent communication and presentation skills: A lecturer must be able to effectively communicate and present information to students. You should highlight your ability to explain complex concepts in a clear, concise, and understandable manner.
Strong research skills: A lecturer should be able to conduct thorough research in order to stay up-to-date on current educational topics and to develop engaging lectures and presentations.
Organizational skills: Lecturers are required to plan lessons, lectures, and other activities so they can keep their classes running smoothly. Highlight your ability to plan, organize, and manage your time and workload.
Knowledge of educational technology: As technology becomes increasingly important in the classroom, lecturers should be familiar with various types of educational software and hardware.
Creativity: Lecturers should be able to think on their feet and come up with creative and engaging ways to interact with students.
Flexibility: Lecturing is a fast-paced job and requires the ability to be flexible. Being able to quickly adapt to unexpected challenges is essential.
Ability to motivate: A successful lecturer should be able to motivate students to learn and be engaged in the classroom.
Include these skills on your resume to ensure that potential employers see that you have the qualifications and experience necessary to excel as a lecturer.
Key takeaways for an Lecturer resume
A lecturer's resume is a key document in the job search process. It should provide potential employers with a comprehensive overview of the candidate's qualifications, experience, and accomplishments. Here are some key takeaways for crafting a strong lecturer resume:
Highlight Your Academic Achievements: Make sure to prominently feature your academic accomplishments in your resume. Include any awards, honors, and recognitions you've received, as well as any research grants or fellowships.
Emphasize Your Teaching Experience: Employers want to know about your teaching experience. Make sure that your resume highlights any classroom instruction you've done, as well as any teaching assistantships or tutoring you've done.
Demonstrate Your Professional Skills: Showcase any professional skills that you've developed, such as instructional design, curriculum development, or education technology. This will demonstrate that you have the skills necessary to be an effective lecturer.
Provide Relevant Details: To make your resume stand out, include as many relevant details as possible. This could include any course materials you've developed, student feedback you've received, or your involvement in professional organizations.
By following these tips, you can ensure that your lecturer resume will be a powerful tool in the job search process. With a strong resume, you'll be in a better position to land the job you want.
Let us help you build
your Resume!
Make your resume more organized and attractive with our Resume Builder