Are you a language arts teacher looking to write an effective resume to get noticed by potential employers? If so, you have come to the right place. This blog post is an in-depth guide on how to write a great resume for language arts teachers. It will provide useful tips and advice on how to emphasize your strengths and highlight your teaching experience, as well as provide examples of language arts teacher resumes that you can refer to for inspiration. By the end of this blog post, you will have all the information you need to create a professional and winning resume.
If you didn't find what you were looking for, be sure to check out our complete library of resume examples.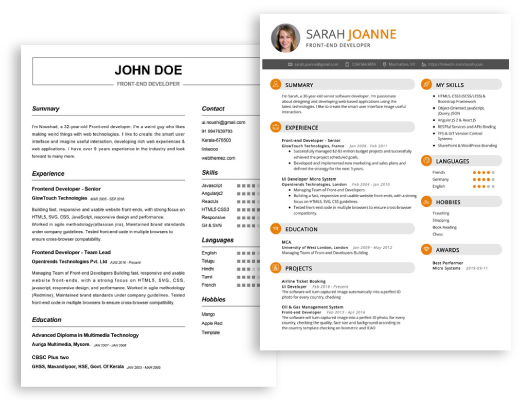 Start building your dream career today!
Create your professional resume in just 5 minutes with our easy-to-use resume builder!
Language Arts Teacher Resume Examples
John Doe
Language Arts Teacher
123 Main Street | Anytown, USA 99999 | Phone: (123) 456-7890 | Email: john.doe@email.com
A highly motivated, organized and creative Language Arts teacher with 8 years of teaching experience in a wide range of school and community settings. Proven ability to effectively engage students and ensure their academic growth and progress while maintaining positive relationships with administrators, colleagues and families.
Core Skills:
Development and implementation of innovative lesson plans
Expertise in literature and writing instruction
Strong classroom management and discipline
Ability to assess student progress
Excellent communication and interpersonal skills
Analytical and problem- solving abilities
Professional Experience:
Langston Middle School – Language Arts Teacher, 2012 – present
Taught language arts to students in grades 6- 8
Developed and implemented a curriculum that incorporated writing and literature
Provided individualized instruction to meet the needs of all learning styles
Assessed and evaluated student performance, progress and attainment
Provided consistent feedback to students and families
Oakland High School – Language Arts Teacher, 2009 – 2012
Taught language arts to students in grades 9- 12
Collaborated with colleagues to create and implement innovative, engaging and effective classroom activities
Provided one- on- one assistance and guidance to help students excel
Assisted with student- led projects, such as writing contests and literary magazines
Education:
University of California, Berkeley – Bachelor's Degree in Education, 2009
Language Arts Teacher Resume with No Experience
Recent college graduate with a Bachelor of Arts in English Language Arts and a passion for teaching seeking to begin a career as an ELA Teacher. Dedicated to helping students reach their full potential and create a safe and stimulating learning environment.
Skills:
Excellent communication and interpersonal skills
Knowledge of English language arts, grammar and writing
Ability to plan and execute engaging lessons
Familiarity with current educational technologies
Strong classroom management skills
Knowledge of differentiated instruction and assessment
Responsibilities:
Create exciting and engaging lesson plans that incorporate best practices
Monitor student progress and assess performance
Guide students in analyzing and interpreting literature
Develop and foster a safe and stimulating learning environment
Utilize technology to enhance instruction and communication
Encourage critical thinking and promote an appreciation for the written word
Work collaboratively with other educators and staff members
Participate in professional development activities, such as workshops and conferences
Language Arts Teacher Resume with 2 Years of Experience
An experienced, highly motivated Language Arts Teacher with more than two years of teaching experience in the field of English and Literature. Experienced in developing lesson plans and teaching materials that are both engaging and effective. Possesses strong writing and communication skills and the ability to relate to students and foster a positive learning environment. Dedicated to ensuring that all students have access to quality instruction and have the resources they need to achieve their full academic potential.
Core Skills:
Strong written and verbal communication
Excellent classroom management
Creative and innovative lesson planning
Ability to develop and implement assessments
Proficient in Microsoft Office and computer- based learning
Knowledge of Common Core Standards
Proficient in teaching English and Literature
Responsibilities:
Developing and delivering engaging and effective lesson plans for English and Literature
Providing support and guidance to students in the classroom
Facilitating group discussions, activities, and projects
Preparing and grading assignments and tests
Ensuring student engagement in the classroom and providing feedback
Developing and implementing assessments to measure student progress
Maintaining accurate records of student progress and attendance
Collaborating with other teachers and administrators on curriculum development
Language Arts Teacher Resume with 5 Years of Experience
I am an experienced Language Arts Teacher with five years of teaching experience in both public and private schools. I have extensive knowledge of the English language, literature, grammar, and writing. As an educator, I have also developed strong leadership skills and a passion for working with children. I am highly proficient in creating and delivering lesson plans, grading assessments, and promoting a positive learning environment. I am confident that I will be a valuable asset to your team.
Core Skills:
Expertise in English language, literature, grammar, and writing
Excellent communication and interpersonal skills
Ability to create and deliver engaging lesson plans
Highly organized and goal- oriented
Possess strong classroom management techniques
Knowledge of current teaching methodologies
Proficient in using technology in the classroom
Responsibilities:
Develop curriculum for Language Arts classes
Monitor and assess student progress
Design and implement assessments and evaluations
Provide individualized instruction to students
Provide guidance and support to students
Collaborate with school teams to ensure academic success
Provide tutorial assistance to students in need
Communicate with parents regarding student progress and engagement
Language Arts Teacher Resume with 7 Years of Experience
I am a dedicated and passionate Language Arts Teacher with 7 years of experience in helping students achieve their educational goals and develop the skills to become creative and analytical thinkers. I have experience working with students in all stages of education, from early childhood to college- level. I have a strong background in curriculum and resource development, providing engaging instruction and assessing student progress. I am committed to creating an environment that encourages collaboration, communication, and critical thinking.
Core Skills:
Curriculum Development
Instructional Delivery
Classroom Management
Lesson Planning
Students Assessment
Collaborative Learning
Problem Solving
Responsibilities:
Develop and implement age- appropriate curriculum for language arts classes.
Monitor student progress and provide feedback and support.
Model language arts skills and strategies to students.
Establish and maintain a safe and productive learning environment.
Collaborate with other educators to improve instruction and assessment.
Develop and update assessment tools to measure student progress.
Utilize technology to facilitate learning and assessment.
Facilitate student- led activities and discussions.
Develop and update course materials, including handouts and presentations.
Language Arts Teacher Resume with 10 Years of Experience
I am a dedicated and enthusiastic Language Arts Teacher with 10 years of experience in schools and educational settings. I am passionate about helping students reach their full potential and have a proven track record of inspiring students to achieve success in the classroom. I have a Bachelor's Degree in Language Arts and a Master's degree in Education Leadership. I am well- versed in instructional strategies and have excellent problem solving and communication skills. I have a keen eye for detail and always strive to ensure that students have a positive and enjoyable learning experience.
Core Skills:
Instructional Strategies
Classroom Management
Curriculum Development
Technology Use
Creative Writing
Public Speaking
Collaboration
Written & Verbal Communication
Student Assessment
Responsibilities:
Develop and implement lesson plans to meet curriculum standards
Utilize various instructional strategies to engage students
Evaluate and provide feedback on student progress
Work collaboratively with other teachers and staff
Utilize technology to enhance learning
Maintain a safe and orderly learning environment
Create and adapt curriculum to meet the needs of different learners
Motivate and inspire students to reach their fullest potential
Develop and maintain positive relationships with parents and guardians
Facilitate small- group and whole- class learning activities
Language Arts Teacher Resume with 15 Years of Experience
Language Arts Teacher with 15 years of experience in teaching language arts and literature to students from grades K- 12. Possesses excellent organizational and communication skills, strong assessment and diagnostic capabilities, and a knack for developing individualized learning plans. Committed to creating a student- centered learning environment to promote personal growth and development.
Core Skills:
Comprehensive language and literacy instruction
Comprehensive student assessment and diagnostics
Advanced technology integration
Creative lesson planning
Excellent communication and interpersonal skills
Classroom management
Teaching English as a Second Language
Data- driven instruction
Differentiated instruction
Responsibilities:
Developing and implementing lesson plans and activities that meet curriculum standards
Implementing an effective system of classroom management
Assessing student progress and providing feedback
Designing differentiated instruction plans to meet the needs of diverse learners
Utilizing technology and other resources to create meaningful learning experiences
Integrating English- language development into class activities
Developing and maintaining positive relationships with parents and colleagues
Participating in professional development activities and staff meetings.
In addition to this, be sure to check out our resume templates, resume formats, cover letter examples, job description, and career advice pages for more helpful tips and advice.
What should be included in a Language Arts Teacher resume?
Writing a resume for a Language Arts teaching position can be intimidating, but with the right tips and tricks, you can create a document that stands out from the crowd. In your resume, you'll want to emphasize your knowledge of the language arts and your experience teaching them to students. Here are some key elements to include in your language arts teacher resume:
Education: Make sure to emphasize your education in language arts, such as any degrees you hold in the subject. You can also include any related certifications or advanced training.
Teaching experience: Include any prior teaching experience you have, such as substitute teaching or tutoring. Make sure to list the school you worked at, the grades you taught, and any notable accomplishments.
Skills: List any special skills you possess that are relevant to language arts teaching, such as your proficiency in a foreign language. You can also include any special technologies you're familiar with and any extra curricular activities you've been involved in.
Student engagement: Include any strategies you've used to engage students in the language arts. This could include creative writing assignments, hands-on activities, or any other activities that you've used to make language arts more interesting.
Professional development: List any professional development activities you've participated in, such as conferences, workshops, or seminars on language arts teaching.
By including these elements in your resume, you can show potential employers that you have the skills and experience needed to excel as a language arts teacher.
What is a good summary for a Language Arts Teacher resume?
As a language arts teacher, your resume should be professional, concise, and well-organized. It should include your relevant educational background, teaching experience, and any special skills and certifications you possess. It should also highlight any volunteer, tutoring, or in-classroom experience you have, as well as any awards or recognition you have received. A good summary for a language arts teacher resume should demonstrate your passion for teaching and dedication to helping students reach their potential. It should showcase your expertise in literacy development, grammar, writing, public speaking, and literature, while providing evidence of your ability to motivate and inspire students. Finally, your resume should showcase your commitment to lifelong learning, dedication to professional development, and ability to work collaboratively with colleagues.
What is a good objective for a Language Arts Teacher resume?
A language arts teacher resume should be tailored to the specific job and school at which you are applying. It should also showcase your qualifications, knowledge, and experience in the field of language arts. A good objective for a language arts teacher resume should:
Demonstrate your understanding of the English language and your ability to effectively teach language arts concepts
Highlight your experience with teaching students of diverse backgrounds and skill levels
Stress your commitment to teaching students the fundamentals of written and spoken communication
Showcase your ability to develop and implement innovative teaching strategies
Convey your dedication to student success and commitment to fostering a positive learning environment
Emphasize any special certifications or qualifications related to language arts teaching
By emphasizing these objectives, language arts teachers can showcase their qualifications and expertise in the field. This can make them attractive candidates for language arts teaching positions.
How do you list Language Arts Teacher skills on a resume?
Language arts teachers have a range of skills to include on a resume that demonstrate their impressive repertoire of knowledge and experience. It is important to highlight the skills that set you apart from the competition, making you stand out as an ideal candidate for any job related to language arts instruction.
Below are some skills to list on a resume for a language arts teacher:
Knowledge of language arts curriculum: Show that you have a comprehensive understanding of the language arts curriculum and that you are comfortable teaching various topics and subjects.
Classroom management: Demonstrate that you can create a safe and productive classroom environment that is conducive to learning and encourages student engagement.
Excellent communication: Affirm your ability to communicate effectively with both students and colleagues.
Creative lesson planning: Prove you are capable of designing engaging and meaningful lesson plans that are appropriate for the grade level and adhere to curriculum standards.
Assessments and evaluation: Highlight your experience in assessing student learning, developing grading procedures and evaluating student progress.
Technology proficiency: Showcase your ability to integrate technology into the classroom, such as using multimedia tools and interactive activities.
By including these skills on your resume, you will be able to demonstrate to employers that you have the knowledge and qualifications to excel as a language arts teacher.
What skills should I put on my resume for Language Arts Teacher?
When applying for a language arts teacher position, it is important to highlight the skillset that makes you a great candidate for the job. Your resume should detail the qualifications and experiences that demonstrate you have what it takes to be a successful language arts teacher. Here are some essential skills and qualifications to include:
Knowledge of Language Arts Curriculum: As a language arts teacher, you should have a strong background in the language arts curriculum and be able to adapt it to a variety of learning styles.
Ability to Engage Students: An effective language arts teacher must be able to engage students in their learning and make language arts lessons interesting and enjoyable.
Excellent Communication Skills: Language arts teachers must be able to communicate their expectations, objectives, and assignments clearly and effectively. They must also be able to identify and address potential issues with students.
A Passion for Teaching: A successful language arts teacher should have a passion for teaching and be able to motivate and inspire students.
Creativity: Language arts teachers should be creative and able to think outside the box when it comes to lesson plans and activities.
Technology Proficiency: Language arts teachers should be well-versed in technology and be able to incorporate digital tools into their teaching.
By highlighting these essential skills and qualifications on your resume, you will be well-positioned to land a job as a language arts teacher. With the right combination of experience and qualifications, you can make yourself an attractive candidate for the position and increase your chances of success.
Key takeaways for an Language Arts Teacher resume
When writing a language arts teacher resume, there are some key takeaways that you should keep in mind in order to make a strong impression.
First, you should highlight any teaching credentials or certifications that you have. Show that you are qualified and knowledgeable in the field you are applying to.
Second, emphasize the specific skills you have that are relevant to the job. For example, if you are a language arts teacher, showcase your ability to assess student reading levels, use innovative teaching methods, and create engaging lesson plans.
Third, give examples of any special projects or initiatives you have participated in. These could be anything from writing curriculum to developing interactive activities.
Fourth, make sure to provide contact information for any references you have. This allows employers to get a better understanding of your work ethic and performance.
Finally, don't forget to include any awards or recognition that you have received. This further demonstrates your expertise and success in the language arts field.
These are some key takeaways for crafting a strong language arts teacher resume. By highlighting your qualifications, skills, projects, references, and awards, you can give yourself an edge in the job market.
Let us help you build
your Resume!
Make your resume more organized and attractive with our Resume Builder