The job of a head teacher is an incredibly important and rewarding role in any school. As a head teacher, you are responsible for making sure the learning environment is safe and secure, as well as ensuring that students are receiving the highest quality of education. To secure this role, you must have an impressive resume that stands out among the competition. This guide provides tips on how to write a head teacher resume, as well as several examples to give you inspiration for your own. With the right approach, you'll be sure to land your dream job as a head teacher.
If you didn't find what you were looking for, be sure to check out our complete library of resume examples.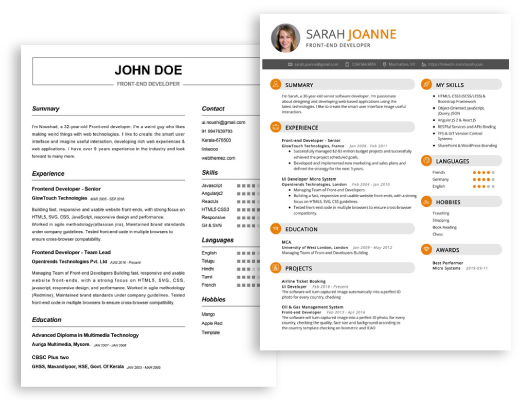 Start building your dream career today!
Create your professional resume in just 5 minutes with our easy-to-use resume builder!
Head Teacher Resume Examples
John Doe
Head Teacher
123 Main Street | Anytown, USA 99999 | Phone: (123) 456-7890 | Email: john.doe@email.com
I am an experienced Head Teacher with over 15 years of experience in the field of education. I have a proven record of success in implementing innovative educational programs, developing strong curriculums, and leading faculty and staff. My skills in communication, collaboration, and organization are excellent, and I am committed to fostering an engaging learning environment for all students.
Core Skills:
Effective Communication
Team Building & Leadership
Strategic Planning
Curriculum Development
Classroom Management
Professional Development
Data Analysis
Budgeting
Professional Experience:
Head Teacher, ABC School – 2007- present
Develop effective teaching and learning modules in line with the school's curriculum and policies
Manage staff, ensure ongoing professional development and assess staff performance
Supervise students, monitor student progress, and provide individualized support
Coach teachers on effective classroom management and instructional practices
Analyze student data to best inform instruction and measure progress
Create and manage school budgets.
Education:
Master of Education, ABC University – 2005
Bachelor of Arts in Education, XYZ College – 2001
Head Teacher Resume with No Experience
Highly motivated and organized Head Teacher with a passion for making learning fun, inspiring students and creating a safe and supportive environment. Experienced in developing lesson plans and grading student work. Possesses excellent communication and collaboration skills.
Skills
Strong organizational and administrative skills
Excellent communication and interpersonal skills
Knowledge of classroom management principles
Ability to motivate and engage students
Proficient in utilizing technology in the classroom
Responsibilities
Develop, review and implement lesson plans
Provide instruction and guidance to students in a respectful manner
Organize and lead classroom activities
Maintain accurate records of student performance
Collaborate with other teachers and staff members
Evaluate student work and provide feedback
Ensure students comply with school policies and regulations
Promote a safe and supportive learning environment
Manage student behavior and address discipline issues
Head Teacher Resume with 2 Years of Experience
An experienced Head Teacher with two years of experience in leading, managing, and supporting teachers. Proven ability to strengthen a classroom environment and create an engaging learning space that nurtures student development. Experienced in developing and implementing effective teaching materials, lesson plans, and discipline strategies. Possess superior problem- solving and communication skills.
Core Skills:
Leadership
Organizational Management
Curriculum Development
Classroom Management
Instructional Design
Communication
Discipline Strategies
Responsibilities:
Lead, manage, and support teachers in providing quality instruction.
Develop and implement effective teaching materials, lesson plans, and discipline strategies.
Monitor, assess, and provide feedback on student progress.
Identify learning problems and develop strategies to enhance student success.
Conduct regular staff development training for teachers and other staff members.
Ensure a safe and effective learning environment for students.
Develop and lead positive classroom activities and collaborations.
Develop partnerships with local businesses and organizations to support student growth.
Develop and manage budgets.
Maintain accurate student records.
Head Teacher Resume with 5 Years of Experience
A highly qualified Head Teacher with five years of experience in developing and implementing educational programs, curriculum, and instruction plans. Adept at providing quality instruction to students, training and supervising faculty, and conducting assessments to measure student performance. Possess excellent communication, organizational, and decision- making skills. Highly successful in creating a safe and supportive learning environment in which students can thrive.
Core Skills:
Classroom Management
Teaching Strategies
Curriculum Development
Educational Leadership
Student Assessment
Collaboration
Problem Solving
Interpersonal Skills
Responsibilities:
Develop and implement instructional programs, curriculum, and activities for students.
Prepare instructional materials and train faculty on the implementation of curriculum.
Oversee student assessments and provide feedback on student behavior and performance.
Monitor student progress and provide support to students to ensure academic success.
Collaborate with faculty, parents, and administrators to ensure student success.
Develop and implement a comprehensive discipline plan.
Monitor the in- class environment and take appropriate action when necessary.
Create a positive learning environment that encourages student initiative and participation.
Head Teacher Resume with 7 Years of Experience
A highly motivated and experienced Head Teacher with 7 years of successful teaching and administrative experience in a primary and secondary school setting. Proven track record of successfully managing both teaching staff and students in an educational environment and positively impacting student success. Skilled in developing and implementing curricula, creating a positive learning environment, and working with both teachers and students to promote an atmosphere where learning can thrive.
Core Skills:
Curriculum Development
Classroom Management
Academic Record Keeping
Student Discipline
Positive Learning Environments
Behavioral Management
Leadership & Mentoring
Responsibilities:
Develop and implement curriculum that is in line with state standards
Manage a team of teachers and staff to ensure a positive learning environment
Ensure compliance with all applicable laws and regulations
Monitor student academic progress and administer appropriate disciplinary action
Evaluate lesson plans and observe teacher performance in the classroom
Facilitate positive relationships between teachers, staff, parents, and students
Remain up- to- date on the latest educational trends and best practices
Head Teacher Resume with 10 Years of Experience
A highly experienced Head Teacher with 10 years of successful teaching and managerial experience, focused on helping students of all ages reach their full potential. Highly organised and able to effectively manage a diverse range of activities and programmes. A passion for working with students to help foster their learning and development in a fun and supportive environment.
Core Skills:
Leadership – Confident and proactive leader, able to effectively direct and motivate teams.
Communication – Excellent written and verbal communication skills.
Analytical – Ability to analyse data and develop evidence- based solutions.
Problem- Solving – Proven track record of troubleshooting and resolving complex issues.
Technology – Proficient with Microsoft Office and a range of educational software.
Responsibilities:
Ensuring compliance with all relevant legislation, policy and procedures.
Leading and managing the school's staff and resources.
Planning and implementing strategies to achieve the school's goals.
Developing and delivering educational programmes tailored to the needs of the students.
Supervising and assessing staff performance and providing feedback.
Managing the budget and financial resources of the school.
Maintaining effective communication and relationships with parents, carers and outside agencies.
Developing and maintaining a safe and supportive learning environment.
Assisting teachers with lesson planning and delivery.
Organising and attending regular parent- teacher meetings.
Monitoring and evaluating the effectiveness of educational programmes.
Head Teacher Resume with 15 Years of Experience
A highly experienced and motivated Head Teacher with 15 years of experience in a variety of educational settings. Skilled in developing and delivering engaging lessons, leading teams, and creating engaging learning environments. Committed to creating a vibrant and supportive learning environment while overseeing the day- to- day operations of the school.
Core Skills:
Leadership and management
Organizational skills
Strategic planning
Curriculum development
Classroom instruction
Student assessment
Interpersonal communication
Conflict resolution
Budgeting
Technology integration
Responsibilities:
Developing and implementing school- wide policies and procedures
Setting academic standards and expectations for students
Supervising administrative staff and faculty
Managing the budget and other school resources
Overseeing day- to- day operations of the school
Developing and delivering engaging lessons to students
Establishing relationships with students, parents, and community members
Evaluating teachers through observations and student assessments
Facilitating professional development opportunities for staff
Addressing student discipline issues
Coordinating extracurricular activities
Ensuring school adheres to state and federal guidelines
In addition to this, be sure to check out our resume templates, resume formats, cover letter examples, job description, and career advice pages for more helpful tips and advice.
What should be included in a Head Teacher resume?
A great Head Teacher resume should include the following elements to effectively showcase the candidate's qualifications:
Overview: A brief summary of the candidate's qualifications and past experience as a Head Teacher.
Education: Detailed information about the candidate's educational background and any professional development courses they may have taken.
Teaching Experience: Information about the candidate's past teaching experiences and a description of the schools and students they have worked with.
Job Responsibilities: A clear outline of the candidate's job responsibilities as a Head Teacher, including any specific duties or accomplishments.
Leadership Skills: A summary of the candidate's ability to lead, motivate, and manage staff and students.
Professional Memberships: A list of any relevant professional organizations the candidate is a member of and any awards they may have received.
References: A list of professional references the candidate can provide.
By including these elements in a Head Teacher resume, the candidate can demonstrate their qualifications, experience, and leadership skills in a concise and organized manner.
What is a good summary for a Head Teacher resume?
A well-written Head Teacher resume should provide an overview of your professional experience and education, highlighting your skills and accomplishments in the areas of leadership, teaching, and management. It should also demonstrate your ability to build relationships, manage teams, and motivate students. Furthermore, you should highlight any awards or recognitions you have received as well as any extracurricular activities in which you have participated. The summary should also demonstrate your commitment to education and your dedication to the success of your students. With its combined emphasis on teaching, leadership, and management, a Head Teacher resume should be an effective tool for any potential employer.
What is a good objective for a Head Teacher resume?
A Head Teacher resume should include an objective that is concise, yet relevant to the position being applied for. The objective should be tailored to the particular school and/or district that is hiring, as well as to the role that the candidate is seeking.
The following are some good objectives for a Head Teacher resume:
To inspire students to reach their highest potential while developing a nurturing and safe learning environment.
To promote a culture of collaboration and active participation among students and staff.
To effectively manage a diverse group of students and faculty with the utmost respect and fairness.
To utilize my knowledge of educational best practices and modern teaching methods to create an engaging and dynamic curriculum.
To provide innovative and comprehensive leadership to ensure that all students and faculty are achieving optimal academic success.
To utilize my expertise in administrative and organizational management to maintain a high level of productivity and efficiency.
To foster a culture of respect and collaboration among students, faculty, and staff while promoting a positive school culture.
To create a positive learning environment in which every student is valued and challenged to reach their highest potential.
How do you list Head Teacher skills on a resume?
When you're ready to apply for a head teacher position, you'll need to make sure your resume accurately reflects the skills you possess. It's important to demonstrate that you have the right qualifications and experience to be a successful head teacher.
To ensure your resume stands out from the competition, list your head teacher skills in a way that is concise and easy to understand. Here are some tips on how to list head teacher skills on your resume.
• Leadership: Demonstrate your ability to lead a team of educators by highlighting experiences in which you've led successful projects or initiatives.
• Relationship Building: Showcase your ability to build relationships with colleagues and members of the community, as well as your experience in mediating disputes.
• Communication: Describe how you use clear communication to help your teachers better understand their roles and responsibilities.
• Conflict Resolution: Highlight your skill in managing difficult conversations and your ability to find solutions to challenging issues.
• Administrative: Detail your experience with duties such as creating budgets, developing school policies and overseeing daily operations.
• Educational: Showcase your knowledge of educational theories and your ability to implement best practices in the classroom.
• Innovative Thinking: Describe your ability to develop creative solutions to complex problems.
• Technology: Detail your experience with educational technology such as online learning platforms and interactive whiteboards.
• Presentation: Highlight any experience you have with public speaking and developing presentations.
• Mentoring: Demonstrate your skill in providing guidance and support to teachers and students.
By following these tips, you can ensure that your resume accurately reflects the head teacher skills you possess. With the right approach, you can be sure your resume will stand out from the competition.
What skills should I put on my resume for Head Teacher?
When applying for a Head Teacher position, it is important to highlight key skills that demonstrate your ability to manage and lead a school's educational environment. This type of job requires specific experience and qualifications, so it's essential to include these in your resume.
Here are some key skills to include in your resume when applying for a Head Teacher position:
Knowledge of educational standards and curriculum: Head Teachers must have a thorough understanding of their school's educational standards and curriculum. They must be able to use this knowledge to develop and manage their educational programs.
Leadership: Head Teachers must be strong, effective leaders in order to manage their staff and promote positive learning experiences for their students. They must be able to delegate tasks, motivate their staff and create a culture of success and collaboration.
Communication: Head Teachers must be able to communicate effectively with their staff, students, and parents. They must be able to effectively explain their plans and ideas and to be able to listen to and address any concerns.
Organizational skills: As Head Teacher, it is essential to be able to effectively manage the school's resources and budget. Strong organizational and project management skills are necessary for this position, as well as the ability to multitask.
Problem solving: Head Teachers must be able to think critically and come up with creative solutions to challenging problems. They must also be able to troubleshoot any issues that may arise.
By including these skills on your resume, you will demonstrate to potential employers that you have the experience and qualifications necessary to be successful as a Head Teacher.
Key takeaways for an Head Teacher resume
A Head Teacher resume is a crucial tool to have when applying for a leadership role in any educational institution. This document outlines a teacher's qualifications, experience, and goals, and is key to securing an interview. Here are some key takeaways to keep in mind when crafting your Head Teacher resume:
Highlight your leadership experience. Showcase any experience you have managing staff, leading initiatives, or taking on a supervisory role. This will demonstrate to potential employers that you have the necessary leadership experience for the role.
Showcase your teaching experience. Make sure to highlight your teaching experience, as this will be a key factor in your success as a Head Teacher. Include any courses you've taught, distinct teaching methods, or special projects you've completed.
Demonstrate your ability to collaborate. As a Head Teacher, it's essential that you're able to effectively collaborate with colleagues and other professionals. Include any experience you have working in a team, such as leading seminars or working on research projects.
Include your professional training. Include any relevant professional training and certifications you've completed. This can include anything from special education teacher training to a master's degree in educational leadership.
Include your personal philosophy. You can include a sentence or two about your personal philosophy as a Head Teacher. This will give potential employers an idea of how you plan to approach the role and give insight into your values as an educator.
By following these key takeaways, you'll be sure to create a Head Teacher resume that makes a great impression. This document is your opportunity to showcase your unique qualifications and experience, so make sure to make the most of it!
Let us help you build
your Resume!
Make your resume more organized and attractive with our Resume Builder