Writing a resume as a recent graduate entering the teaching profession can be intimidating. With no prior experience in the field, it can be difficult to know where to start and how to effectively communicate your skills and qualifications to a potential employer. With a few simple guidelines and examples, however, you can create a resume that will help you stand out from the pool of applicants and make a great first impression. In this guide, we will provide you with tips and advice on how to write a resume for a teaching job as a recent graduate that is sure to catch the attention of hiring managers.
If you didn't find what you were looking for, be sure to check out our complete library of resume examples.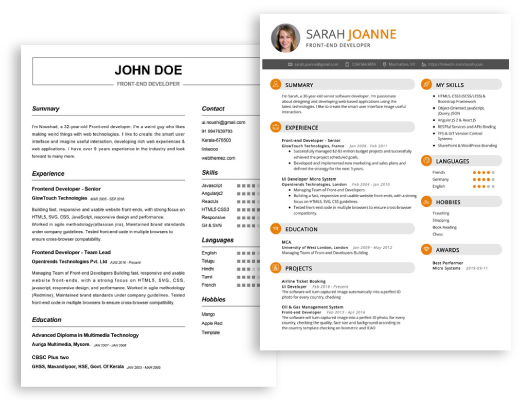 Start building your dream career today!
Create your professional resume in just 5 minutes with our easy-to-use resume builder!
Graduate Teacher Resume Examples
John Doe
Graduate Teacher
123 Main Street | Anytown, USA 99999 | Phone: (123) 456-7890 | Email: john.doe@email.com
A recent graduate with a degree in education and a passion for teaching, I hold the ideal combination of theoretical knowledge and practical experience needed to make an impact in a learning environment. With a proven ability to engage and motivate students, I am equipped to provide the highest standard of teaching and learning, and am committed to the development of lifelong learners.
Core Skills:
Classroom Management
Lesson Planning
Critical Thinking
Collaboration
Behavioral Intervention
Differentiated Instruction
Professional Experience:
Student Teacher, ABC High School/Elementary – Jan 2020 to Apr 2020
Collaborated with lead teacher to develop lesson plans for English, Math and Science classes
Led students in activities and discussions designed to engage and motivate learning
Assessed student performance and provided constructive feedback
Cultivated a positive and productive learning environment
Education:
Bachelor of Education, XYZ University – Sept 2017 to June 2020
GPA: 3.6
Relevant Coursework: Education Law, Curriculum Development, Engaging Learning Environments, Classroom Management
Graduate Teacher Resume with No Experience
Recent college graduate with a master's degree in education seeking a full- time teaching position. An eager and passionate educator with a strong commitment to helping students succeed and reach their academic goals.
Skills
Excellent written and verbal communication
Ability to work in a fast- paced environment
Creative problem solving
Strong organizational skills
Excellent classroom management techniques
Proficiency in Microsoft Office and Google Suite
Responsibilities
Planning and delivering lessons to students based on prescribed curriculum
Creating lesson plans that engage students and promote critical thinking
Assisting students in developing their knowledge and skills
Using technology to improve student outcomes
Assessing student performance and providing feedback
Collaborating with administrators and colleagues to maximize student achievement
Maintaining accurate records of student progress and attendance
Graduate Teacher Resume with 2 Years of Experience
A highly capable and motivated graduate teacher with two years of teaching experience covering various subject areas including mathematics, science and language arts. Strong in developing engaging lesson plans while maintaining a positive learning environment in the classroom. Dedicated to helping all students reach their educational goals through comprehensive instruction and creative approaches. Possesses excellent communication, interpersonal and organizational skills.
Core Skills:
Classroom Management
Differentiated Instruction
Classroom Technology
Assessment & Evaluation
Curriculum Design
Communications
Responsibilities:
Plan and carry out engaging lessons for students
Create a welcoming and stimulating classroom environment
Monitor student's progress and modify instruction to ensure educational goals are met
Enhance curriculum by developing innovative activities and resources
Use of a variety of assessment methods and provide feedback
Establish and maintain effective communication with students and parents
Attend staff meetings and participate in professional development opportunities
Graduate Teacher Resume with 5 Years of Experience
I am an experienced Graduate Teacher with five years of experience in preparing and delivering lesson plans, overseeing students, and assessing student performance. My specialty areas include Mathematics, Social Studies, and English. I am adept at fostering an environment that encourages students to reach their fullest potential. Having excellent organizational skills and a proven ability to develop stimulating lesson plans, I am confident in my ability to make a positive contribution to any educational organization.
Core Skills:
Planning and delivering lessons
Conducting assessments
Monitoring student progress
Working with diverse student populations
Knowledge of various educational technologies
Managing student data and records
Communicating with parents
Behavioral management
Responsibilities:
Designing and implementing lesson plans that meet curriculum guidelines
Developing classroom activities and materials to stimulate student learning
Evaluating student performances, attendance, and achievements
Enhancing student engagement through use of multimedia and other visual aids
Assigning and correcting homework
Providing support and guidance to students
Developing a positive classroom environment
Maintaining student records and preparing reports on student progress
Graduate Teacher Resume with 7 Years of Experience
Highly organized, detail- oriented, and passionate Senior Graduate Teacher with 7 years of experience in providing excellent instruction to elementary school students in a variety of settings. Proven track record of creating and delivering engaging lessons, maintaining a safe and constructive learning environment, and providing students with individualized support to ensure their success. Possesses strong communication and interpersonal skills, and a dedication to professional growth and excellence.
Core Skills:
Classroom Management
Curriculum Planning and Design
Lesson Preparation and Delivery
Assessment and Evaluation
Student Support
Communication and Interpersonal Skills
Professional Growth and Development
Responsibilities:
Developed and delivered engaging and meaningful lessons to students in accordance with grade- level curriculum standards
Planned and designed challenging and creative curriculum and activities to promote learning
Utilized a variety of instructional strategies to meet the needs of individual students
Monitored student performance and conducted assessments to measure progress
Administered corrective measures as needed to ensure student success in the classroom
Established a cooperative and productive working relationship with students, parents and faculty
Fostered a safe, supportive and respectful learning environment for all students
Utilized technology for instruction and assessment to engage and motivate student learning
Implemented best practices in teaching and learning to improve student outcomes
Graduate Teacher Resume with 10 Years of Experience
An experienced graduate teacher with over 10 years in the field of education and training, with a comprehensive skillset in curriculum development, lesson planning, classroom management and instruction. Highly organized with strong communication skills and the ability to create a positive learning environment. Committed to providing an inclusive education to all students and helping them reach their full potential.
Core Skills:
Curriculum Development
Lesson Planning
Classroom Management
Instruction
Communication
Inclusive Education
Problem Solving
Student Assessment
Technology Integration
Collaboration
Responsibilities:
Develop curricula and lesson plans to ensure student success
Establish and implement classroom rules and procedures
Monitor student progress and provide feedback
Integrate technology into the classroom to enhance instruction
Collaborate with other teachers and staff to create a positive learning environment
Facilitate problem solving activities to encourage critical thinking
Assess student performance and provide appropriate feedback
Ensure an inclusive learning environment and equitable access
Create a safe and supportive learning environment for all students
Utilize a variety of teaching methods to meet individual student needs.
Graduate Teacher Resume with 15 Years of Experience
Dynamic and knowledgeable graduate teacher with 15 years of successful experience in delivering instruction to diverse groups of students and helping them reach their academic goals. Resourceful problem- solver with a passion for delivering a comprehensive and well- rounded learning experience. Focused on developing an engaging and well- structured learning environment to foster the growth and development of students.
Core Skills:
Classroom Management
Curriculum Design
Student Assessment
Differentiated Instruction
Problem- Solving
Collaboration
Behavior Management
Responsibilities:
Facilitated creative learning activities in the classroom to engage students
Developed curricula to assess student learning and to promote critical thinking skills
Incorporated different teaching techniques to cater to the learning styles of all students
Assessed student progress to provide feedback and to adjust teaching approaches
Collaborated with other teachers and the school administration to develop improved learning initiatives
Developed lessons plans to ensure quality instruction
Monitored student behavior to ensure a safe and positive learning environment
In addition to this, be sure to check out our resume templates, resume formats, cover letter examples, job description, and career advice pages for more helpful tips and advice.
What should be included in a Graduate Teacher resume?
When writing a resume for a graduate teacher position, it is important to make sure that it includes all of the necessary information to make it stand out from other applicants. There are a few key elements that should be included to give a comprehensive picture of the applicant's qualifications and experience.
Education: List all degrees and certifications, as well as any relevant courses taken. Include the institution, date of graduation, and any awards received.
Teaching Experience: Highlight any academic teaching experience, including the type of classroom, subject, and grade level taught. Include any extracurricular activities or tutoring that you have been involved in.
Professional Development: Describe any seminars, workshops, conferences, or other professional development activities that you have participated in.
Skills/Qualities: Outline any skills or qualities that you have that are relevant to teaching. These could include communication, organizational, problem-solving, and leadership abilities.
Awards/Recognition: If you have received any awards or recognition for your work, list them here.
Personal Information: Include your contact information and any other relevant information, such as professional memberships, affiliations, or volunteer work.
By including these elements, you will be able to give a comprehensive and accurate view of your qualifications and experience as a graduate teacher. This will help you stand out from other applicants and increase your chances of getting a teaching position.
What is a good summary for a Graduate Teacher resume?
A good summary for a Graduate Teacher resume should highlight the candidate's education and teaching experience, as well as any unique skills they possess that will be beneficial in the classroom. It should also emphasize their enthusiasm for teaching and dedication to their students' success. Depending on the individual's background, the summary may include details about any awards or recognitions they have received, such as teaching grants or fellowships. It should also touch on the candidate's professional strengths as a leader and mentor. Lastly, the summary should express the candidate's enthusiasm for the job and their commitment to teaching excellence.
What is a good objective for a Graduate Teacher resume?
A graduate teacher resume should include an objective that outlines the skills, experience, and qualifications that make you the perfect candidate for the position. A well-crafted objective statement can help you stand out from the competition and demonstrate your potential to the hiring committee in just a few words.
Here are some good objectives for a graduate teacher resume:
To leverage my Bachelor of Education and 3 years of teaching experience to foster a stimulating learning environment for students.
To apply my strong organizational and communication skills to teach students in a dynamic, interactive environment.
To draw on my extensive knowledge of the curriculum and the latest educational trends to support the learning and development of students.
To use my passion for teaching and my enthusiasm for education to inspire and motivate students.
To utilize my creativity and problem-solving abilities to develop innovative lesson plans and educational activities.
To utilize my expertise in classroom management, assessment, and mentorship to stimulate student engagement and academic excellence.
How do you list Graduate Teacher skills on a resume?
Teachers have a unique set of skills and experiences, so it's important to make sure these are properly highlighted on your resume. If you are a graduate teacher, you need to make sure your resume accurately reflects your qualifications and experience. Here are some key skills to consider listing on your resume:
Planning and Preparation: As a teacher, you should have experience in planning and preparing lessons, developing assessments, and designing instructional activities.
Instructional Delivery: You should also be able to demonstrate your ability to deliver effective instruction to students.
Classroom Management: You should be able to demonstrate your knowledge of effective classroom management techniques and your ability to maintain a positive learning environment.
Communication: Graduate teachers should be able to demonstrate their ability to communicate effectively with students, parents, and other stakeholders.
Professionalism: You should be able to demonstrate a professional attitude, both in the classroom and beyond.
Technology: You should also be able to demonstrate your ability to use technology in the classroom, including presentation software, educational websites, and interactive whiteboards.
By highlighting these skills and experiences on your resume, you can make sure you stand out from other candidates and show prospective employers that you have what it takes to be a successful teacher.
What skills should I put on my resume for Graduate Teacher?
When submitting your resume for a Graduate Teacher position, being able to showcase the necessary skills for the job can make a significant difference in the final decision for who is hired. Though the hiring manager may ask for specifics related to the position, there are some key skills that should be included on any Graduate Teacher resume.
Instruction: Demonstrate ability to create and implement lesson plans in the classroom. This can include lesson plans for individual students or groups of students, and isolating objectives to meet the needs of the students.
Problem Solving: With the ability to think quickly on your feet and solve problems, you can adapt quickly to any situation in the classroom and use creative methods to help students understand the material.
Classroom Management: It takes a lot of skill and practice to maintain control in the classroom. A good Graduate Teacher should be able to maintain control without having to resort to punitive measures, and should be able to use positive reinforcement and clear communication to encourage students to participate in class activities.
Communication: The ability to communicate effectively with students, parents, and colleagues is key for any Graduate Teacher. This includes the ability to explain complex topics in a way that is accessible for students, answering questions, and resolving conflicts.
Technology: Schools are becoming increasingly reliant on technology, so it's important for a Graduate Teacher to be adept in using technology tools in the classroom. This can include creating digital lesson plans, using new software, and helping students use their devices in the classroom.
Professional Development: Keeping up with advances in your field and attending professional development activities shows the hiring manager that you're willing to continue to learn and grow as a teacher.
These are just a few of the skills that should be included on your resume for a Graduate Teacher position. Highlighting these skills will demonstrate to the hiring manager that you have the necessary skills to excel in the
Key takeaways for an Graduate Teacher resume
Securing a job as a graduate teacher is highly competitive, and it takes more than just a degree to stand out from the competition. Having a well-crafted resume is essential for getting your foot in the door and securing an interview. To ensure your resume is the best it can be, there are a few key takeaways to consider.
First and foremost, focus on your skills and strengths. Make sure to highlight any experience or qualifications relevant to the position. Highlight any teaching awards or special recognitions you may have received, as well as any certifications or qualifications. It's also important to showcase your ability to build relationships with students and parents, as well as your ability to manage a classroom and create lesson plans.
The next step is to make sure your resume is organized and easy to read. Use a professional font and format that are easy to read, and avoid using too much jargon or technical language. Make sure to include concise, professional summaries of your skills and experience.
Finally, it's important to tailor your resume to the position. Make sure to include any subject-specific knowledge and experience you may have, as well as any special education training or certifications. By tailoring your resume to the position, you can demonstrate how you can make an immediate impact in the role.
By following these key takeaways, you can ensure your graduate teacher resume stands out from the competition and helps you secure the job opportunity you're seeking.
Let us help you build
your Resume!
Make your resume more organized and attractive with our Resume Builder