Having a resume that stands out is essential in a competitive job market. This is especially true for geography teachers, who often have to compete for limited positions. A great resume can make a huge difference in your ability to secure a teaching job. This guide will provide you with tips and examples on how to write an effective and powerful geography teacher resume that will get you noticed. Learn how to showcase your teaching and subject-specific knowledge, highlight your skills, and present your experiences in an attractive way. With these pointers, you can create a resume that will help you land the geography teacher job of your dreams.
If you didn't find what you were looking for, be sure to check out our complete library of resume examples.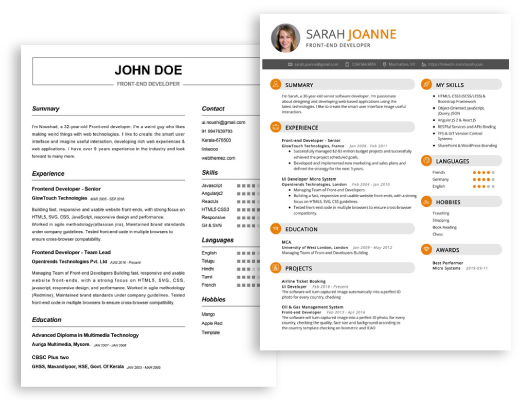 Start building your dream career today!
Create your professional resume in just 5 minutes with our easy-to-use resume builder!
Geography Teacher Resume Examples
John Doe
Geography Teacher
123 Main Street | Anytown, USA 99999 | Phone: (123) 456-7890 | Email: john.doe@email.com
An experienced and passionate Geography Teacher with 8+ years of teaching experience in urban and suburban public schools. Experienced in developing and delivering engaging, interactive and comprehensive curriculum plans in an effort to promote student interest and help them reach their highest potential. Consistently evaluates individual student progress and designs measurable objectives for all levels of student learning.
Core Skills:
Expertise in geography and geology
In- depth understanding of regional and global geographical and geological issues
Skilled in designing and implementing creative lesson plans
Ability to develop relevant learning activities
Proficient in using technology to facilitate student learning
Strong verbal and written communication skills
Excellent organizational skills
Dedicated to student success
Professional Experience:
Geography Teacher, XYZ High School – May 2014 – Present
Developed and implemented comprehensive lesson plans focusing on geography and geology topics.
Established and maintained an environment conducive to learning and inquiry.
Provided students with individualized instruction and support.
Created and administered assessments to measure student progress.
Implemented effective instructional strategies and classroom management techniques.
Evaluated student performance and provided feedback to students and parents.
Education:
Bachelor of Science in Geography, ABC University – 2010
Geography Teacher Resume with No Experience
Recent college graduate with a keen interest in geography, who is eager to put into practice my knowledge of world geography, climate, and population trends in a teaching role.
Skills
Strong understanding of world geography, climate, and population trends
Excellent written and verbal communication skills
Skilled in using teaching tools such as maps, diagrams and worksheets
Ability to create and maintain a positive learning atmosphere
Excellent organizational, problem- solving and classroom management skills
Responsibilities
Create and implement dynamic and engaging lesson plans
Monitor and assess student progress
Implement a variety of teaching strategies to ensure successful student outcomes
Develop and manage classroom activities and materials
Motivate and inspire students to learn and succeed
Participate in faculty meetings and professional development workshops
Plan and manage field trips and other out- of- classroom activities
Geography Teacher Resume with 2 Years of Experience
I am an experienced and passionate Geography Teacher with 2 years of teaching experience, specializing in teaching and delivering educational materials to students in a way that is easily understood. I have excellent knowledge of geography, including cartography, physical geography, and human geography, and I have the ability to motivate and engage students in the classroom. I am an excellent communicator with strong interpersonal skills, capable of building relationships with my students, their families and staff. I am also highly organized and able to work in a fast- paced environment.
Core Skills:
Excellent knowledge of geography
Cartography
Physical geography
Human geography
Strong interpersonal skills
Excellent communication skills
Ability to motivate and engage students
Highly organized
Capable of working in a fast- paced environment
Responsibilities:
Designing and delivering educational materials to students
Creating lesson plans and assessments to evaluate student progress
Implementing new teaching techniques and methods
Organizing field trips and extra- curricular activities
Monitoring student behavior and providing guidance
Assisting students with homework and assignments
Facilitating student discussions on various topics related to geography
Collaborating with other staff members to create lesson plans and other educational materials
Assisting with administrative duties such as grading tests and writing reports
Geography Teacher Resume with 5 Years of Experience
Experienced geography teacher with 5 years of experience creating engaging lesson plans and providing comprehensive instruction in geography and related social sciences. Passionate about helping students gain an appreciation and respect for global cultures, traditions and ideas. Skilled in utilizing a variety of teaching methods to help students understand complex concepts, develop critical thinking skills and gain knowledge.
Core Skills:
Excellent communication and interpersonal skills
Knowledgeable in geography, history and other social sciences
Strong classroom management skills
Proficient in using educational technology tools
Proven record of designing engaging and effective lesson plans
Responsibilities:
Develop and implement engaging lesson plans to help students understand geography, history and other social sciences
Design instructional activities to promote student understanding and interaction
Assess and evaluate student performance on a regular basis
Integrate technology into teaching practices to introduce modern methods of learning
Provide one- on- one or small group instruction to help students with special needs
Collaborate with colleagues to plan and design curriculum and activities
Keep up to date with advances in geography education and integrate new knowledge into curriculum planning
Provide feedback to students and parents on student progress and achievements
Geography Teacher Resume with 7 Years of Experience
A highly experienced and knowledgeable Geography Teacher with seven years of teaching experience in secondary education. Demonstrated expertise in developing instructional content and planning and leading educational activities to maximize student learning. Excellent communication and organizational skills to develop meaningful and engaging learning activities for students. Committed to helping students reach their full potential by promoting a positive learning environment.
Core Skills:
Knowledge of geography and social studies topics
Experience in teaching students of all ages
Excellent classroom management skills
Ability to create engaging lesson plans
Proficient in computer applications and technologies
Strong oral and written communication skills
Excellent problem- solving and critical thinking skills
Responsibilities:
Developing lesson plans and instructional materials to meet lesson objectives
Facilitating class discussions and leading educational activities
Assessing student progress and providing feedback
Establishing and maintaining positive relationships with students
Collaborating with other educators and administration to promote student success
Utilizing appropriate technology to support instruction
Leading extracurricular activities and trips
Utilizing relevant resources to enhance learning
Developing and implementing classroom management strategies.
Geography Teacher Resume with 10 Years of Experience
A highly experienced and skilled Geography Teacher with 10 years of experience teaching in public and private schools. Specializing in introducing students to geographic concepts, including physical and human geography, cultural awareness, climate, and other related topics. Extensive knowledge of teaching methods and practices, with the ability to keep students engaged and interested in the subject matter. Adept at developing and executing lesson plans to ensure the efficient delivery of course material. Excellent communicator and leader, with the capacity to motivate and inspire students to pursue their educational goals.
Core Skills:
Lesson Planning
Classroom Management
Evaluating Student Performance
Classroom Instruction
Educational Technology
Interpersonal Communication
Critical Thinking
Geography Knowledge
Curriculum Development
Assessment Creation
Responsibilities:
Delivering engaging and informative geography lessons to students in grades 6- 12
Developing and executing lesson plans tailored to the students' individual needs
Evaluating student performance and preparing progress reports
Helping students develop critical thinking and analytical skills
Creating interactive learning experiences to keep students engaged and motivated
Integrating the latest educational technology into lessons
Collaborating with colleagues and school administrators to develop new curriculum
Providing individualized support to students who require it
Geography Teacher Resume with 15 Years of Experience
Geography teacher with 15 years of experience in developing and teaching engaging and effective lessons in geography, history and social studies. Skilled in fostering an inclusive learning environment, increasing student engagement, and implementing differentiated and data- driven instruction strategies. Experienced in developing and delivering stimulating and informative lessons to all levels of students, from primary through to post- secondary. Committed to creating an engaging and stimulating educational atmosphere for students by providing quality instruction and individualized support.
Core Skills:
Differentiated instruction
Classroom management
Developing curriculum
Student assessment
Technology integration
Inclusive learning
Data- driven instruction
Student engagement
Responsibilities:
Developing and delivering engaging and stimulating lessons in geography, history and social studies
Differentiating instruction to meet the needs of all learners
Designing and implementing strategies to foster an inclusive learning environment
Assessing and evaluating student performance and progress
Incorporating technology and digital resources into daily instruction
Establishing and maintaining positive relationships with students, staff, and parents
Utilizing data to develop, revise and improve curriculum
Facilitating and supervising field trips and activities to enhance learning
Collaborating with colleagues to develop and refine instruction strategies
Maintaining records of student academic progress and attendance
In addition to this, be sure to check out our resume templates, resume formats, cover letter examples, job description, and career advice pages for more helpful tips and advice.
What should be included in a Geography Teacher resume?
Geography is a complex field of study and a Geography teacher should have a resume that reflects their knowledge and experience. Here are some tips for creating a great Geography-teacher resume:
List Education: Start with the highest level of education that you have attained and list the degree, school, and date you received the degree.
Teaching Experience: Include the years of teaching experience, the schools you have taught at, and the geographical locations you have taught in.
Certification: Make sure to list any relevant certifications, such as Geography teaching certification.
Relevant Courses: Include any courses that are specific to Geography, such as World Geography or Physical Geography.
Geographic Knowledge: If you have knowledge of certain geographic locations, list those as well.
Geographic Software: List any geographic software that you know how to use, such as GIS or Global Mapper.
Research Experience: If you have conducted any research related to Geography, list it here.
Honors and Awards: If you have any honors or awards related to Geography, include those to your resume.
Having a well-rounded and up-to-date Geography Teacher resume is essential in the world of education. With the right resume, you can showcase your knowledge and experience in the field and stand out to potential employers.
What is a good summary for a Geography Teacher resume?
A good summary for a Geography Teacher resume should outline a candidate's educational qualifications, teaching experience and any specialized skills related to teaching geography. It should also highlight the candidate's ability to effectively communicate with a variety of students and to build relationships with them and their families. Additionally, it should demonstrate the candidate's knowledge of geography and their ability to deliver engaging lessons. Lastly, the summary should express enthusiasm for the position and a commitment to student success.
Ultimately, a Geography Teacher resume summary should emphasize a candidate's qualifications, experience, and enthusiasm for the position. It should demonstrate how the candidate's skills and expertise can help contribute to a successful learning environment and contribute to a school's success.
What is a good objective for a Geography Teacher resume?
A Geography Teacher resume should include an objective that reflects the skills, competencies, and experience necessary for success in the position. Here are a few good objectives for a Geography Teacher resume:
To leverage a background in social studies and geography to provide engaging and well-structured lessons for students.
To bring enthusiasm and creativity to the classroom and utilize effective communication techniques to foster a positive learning environment.
To use technology and innovative teaching strategies to help students learn and understand the world around them.
To use critical thinking and problem solving skills to develop meaningful and engaging lesson plans.
To create an inclusive classroom and promote an appreciation for global cultures and perspectives.
How do you list Geography Teacher skills on a resume?
Geography teachers are educators who specialize in teaching students about the physical features of the earth, its environment and its place in the world. When creating a resume, it is important to highlight your skills and qualifications relevant to the job. Here are some of the key skills to list on your resume as a Geography Teacher:
Knowledge of Physical and Human Geography: Geography teachers should have a thorough knowledge of physical and human geography, including topics such as earth structures, climate, population, culture, ecosystems, and resources.
Teaching Experience: If you have teaching experience, include it on your resume. List the ages and grades you have taught, as well as any special teaching methods or techniques you have used.
Communication and Collaboration Skills: Geography teachers need to be knowledgeable about geography, but they also need to be able to communicate their lessons effectively to students. Make sure to include any relevant communication and collaboration skills on your resume.
Technology Proficiency: Many lesson plans and teaching tools used in geography classes involve technology, such as interactive maps and simulations. If you are proficient in the use of technology, list that on your resume.
Creativity: Geography teachers must be creative in order to make learning fun and engaging. List any creative methods you have used in the classroom on your resume.
Classroom Management: Geography teachers should have the ability to manage their classrooms effectively and maintain discipline. Include any experience you have managing a classroom on your resume.
Adaptability: With ever-changing technology, geography teachers need to be able to adjust their lessons to keep up with the times. List any experience you have adapting to new technology or methods on your resume.
By listing these skills and qualifications, you can demonstrate to potential employers that you are a qualified and experienced Geography Teacher.
What skills should I put on my resume for Geography Teacher?
Geography is an important part of the curriculum in many schools, and teaching geography can be a highly rewarding career. To be a successful geography teacher, there is a specific set of skills that should be included on your resume. Here are a few key skills that should be featured prominently on your resume if you are applying for a geography teaching job:
Knowledge of Geography: As a geography teacher, it is essential to have a deep understanding of different geographical concepts, such as the physical and human geography of different regions. A strong knowledge of geography will help you to prepare engaging lessons and activities for your students.
Ability to Explain Concepts: In order to effectively teach geography, you must be able to explain complex concepts in a way that is easy for students to understand. Being able to identify the key points in a topic and to present them in a clear and concise manner is a key skill that should be included on your resume.
Analytical Skills: As a geography teacher, you will need to be able to interpret data and draw conclusions from it. Having strong analytical skills will allow you to analyse geographical information and to use it to create engaging and meaningful lessons for your students.
Technology Skills: Technology is becoming increasingly integrated into the teaching of geography. As such, having strong technology skills is key for any geography teacher. This includes being proficient with computer software, such as GIS and mapping software, as well as having a good understanding of how to use technology in the classroom.
Interpersonal Skills: As a geography teacher, you will need to have strong interpersonal skills so that you can effectively communicate with your students and colleagues. Having the ability to build relationships and to collaborate with others is essential for a successful geography teacher.
By highlighting these key skills on your resume, you will demonstrate that you have the necessary skills and qualifications to be a successful geography teacher.
Key takeaways for an Geography Teacher resume
Writing a teacher resume is different than other job resumes, but many of the same rules still apply. When applying for a geography teacher job, it is important to highlight your educational background, teaching experience, and any certifications you may have. Here are some key takeaways to remember when writing a geography teacher resume:
Emphasize your educational background: Include information about your educational background, such as your university or college degree in geography, any extra certifications or qualifications you may have, and any additional training or workshops you've attended.
Highlight your teaching experience: Showcase your past teaching experience, including any relevant geography-specific classes that you taught and any successful projects or lessons you implemented.
Showcase your knowledge of current trends: Demonstrate your knowledge of current trends in the field of geography and explain how you are keeping up with them.
Talk about your teaching style: Explain your teaching style, such as whether you prefer hands-on, interactive classes or lectures.
Showcase your ability to collaborate: Demonstrate your ability to work with other teachers and school administrators to create successful learning experiences for your students.
By following these tips, you'll be able to craft an effective geography teacher resume that will help you stand out from the competition. Good luck!
Let us help you build
your Resume!
Make your resume more organized and attractive with our Resume Builder