Writing a great resume for a foreign language teacher position can be a challenge, especially if you have limited teaching experience. With the right format, content and strategy, however, you can create a resume that will make a lasting impression on potential employers and help you get the job. In this guide, we'll provide tips and examples of how to write a resume for a foreign language teacher position, so you can stand out in a competitive job market.
If you didn't find what you were looking for, be sure to check out our complete library of resume examples.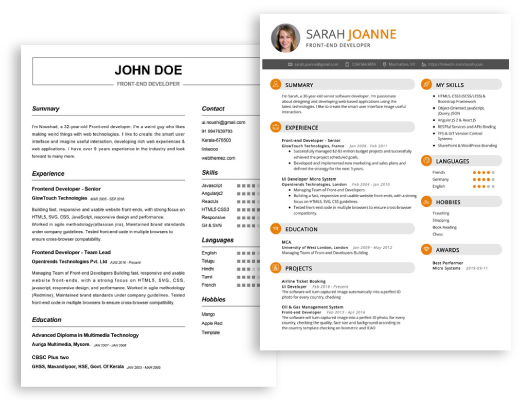 Start building your dream career today!
Create your professional resume in just 5 minutes with our easy-to-use resume builder!
Foreign Language Teacher Resume Examples
John Doe
Foreign Language Teacher
123 Main Street | Anytown, USA 99999 | Phone: (123) 456-7890 | Email: john.doe@email.com
Highly experienced foreign language teacher with an extensive background teaching Spanish and French in both public and private schools. Possesses strong interpersonal and communication skills necessary to effectively educate students of all ages and levels. Demonstrated ability to create engaging and challenging lessons and activities to help students achieve desired language proficiency. Committed to inspiring and motivating students to explore and appreciate different cultures.
Core Skills:
Native Spanish Speaker
French Proficiency
Knowledge of Teaching Methods
Strong Interpersonal Skills
Excellent Communicator
Creative Lesson Planning
Proficiency in MS Office Suite
Cultural Appreciation
Organizational and Time Management Skills
Professional Experience:
Teacher, Centro Escolar, Tijuana, Mexico
Taught Spanish and French to students in grades 6- 12 with enthusiasm and commitment to the subject matter
Developed creative and interactive lesson plans with a focus on developing student's oral and written proficiency
Supported the growth of students' cultural appreciation and understanding
Assisted and guided students in their selection of language- related learning activities
Teacher, Clifton High School, Clifton, NJ
Advised and instructed students in Spanish and French language classes
Encouraged students to practice and improve their language skills by designing engaging activities
Assisted students with making connections between Spanish and French language, culture and society
Provided individualized instruction to reinforce student understanding of grammar, pronunciation and other language concepts
Education:
Master of Arts in Teaching, Spanish and French, Harvard University, Cambridge, MA
Bachelor of Arts in Spanish Language and Literature, University of California, Los Angeles, CA
Foreign Language Teacher Resume with No Experience
Recent college graduate with a passion for teaching foreign languages and an eagerness to bring it to the classroom. With a strong background in education and cultural studies, I am confident in my ability to create a unique and engaging learning environment for students.
Skills
Excellent written and spoken communication skills in English and two foreign languages
Excellent organizational and planning skills
Strong leadership and interpersonal skills
Ability to adjust teaching methods to suit student needs
Ability to plan and promote interactive activities and projects
Highly proficient in using technology for teaching and learning
Responsibilities
Develop and deliver engaging and effective language learning modules
Provide individualized instruction to students based on their learning needs
Monitor students' progress and provide feedback on their improvement
Assist students in writing essays and other assignments
Create a positive and motivating learning environment
Encourage students to engage in group activities and discussions
Assist in developing and updating language curriculums
Foreign Language Teacher Resume with 2 Years of Experience
A passionate and creative foreign language teacher with two years of experience in teaching Spanish language to students of different levels and ages. Experienced in preparing and delivering comprehensive lessons plans, providing individualized instruction, and creating a positive learning environment, while ensuring the highest quality of education. Proven track record of creating curricula that develop fluency in language and builds confidence in the students.
Core Skills:
Knowledge of Spanish language and culture
Ability to develop effective lesson plans
Experience in delivering comprehensive instruction
Ability to communicate with students of different levels
Strong classroom management techniques
Excellent organizational skills
Responsibilities:
Instruct students in speaking, reading, and writing Spanish
Design engaging lessons plans and activities to meet the needs of all levels of Spanish
Monitor and assess student progress
Develop and implement strategies to help students improve their Spanish language skills
Develop and administer assessments in line with Spanish curriculum
Provide individualized instruction to help students improve their language skills
Assist students in building confidence in Spanish language proficiency
Foreign Language Teacher Resume with 5 Years of Experience
I am a passionate and highly experienced foreign language teacher with 5 years of hands- on experience teaching students of all ages and levels. My expertise lies in helping students to master the fundamentals of language, build their confidence and to enjoy learning. I am great at speaking, reading, writing and listening in foreign languages and am able to effectively teach these skills to my students.
Core Skills:
Expert in teaching foreign languages
In- depth knowledge of grammar and vocabulary
Able to teach according to individual needs and abilities
Experienced in developing and implementing lesson plans
Skilled in providing mentorship and guidance
Excellent communicator and motivator
Efficient and organized
Responsibilities:
Developed and taught language courses for students of all levels
Assigned and corrected homework and helped students with understanding
Organized class activities to promote active learning
Evaluated student performance through tests, quizzes and observations
Conducted one- on- one and group tutoring sessions
Developed innovative strategies to aid student learning
Encouraged learning by creating a positive and relaxed environment
Monitored student progress and provided feedback
Collaborated with other teachers on curriculum planning and development
Foreign Language Teacher Resume with 7 Years of Experience
Dynamic, experienced foreign language teacher with 7 years of experience teaching Spanish, French, and Italian. Skilled in developing curriculum, providing instruction, and assessment of student learning. Proven ability to motivate and engage students with a variety of learning materials and techniques.
Core Skills:
Demonstrated knowledge of foreign language teaching techniques
Strong communication and organizational skills
Ability to develop and implement effective lesson plans
Experienced in assessing student progress
Excellent interpersonal skills
Proficient in use of technology for learning and teaching
Cultural sensitivity and knowledge of multiculturalism
Responsibilities:
Develop and implement effective lesson plans for foreign language classes
Provide instruction in Spanish, French, and Italian
Assess student progress and modify instruction accordingly
Maintain a positive and encouraging learning environment
Utilize a variety of learning materials and teaching techniques
Keep up to date on foreign language teaching trends and best practices
Collaborate with other teachers, administrators, and parents to ensure student success
Foreign Language Teacher Resume with 10 Years of Experience
A passionate and experienced Foreign Language Teacher with 10 years of teaching experience in both public and private school settings. Adept at creating an environment that encourages learning, collaboration and critical thinking. Possesses a strong cultural understanding of the language and an exceptional ability to connect with students and help them reach their potential.
Core Skills:
Demonstrated ability to teach foreign language in a variety of settings
Deep understanding of the history, culture, literature and grammar associated with the language
Comfort in using technology to enhance the learning experience
Ability to develop and implement innovative and creative instructional strategies
Excellent communication and interpersonal skills
Exceptional organizational and time management abilities
Responsibilities:
Design, develop and deliver foreign language lessons to students from elementary to high school levels
Assess student performance and progress through tests, quizzes and written assignments
Develop and implement guidelines for classroom behavior and other policies
Create a positive and welcoming learning environment in the classroom
Provide feedback and reinforcement to motivate and encourage students
Collaborate with other teachers to ensure cross- curricular integration
Maintain accurate records and document student progress
Foreign Language Teacher Resume with 15 Years of Experience
Dedicated Foreign Language Teacher with 15 years of teaching experience. A professional with expertise in Spanish, French, and Italian. Proven track record of successfully introducing students to foreign languages, cultures, and customs. Excellent communicator with the ability to motivate and inspire students of all ages and ability levels. Highly organized and detail oriented with the drive to foster positive learning environments.
Core Skills:
Proficiency in Spanish, French, and Italian
In- depth understanding of language structure and grammar
Excellent written and verbal communication
Patience and strong interpersonal skills
Ability to create learning materials
Strong organizational skills
Proficient in Microsoft Office Suite
Responsibilities:
Developing lesson plans to teach language concepts
Instructing students in Spanish, French, and Italian
Conducting assessments and providing feedback
Organizing and leading cultural activities
Assisting with translation and writing tasks
Developing strategies to assist struggling learners
Carrying out administrative tasks
Encouraging student participation in class activities
Creating an engaging learning environment
Incorporating technology into instruction
In addition to this, be sure to check out our resume templates, resume formats, cover letter examples, job description, and career advice pages for more helpful tips and advice.
What should be included in a Foreign Language Teacher resume?
A foreign language teacher resume should include all the skills, experience, and qualifications that make you a great candidate for the job. Here are some key elements to include:
Professional Summary: A brief summary of your teaching background and experience that highlights the qualifications that make you the best fit for the job.
Education: Any degrees, certifications, and other related qualifications you have earned in foreign language education.
Skills: Relevant language proficiency, teaching methods, and other applicable skills.
Experience: List any previous teaching experience and related roles you have held.
Specializations and/or Certifications: Showcase any specializations or certifications you may have in language education.
Language Proficiency: A summary of your language proficiency, including spoken and written, as well as any cultural knowledge.
Core Competencies: Any core competencies related to teaching and foreign language education that you possess.
Achievements: Any awards or other achievements you have earned in the foreign language education space.
By including these elements in your foreign language teacher resume, you will be able to show potential employers that you are the perfect candidate for the job.
What is a good summary for a Foreign Language Teacher resume?
A Foreign Language Teacher resume should be a snapshot of the skills, experience, and qualifications that make an individual an ideal candidate for the job. The successful Foreign Language Teacher resume should clearly demonstrate a passion for foreign languages and an ability to successfully teach them.
Key qualifications for a Foreign Language Teacher should include fluency in one or more languages and the ability to use language-learning techniques to teach students. They should also have knowledge of the cultures associated with their languages and the ability to inspire and motivate students.
The resume should detail the applicant's educational background, with a focus on language-related degrees and certifications. It should also include any relevant teaching experience and a description of the methods and techniques used to teach language.
The resume should conclude with a summary of the individual's qualifications and a demonstration of their passion and commitment to Foreign Language teaching. This should be framed in such a way as to emphasize the applicant's strengths and draw attention to the positive impact they can make in the classroom.
What is a good objective for a Foreign Language Teacher resume?
A foreign language teacher resume should focus on the applicant's qualifications and experience as an educator. It should emphasize their ability to teach a foreign language to students of all ages and skill levels. The objective of a foreign language teacher resume should reflect the applicant's commitment to helping students reach their language learning goals.
Here are some examples of good objectives for foreign language teacher resumes:
To provide high-quality language instruction that engages and develops the language learning skills of students of all ages and backgrounds.
To create a learning environment where all students are inspired to grow and reach their language learning goals.
To use innovative language teaching techniques that help students of all levels understand and appreciate foreign language.
To promote a culture of inclusivity and respect among students and help them master the language.
To create a curriculum that is both challenging and enjoyable for students of all backgrounds.
To develop a strong bond with students and foster a lifelong interest in foreign language learning.
How do you list Foreign Language Teacher skills on a resume?
When constructing a resume for a foreign language teacher, it is important to highlight the language skills and teaching experience that make you an ideal candidate. Here are some tips for displaying your foreign language teacher skills on your resume:
Include a summary statement at the top of your resume that showcases your foreign language teaching abilities and the specific languages you can teach.
List relevant certifications, such as a teaching license or certification to teach language.
Describe any foreign language education or courses you have completed in your field.
Highlight any foreign language teaching experience you have had, including student teaching and any other relevant roles.
Include any experience you have had as a translator or interpreter.
Showcase any knowledge of international cultures and customs you have gained through travel or study abroad experience.
Demonstrate your ability to use online language learning platforms and your knowledge of language learning best practices.
Mention any awards you have gained from teaching or language learning competitions.
By emphasizing these foreign language teacher skills on your resume, you will be sure to stand out from other applicants and showcase your qualifications for the job.
What skills should I put on my resume for Foreign Language Teacher?
In order to be considered for a position as a Foreign Language Teacher, you should include a variety of skills on your resume that demonstrate your ability to teach students from different backgrounds and of different ages. Here are some of the most important skills to include:
Fluency: You should list any foreign language fluency you have on your resume. It is important to clearly specify the range of your fluency, such as "proficient in everyday conversation" or "advanced in reading, writing, and speaking."
Cultural Knowledge: Many language courses require an understanding of the culture and history of the language. Make sure to list any cultural knowledge you have related to the language you are teaching.
Teaching Experience: If you have teaching experience, make sure to include it on your resume. This may include teaching English abroad, language tutoring, teaching in a classroom setting, or any other similar type of experience.
Adaptability: Teaching a foreign language requires the ability to adapt to different learning styles and educational goals. Be sure to include any experiences that demonstrate your ability to be flexible and accommodating in the classroom.
Technology Skills: In the modern age, language teaching often requires the use of technology. List any technology skills you possess that could be used to enhance language learning, such as video conferencing, online teaching platforms, or audio/visual language assessment tools.
Key takeaways for an Foreign Language Teacher resume
Writing a resume as a foreign language teacher is a great way to showcase your language skills and qualifications. Here are some key takeaways for an effective resume for a foreign language teacher:
1.Highlight your language abilities. Make sure to include a list of languages you're fluent in, any certifications you hold related to the language, and any awards or recognition you received for your language skills.
2.Show off your teaching experience. Include any teaching experience you have, including the length of time you've been teaching, the level of proficiency you teach, and the types of courses you've taught.
3.Detail your related qualifications. Include any knowledge in related fields such as cultural studies, literature, linguistics, and international relations.
4.Include any special skills. Mention any special skills you have that could be useful in a language teaching role, such as proficiency in other computer programs or familiarity with teaching materials.
5.Showcase your accomplishments. Include any awards, recognition, or other achievements that you've received for your language teaching skills or your students' successes.
These key takeaways should help you craft an effective resume that showcases your language teaching abilities and qualifications. Good luck!
Let us help you build
your Resume!
Make your resume more organized and attractive with our Resume Builder