Writing a resume is an important part of the job search process, especially when you are looking to become an ESL tutor. Since an ESL tutor works with students from diverse backgrounds, employers prefer to see resumes that demonstrate both expertise in teaching English as a second language and a global approach to education. It is important to include the pertinent information about your qualifications, experience, and skill set so that you stand out from the competition. This guide will provide you with tips on writing an effective ESL tutor resume, as well as examples of resumes that have been successful in getting people jobs.
If you didn't find what you were looking for, be sure to check out our complete library of resume examples.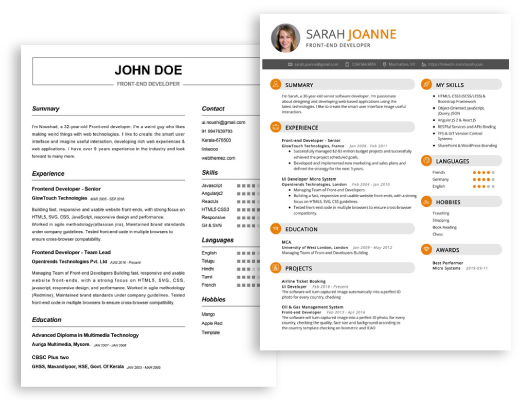 Start building your dream career today!
Create your professional resume in just 5 minutes with our easy-to-use resume builder!
ESL Tutor Resume Examples
John Doe
ESL Tutor
123 Main Street | Anytown, USA 99999 | Phone: (123) 456-7890 | Email: john.doe@email.com
I am an experienced ESL tutor with five years of teaching experience. I have a proven track record of providing superior instruction and guidance to students in a range of areas, including grammar, pronunciation, conversation practice, and writing. I am passionate about helping students learn English as a second language and I have the ability to improve all areas of their language skills. I am an enthusiastic, patient, and supportive teacher who can help students reach their full potential.
Core Skills:
Expertise in teaching English as a Second Language (ESL)
Knowledge of grammar, pronunciation, conversational practice, and writing
Patience and clear communication
Ability to develop and implement creative lesson plans
Exceptional organizational, interpersonal, and problem- solving skills
Professional Experience:
ESL Tutor, ABC Learning Center, 2017- Present
Develop individualized lesson plans to help students learn English as a Second Language
Provide one- on- one instruction and guidance to students in grammar, pronunciation, conversational practice, and writing
Monitor and assess student progress and provide timely feedback
Establish positive relationships with students to create a comfortable learning environment
ESL Teacher, XYZ Language Institute, 2015- 2017
Taught a variety of ESL classes for students at all levels
Developed curricula and lesson plans to challenge and engage students
Utilized a variety of teaching methods and strategies to meet the needs of individual learners
Coordinated and facilitated classroom activities
Education:
Bachelor of Arts in English and Education, ABC University, 2013- 2017
ESL Tutor Resume with No Experience
Recent college graduate with a degree in Education and a passion for ESL teaching. Seeking to utilize communication and teaching skills to help ESL learners make progress in their language acquisition.
Skills
Knowledge of language acquisition processes
Ability to create lesson plans
Effective communicator
Understanding of cultural diversity
Strong problem- solving and organizational skills
Responsibilities
Develop creative and comprehensive lesson plans
Help ESL learners improve their language skills
Provide clear and concise instructions
Evaluate learner's progress and provide feedback
Encourage learners to ask questions and become engaged in the learning process
ESL Tutor Resume with 2 Years of Experience
A passionate ESL tutor with two years of experience in teaching English as a Second Language. Experienced in teaching students of all ages and levels of understanding, including children, beginner, intermediate and advanced level students. Possess a strong ability to help non- native speakers acquire the English language through a combination of engaging activities, interactive tools and thoughtful feedback. Able to build strong relationships with students, motivate them and help them reach their goals.
Core Skills:
Excellent communicator
Creative lesson planning
Strong classroom management
Knowledge of different learning styles
Proficient in various teaching methods
Exceptional problem- solving skills
Excellent organizational skills
Able to work independently
Responsibilities:
Design and implement engaging lesson plans to meet the needs of each student
Evaluate student progress and prepare reports
Assist students in setting and reaching language goals
Encourage and motivate students to take part in classroom activities
Provide individualized feedback in order to strengthen student's language skills
Develop test materials and administer exams
Communicate with parents and guardians regularly to discuss student progress
Create a positive and comfortable learning environment
ESL Tutor Resume with 5 Years of Experience
Dynamic ESL Tutor with 5 years of experience in helping English Language Learners (ELLs) improve their English speaking, reading and writing skills. Ability to create a positive learning environment, motivate students and establish a rapport with learners of all ages. Proven track record of successfully teaching English to ELLs in various educational settings.
Core Skills:
Fluent in English and Spanish
Excellent educational and interpersonal skills
Strong communication and listening expertise
Knowledge of various teaching methods
Proficient in teaching different age groups
Highly organized and detail- oriented
Able to assess student progress
Responsibilities:
Developed individualized lesson plans to accommodate students' needs and learning styles
Presented lessons in an engaging and informative manner
Assessed and monitored student progress
Provided individualized guidance and support to students
Facilitated group activities and discussions
Encouraged creative thinking and problem- solving skills
Administered tests and exams to monitor student progress
Maintained regular communication with parents and guardians
ESL Tutor Resume with 7 Years of Experience
Proactive and innovative ESL Tutor with 7 years of teaching experience. A highly creative and motivated educator with proven success in developing and implementing successful English as a Second Language (ESL) programs. Skilled in developing curricula and course materials, assessing student language proficiency levels, and counseling students on educational options. Experienced in teaching adults and children of various ages and cultural backgrounds.
Core Skills:
ESL program development and implementation
Curriculum design and course material preparation
Student language proficiency assessment
Student counseling and career guidance
Classroom management and student motivation
Multicultural communication
Responsibilities:
Developed and implemented successful ESL programs for adults and children
Prepared curriculum and designed course materials
Assessed student language proficiency levels
Counseled students on educational options
Managed classroom environment and student motivation
Provided multicultural communication instruction and support
ESL Tutor Resume with 10 Years of Experience
Experienced ESL Tutor with over 10 years of experience teaching English as a Second Language to students from diverse backgrounds. Skilled in providing instruction in reading, writing, grammar, and speaking to students of all ages. Able to adjust curriculum to meet individual student needs and present course materials in an engaging and creative manner.
Core Skills:
Curriculum Development
Classroom Management
Differentiated Instruction
Student Engagement
Teaching Strategies
Communication
Writing
Reading
Listening
Grammar
Cultural Sensitivity
Responsibilities:
Develop and implement lesson plans based on student and group needs
Provide instruction on reading, writing, grammar, and speaking in English
Monitor student progress and provide feedback and guidance
Assess student performance and provide feedback to parents and administrators
Support individual students by offering extra help and guidance
Lead small group activities and projects
Develop an engaging atmosphere that encourages student participation
Utilize engaging teaching strategies and techniques to increase student understanding
Work collaboratively with other instructors and administrators to ensure student success
ESL Tutor Resume with 15 Years of Experience
Dynamic and experienced ESL Tutor with 15 years of experience providing English language instruction to diverse groups of learners of all age levels. Highly adept at creating engaging learning activities and materials that are tailored to the individual needs of each student. Utilizes an array of teaching techniques and methodologies to promote language development and fluency.
Core Skills:
Expert in English language instruction
In- depth knowledge of learning standards
Highly organized and efficient
Fluent in Spanish and English
Creative problem solver
Skilled in time management
Effective communicator
Responsibilities:
Created customized lesson plans for individual and small groups of students
Developed and implemented educational activities for student engagement
Assessed students' progress and provide feedback
Utilized a range of communication strategies to improve students' language skills
Collaborated with faculty to develop language learning strategies
Monitored student performance and provided assistance as needed
Administered and graded tests and exams
Encouraged and motivated students to reach their maximum learning potential
In addition to this, be sure to check out our resume templates, resume formats, cover letter examples, job description, and career advice pages for more helpful tips and advice.
What should be included in a ESL Tutor resume?
If you are looking to become an ESL tutor, having a quality resume is key. A well-crafted resume will help you stand out from other applicants and demonstrate your qualifications. Here are the must-haves to include on your ESL tutor resume:
Education: Display your educational background. This should include the type of degree you obtained, the university/college you attended and the year of graduation.
Certifications: If you have any ESL certifications, such as a CELTA or TEFL, include them.
Experience: Include any teaching or tutoring experience you have. This could include any volunteer or paid positions.
Skills: Showcase any relevant skills you possess, such as fluency in a foreign language or experience with online teaching platforms.
Personal Statement: Include a short personal statement to give potential employers an insight into your personality and enthusiasm.
References: List out any references you have.
Having a strong resume that includes all of these elements is a great way to make a good impression and show employers why you are the perfect candidate for the position. Good luck!
What is a good summary for a ESL Tutor resume?
A good summary for an ESL Tutor resume should highlight the ways in which the individual is qualified to help English language learners. This should include any degrees and certifications they possess, their experience with teaching English as a Second Language, and any special skills they have that might be beneficial to their students. Additionally, the summary should emphasize any unique strengths they bring to the position, such as an ability to communicate complex concepts in simple terms, or a fluency in multiple languages. Finally, the summary should give the reader a sense of the individual's enthusiasm for teaching and their dedication to helping their students succeed.
What is a good objective for a ESL Tutor resume?
A resume objective is a statement of your career goals, typically listed at the top of your resume. When it comes to creating an effective objective statement for a ESL Tutor resume, it's important to make sure that it reflects not only your experience, but also your qualifications and the specific skills you will bring to the job.
Here are some examples of objectives for a ESL Tutor resume:
To utilize my experience as a certified ESL tutor to help students of all ages improve their language skills and feel more confident in their abilities
To become an integral part of the ESL education team and help bridge linguistic gaps in the classroom
To apply my experience and knowledge of English language instruction to help students develop their English skills effectively and efficiently
To contribute to the success of students by providing effective and engaging ESL tutoring
To help students develop their fluency in English and become more confident communicators
To utilize my expertise in teaching English as a second language to help students reach their language-learning goals
How do you list ESL Tutor skills on a resume?
ESL tutors, or English as a Second Language Teachers, help students learn the English language. When listing your skills for an ESL Tutor position on a resume, it is important to highlight the relevant teaching, communication, and organizational skills that make you a successful teacher. Here are some skills you should consider including on your resume:
Instructing: Detail your ability to provide instruction in a way that is engaging and effective.
Understanding: Demonstrate your understanding of different learning styles and the ability to help students learn in a way that best suits their individual needs.
Communication: Highlight your strong communication skills, including your ability to express yourself clearly and effectively in both written and spoken English.
Patience: Stress your capacity to remain patient, tolerant, and understanding while teaching students who are learning English as a second language.
Assessment: Describe your ability to assess student progress and adapt the curriculum as needed.
Planning: Emphasize your organizational skills and your ability to develop lesson plans, activities, and assessments.
Technology: Demonstrate your knowledge and experience with language learning software and programs.
Cultural Awareness: Showcase your understanding of different cultures and your appreciation for cultural differences.
Multilingual skills: Detail any other languages you are proficient in, which can be a great asset when teaching ESL students.
What skills should I put on my resume for ESL Tutor?
When creating a resume for an ESL Tutor position, it is important to emphasize the skills that employers are seeking. Here are some of the most important ones:
Fluency in English – Being fluent in English is essential for an ESL Tutor. This includes not only speaking and writing, but also being able to read and comprehend English.
Knowledge of grammar – Being familiar with the rules of English grammar is essential for teaching English as a second language. Employers will want to see that you have a strong understanding of the fundamentals of English grammar.
Teaching experience – Even if you have not had formal teaching experience, employers will want to see that you have some background in teaching, such as volunteer experience or tutoring jobs.
Patience – ESL Tutoring requires patience and understanding as students may be struggling to learn the language. Employers will want to see that you have the ability to stay calm and patient in difficult situations.
Communication skills – Good communication skills are essential for an ESL Tutor. You should be able to effectively communicate with students, and also be able to listen and understand what they are saying.
Creativity – Employers will want to see that you have the ability to think outside of the box and come up with creative solutions to teaching challenges.
By emphasizing these key skills on your resume, you can show employers that you have the right qualifications for the job.
Key takeaways for an ESL Tutor resume
As an ESL tutor, your resume should be action-oriented and highlight your ability to teach English as a Second Language (ESL) to a variety of students. Here are some key takeaways for creating a successful ESL tutor resume:
Highlight your education and certifications: An ESL tutor should have a good understanding of English language and grammar, and any specialized certifications in ESL should be prominently displayed.
Focus on your tutoring experience: Make sure to include any relevant teaching or tutoring experience, including the number of hours, the age of students and the level of English they were taught. Also, include any other experiences that demonstrate your teaching ability, such as classroom management or curriculum development.
Connect with the employer: An effective resume should be tailored to the specific job you're applying for. Make sure your resume speaks to the employer's needs and what they are looking for in an ESL tutor.
Showcase your communication skills: As an ESL tutor, your ability to communicate effectively is key. Make sure to highlight your excellent verbal and written communication skills, as well as any foreign language skills you may have.
Include references: Include references from past employers or other professionals who can vouch for your teaching ability.
Creating a standout ESL tutor resume doesn't have to be difficult. With these key takeaways in mind, you can be sure to create a resume that will help you stand out from the competition.
Let us help you build
your Resume!
Make your resume more organized and attractive with our Resume Builder