Writing a resume as an English lecturer can be a daunting task. This guide will help you to craft the perfect resume by providing advice and examples. From outlining the basic elements of a resume to providing information on how to best showcase your skills and experience, this comprehensive guide will have you prepared for your job search. Additionally, we'll provide you with examples of resumes for English lecturers, so you can get an idea of what a great resume looks like. With these resources, you'll be ready to create the perfect resume and start applying for the job of your dreams.
If you didn't find what you were looking for, be sure to check out our complete library of resume examples.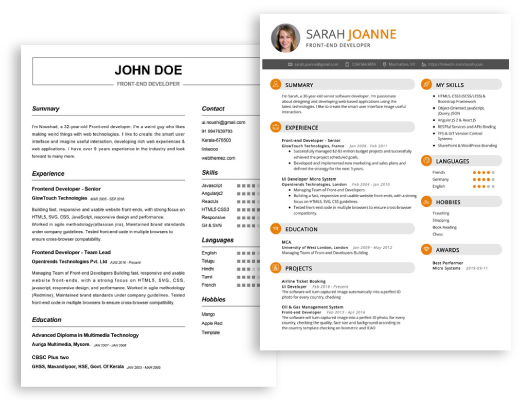 Start building your dream career today!
Create your professional resume in just 5 minutes with our easy-to-use resume builder!
English Lecturer Resume Examples
John Doe
English Lecturer
123 Main Street | Anytown, USA 99999 | Phone: (123) 456-7890 | Email: john.doe@email.com
A motivated and experienced English Lecturer with over 10 years of teaching experience in the discipline of English Language and Literature. A highly versatile teacher with an excellent track record of successfully teaching and mentoring students of all ages and abilities. Skilled in the use of technology to enhance teaching and learning opportunities. Experienced in the design, creation, and delivery of engaging and creative lessons that motivate students to reach their full potential.
Core Skills:
Classroom Management
Language Arts
Creative Writing
Curriculum Design
Lesson Planning
Student Assessment
Group Instruction
Technology Integration
Critical Thinking
Professional Experience:
English Lecturer, ABC University, 2018- Present
Developed and implemented creative and innovative curriculum and lesson plans for college- level English Language and Literature classes.
Regularly evaluated student performance and provided effective feedback to ensure academic improvement.
Utilized a variety of teaching strategies to meet the individual needs of students.
Participated in the development of interdisciplinary projects and initiatives.
English Teacher, XYZ High School, 2011- 2018
Successfully taught English Language and Literature to a diverse group of high school students.
Mentored and provided guidance to struggling students in order to help them reach their academic goals.
Prepared and delivered presentations to parents and guardians regarding student progress.
Collaborated with other teachers to create engaging learning activities.
Education:
Bachelor of Arts in English, ABC University, 2008- 2011
Master of Arts in Education, XYZ University, 2011- 2013
English Lecturer Resume with No Experience
Recent college graduate with a passion for literature and teaching, with strong leadership and organizational skills. I have a strong commitment to providing quality instruction and instilling the value of education in my students. I am looking for the opportunity to put my knowledge and skills to work in a teaching role.
Skills
Excellent communication and interpersonal skills
Highly organized and detail- oriented
Strong work ethic
Ability to multitask efficiently
Proficient in Microsoft Office
Adaptable to new technologies
Creative problem solving
Responsibilities
Develop and implement creative English course curriculum
Plan and lead classroom activities
Maintain an organized and engaging classroom environment
Monitor and evaluate student progress
Provide individualized instruction and guidance to students
Act as a mentor to students and provide support and guidance
Develop and implement appropriate assessment tools
Collaborate with other English faculty members to enhance the learning experience
Encourage student participation and enthusiasm for learning
English Lecturer Resume with 2 Years of Experience
Motivated and enthusiastic English Lecturer with two years of experience teaching English language and literature to students of all ages. Possesses a deep passion for literature, writing, and inspiring others to explore the power of language. Expertise in developing and delivering comprehensive curriculums adapting to varied learning styles while maintaining a high level of student engagement and motivation.
Core Skills:
Effective classroom management
Knowledge of teaching strategies
Strong communication and interpersonal skills
Proficiency in use of educational technology
Ability to develop engaging lesson plans
Excellent organizational and time management skills
Responsibilities:
Developed and implemented engaging and effective lesson plans for students of all ages
Applied differentiated instruction techniques to meet the varied needs of students
Assigned and graded student work, provided feedback, and determined grades
Conducted student assessments to evaluate student learning
Advised students on their academic and career pursuits
Engaged with parents and other stakeholders on an ongoing basis to ensure student success
English Lecturer Resume with 5 Years of Experience
A qualified and highly motivated English Lecturer with 5 years of teaching experience in college and university classrooms. Proven track record of creating engaging lesson plans and providing an interactive learning environment for students to foster their intellectual curiosity and develop their language skills. Possesses strong interpersonal skills, able to effectively communicate with students, faculty, and staff. Possesses strong organizational skills, able to successfully handle multiple tasks and prioritize accordingly.
Core Skills:
Teaching English language courses
Developing lesson plans
Assessing student performance
Delivering lectures and facilitating discussion
Establishing good student- teacher relationships
Working with diverse learners
Utilizing technology in the classroom
Responsibilities:
Planning, preparing and delivering English lessons to students in a university setting
Assessing and evaluating student performance
Establishing appropriate learning objectives for each lesson
Developing curriculum and course materials
Monitoring student progress and providing feedback
Motivating students to achieve their academic goals
Supervising student groups on field trips and excursions
Promoting a positive classroom environment
Engaging in professional development activities
English Lecturer Resume with 7 Years of Experience
A passionate English lecturer with 7 years of experience in teaching English language and literature. Possesses an excellent command of the English language and is well- versed with the latest methodologies of teaching. Possesses an array of communication and interpersonal skills that enable students to easily understand the concepts. Also proficient in developing educational content and curriculum.
Core Skills:
Expert in teaching English language and literature
Proficient in developing educational content and curriculum
Excellent interpersonal and communication skills
Ability to inspire and motivate students
Ability to work well in a team
Advanced knowledge of the English language
Responsibilities:
Teaching English language and literature to students of all ages
Developing educational content, lesson plans and curriculums for classes
Supervising and monitoring students' activities in and out of the classroom
Assigning tasks to students and providing feedback on their work
Keeping up to date with the latest trends in teaching English language and literature
Establishing and enforcing rules for the class
Working in collaboration with other teachers to develop effective teaching strategies
Encouraging students to participate in extra- curricular activities.
English Lecturer Resume with 10 Years of Experience
An experienced English Lecturer with 10 years of experience teaching English language, literature and writing to college and university students. Possesses a strong record of developing innovative teaching strategies and adapting to the changing needs of diverse student populations. Expertly crafts course materials, evaluates student performances, and provides supportive feedback to help students reach their academic goals. Core skills include: classroom management, curriculum development, assessment design, and student mentoring.
Core Skills:
Classroom Management
Curriculum Development
Assessment Design
Student Mentoring
Assessment Evaluation
Subject Matter Expertise
Excellent Writing and Research Skills
Instructional Design
Technology Integration
Responsibilities:
Develop and implement curriculum for English language, literature, and writing classes
Design and execute assessment activities to evaluate student understanding and progress
Mentor students to help them reach their academic goals
Provide supportive feedback and constructive criticism to aid student development
Adapt to the changing needs of diverse student populations
Teach classes and activities that promote student engagement and learning
Instruct students in proper grammar and usage of the English language
Utilize a range of technology tools to enhance the learning experience
English Lecturer Resume with 15 Years of Experience
With 15 years of experience teaching English language and literature, I am an excellent Lecturer of English specializing in helping students develop a deeper understanding and appreciation of the language. I have a well- rounded knowledge of the English language and a genuine passion for the subject. I have an enduring commitment to inspiring and motivating my students to explore the world of English, and I strive to create an inviting and engaging learning environment for them.
Core Skills:
Ability to inspire, motivate and engage students
Strong knowledge of English language and literature
Excellent teaching and communication skills
In- depth understanding of English grammar and syntax
Proficient in the use of technology for teaching
Responsibilities:
Developing lesson plans and syllabi for English classes
Teaching English to students of all ages
Evaluating student performances and providing feedback
Assisting students in developing their English comprehension and writing skills
Creating and administering tests and exams
Developing and implementing educational initiatives
Leading extracurricular activities related to English language and literature
In addition to this, be sure to check out our resume templates, resume formats, cover letter examples, job description, and career advice pages for more helpful tips and advice.
What should be included in a English Lecturer resume?
A successful resume for an English Lecturer should highlight the following skills and qualifications:
Extensive knowledge of literature, writing and grammar
Proven teaching experience in English literature, writing, and grammar
Ability to create an engaging and stimulating learning environment
Excellent verbal and written communication skills
Ability to interpret and evaluate student work
Knowledge of educational technology such as online and distance learning
Patience, empathy, and understanding of student needs
Ability to build positive relationships with students
Strong organizational and time management skills
Expertise in curriculum development and assessment
A commitment to professional development
What is a good summary for a English Lecturer resume?
A good summary for an English Lecturer resume should include an overview of the candidate's relevant qualifications, experience, and skills. It should emphasize their ability to effectively teach and engage students in the English language. The summary should also highlight their ability to create engaging and meaningful lesson plans, assess student progress, and provide a stimulating learning environment. Additionally, the summary should showcase the candidate's expertise in the specific areas of English language, such as grammar, syntax, and literature. Finally, the summary should demonstrate their passion for teaching and providing a quality learning experience to their students.
What is a good objective for a English Lecturer resume?
A good objective statement for a English Lecturer resume should be specific and tailored to the position. It should clearly communicate what skills, experience, and qualifications you have to offer, while highlighting your enthusiasm for teaching and education. Here are some example objectives to use in your resume:
Seeking an English Lecturer position at XYZ college, where I can leverage my expertise in literature, grammar, and composition to help students become proficient in the English language.
Aiming to use my knowledge of teaching methodology and classroom management to create a productive and engaging learning environment for my students.
Looking for an opportunity to share my passion for literature, writing, and English culture with students.
Dedicated English Lecturer with 5+ years of experience teaching and mentoring students from diverse backgrounds and grade levels.
Proven ability to create engaging course material and develop interactive learning activities.
Seeking to apply my educational and public speaking experience to a Lecturer role.
How do you list English Lecturer skills on a resume?
When applying for a job as an English Lecturer, it is important to showcase your skills in the classroom, as well as those related to teaching and mentoring. Your resume should highlight the skills and qualifications that make you the best candidate for the position. Here are some English Lecturer skills to consider listing on your resume:
Advanced knowledge of English grammar, literature, and composition
Ability to create engaging lesson plans that stimulate student learning
Experience in teaching English as a second language
Familiarity with online education platforms such as Blackboard and Canvas
Ability to effectively assign and grade class assignments and exams
Excellent presentation and communication skills
Strong organizational skills and attention to detail
Ability to create a stimulating and safe learning environment
Demonstrated knowledge of current educational trends and best practices
Proficiency in using computer software for classroom instruction
Ability to maintain student records and grades
Commitment to fostering relationships with students, parents, and faculty
What skills should I put on my resume for English Lecturer?
When applying for a job as an English lecturer, it is important to include the most important skills and abilities on your resume. Here are some of the skills that are essential for an English Lecturer:
Expertise in English literature: English lecturers must have a deep knowledge of the works and authors in the English language. They should be able to discuss the different eras of English literature and recognize the themes, characters, and symbolism behind each work.
Effective communication: An English lecturer should be able to communicate clearly and effectively in both written and verbal form. They should be able to present ideas in a way that resonates with their audience and be able to effectively guide students through the material.
Knowledge of language rules and conventions: English lecturers should have a comprehensive understanding of the rules and conventions of the English language. They should be able to explain the differences between grammar, syntax, and semantics, and have a strong grasp of the language's usage in academia.
Organizational skills: English lecturers must be able to organize their classes in a way that is engaging, informative, and effective. They should be able to plan out the course syllabus and create lesson plans that are well-structured and help their students understand the material.
Creativity: English lecturers should be able to think outside the box when it comes to teaching. They should have the ability to come up with interesting and engaging activities for their students and be able to come up with new and innovative ways to teach the material.
Technological proficiency: In today's digital age, English lecturers should have a working knowledge of technology and its use in the classroom. This can include the use of computers, tablets, and other digital devices to help students learn and understand the material.
By including these skills on your resume, you can demonstrate to potential employers that you have the necessary qualifications to be an effective English lecturer
Key takeaways for an English Lecturer resume
When it comes to creating an effective English Lecturer resume, there are several key takeaways that should be kept in mind.
First, it's essential to highlight any teaching credentials or certifications that you have obtained, as this will demonstrate your commitment to the field and to professional development. Additionally, it's important to emphasize any relevant experience with both traditional and digital teaching practices, such as the use of video conferencing, lesson planning, and assessment tools. Make sure to include any awards or recognition you have received for teaching excellence as well.
Second, it's important to articulate any unique skills or strengths that you possess that will be of benefit to the role. This could include any experience with distance learning, content creation, and adaptive teaching strategies. Make sure to highlight any specializations in the English language, such as grammar, vocabulary, and reading comprehension.
Third, it's important to showcase any additional responsibilities you may have taken on in the past, such as curriculum development or student advising. This will demonstrate your willingness to go above and beyond the traditional role of an English Lecturer.
Finally, make sure to include any volunteer activities that you have been involved with. This could include any tutoring or mentoring roles or community outreach initiatives that you have participated in. This will demonstrate to a potential employer that you are dedicated to the profession and to supporting students in their learning.
By following these key takeaways, you can ensure that your English Lecturer resume is optimized to impress potential employers.
Let us help you build
your Resume!
Make your resume more organized and attractive with our Resume Builder