Resumes are an essential part of any job hunt, and English language teachers are no exception. Crafting a resume that adequately captures your skills and experience is essential for landing the job you desire. Writing a resume for an English language teacher can be intimidating, as you must demonstrate your expertise in the language and your teaching ability. This resume writing guide for English language teachers is designed to help you understand the components of a resume and provides useful tips and examples to help you create a great resume. With the right information and a well-crafted resume, you can have an edge over the competition in your job hunt.
If you didn't find what you were looking for, be sure to check out our complete library of resume examples.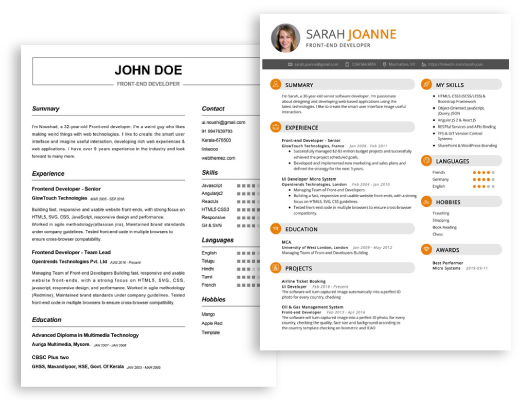 Start building your dream career today!
Create your professional resume in just 5 minutes with our easy-to-use resume builder!
English Language Teacher Resume Examples
John Doe
English Language Teacher
123 Main Street | Anytown, USA 99999 | Phone: (123) 456-7890 | Email: john.doe@email.com
I am an experienced and highly qualified English Language Teacher, with a wealth of knowledge and experience in teaching English as a second language. I have a passion for helping my students succeed and providing them with the best possible learning experience. My professional experience spans over 8 years of teaching at both the elementary and secondary levels, and I possess a strong understanding of the English language, grammar and syntax. My ability to motivate and inspire my students, while also providing them with the support they need to succeed, has enabled me to create successful learning outcomes.
Core Skills:
Expertise in teaching English as a Second Language (ESL)
Familiarity with the English language, grammar and syntax
Ability to create and implement effective lesson plans
Exceptional interpersonal and communication skills
Excellent problem- solving and critical- thinking abilities
Proficiency in Microsoft Office Suite and online learning platforms
Professional Experience:
English Language Teacher, ABC School, 2019- Present
Develop and implement lesson plans tailored to each student's needs
Monitor student progress, provide feedback and guidance
Create a stimulating learning environment and encourage students to improve their language skills
English Language Teacher, XYZ School, 2015- 2019
Developed and implemented engaging lesson plans
Assessed student progress and provided feedback
Assisted students with grammar, pronunciation and vocabulary
Education:
Master of Arts in Teaching English as a Second Language, ABC University, 2020
Bachelor of Arts in English, XYZ University, 2015
English Language Teacher Resume with No Experience
Recent college graduate with strong passion for English and Teaching. Experienced in tutoring, classroom management and organization. Seeking to leverage my enthusiasm and knowledge to help students learn and grow.
Skills
Strong verbal and written communication skills
Excellent organizational and time management skills
Excellent interpersonal and problem solving skills
Proficiency in Microsoft Office and other web- based applications
Possesses a strong work ethic and is highly motivated
Responsibilities
Develop lesson plans that incorporate the use of various teaching techniques and activities
Participate in the development of assessment tools and evaluate student performance
Engage students in class discussions and activities to motivate learning
Provide individualized instruction to students to help them reach their goals
Organize field trips and other activities to enhance students' learning experience
Assist with administrative tasks as required
English Language Teacher Resume with 2 Years of Experience
Dedicated and experienced educator with 2 years of experience teaching English as a second language to students of all ages in both group and individual settings. Passionate about language acquisition and helping students develop their language proficiency and confidence. Skilled in developing and delivering engaging lessons and activities, providing individualized instruction and feedback, and fostering an inclusive and cooperative learning environment.
Core Skills:
Strong knowledge of English language and grammar rules
Native proficiency in English language
Knowledge of a variety of teaching methods and strategies
Flexible and able to work with students of all ages and levels
Strong organization and communication skills
Proficient in the use of technology for teaching and learning
Responsibilities:
Develop and deliver engaging lessons and activities to meet the needs of all students
Create language learning objectives and assessments to measure progress
Provide individualized instruction and feedback to students
Work closely with students to identify areas of opportunity and develop targeted plans for improvement
Monitor students' progress and provide timely feedback to parents and guardians
Maintain a safe and encouraging learning environment for all students
Ensure that all lesson plans and activities are in alignment with curriculum standards
English Language Teacher Resume with 5 Years of Experience
A highly experienced and motivated English Language Teacher with 5 years of teaching experience in various educational settings. Equipped with excellent communication and organizational skills, able to develop effective lesson plans, analyze the progress of the students, and effectively engage the students in their language learning. Proven success in developing creative and engaging activities to make language learning enjoyable.
Core Skills:
Strong Communication Skills
Excellent Interpersonal Skills
Highly Organized
Ability to Work with Different Age Groups
Proficiency in English Language Teaching
Responsibilities:
Develop and implement lesson plans for English language instruction
Create and maintain classroom environment that encourages learning
Assess and evaluate student performance
Provide individualized instruction and additional support for students
Create engaging activities and use appropriate teaching methods
Develop and maintain positive relationships with students and their families
Collaborate with other teachers and administrators to create comprehensive language programs
English Language Teacher Resume with 7 Years of Experience
Highly experienced and passionate English Language Teacher with 7 years of teaching experience and a Master's degree in English Literature. Proven ability to create and implement engaging, innovative and fun lessons to help students understand and master the English language. Able to build positive, productive relationships with students and colleagues, while setting a positive and encouraging learning environment.
Core Skills:
Excellent classroom management and teaching strategies
Strong communication and organizational skills
Highly knowledgeable in English language and literature
Advanced computer skills, including proficiency in Microsoft Office
Ability to build relationships with students and parents
Responsibilities:
Developing English language learning programs for students of all levels
Creating and implementing engaging lessons, activities and assessments
Encouraging student collaboration and facilitating group activities
Providing one- on- one tutoring for students with academic challenges
Offering support and assistance with English language writing, reading, speaking and listening
Recording student progress and providing feedback on performance
Administering and grading tests and assignments
Maintaining accurate assessment records and attendance data
English Language Teacher Resume with 10 Years of Experience
Dynamic and results- oriented English Language Teacher with 10 years of experience. Proven track record of educating students, creating lesson plans, and developing an engaging learning environment. Committed to maximizing student's potential and focusing on their needs to ensure successful language learning.
Core Skills:
Excellent communication, teaching, and mentoring skills
Knowledgeable in English language learning
Highly organized and detail- oriented
Ability to provide individual guidance and feedback
Proficient in Microsoft Office Suite
Responsibilities:
Develop lesson plans, teaching materials, and assessments
Facilitate language learning through interactive activities
Monitor students' progress and provide feedback
Use a variety of teaching methods to address different learning styles
Demonstrate effective use of audio/visual aids
Maintain detailed records of student performance and progress
English Language Teacher Resume with 15 Years of Experience
A highly experienced and capable English language teacher with 15 years of experience in teaching, curriculum content development, and assessment. Possesses an in- depth knowledge of English language fundamentals and is highly effective in teaching a range of students in a variety of classroom settings. Skilled in the development of interactive teaching materials that motivate learning and utilizes a range of assessment methods to evaluate student progress.
Core Skills:
Excellent written and verbal communication skills
Creative lesson planning
Ability to motivate and engage with students
Strong understanding of English language fundamentals
Proficient in developing interactive teaching materials
Well- versed in assessment methodologies
Highly organized and efficient
Responsibilities:
Develop and implement English language curriculum and lesson plans
Guide students to develop strong English language skills
Evaluate student progress and provide feedback
Develop and monitor assessment plans
Organize and lead classroom activities
Collaborate with school and departmental staff to meet educational objectives
Provide guidance to students on language usage and application
Conduct individual and whole class assessment exercises
Maintain appropriate records and document student progress
In addition to this, be sure to check out our resume templates, resume formats, cover letter examples, job description, and career advice pages for more helpful tips and advice.
What should be included in a English Language Teacher resume?
A resume for an English language teacher should include the necessary qualifications and experience to showcase your skill set and demonstrate that you are a suitable candidate for the role. It should include the following information:
Professional summary: A brief summary of your qualifications and experience that highlights your strengths and emphasizes the value you can bring to the role.
Education: List any educational qualifications you hold, such as a degree in English language or a teaching certification.
Experience: Include any relevant teaching experience, such as teaching English as a foreign language or teaching English to speakers of other languages.
Skills: List any relevant skills you have that make you an effective English language teacher, such as fluency in additional languages, knowledge of different teaching methods, and excellent communication and organizational skills.
Certifications: Include any additional certifications you have related to teaching English, such as TESOL or Cambridge English certification.
Additional qualifications: List any other qualifications or experience you have that could add value to your role as an English language teacher, such as computer literacy or experience with online teaching platforms.
References: Include at least two references who can vouch for your qualifications and skills as an English language teacher.
What is a good summary for a English Language Teacher resume?
A good summary for an English Language Teacher resume should include a brief description of your experience and qualifications, as well as a statement outlining your teaching philosophy. Highlight your experience teaching English to students of all levels and ages, as well as any additional qualifications or certifications you may have. Additionally, include any honors or awards you have received for teaching or your proficiency in the English language. Finally, mention any special skills or innovative teaching methods you have developed or implemented. With a strong, concise summary, your resume will help you land the job you're looking for.
What is a good objective for a English Language Teacher resume?
A good objective for an English language teacher resume should include the following:-
Demonstrate expertise in teaching English language, grammar and writing in a classroom setting.
Develop innovative and engaging lesson plans that motivate students to learn and improve their English.
Lead and facilitate language-oriented activities, such as reading comprehension and writing exercises.
Utilize modern technology and other resources to effectively teach English.
Incorporate activities designed to promote student interest in English language, literature, and culture.
Assess student performance and provide feedback to support improvement in spoken and written English.
Provide a safe and encouraging environment for the learning of English language and culture.
How do you list English Language Teacher skills on a resume?
English language teachers play a vital role in preparing students for real-world communication. Their resumes should list the skills necessary to effectively teach students of all levels and backgrounds. Here are some of the skills that should be included when listing English language teacher skills on a resume:
Knowledge of English language structure and composition: Being able to accurately explain English language grammar and mechanics is a key component to teaching the English language.
Understanding of different instructional techniques: English language teachers should have a working knowledge of various teaching strategies, such as direct instruction, project-based learning, and inquiry-based learning.
Ability to plan effective lessons: English language teachers must be able to develop lessons that are appropriate for their students' proficiency levels and interests.
Patience and understanding: English language teachers must be patient with their students and be able to effectively communicate instructions.
Effective communication: Being able to communicate instructions in a clear and concise manner is essential for English language teachers.
Knowledge of assessment tools: English language teachers should be familiar with various assessment tools and techniques, such as grammar tests and writing assignments.
Cultural awareness: English language teachers should have a good understanding of the cultural backgrounds of their students and be able to provide culturally-appropriate instruction.
Technology proficiency: Many English language teachers use technology in the classroom, so it is important to be familiar with the various tools and software used in teaching.
What skills should I put on my resume for English Language Teacher?
A resume for a position as an English Language Teacher should emphasize communication skills, teaching experience, and a passion for language and culture. When crafting your resume, it is important to include any relevant experience and certifications that make you an ideal candidate for the job. Here are some useful skills to consider including:
Excellent communication skills: The ability to communicate clearly and effectively is essential for a successful English Language Teacher. You should highlight any experience with public speaking, writing, or teaching.
Experience teaching English language: If you have previously taught English as a second language, it is important to include this experience on your resume. Be sure to include the level of education you taught at, any teaching certifications you have earned, and any particular methodology you used.
Knowledge of language and culture: You should be well educated in the culture, history, and literature of the language you are teaching. It is also helpful to have a basic understanding of other languages and cultures, as this can help you better explain language concepts to your students.
Familiarity with technology: Technology has become an increasingly important part of language education. Make sure to highlight any experience you have using teaching software, digital textbooks, or other technology-based teaching methods.
Patience and flexibility: Teaching a second language can be a challenge, so it is important to have patience and flexibility. Include any training or experience that has helped you to stay calm and adaptable in challenging teaching scenarios.
By emphasizing your communication skills, teaching experience, and knowledge of language and culture, you can create a strong resume for a position as an English Language Teacher.
Key takeaways for an English Language Teacher resume
Writing a resume is an important step when applying to jobs. As an English Language Teacher, your resume should express your unique qualifications, experience, and skills. Here are some key takeaways to consider when crafting an English Language Teacher resume.
First, be sure to highlight any certifications, training, or qualifications that you have. An employer will want to see proof of your qualifications, such as a teaching certificate. If you have had any additional training in the field, such as teaching English as a second language, be sure to note this on your resume.
Next, emphasize any specific teaching techniques and strategies that you possess. If you have experience with different methodologies, such as visual, auditory, and kinesthetic, make sure to mention this. Employers want to know that you can effectively teach students in a variety of ways.
In addition, showcase the results of any past teaching experience. If you have social media accounts, such as a blog, website, or YouTube channel, include links to these in your resume. Also, mention any awards or recognition that you have received for your teaching.
Finally, demonstrate your commitment to lifelong learning. Include any courses, conferences, or workshops that you have attended that are related to English language teaching. This will show employers that you are continuously developing your skills and knowledge in the field.
By following these tips, you can effectively create a winning English Language Teacher resume. Be sure to highlight your qualifications, strategies, and results to give employers an insight into your unique skillset. Good luck in your job search!
Let us help you build
your Resume!
Make your resume more organized and attractive with our Resume Builder