An elementary school teacher plays a fundamental role in the lives of children, and the quality of their education is heavily dependent on the teacher's experience and qualifications. Writing a resume for this job requires the teacher to clearly and concisely explain their experience and qualifications to potential employers. This guide will provide you with tips and examples to help you create a strong, compelling resume that will make your application stand out and give potential employers a reason to invite you to an interview.
If you didn't find what you were looking for, be sure to check out our complete library of resume examples.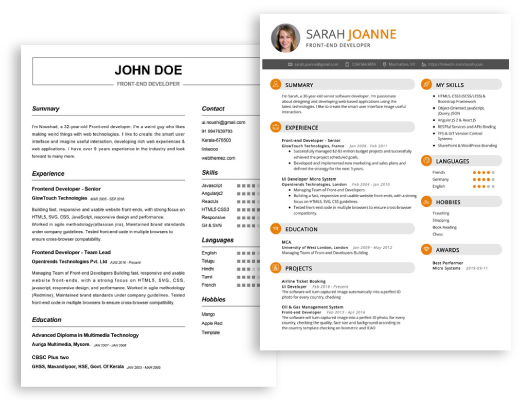 Start building your dream career today!
Create your professional resume in just 5 minutes with our easy-to-use resume builder!
Elementary School Teacher Resume Examples
John Doe
Elementary School Teacher
123 Main Street | Anytown, USA 99999 | Phone: (123) 456-7890 | Email: john.doe@email.com
I am an experienced elementary school teacher, having taught in the same school district for over ten years. Throughout my career, I have demonstrated strong classroom management skills and a commitment to student success. I have also had the opportunity to lead professional development activities and to contribute to the overall success of the school district. I am passionate about teaching, and I am confident that I can bring energy, enthusiasm and creative problem- solving skills to any classroom.
Core Skills:
Knowledge of the K- 6 curriculum
Strong classroom management and organizational skills
Highly motivated and creative problem- solver
Excellent communication, collaboration and interpersonal skills
Ability to create engaging lessons and activities
Professional Experience:
Elementary Teacher, ABC School District, 2011- present
Developed and implemented engaging lessons and activities for students K- 6
Managed student behavior and provided feedback to parents
Monitored student progress and provided individualized assistance as needed
Led professional development activities and collaborative projects
Participated in school district committees
Education:
Bachelor of Arts in Education, ABC University, 2011
Master of Arts in Education, ABC University, 2014
Elementary School Teacher Resume with No Experience
Recent college graduate with a Bachelor of Science in Education and a strong commitment to providing students with engaging learning experiences. Highly organized and enthusiastic teacher eager to contribute to school success through hard work and dedication.
Skills
Excellent communication and classroom management skills
Proficient in developing lesson plans
Knowledge of current education trends and best practices
Ability to work with diverse student populations
Ability to develop positive relationships with students, parents and colleagues
Responsibilities
Assist with the preparation and implementation of lesson plans
Create a positive learning environment
Encourage students' participation in class activities
Maintain accurate records of student progress
Communicate effectively with parents and colleagues
Collaborate with colleagues to develop curriculum
Elementary School Teacher Resume with 2 Years of Experience
Motivated elementary school teacher with 2 years of experience in developing lessons and teaching students in grades 2- 4. Possess a Master's Degree in Elementary Education and a genuine love for teaching and helping children reach their full potential. Possess excellent classroom management and interpersonal skills.
Core Skills:
Lesson Plan Development
Classroom Management
Collaboration
Creative Thinking
Communication
Interpersonal Skills
Responsibilities:
Developing lesson plans and teaching students in grades 2- 4
Creating a safe and nurturing learning environment
Fostering a positive and productive classroom environment
Assessing student progress and providing feedback
Responding to student inquiries and concerns
Collaborating with colleagues to ensure student success
Motivating students to reach their full potential
Utilizing creative methods to enhance learning
Elementary School Teacher Resume with 5 Years of Experience
I am an experienced Elementary School Teacher with 5 years of proven teaching excellence. I am confident in my ability to engage, motivate and educate students to reach their fullest potential. I have excellent communication and organizational skills, as well as an in- depth knowledge of the latest teaching methods and technologies. My passion for working with children is a driving force in my success as a teacher.
Core Skills:
Classroom Management
Leadership
Creative curriculum development
Communication
Organizational
Assessment
Responsibilities:
Developing lesson plans and teaching materials
Providing instruction and conducting activities
Assigning, grading, and providing feedback on student work
Communicating expectations to students
Working with parents, administrators, and other teachers to create a safe and effective learning environment
Keeping records of student behavior and progress
Enforcing school and state regulations
Implementing appropriate behavior management techniques
Elementary School Teacher Resume with 7 Years of Experience
An experienced and motivated elementary school teacher with 7 years of experience in providing quality instruction and fostering a safe and caring learning environment for students of different ages and aptitudes. Possesses an in- depth knowledge of curriculum development and classroom management, as well as the ability to quickly and accurately assess student progress. Proven ability to develop relationships with students, teachers, and parents to create an inclusive and collaborative learning environment.
Core Skills:
Strong classroom management and organizational skills
In- depth knowledge of curriculum development
Ability to differentiate instruction to meet student needs
Strong communication and problem- solving skills
Adaptable and creative teaching style
Ability to use technology to support instruction
Proficient in Microsoft Office Suite
Responsibilities:
Develop and create lesson plans based on curriculum guidelines
Instruct students in reading, writing, mathematics, and other areas of study
Organize and facilitate student activities and events
Assess student progress on a regular basis and create reports
Provide individualized support and instruction to struggling students
Collaborate and communicate with parents to support student learning
Utilize technology tools to support instruction in the classroom
Elementary School Teacher Resume with 10 Years of Experience
An experienced Elementary School Teacher with 10+ years of teaching experience. Expertise in creating lesson plans, developing curriculum, participating in professional development and providing instruction to diverse student populations. Adept at developing relationships with students and families, working with teachers and staff to support student learning, and using data to inform instruction. Possesses excellent verbal and written communication skills and is committed to providing high- quality instruction to students.
Core Skills:
Multi- tasking
Organizational Skills
Classroom Management
Conflict Resolution
Instructional Design
Technology Integration
Curriculum Development
Responsibilities:
Planning, preparing and delivering instructional activities
Developing lesson plans and modifying curriculum
Identifying student learning needs and utilizing appropriate instructional strategies
Creating a positive and supportive learning environment
Managing classroom procedures, materials and resources
Evaluating student performance and progress
Maintaining records of student progress and development
Interacting with parents and guardians to discuss students' progress
Participating in professional development activities and workshops
Elementary School Teacher Resume with 15 Years of Experience
Highly experienced elementary school teacher with 15 years of experience providing a safe and engaging learning atmosphere to students. A passionate educator with a dedication to student growth, development, and success, while implementing an organized and structured learning environment. Possesses a talent for quickly mastering new technologies, tools, and techniques to effectively engage students in learning.
Core Skills:
Excellent ability to effectively communicate with students, parents, and colleagues
Proficiency in implementing innovative teaching techniques to promote student engagement
Outstanding capacity to lead diverse groups of students and maintain classroom discipline
Remarkable interpersonal and problem solving skills
Strong understanding of various learning styles and abilities
Proficient in creating and developing lesson plans and assessments
Knowledge of educational and student management software
Responsibilities:
Create and develop engaging lesson plans and a positive learning environment
Adapt and deliver instruction based on individual student's learning abilities
Monitor student performance and provide timely feedback
Facilitate small group and individual instruction to meet student's needs
Lead and facilitate class discussions and activities
Evaluate and assess student progress
Attend and participate in staff meetings, workshops, and other professional development activities
Keep accurate records of student performance and communicate with parents
In addition to this, be sure to check out our resume templates, resume formats, cover letter examples, job description, and career advice pages for more helpful tips and advice.
What should be included in a Elementary School Teacher resume?
A Elementary School Teacher resume should contain an accurate reflection of your education, experiences and skills relevant to the teaching position you are applying for. Your resume should be tailored to the specific job you are applying for and should include the following information:
Personal Information: Your name, address, phone number and email address
Education: List all relevant degrees, certifications and licenses.
Experience: All teaching experience, including student teaching and any previous teaching jobs.
Skills: Any relevant skills such as classroom management, lesson planning, technology skills and any specializations.
Professional Organizations: Any professional teaching organizations you are a member of.
References: Contact information for at least two professional references.
Additional Information: Additional information such as awards and honors, volunteer experience and extracurricular activities.
What is a good summary for a Elementary School Teacher resume?
A good summary for an Elementary School Teacher resume should highlight educational qualifications, professional experience and special skills that are relevant to the job. It should provide evidence of the candidate's ability to develop and implement effective teaching strategies and create a positive learning environment for students. Additionally, it should showcase the candidate's passion for working with children, their dedication to providing quality education, and their commitment to putting the students' needs first. Overall, an effective summary should communicate the candidate's qualifications and experience in a concise, professional manner.
What is a good objective for a Elementary School Teacher resume?
A good objective for an Elementary School Teacher resume should be tailored to the specific job opening, emphasizing the teacher's key strengths and abilities to meet the specific needs of the school.
Creating an effective resume objective requires research and consideration of the school's mission and goals, as well as the teacher's individual strengths.
Here are some examples of strong objectives for an Elementary School Teacher resume:
To create a safe and stimulating learning environment that encourages individual growth and academic success among students.
To utilize creative and innovative teaching strategies to engage students and promote collaboration.
To foster a positive learning environment where students can reach their fullest potential.
To develop meaningful relationships with students, parents, and colleagues to ensure a supportive and collaborative learning atmosphere.
To establish a supportive classroom environment where students can develop their critical thinking and problem-solving skills.
To promote a positive learning atmosphere that enhances student achievement and encourages personal growth.
How do you list Elementary School Teacher skills on a resume?
Writing an effective resume is key to landing your dream teaching job. Listing your elementary school teacher skills in a way that will catch the eye of potential employers is essential. Here are some tips for listing your elementary school teacher skills on your resume:
Demonstrate your teaching skills: Show off your teaching capabilities and successes by highlighting the skills you have acquired from your experience, such as classroom management, lesson planning and creativity.
Leverage your education: Show that you are a qualified candidate by listing your university, college, or certification program you attended and the degree or certification you obtained.
Highlight your instructional methods: Detail any innovative instructional methods you have used in the classroom, such as project-based learning, flipped classrooms or cooperative learning.
Emphasize your communication skills: Clearly explain how you are able to effectively communicate with both students and parents. Mention any languages or dialects you are proficient in.
Describe your technical abilities: If you are able to use technology in the classroom, such as Smart boards or iPads, list those skills to demonstrate your adaptability.
Detail your abilities in special education: If you have experience teaching special education, include those skills and your successes in this area.
By following these tips, you can effectively list your elementary school teacher skills on your resume and make yourself stand out from the competition.
What skills should I put on my resume for Elementary School Teacher?
As an elementary school teacher, you should emphasize both your teaching skills and other qualifications on your resume. When creating your resume, include relevant teaching experience, educational accomplishments, certifications, and other qualifications that make you a qualified candidate.
Utilize strong communication skills to handle questions from parents and effectively facilitate learning
Develop engaging lesson plans for multiple grade levels
Establish good rapport with students and staff
Manage classroom discipline and provide positive reinforcement
Work closely with administrators, students, and parents to create an effective learning environment
Incorporate the use of technology in the classroom to enhance student learning
Prepare students for standardized tests and other assessments
Design creative learning activities that engage students
Support the school's academic initiatives and goals
Collaborate with fellow teachers and staff to develop successful strategies for student achievement
Remain current with education trends and best practices
Key takeaways for an Elementary School Teacher resume
Crafting a resume for an Elementary School Teacher position requires specific attention to detail, as you will be searching for a position that stands out from a crowded field of applicants. To ensure that your resume is as effective as possible, there are several key takeaways for Elementary School Teachers that you should keep in mind when crafting your resume.
Highlight your qualifications. An Elementary School Teacher should have a minimum of a Bachelor's Degree in Education, and it is important to emphasize this on your resume. You should also include any certifications or licensure that you have, as well as any special training or skills related to the teaching field.
Showcase your experience. When listing your past teaching positions, be sure to list the exact titles you held, the grades you taught, and any accomplishments or awards related to your work. This will help to demonstrate your experience and prove that you are a qualified candidate.
Mention any special skills. Elementary School Teachers should possess a variety of skills, from classroom management to creating lesson plans and even working with special needs students. If you have any special skills or experiences related to teaching, be sure to mention them on your resume.
Personalize your resume. Most Elementary School Teacher positions require a certain level of creativity, so make sure to add a personal touch to your resume. Try to showcase your personality in a professional way, as this will help to make your resume more memorable.
By following these key takeaways, you can create a standout Elementary School Teacher resume that will help to land you the job. Good luck!
Let us help you build
your Resume!
Make your resume more organized and attractive with our Resume Builder