Writing a resume for a drama teacher can be a daunting task. It's essential to demonstrate your qualifications and experience in a way that is tailored to the job you are applying for. It's important to highlight your teaching and drama experience, as well as your ability to create an engaging and productive learning environment. This guide will provide you with tips and examples of how to write an effective drama teacher resume that will gain the attention of employers and help you secure the job you want.
If you didn't find what you were looking for, be sure to check out our complete library of resume examples.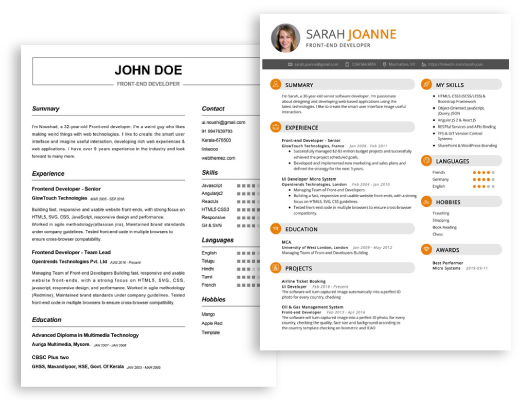 Start building your dream career today!
Create your professional resume in just 5 minutes with our easy-to-use resume builder!
Drama Teacher Resume Examples
John Doe
Drama Teacher
123 Main Street | Anytown, USA 99999 | Phone: (123) 456-7890 | Email: john.doe@email.com
I am an experienced Drama teacher with over 10 years of experience in teaching theater and dramatic arts. I employ an interdisciplinary approach to teaching, drawing on techniques from the performing arts, cinema and literature to create an engaging and stimulating learning environment. I have a creative approach to problem solving and an ability to develop strong relationships with students. I am also an effective communicator, capable of leading and motivating a group.
Core Skills:
Excellent teaching and communication skills
Creative problem solving skills
Interdisciplinary teaching approach
Ability to develop student relationships
Experienced in theater, cinematography and literature
Strong organizational and time management skills
Professional Experience:
Drama Teacher
ABC School, London
February 2015 – Present
Taught a variety of modules such as theater history and performance, directing, improvisation and script analysis
Developed and implemented the school's dramatic arts curriculum, focusing on developing student's creative, physical and intellectual skills
Assessed students on their understanding of the subject and provided constructive feedback
Led rehearsals and created performance pieces with students that were presented to the school community
Drama Teacher
XYZ School, London
June 2011 – February 2015
Developed creative learning activities and modules to engage students in the subject
Established and managed a theater club, giving students the opportunity to practice and develop their theatrical skills
Assisted the school in the organization and setup of theater production
Collaborated with other teachers and staff to create a vibrant and engaging learning environment
Education:
Master of Arts in Drama, University of London
Bachelor of Arts in Drama, University of London
Drama Teacher Resume with No Experience
Recent college graduate with a Bachelor of Arts in Drama, passionate about incorporating drama into education. Looking for an opportunity to utilize my knowledge in a Drama Teacher role.
Skills
Creative problem- solving
Adaptive to change
Excellent communication skills
Classroom management
Ability to collaborate with colleagues
Knowledgeable of Drama productions
Responsibilities
Develop creative lesson plans to educate students in Drama
Encourage students to explore their creativity and imagination
Guide students in the execution of Drama productions
Provide constructive feedback to students
Work with other faculty members to develop Drama projects
Ensure the safety and well- being of all students
Monitor student behavior in classes
Offer additional Drama resources to students, such as books or articles
Drama Teacher Resume with 2 Years of Experience
Highly motivated and experienced Drama Teacher with two years of experience in teaching drama to students of all ages. Possess excellent communication skills, a deep understanding of drama theory and practice, and an ability to bring out the best in students. Have a strong commitment to student learning, a passion for theatre and a dedication to creating a safe, supportive and engaging learning environment.
Core Skills:
Strong knowledge in drama theory and practice
Ability to communicate effectively with students and faculty
Excellent interpersonal and problem solving skills
Ability to plan and deliver effective lessons
Proficient in using digital technology in classroom instruction
Possess strong organizational and time management skills
Responsibilities:
Teaching drama theory and practice to students
Developing and delivering lesson plans for drama students
Creating a safe and support learning environment for students
Mentoring students and providing feedback on their performances
Organizing and supervising drama activities and rehearsals
Collaborating with other teachers and staff to develop theatre and performance arts programs
Assessing student performance and providing feedback in a timely manner
Drama Teacher Resume with 5 Years of Experience
Highly motivated Drama teacher with five years of experience delivering engaging lessons and activities to secondary school students. Proven ability to create an innovative and engaging learning environment that encourages students to express themselves, develop problem- solving abilities and build their confidence. Possess excellent communication and organizational skills and the ability to work well with students of all ages.
Core Skills:
Strong lesson planning and delivery
Experience in creating lesson plans for a variety of age and ability levels
Knowledge of the National Curriculum for Drama
Excellent communication and interpersonal skills
Ability to build positive relationships with students
Strong problem- solving and creative thinking abilities
Responsibilities:
Developing and delivering engaging lessons to secondary school students
Creating lesson plans that are tailored to the needs and learning styles of each student
Assessing student performance and providing feedback
Organizing and facilitating workshops and activities
Leading rehearsals for end- of- year performances
Providing guidance and support to students in their learning journey
Drama Teacher Resume with 7 Years of Experience
Dynamic, experienced Drama Teacher with 7+ years of teaching experience in a variety of K- 12 educational settings. A passion for using creative approaches to education, with a commitment to inspiring students to utilize the power of their imagination to tell stories and practice self- expression. Dedicated to fostering collaboration in the classroom among students, teachers and parents in order to provide a positive learning environment.
Core Skills:
Skilled communicator and a strong relationship builder with students, teachers and parents
Experienced at developing and implementing lesson plans, curriculum and activities
Expertise in the use of theatre production technologies, including stage lighting, sound systems and props
Excellent organizational and time management skills
Proven ability to foster a safe and welcoming learning environment
Responsibilities:
Creating engaging lesson plans and activities to teach drama concepts
Guiding, motivating and inspiring students to express themselves through their performances
Assessing student comprehension of drama concepts and providing feedback for improvement
Assisting in the development of theatre production processes, such as scriptwriting and character development
Supervising student performances and providing constructive feedback on a regular basis
Educating students on theatre production technologies, such as stage lighting and sound systems
Collaborating with teachers, parents and administrators to ensure successful student performances
Drama Teacher Resume with 10 Years of Experience
Experienced Drama Teacher with 10 years of experience in teaching theatre to students ranging from pre- K to college level. Passionate about providing a positive, creative and safe learning environment for both students and faculty. Skilled in teaching students about techniques such as improvisation, vocal projection, and character development. Experienced in helping students to develop creative problem solving skills and self- confidence through the use of theatre.
Core Skills:
Strong background in Drama and Theatre
Extensive knowledge of teaching techniques
Excellent organizational and communication skills
Knowledge of various performance techniques
Ability to motivate and inspire students
Proficiency in creating lesson plans
Ability to facilitate group discussions
Responsibilities:
Developed and delivered lessons based on student age and skill level
Created and supported student activities related to theatre
Assisted in the development of student performances
Involved students in improvisation activities to develop their creativity
Provided individualized instruction to students with special needs
Helped to develop student performance and audition materials
Coordinated and managed student productions
Maintained student progress records as well as grading and assessment records
Drama Teacher Resume with 15 Years of Experience
Dedicated Drama Teacher with 15 years of experience motivating and inspiring students to develop their theatrical talents. Skilled in providing effective guidance in order to create a quality performance in both theatre and performance art. Proven track record of success in developing students' theatrical skills and knowledge. Possesses outstanding interpersonal and communication skills in order to effectively work with students and colleagues.
Core Skills
Strong communication and interpersonal skills
Excellent staging and directing ability
Demonstrated expertise in dramatic structure and performance
Knowledge of different genres of theatre
Ability to create plays and scripts
Ability to engage students in learning
Ability to effectively assess student performance
Responsibilities
Developing and facilitating theatrical lessons plans
Instructing students in performance techniques
Directing and staging plays and performances
Creating and writing scripts
Assessing student performance and providing feedback
Organizing performances and events
Collaborating with other staff members to create quality performances
Maintaining a safe and secure working environment
Ensuring compliance with school policies and regulations
In addition to this, be sure to check out our resume templates, resume formats, cover letter examples, job description, and career advice pages for more helpful tips and advice.
What should be included in a Drama Teacher resume?
A drama teacher resume should include relevant experience, skills, and accomplishments that demonstrate a teacher's ability to teach drama classes. Depending on the job, other information may also be useful. Below are some of the key items that should be included in a drama teacher resume:
Education: List any relevant degrees, certifications, or other qualifications related to the teaching of drama.
Previous Experience: Summarize any experience related to teaching drama, such as directing school plays or leading after-school drama clubs.
Teaching Philosophy: Explain your approach to teaching drama and any unique techniques or strategies you use.
Performance Skills: List any performance skills that may be relevant to teaching drama, such as acting or singing.
Professional Memberships: List any professional memberships related to drama and teaching, such as the International Thespian Society or the National Association for Drama Education.
Awards or Honors: Highlight any awards or honors that may be relevant to teaching drama.
Other Skills: Indicate any other skills that may be relevant to teaching drama, such as directing, choreography, or playwriting.
By including all of these items in a drama teacher resume, applicants can demonstrate their qualifications to teach drama and their commitment to the profession.
What is a good summary for a Drama Teacher resume?
A strong Drama Teacher resume should provide a summary of qualifications that demonstrate the applicant's teaching abilities, experience, and commitment to the field of drama. It should also highlight any unique aspects of the applicant's experience or qualifications, such as special certifications or awards. An ideal summary should showcase the candidate's strengths and positive attributes, such as their ability to engage students in creative activities, their knowledge of theater fundamentals, and their passion for the art form. It should also note any other attributes that make the applicant stand out, such as their ability to work with a diverse range of students or their successful productions. Finally, the summary should be concise and demonstrate the applicant's commitment to teaching drama.
What is a good objective for a Drama Teacher resume?
Writing an effective resume objective is key to getting an employer's attention and convincing them to look further into your qualifications. For a drama teacher, the objective should highlight your experience, skills, and qualifications, as well as any accomplishments or awards you may have earned. The following are a few examples of good objectives for a drama teacher resume:
Experienced, passionate drama teacher with a Bachelor's degree in Arts seeking a position in an educational institution to utilize my knowledge and experience to inspire students to reach their full potential.
Skilled drama teacher with a Master's degree in Theatre seeking a position at a college or university where I can bring my expertise in teaching acting, directing, and improvisation.
Dedicated drama teacher with 10+ years of experience teaching at the high school level and 5+ years at the college level. Seeking a position that allows me to use my expertise and knowledge to create engaging curricula.
Talented drama teacher with a proven track record of success, awards, and accolades looking to use my unique style to motivate and educate students.
By using any of these objectives in your resume, you can show employers that you have the experience and qualifications to be an effective drama teacher.
How do you list Drama Teacher skills on a resume?
Drama Teachers have a wide range of skills and abilities that they must possess in order to effectively teach and direct students in the arts of theatre and performance. When listing Drama Teacher skills on a resume, it is important to present them in a way that displays the applicant's qualifications and highlights their unique talents. Here is a comprehensive list of Drama Teacher skills that should be included on a resume:
Ability to instruct and inspire students to explore their creative potential
Familiarity with a variety of playwriting and acting styles
Strong knowledge of dramatic theory, history, and literature
Excellent public speaking and communication skills
Proficiency in stage lighting and sound design
Ability to create, revise, and direct theatrical performances
Proven ability to design and implement successful theatre programs
Strong organizational and time management skills
Ability to provide constructive feedback to students
Have a deep understanding of various theatre production elements
Leadership qualities and an engaging teaching style
Patience and dedication to helping all students reach their full potential
By listing these Drama Teacher skills on a resume, applicants can demonstrate to potential employers that they have the necessary qualifications and talents to lead and direct a successful theatre program.
What skills should I put on my resume for Drama Teacher?
Enrolling in a drama program can lead to many exciting and rewarding career opportunities, including becoming a drama teacher. When applying for a drama teaching position, it's important to highlight the relevant skills and experience on your resume. Here are the key skills employers look for when hiring a drama teacher:
Instructional Expertise: As a drama teacher, you need to possess a solid understanding of the theories and techniques of teaching drama. Be sure to include any experience you have teaching drama or working with students, either in a formal or informal setting.
Creativity: Drama teachers must possess the creativity and imagination to create interesting and engaging lessons and activities for their students. Showcase any innovative ideas you've come up with to get students excited and involved in the material.
Interpersonal Skills: Drama teachers need to be able to communicate effectively with their students and colleagues. Demonstrate that you can maintain positive relationships both in and out of the classroom by highlighting any volunteer or professional experience you have working with individuals or groups.
Technical Knowledge: Most drama teachers are responsible for not only teaching their students but also for directing and producing performances. Include any technical experience you have related to the production and direction of theatrical performances.
Musical Skills: Many drama teachers are also responsible for teaching music. If you have any experience in teaching music or playing instruments, be sure to include it on your resume.
By showcasing these key skills and experiences, you can demonstrate to employers that you have what it takes to be an effective drama teacher.
Key takeaways for an Drama Teacher resume
When creating a resume for a drama teacher, it is important to emphasize the skills and experience that make you stand out from the competition. Here are a few key takeaways to keep in mind when crafting your resume:
Highlight your passion and enthusiasm for teaching drama. Demonstrate your knowledge in the field and how you've used this to help students achieve success.
Showcase your ability to develop unique, creative and engaging lesson plans. Detail how you've used these plans to motivate and inspire your students.
Demonstrate your knowledge of the latest developments in theater, acting and directing to stay ahead of the competition.
Emphasize your excellent organizational and communication skills. Showcase your ability to work with actors, directors and other professionals in the theater industry.
Describe your experience in working with different age groups and how you've successfully taught them about acting, acting technique and performance.
Detail any awards, recognitions and honors you have received for your work as a drama teacher.
Creating a strong and impactful resume for a drama teacher can be challenging, but it is essential to showcase the skills and experience that make you stand out from the competition. With these key takeaways in mind, you will have a better chance of standing out and catching the eye of potential employers.
Let us help you build
your Resume!
Make your resume more organized and attractive with our Resume Builder