Are you looking to create a computer tutor resume but don't know where to start? Writing a computer tutor resume is no easy task and without some guidance, you may find yourself feeling overwhelmed. This blog post provides a comprehensive guide to writing a computer tutor resume with plenty of examples to help you get started. By the end of this guide, you'll have the skills necessary to create a top-notch computer tutor resume and stand out from the competition.
If you didn't find what you were looking for, be sure to check out our complete library of resume examples.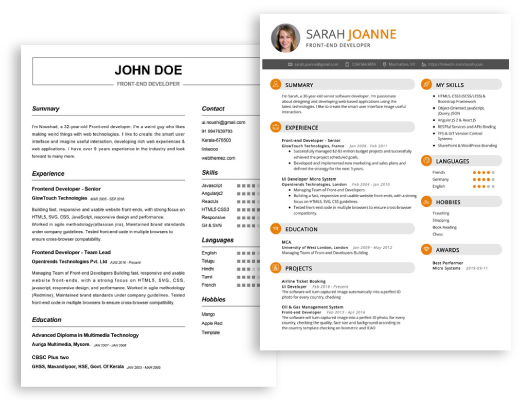 Start building your dream career today!
Create your professional resume in just 5 minutes with our easy-to-use resume builder!
Computer Tutor Resume Examples
John Doe
Computer Tutor
123 Main Street | Anytown, USA 99999 | Phone: (123) 456-7890 | Email: john.doe@email.com
I'm an experienced Computer Tutor with strong knowledge in teaching computer skills to a wide range of individuals. My passion for technology and its various applications has driven me to ensure that my students gain the most benefit from their experiences with me. I have a proven ability to provide one- on- one instruction for computer topics and software, as well as to develop customized programs for students with special learning needs.
Core Skills:
Computer Training
Software Troubleshooting
Program Development
Learning Needs Analysis
Demonstration Skills
Communication & Interpersonal Skills
Technical Writing
Administrative Support
Professional Experience:
Computer Tutor, ABC College – August 2019 to Present
Provide individualized computer instruction to students
Design, develop and implement computer- related programs for students
Monitor student progress and adjust instructions where necessary
Assist with troubleshooting computer hardware and software problems
Keep up- to- date with the latest software programs and trends
Respond to student inquiries and provide technical assistance
Computer Tutor, XYZ High School – August 2018 to July 2019
Developed and implemented lessons for computer literacy and software applications
Taught students essential computer skills such as Windows, Microsoft Office, and internet navigation
Assessed student learning needs and provided appropriate support
Assisted with troubleshooting computer hardware and software issues
Maintained accurate records of student progress
Education:
Bachelor of Science in Computer Science – XYZ University, June 2018
Computer Tutor Resume with No Experience
Hardworking, motivated, and experienced Computer Tutor with a dedication to helping students learn and excel. Skilled in creating individualized lesson plans, tutoring, problem solving, and tracking student progress. Excellent communicator and able to build strong relationships with students and parents.
Skills
Proficient in Microsoft Office Suite
Strong communication skills
Excellent problem- solving abilities
Proficient in technology use
Ability to create individualized lesson plans
Strong multitasking skills
Responsibilities
Provide individualized instruction and tutoring to students
Design and implement lesson plans to meet the needs of each student
Assess student progress and provide feedback
Monitor student progress and provide progress reports to parents
Troubleshoot and resolve technical issues
Provide advice and guidance on computer use and software applications
Computer Tutor Resume with 2 Years of Experience
An experienced computer tutor with 2 years of experience providing high- quality instruction and assistance to students of all ages. Highly knowledgeable in a variety of computer programs and technologies, with a strong commitment to helping students excel and gain the knowledge and skills necessary for success in the digital world. Able to effectively collaborate and work with both students and parents to ensure lesson plans are tailored to the individual needs of each student.
Core Skills:
Highly knowledgeable in computer technologies and programs
Excellent communication and teaching skills
Strong attention to detail
Ability to adapt instruction and lessons to different student needs
Proficient in troubleshooting computer and software issues
Ability to motivate and inspire students
Excellent organizational and time management skills
Responsibilities:
Provide individual instruction to students on a variety of computer software programs
Tailor instruction, lessons, and assessments to meet the individual needs of each student
Maintain records of student progress and provide feedback to parents and other school staff as required
Create customized lesson plans, activities, and assessments to support learning objectives
Assist students with troubleshooting computer and software issues
Provide a safe and welcoming environment for students to learn
Assist with the development, implementation, and evaluation of computer- based curricula
Collaborate with teachers, administrators, and parents to ensure lesson plans are appropriately modified for student needs
Computer Tutor Resume with 5 Years of Experience
Results- driven and experienced Computer Tutor with 5 years of professional experience in teaching and tutoring computer science. A proven track record of providing high- quality computer instruction to students of all ages and skill levels. Experienced in leveraging innovative tutoring strategies to accelerate student growth.
Core Skills:
Computer Science Education
Tutoring
Mentoring
Assessment Design
Classroom Management
Collaborative Learning
Instructional Design
Responsibilities:
Provided individualized instruction to students of all ages and skill levels.
Designed, developed and delivered engaging and effective computer science instruction.
Assisted students with individual projects, including research and problem- solving activities.
Mentored at- risk students to develop computer science and technology skills.
Assessed student progress and provided feedback to parents and teachers.
Collaborated with teachers and administrators to develop computer science curriculum.
Organized and implemented student workshops and activities to increase computer science knowledge.
Facilitated online computer science classes and developed online tutorials.
Computer Tutor Resume with 7 Years of Experience
Motivated Computer Tutor with 7 years of experience offering expertise in teaching programming languages and computing strategies to students. Proven track record of helping students cultivate technical abilities, understand complex concepts, and master programming concepts. Demonstrated ability to assess student's understanding of computer science and adjust lesson plans accordingly.
Core Skills:
Programming Languages
Software Development
Troubleshooting
Computer Repair
Quality Assurance
Technical Writing
Database Administration
Debugging
Responsibilities:
Delivered comprehensive instruction and guidance on programming languages, software development, and database administration to students.
Developed and implemented in- class activities to ensure student comprehension of computer science concepts and terminology.
Assisted students in troubleshooting and debugging computer systems.
Evaluated student performance throughout the course and provided feedback and guidance in areas of difficulty.
Wrote technical reports and documents summarizing student progress and areas of improvement, as needed.
Utilized multimedia resources, such as online tutorials and video demonstrations, to enhance student learning.
Maintained a safe learning environment and enforced course policies.
Collaborated with other tutors to develop engaging lesson plans and ensure course content was up- to- date.
Computer Tutor Resume with 10 Years of Experience
Results- driven and highly dedicated computer tutor with 10+ years of experience in teaching and hardware/software troubleshooting. Proven track record of teaching students from elementary to post- graduate levels on various topics related to computer usage and IT. Possesses excellent communication and interpersonal skills, as well as an ability to provide efficient academic and technical support.
Core Skills:
Teaching and Tutoring
Software Troubleshooting
Technical Support
Instructional Design
Classroom Management
Curriculum Development
IT Network Management
Database Management
Computer Repair
Responsibilities:
Developing and implementing effective lesson plans
Monitoring and evaluating student progress
Assisting students with their coursework
Instructing students on basic computer skills
Assisting students with their technology needs
Providing technical support and troubleshooting
Assisting with the development of instructional materials
Maintaining up- to- date knowledge of computer technology
Assisting with the maintenance and repair of computers
Computer Tutor Resume with 15 Years of Experience
A highly motivated and experienced Computer Tutor with 15 years of experience in teaching computer courses to students. A reliable and knowledgeable professional with excellent problem solving skills and a passion for learning and teaching. Possess strong technical and instructional abilities with a proven track record of successful student learning outcomes.
Core Skills:
Expertise in Computer Science and Information Technology
Outstanding instructional and communication skills
Advanced knowledge in computer programming and software development
Proven ability to provide effective training and educational programs
Experience with instruction in multiple computer platforms
Proficiency in Microsoft Office applications
Responsibilities:
Developing instructional plans for students to learn computer competency
Teaching and mentoring students in computer- related topics
Assisting students with projects and assignments
Assessing students' progress and understanding of concepts
Troubleshooting computer- related issues and providing technical support
Utilizing multimedia and interactive tools to provide effective instruction
Creating lesson plans and curriculum related to computer courses
In addition to this, be sure to check out our resume templates, resume formats, cover letter examples, job description, and career advice pages for more helpful tips and advice.
What should be included in a Computer Tutor resume?
When applying for a position as a computer tutor, your resume should include important details and qualifications that will help you stand out from the competition. Knowing what to include on a resume can be difficult, so here are some of the key details that should be included on any computer tutor resume:
Technical Skills: List any relevant technical or programming skills that you have. This could include languages such as Java, C++, HTML, and CSS, as well as any software or operating systems that you are proficient in.
Teaching Experience: Include any teaching experience that you have, such as experience in the classroom, online tutoring, or one-on-one tutoring experience.
Certification: If you have any certifications related to computer technology, such as certified IT technician or Microsoft Office specialist, make sure to list them on your resume.
Education: Make sure to list any relevant degrees or certifications that you have, such as a degree in computer science or a certification in a particular programming language.
Interpersonal Skills: As a computer tutor, you need to possess strong interpersonal skills in order to communicate effectively with your students. Make sure to highlight any customer service or communication skills that you have.
Other Qualifications: If you have any other qualifications or experience that are relevant to the position, such as experience with a particular software or operating system, make sure to list it on your resume.
By including all of these details on your resume, you will be able to demonstrate to potential employers that you have the skills and qualifications necessary to be a successful computer tutor.
What is a good summary for a Computer Tutor resume?
A computer tutor resume should summarize your qualifications and professional experience related to teaching computer technology and using various software programs. It should include your specific computer-related skills and any relevant certification or degree you may have. It should also highlight your teaching experience, whether it be in the classroom or one-on-one tutoring. In addition, the resume should include any relevant volunteer or extracurricular activities, such as computer clubs or youth programs. Finally, the resume should include any awards or recognition you may have received for success in teaching computer technology.
What is a good objective for a Computer Tutor resume?
A computer tutor resume should have an objective that clearly states the applicant's qualifications and goals. An effective objective should be tailored to the individual and should highlight the skills, experience, and knowledge that make them the ideal candidate for the position.
Below are some example objectives for a computer tutor resume:
To use my knowledge and experience in computer technology to tutor students in a variety of software applications and computer-related tasks
To utilize my excellent communication and interpersonal skills to help students develop their individual technological literacy
To mentor students in both software and hardware concepts, providing comprehensive support for their computer-related education
To help students reach their individual goals through individualized computer training and support
To provide comprehensive training in all aspects of computer usage, from basic troubleshooting to advanced software applications
To help students gain knowledge and confidence in their computer usage abilities
To provide students with the necessary skills and knowledge to use computers effectively
How do you list Computer Tutor skills on a resume?
Including your skills and abilities related to Computer Tutoring on your resume is a great way to showcase your qualifications for the role you're applying for. Here are a few skills and abilities that you may want to consider including when applying for a Computer Tutor position:
Excellent communication and interpersonal skills, including the ability to effectively explain and demonstrate how to use different computer programs
Passion for helping others learn and develop their computer skills
Proficiency in most commonly used Microsoft Office programs (Word, Excel, PowerPoint)
Knowledge of operating systems and applications such as Mac OS, Linux, Adobe Creative Suite
Familiarity with commonly used educational software
Able to troubleshoot and diagnose technical problems
Knowledge of computer networks and security
Ability to create and maintain student records
Strong patience and organizational skills
Ability to work in a fast-paced environment
What skills should I put on my resume for Computer Tutor?
When creating a resume for a computer tutor position, it is important to highlight the relevant skills and experience to stand out from other applicants. Here are some skills that should be included on your resume for a computer tutor position:
Knowledge of Computer Software: As a computer tutor, you should highlight your expertise in specific computer software programs, such as Microsoft Office Suite, Adobe Suite, and coding languages.
Technical Troubleshooting: Being able to quickly diagnose and solve technical problems is a valuable skill for a computer tutor. List any experience you have in troubleshooting, repairing, and/or upgrading computer hardware and software.
Patience and Communication: Computer tutors need to have excellent interpersonal skills and be able to explain technical concepts clearly and patiently to people with a range of technical experience.
Teaching Ability: Mention any teaching or tutoring experience you have, as well as any qualifications you may have in teaching or instruction.
Digital Literacy: Being able to use current technology to stay up-to-date with the latest trends and tools is essential for a computer tutor. List any experience you have in using digital tools and staying on top of the current tech landscape.
By highlighting these skills on your resume, you will be able to show potential employers your qualifications and demonstrate why you are the right person for the job.
Key takeaways for an Computer Tutor resume
Computers are an integral part of modern life, and it is important to have a strong understanding of them if you want to stay ahead of the game. Computer tutors have the knowledge and skills necessary to help others learn more about computers and technology. If you are considering a career as a computer tutor, there are a few key takeaways that should be included on your resume.
First, you should include your experience with computers and technology. Depending on the courses and students you will be tutoring, you should list the appropriate software, programming language, and operating systems that you are familiar with. You should also include any certifications or qualifications you may have in the area of computers and technology.
Second, you should highlight your teaching experience. Even if you have not had formal instruction in teaching, you should include any experience you have had in teaching others about computers, such as helping family or friends with their computer needs. Include a brief description of your previous teaching experiences, such as the topics you covered and the number of students you taught.
Third, you should emphasize your ability to communicate effectively with students. Computer tutors must be able to explain complex concepts in an understandable way. Communicating with students in a positive and helpful way is essential to providing effective tutoring.
Finally, you should also list any additional skills you may have that could be of benefit to students, such as graphic design, web programming, or network engineering. Any of these skills can be extremely helpful in today's computer-centric world.
Including these key takeaways on your resume can help you stand out from other candidates and increase your chances of success in a computer tutoring career. With the right skills and experience, you can make a positive impact in the lives of your students and help them reach their goals.
Let us help you build
your Resume!
Make your resume more organized and attractive with our Resume Builder