Writing a computer teacher resume can be a daunting task. After all, your resume should be a professional statement that demonstrates your expertise in the field of computers. To help you get started, this guide provides tips on how to craft a computer teacher resume, as well as providing examples of resumes that can be used as a reference. From outlining the essential skills to highlighting your experience, this guide will provide guidance on how to write a successful computer teacher resume.
If you didn't find what you were looking for, be sure to check out our complete library of resume examples.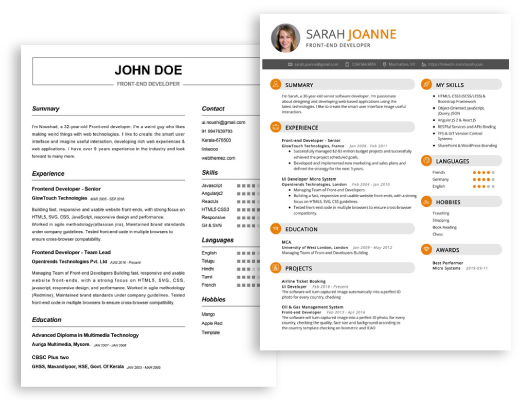 Start building your dream career today!
Create your professional resume in just 5 minutes with our easy-to-use resume builder!
Computer Teacher Resume Examples
John Doe
Computer Teacher
123 Main Street | Anytown, USA 99999 | Phone: (123) 456-7890 | Email: john.doe@email.com
I am an experienced Computer Teacher with over 8 years of teaching experience. I have taught computer courses in schools, post- secondary institutions, and online learning environments. I have a strong knowledge of computer science and programming, as well as a passion for teaching and helping others to learn and develop practical skills with computers. I am organized, motivated, and a proven leader in my field.
Core Skills:
Computer Science
Programming
Teaching
Classroom Management
Time Management
Teamwork
Leadership
Organizational Skills
Communication
Problem- Solving
Professional Experience:
Computer Teacher, ABC School, 2016 – Present
Teach grade 6 – 8 students in the areas of computer science and programming
Develop and implement lesson plans
Mentor and coach students in the development of their skills
Provide feedback and evaluation on student performance
Engage with parents in the development of their children's computer learning
Computer Teacher, XYZ College, 2011 – 2016
Taught computer science courses to post- secondary students
Created and implemented lesson plans
Assessed student performance and provided detailed feedback
Mentored and coached students to develop their computer skills
Education:
Bachelor of Science, Computer Science, XYZ University, 2011
Computer Teacher Resume with No Experience
Recent graduate looking to launch a career in Computer Teacher profession with a well- established organization. Experience in instructional technology and computer classes, with a good understanding of computer systems and software. Possess strong troubleshooting and problem solving skills, and an ability to explain complex technical concepts in a simple manner.
Skills
Course design
Instructional technology
Classroom management
Computer systems
Software
Troubleshooting
Problem solving
Technology support
Responsibilities
Assisted in preparing course materials and syllabi
Assisted in teaching computer classes
Assisted in providing technology support to teachers and students
Assisted in maintaining and troubleshooting computer systems
Assisted in helping students with computer problems
Assisted in maintaining computer lab equipment
Assisted in managing and updating databases
Assisted in helping teachers and students use educational technology tools and applications
Computer Teacher Resume with 2 Years of Experience
Highly experienced Computer Teacher with 2 years of experience in developing and delivering computer- based lessons to students in the classroom setting. Possesses a detailed knowledge of various computer- aided instruction software and is skilled in methods of teaching computer literacy to students of varying ages and academic backgrounds. Possesses excellent communication and organizational skills.
Core Skills:
Knowledge of computer- aided instruction software
Ability to teach computer literacy
Strong communication and organizational skills
Proficient in Microsoft Office
Ability to use a variety of teaching methods and techniques
Excellent problem- solving skills
Ability to manage a classroom
Responsibilities:
Developing and delivering computer- based lessons in the classroom setting
Assisting students in their use of computer- aided instruction software
Monitoring student progress and providing feedback
Recommending new instructional materials and techniques
Maintaining an organized and professional classroom environment
Assisting students in troubleshooting computer problems
Establishing and enforcing rules for appropriate use of computers and related equipment
Computer Teacher Resume with 5 Years of Experience
Computer teacher with 5 years of experience in teaching and instructing students in a range of computer technology. Skilled in providing students with the knowledge and skills they need to succeed in today's digital world. Dedicated to creating engaging and interactive learning experiences to stimulate student engagement and promote learning. Possesses excellent organizational, communication, and interpersonal skills, as well as a passion for computer programming and technology.
Core Skills:
Strong teaching and instruction skills
Proficient in teaching computer science and programming
Expertise in troubleshooting computer hardware and software
Ability to explain complex topics in a clear and concise manner
Exceptional interpersonal and communication skills
Proficient in a range of computer software programs
Responsibilities:
Develop and implement lesson plans, activities, and tests for computer programming and technology courses
Instruct students on the use of various computer programs and technologies
Maintain student records and grade assignments
Provide support to students in the use of software and hardware
Identify and troubleshoot computer hardware and software issues
Provide guidance and support to students in their use of technology
Computer Teacher Resume with 7 Years of Experience
Computer Teacher with 7 years of experience in teaching technology and computer science topics to a wide range of students from elementary to college. Possesses a strong knowledge of the latest technologies, software, and hardware and is able to facilitate learning in a variety of environments. Highly organized and able to develop and execute lesson plans while providing feedback and guidance to students.
Core Skills:
Classroom Instruction
Student Evaluation
Curriculum Development
Technology Integration
Team Leadership
Troubleshooting & Repair
System Maintenance
Responsibilities:
Plan, develop, and implement lesson plans, courses and activities to meet academic standards.
Prepare and deliver lectures, assign and grade coursework and examinations.
Monitor student progress and adjust instruction to meet individual student needs.
Provide students with technical and emotional support.
Utilize technology where appropriate to enhance the learning environment.
Create and maintain a safe and positive learning environment.
Maintain and update course materials and syllabi.
Serve on committees and participate in professional development opportunities.
Stay current on emerging technologies and integrate them into classroom instruction.
Computer Teacher Resume with 10 Years of Experience
Dynamic and experienced Computer Teacher with a career that has spanned 10 years working in various educational settings. Possesses a Bachelor of Science in Computer Science and a Master of Science in Educational Technology, as well as extensive experience teaching computer science, programming, and IT. Demonstrates a commitment to student success through designing and implementing creative strategies and teaching methods that engage students and enhance learning.
Core Skills:
Instructional Design
Programming
Database Management
Software Troubleshooting
Critical Thinking
Communication
Problem Solving
Responsibilities:
Implemented innovative instructional strategies to engage students and facilitate learning in a variety of computer- based courses
Developed comprehensive lesson plans, activities, projects, and assessments for computer courses
Maintained up- to- date knowledge of current advancements in computer science and technology
Troubleshooted software and hardware issues for students and staff
Mentored and provided guidance to students in the use of technology
Assisted students with the development of their programming and coding skills
Developed and maintained a variety of databases to aid in the tracking, analysis, and reporting of student progress
Assisted with the development of curriculum and evaluation procedures
Computer Teacher Resume with 15 Years of Experience
Dedicated and highly- qualified computer teacher with 15 years of experience in teaching and developing courses in the field of IT. Proven expertise in designing and delivering courses covering software, hardware, networking, and programming topics. Possess excellent communication and organizational abilities to ensure students have a solid foundation in computer skills.
Core Skills:
Proficient in designing and delivering computer courses efficiently
Proven track record in the development of syllabus and course materials
Highly knowledgeable in all aspects of computer hardware, software, and networking
Superb ability to motivate and engage students
Excellent communication, interpersonal, and problem- solving skills
Proficient in using audio- visual equipment for instructional purposes
Ability to provide individual assistance to students according to their needs
Responsibilities:
Develop and deliver courses in various aspects of computer systems such as software, hardware, programming, and networking
Create syllabus, course materials, and other instructional materials
Design and implement methods and materials to assess student progress
Utilize audio- visual equipment to enhance instruction
Monitor and evaluate student performance
Work with students on an individual basis to provide additional assistance
Plan and implement extracurricular activities to fulfill educational objectives
Collaborate with other departments to ensure curriculum meets educational standards
In addition to this, be sure to check out our resume templates, resume formats, cover letter examples, job description, and career advice pages for more helpful tips and advice.
What should be included in a Computer Teacher resume?
When you are applying for a job as a computer teacher, it's important to make sure your resume stands out and accurately reflects your skills, experience, and qualifications. To help you create a strong, effective resume, here are some tips on what to include:
Education & Certifications: Include any degrees or certifications you have earned in the field of computer instruction. If you have any additional certifications such as JavaScript, Microsoft, etc. make sure to include them as well.
Professional Experience: Describe any professional experience related to computer teaching that you have had. This can include teaching in classrooms, online, or in a corporate setting. Make sure to include specific information such as how long you have been teaching, the types of classes you have taught, and any students you have been responsible for.
Technical Skills: List any technical skills you have or software programs you are capable of using. This can include anything from coding languages to Photoshop and other graphic design tools. Be sure to mention any special projects, websites, or applications you have been involved in creating.
Teaching Expertise: Highlight any unique teaching skills, such as the ability to create engaging lessons, provide meaningful feedback, or incorporate technology into instruction.
Other Qualifications: If you have any other qualifications related to computer teaching, such as foreign languages or communication abilities, list them here.
By including all of these elements on your computer teacher resume, you can be sure to create a strong, compelling document that will help you land the job.
What is a good summary for a Computer Teacher resume?
A good summary for a Computer Teacher resume should include the candidate's experience, expertise, and accomplishments in teaching computer skills and technology. It should also highlight their strengths, such as the ability to effectively communicate with students and colleagues, excellent problem-solving skills, and the ability to use technology to support student success. The summary should also give a brief overview of the candidate's educational background, emphasizing their degree or certification in the field of technology. Finally, the summary should showcase the candidate's commitment to helping students reach their potential, both academically and professionally.
What is a good objective for a Computer Teacher resume?
A computer teacher should create a resume with an objective that reflects their strong background in teaching computer-related topics to students. A good computer teacher resume objective should demonstrate their knowledge of the topics they teach, their teaching skills, and their ability to create an engaging learning environment.
Here are some objectives a computer teacher might include on their resume:
To utilize my 8+ years of experience and expertise in teaching computer science to students in a meaningful and fulfilling way.
Looking to bring my strong knowledge of computer programming and years of experience to a teaching position where I can mentor and instruct students.
Dedicated and knowledgeable computer teacher seeking a position to share and develop my teaching skills and to inspire students to take an interest in computers.
To secure a computer teacher role in a collaborative environment that values my educational background and teaching experience.
Passionate computer teacher who is eager to apply my knowledge of teaching computer concepts to a classroom setting.
Seeking a challenging role as a computer teacher that allows me to use my experience and expertise to impart knowledge and encourage students to explore the world of computers.
How do you list Computer Teacher skills on a resume?
When a job application calls for a Computer Teacher, you will want to showcase your skills that make you proficient in teaching computer-related topics. When writing a resume to apply for this role, it is important to list your skills in an easy-to-read manner. Here are a few tips for how to list Computer Teacher skills on a resume:
Include relevant software expertise: Listing any software programs and technologies you have experience with and any certifications you have in these areas is important. This may include programming languages, operating systems, web applications, or code editors.
Showcase your communication skills: Computer Teachers typically need to be able to communicate effectively with students in order to help teach them. Demonstrate your ability to communicate with students by including examples of how you have done this in the past.
Explain your teaching experience: If you have prior experience teaching computer-related topics, make sure to include this in your resume. Describe the classes and topics you have taught and any specific teaching strategies you have used.
Highlight your organizational abilities: Being organized and proactive is key for Computer Teachers. Showcase your organizational skills by listing any projects or programs you have coordinated and how you have used your organization to help your students.
By tailoring your resume to include these important skills and experiences, you will be able to show potential employers that you have the qualifications and abilities to be an effective Computer Teacher.
What skills should I put on my resume for Computer Teacher?
Computer Teacher is a profession that requires a wide range of skills to help promote and teach the basics of computing to students. A successful computer teacher is able to not only understand the technical aspects of computing but also the pedagogical aspects of instruction and learning. When creating a resume for a computer teacher position, it is important to ensure that your resume displays all of the relevant skills and qualifications that are required for the role. Here are some of the top skills to include on a resume for a computer teacher:
Knowledge of Computer Science: A computer teacher should have a comprehensive knowledge of computer science and its related topics, including computer architecture, operating systems, data structures, programming languages, computer networks, and software engineering.
Expertise in Teaching: Computer teachers should have proven teaching experience and be able to explain complex technical concepts and ideas in a clear and understandable manner.
E-Learning Experience: Computer teachers should also be knowledgeable of e-learning tools, such as online learning platforms and interactive whiteboards, so that they can effectively use these tools to teach students.
Excellent Communication Skills: Computer teachers should have excellent written and oral communication skills to be able to effectively explain and teach computer concepts to students.
Creativity: Good computer teachers have the ability to think outside the box and come up with creative activities and teaching methods to help capture student's attention and interest.
Knowledge of Different Operating Systems: Computer teachers should be knowledgeable of different operating systems, such as Windows, Mac OS, and Linux, so that they can help troubleshoot issues and provide technical support.
Technical Troubleshooting: Computer teachers should also have the ability to troubleshoot technical problems and provide support to students.
By including these skills on your resume, you will be able to demonstrate to employers that you have the necessary qualifications and experience to be a successful computer teacher.
Key takeaways for an Computer Teacher resume
A computer teacher resume is an important tool in helping you get the job you want. It is important to include all of the relevant information that you can in order to make sure that you get the best chance of being hired. Here are some key takeaways for you to consider when writing your computer teacher resume:
Highlight your experience: Make sure to emphasize all of the relevant experience that you have in the field of computer education. Include any volunteer work, internships, or jobs that you have held in the past that are related to the position you are applying for.
Include skills and certifications: List any certifications you have related to computer education, as well as any software or coding skills that you have. This will help demonstrate your knowledge and experience in the field.
Share your accomplishments: Include any awards, achievements, or special projects that you have completed in the past. This will help show potential employers that you are dedicated and have a track record of success.
Provide references: Make sure to include some references that can vouch for your experience and abilities. This is a great way to provide potential employers with an additional source of information about your qualifications.
By following these key takeaways, you can create a computer teacher resume that will help you stand out and make sure that you get the job you want. Good luck!
Let us help you build
your Resume!
Make your resume more organized and attractive with our Resume Builder