Are you an experienced college professor looking for a new teaching opportunity? Do you need help creating a resume that will make you stand out from the competition? Writing a college professor resume can be a daunting task. You have to balance the need to highlight your qualifications and experience with the challenge of keeping your resume concise and to the point. To help make the process easier, we've put together a comprehensive guide to writing a college professor resume with resume examples and tips to get you started.
If you didn't find what you were looking for, be sure to check out our complete library of resume examples.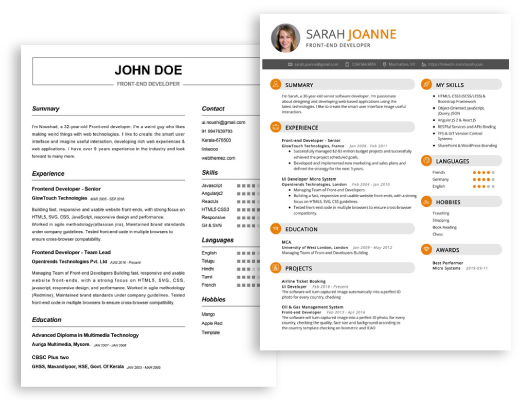 Start building your dream career today!
Create your professional resume in just 5 minutes with our easy-to-use resume builder!
College Professor Resume Examples
John Doe
College Professor
123 Main Street | Anytown, USA 99999 | Phone: (123) 456-7890 | Email: john.doe@email.com
I am an experienced college professor with more than 5 years of teaching experience. I have a strong background in mathematics, economics, and business, and I have served as an adjunct professor in these disciplines. I am passionate about helping students succeed in their academic endeavors and have created unique courses, utilized innovative teaching methods, and provided mentoring support to students. I am committed to ensuring that students are well- equipped with the knowledge and skills necessary for career success.
Core Skills:
Expert in Mathematics, Economics, and Business
Innovative Teaching Techniques
Course Development
Mentoring and Advising
Classroom Management
Assessment and Evaluation
Technology for Teaching
Professional Experience:
Adjunct Professor, University of ABC, 2015- 2020
Developed and taught innovative courses in Mathematics, Economics, and Business
Utilized technology to enhance teaching and learning
Developed assessment and evaluation tools
Provided mentoring and advising to students
Education:
Ph.D. in Economics, University of ABC, 2011
M.A. in Mathematics, University of XYZ, 2009
B.A. in Business, University of ABC, 2007
College Professor Resume with No Experience
Motivated college professor with a passion for teaching and mentoring. Possess excellent knowledge in the field of higher education and a strong commitment to developing engaging curriculum. Seeking a position in a college setting where I can utilize my skills to help students achieve academic success.
Skills
Comprehensive knowledge of higher education
Proficient in developing engaging lesson plans
Excellent organizational and communication skills
Ability to collaborate with faculty and staff
Knowledge of student assessment and evaluation systems
Proficient in using technology for education
Responsibilities
Developing engaging lesson plans and activities tailored to student needs
Facilitating discussions on relevant topics in the field of higher education
Assigning and grading coursework and providing timely feedback to students
Maintaining accurate records of student progress
Advising and counseling students on academic and personal issues
Participating in faculty meetings, committees, and other professional development activities.
College Professor Resume with 2 Years of Experience
A highly experienced college professor with 2 years of teaching experience in higher education. Broad knowledge of the fundamentals of teaching and academic research, as well as a deep understanding of the subject matter. Skilled in instructional delivery, classroom management, and student success. Adept at developing creative and engaging lesson plans that encourage critical thinking and collaboration among students. Possesses excellent interpersonal and communication skills.
Core Skills:
Excellent organizational and time management skills
Self- motivated and able to work independently
Strong written and verbal communication skills
Proficient in Microsoft Office Suite
Ability to develop and deliver engaging lectures
Ability to assess student performance
Responsibilities:
Develop syllabi, lesson plans, and student activities
Deliver lectures, facilitate discussion, and evaluate student progress
Lead office hours and provide academic support to students
Conduct academic research and develop new course material
Create assessments and grading rubrics to evaluate student learning
Monitor student progress, identify struggling students, and provide support
Mentor students, encourage critical thinking, and foster a positive learning environment
College Professor Resume with 5 Years of Experience
A highly experienced college professor with 5 years of experience, known for a strong knowledge base, creativity, intercultural understanding, and outstanding teaching skills. Able to effectively plan and implement a wide range of courses, with a focus on creativity, development of critical thinking, and student engagement. A passionate advocate of lifelong learning and development, with a broad range of knowledge in the areas of sociology, anthropology, and global studies.
Core Skills:
Outstanding classroom management
Creative lesson planning
Excellent communication
Critical thinking development
Strong intercultural understanding
Knowledgeable in sociology, anthropology, and global studies
Knowledge of academic methods and practices
Ability to mentor and supervise students
Responsibilities:
Plan and deliver lectures, seminars and tutorials for college students
Evaluate student's performance and offer feedback
Evaluate student assignments, projects and examinations
Develop and implement curriculum and syllabus
Monitor student performance, motivation and development
Collaborate and work with colleagues to develop educational resources
Provide guidance and support to students on academic and personal matters
Mentor and supervise student research projects
Attend conferences and workshops to remain up to date with current trends in education
College Professor Resume with 7 Years of Experience
I am an experienced college professor with 7 years of experience in teaching, research and administration. I am highly motivated, organized, detail- orientated and committed to providing an excellent education for college students. My teaching approach is student- centered and I aim to foster critical thinking and knowledge acquisition. I have experience in developing and implementing curricula and teaching methods, leading research projects and advising students. I have a strong record of collaborating with colleagues and professional staff.
Core Skills:
Excellent communication and interpersonal skills
Ability to create engaging lesson plans and curricula
Proficient in online teaching and course management
Thorough knowledge of relevant subjects
Strong organizational and problem- solving skills
Familiarity with academic research
Responsibilities:
Developed course syllabi and lesson plans for college courses
Instructed classes in a variety of subjects including history, economics and sociology
Conducted research projects and advised students
Created assessments and evaluated student performance
Collaborated with colleagues on various projects and initiatives
Provided career and academic advisement to students
Attended and actively participated in faculty meetings and workshops
Implemented new teaching methods and instructional technologies
Maintained records of student academic progress and attendance
College Professor Resume with 10 Years of Experience
Seasoned college professor with 10+ years of teaching experience in a variety of disciplines. An experienced and dedicated educator, able to motivate and engage students in the learning process. Possesses exceptional organizational and communication skills and the ability to explain complex ideas in a way that is accessible to students of varying academic backgrounds. Experienced in developing and delivering engaging lectures, creating and grading assessments, and providing individualized academic support.
Core Skills:
Instructional Design
Curriculum Development
Teaching & Training
Classroom Management
Student Assessment & Evaluation
Academic Advising
Public Speaking
Research & Writing
Responsibilities:
Preparing and delivering lectures to students
Developing curricula and course materials
Administering and grading exams and assignments
Counseling and advising students
Facilitating collaborative learning sessions
Supervising teaching assistants
Researching and writing grants
Recruiting and training student teaching assistants
Developing and implementing teaching plans
Maintaining accurate student records
Creating and enforcing classroom policies.
College Professor Resume with 15 Years of Experience
Highly experienced College Professor with 15 years of experience in teaching and research. Proven ability to inspire, motivate, and challenge students to reach their highest potential. Adept at teaching a wide range of college- level courses and developing innovative and effective curriculum. Experienced in guiding and mentoring students through their college journey, including assistance with work/life balance and college- level skills development.
Core Skills:
Excellent interpersonal and communication skills
Proficient in using educational technology
Highly organized and detail- oriented
Strong collaborative and problem- solving skills
Ability to mentor and motivate students
Flexible and adaptive to changing student needs
Research and writing
Knowledge of college- level curricula
Responsibilities:
Develop and deliver college- level courses
Develop and implement innovative teaching methods
Provide one- on- one assistance to students
Evaluate student performance and provide feedback
Supervise and mentor student research projects
Maintain accurate student records
Advise students on academic and career paths
Collaborate with other faculty and staff
Ensure compliance with college policies and regulations
In addition to this, be sure to check out our resume templates, resume formats, cover letter examples, job description, and career advice pages for more helpful tips and advice.
What should be included in a College Professor resume?
When it comes to standing out in the job market, having a well-crafted resume is of utmost importance. College professors have a unique set of skills and qualifications that must be highlighted in their resume. Here are some tips to consider when creating a resume for a college professor:
Include your education credentials at the top of your resume. Be sure to include the institutions you attended, your degree/s and any special achievements you have earned.
Include your research and publications. This is a critical part of your resume and should be well-highlighted with clear and concise descriptions.
Include your teaching experience. List the courses you have taught, the institutions where you taught them, and the duration of each course.
Include any awards, honors or distinctions you have received.
Include any professional affiliations or memberships.
Include any technology or software skills you have acquired that may be relevant to the job.
Include a list of references. Make sure to include full contact information for each reference.
By following these tips, you can ensure that your resume effectively highlights your most important qualifications and experiences. A well-crafted resume will ensure you stand out from other candidates and make a great first impression.
What is a good summary for a College Professor resume?
A college professor's resume should be concise and include relevant experiences, qualifications, and education that make you an ideal candidate for the position. It should highlight your teaching experience, research and publications, awards and recognition, and any professional affiliations. It should also include any leadership or administrative roles you have held in the past. Finally, your resume should emphasize your ability to interact effectively with students and colleagues, as well as your commitment to helping each student reach their full academic potential. Your resume should be tailored to the specific institution you are applying to and show that you are a dedicated educator.
What is a good objective for a College Professor resume?
A college professor's resume should clearly demonstrate their ability to lead classes, teach students, and create a stimulating learning environment. Crafting an effective objective statement is an essential part of a college professor's resume and should clearly show their goals and ambitions.
Here's what a good objective for a college professor's resume should include:
Dedicated and passionate educator looking to inspire and motivate students
Proven track record of developing creative and purposeful lesson plans
Experienced in fostering a positive learning environment
Skilled in using modern technology to enhance the classroom experience
Committed to helping students reach their goals
Experienced in delivering lectures and providing individual guidance
Ability to effectively communicate and collaborate with colleagues
Dedicated to staying current with industry trends and best practices.
How do you list College Professor skills on a resume?
When it comes to crafting a college professor resume, it is important to include skills that are specific to the field. From the ability to connect with students to engaging teaching methods and the ability to effectively collaborate with colleagues, there are a number of important skills that will add value to your resume.
Here are some key college professor skills to include on a resume:
Expertise in a specific subject: College professors need to have a deep understanding of the subject they are teaching, so it is important to list any specialized subject knowledge.
Student engagement: College professors need to be able to engage with students in a meaningful way, so it is important to list any experience you have had with teaching or mentoring students.
Collaboration: College professors need to be able to collaborate with colleagues, so it is important to list any experience you have had working with others.
Organization: College professors need to be organized in order to keep track of lesson plans, student progress, and grading, so list any relevant organizational skills.
Communication: College professors need to have excellent communication skills in order to effectively convey information to students and colleagues, so list any experience you have had with public speaking or writing.
Technology: College professors need to have a basic understanding of technology, such as familiarity with computers and the ability to use online learning platforms, so list any relevant skills.
By including these important skills on your resume, you will be able to demonstrate that you are a valuable asset to any college professor position.
What skills should I put on my resume for College Professor?
When applying for a college professor position, it is important to make sure that you list the right skills and qualifications on your resume. Employers are looking for candidates who have the knowledge, experience, and the ability to teach effectively. To ensure that your resume stands out, here are some of the key skills that you should consider adding:
Thorough Understanding of Subject Matter: Having a thorough understanding of the subject matter you will be teaching is essential. Showcase your expertise by highlighting the knowledge and experience that you have in the subject area.
Excellent Communication Skills: As a college professor, you need to be able to communicate with students, colleagues, and administrators. Make sure to include strong communication skills on your resume, such as the ability to effectively present information and provide constructive feedback.
Ability to Inspire and Motivate: College professors need to be able to motivate and inspire their students. Demonstrate this ability by citing examples of how you have used innovative teaching methods to engage your students.
Strong Time Management Skills: College professors must be able to manage their own time, as well as the time of their students. List any relevant experience that you have with planning and organizing academic activities in a timely manner.
Proficiency with Technology: Today's college professors must be skilled with technology. Make sure to include any experience that you have with using technology in the classroom, such as using educational software or teaching online courses.
By showcasing these skills on your resume, you can demonstrate to employers that you are the right candidate for the job. With the right qualifications, you can be sure that you will stand out from the competition and have a higher chance of getting the job.
Key takeaways for an College Professor resume
For college professors, a resume is essential for presenting an accurate picture of their professional background, qualifications, and experience. Employers look for candidates with the right skills, interests, and educational background when they evaluate resumes. To stand out in the job market, college professors must ensure that their resumes are up-to-date, well-written, and tailored to the position they are applying for.
When crafting a resume for a college professor position, there are a few key takeaways to consider:
Highlight Your Teaching Experience: Be sure to include all of your teaching experience, including your teaching topics, the courses you've taught, any awards or honors you've received, and your student evaluations.
Include Your Educational Background: Your resume should include clear and detailed information about your educational background, including your college degrees and any additional certificates or credentials you have earned.
Showcase Professional Accomplishments: Display any professional accomplishments or initiatives you have undertaken. This could include any publications, research projects, or professional activities that demonstrate your expertise.
Focus on Relevant Skills: Your resume should showcase the skills and abilities that are relevant to the position you are applying for. This could include your knowledge of the subject matter, teaching methods, and ability to work with students.
Demonstrate Your Professional Network: Employers want to know that you are connected with the academic community. Make sure to list any professional organizations, associations, and networks you are involved in.
By following these tips, college professors can craft an effective resume that will help them stand out in the job market. A well-written and comprehensive resume will demonstrate the professor's qualifications and experience, as well as their commitment to the position.
Let us help you build
your Resume!
Make your resume more organized and attractive with our Resume Builder