If you are looking to become a Chemistry Teacher, having a well-crafted resume can be the difference between getting your foot in the door and being overlooked. This guide will give you the tips and tricks you need to ensure your resume stands out and gets you noticed. We will provide examples of Chemistry Teacher resumes, tips on how to write a concise and effective resume, and resources to help you further hone your resume writing skills. With the right approach, you can make sure your resume looks professional and presents your qualifications in the best possible light.
If you didn't find what you were looking for, be sure to check out our complete library of resume examples.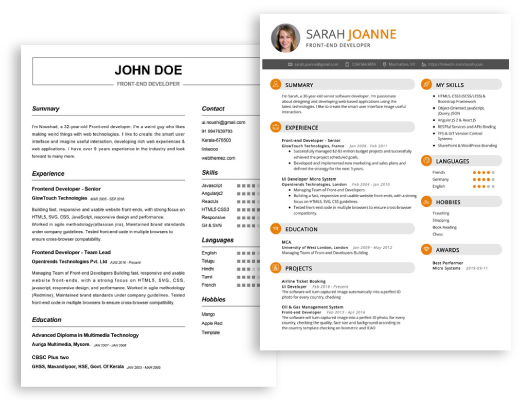 Start building your dream career today!
Create your professional resume in just 5 minutes with our easy-to-use resume builder!
Chemistry Teacher Resume Examples
John Doe
Chemistry Teacher
123 Main Street | Anytown, USA 99999 | Phone: (123) 456-7890 | Email: john.doe@email.com
An experienced and knowledgeable Chemistry Teacher, I am committed to ensuring students are engaged in their learning and understand the material presented to them. I have expertise in both general and advanced levels of chemistry, and have a passion for teaching, motivating, and inspiring my students. I have 5+ years of experience teaching chemistry to both middle and high school aged students. I am eager to continue my career as a Chemistry Teacher and help young minds explore the exciting world of chemistry.
Core Skills:
High level of understanding of chemistry concepts
Excellent teaching, communication and mentoring skills
Ability to effectively plan and manage classes
Familiarity with a variety of teaching techniques
Skilled in designing and modifying lesson plans
Ability to teach complex and challenging material
Understanding of learning theories, best practices and assessment
Professional Experience:
Chemistry Teacher, ABC School // 2014 – 2019
Taught chemistry to middle and high school students
Developed and implemented lesson plans and assessments
Collaborated with colleagues to ensure students receive a comprehensive education
Supported students in understanding the material and mastering skills
Developed an engaging and interactive learning environment
Monitored student progress and identified areas requiring additional support
Attended professional development workshops and conferences
Education:
Bachelor of Science in Chemistry, XYZ University, 2010 – 2014
Chemistry Teacher Resume with No Experience
Recent college graduate with strong passion for chemistry and a desire to help students excel academically. Eager to leverage teaching and tutoring experience to introduce students to the exciting world of chemistry.
Skills
Enthusiastic and patient learner
Proficient in chemistry- related topics and lab techniques
Organized and detail- oriented
Excellent communication skills
Ability to work well with students of all ages
Responsibilities
Develop engaging and effective lesson plans for chemistry classes
Foster a safe and engaging learning environment for all students
Manage classroom behavior to ensure a respectful atmosphere
Be available for one- on- one tutoring with students
Grade student assignments and provide constructive feedback
Maintain accurate and up- to- date records of student progress
Regularly update curriculum to stay current with advances in chemistry
Chemistry Teacher Resume with 2 Years of Experience
Hardworking and knowledgeable Chemistry Teacher with 2 years of experience in teaching high school level chemistry and a PhD in Chemistry from the University of California. Demonstrated excellence in building relationships with students while maintaining a positive learning environment and encouraging students to reach their full potential. Adept in designing and implementing experiments, grading assignments, and fostering a collaborative environment.
Core Skills:
Strong knowledge of chemistry- related subjects
Familiar with laboratory safety procedures
Excellent communication and interpersonal skills
Proficient in teaching and classroom management
Ability to create and implement effective lesson plans
Committed to helping students reach their academic goals
Responsibilities:
Provided instruction on chemistry topics and laboratory skills
Developed and implemented engaging lesson plans
Encouraged students to ask questions and participate in class discussions
Graded assignments, tests and examinations
Assisted students with their projects
Conducted additional research to enhance curriculum content
Organized field trips and other learning- based activities
Provided support to students struggling in chemistry- related classes
Chemistry Teacher Resume with 5 Years of Experience
Experienced Chemistry Teacher with 5 years of experience in teaching chemistry courses to high school students. Possesses an in- depth knowledge of chemistry concepts and laboratory techniques. Fosters an inclusive learning environment that encourages creativity and experimentation. Experienced in both traditional and innovative approaches to teaching.
Core Skills:
Strong knowledge of chemistry principles and techniques
Excellent communication and interpersonal skills
Ability to foster an inclusive learning environment
Innovative and creative teaching methods
Proficiency with laboratory equipment
Ability to effectively manage classroom dynamics
Responsibilities:
Planning, delivering and assessing chemistry lessons
Developing and updating course materials and resources
Assisting students to understand and apply chemistry concepts
Organizing and supervising practical lab sessions
Encouraging students to be actively engaged in learning
Monitoring and assessing student performance
Providing timely feedback to students on progress
Collaborating with other teachers to support students' learning
Chemistry Teacher Resume with 7 Years of Experience
Experienced chemistry teacher with 7 years of teaching experience in a high school setting. Skilled in teaching general, honors and AP level Chemistry as well as science- related electives. Successful track record of designing and implementing effective classroom curriculum, developing high- quality lesson plans and engaging students in active, hands- on learning activities. Demonstrated ability to foster a supportive learning environment and motivate students to work hard and be successful.
Core Skills:
Chemistry Education (AP, Honors and General Chemistry)
Curriculum Development
Classroom Management
Assessment and Evaluation
Student Motivation
Student Engagement
lesson Planning
Responsibilities:
Develop comprehensive lesson plans for Chemistry classes at various levels, including AP, Honors and General Chemistry
Design rigorous and engaging classroom activities for students
Monitor and manage student behavior in the classroom
Administer and grade tests, quizzes and assignments
Assist in the development of curricula and standards
Maintain accurate student records and progress reports
Provide feedback to parents and faculty about student performance
Organize and supervise field trips and other school activities
Participate in professional development activities
Participate in faculty and department meetings
Develop and implement behavior management protocols
Chemistry Teacher Resume with 10 Years of Experience
An experienced and dedicated chemistry teacher with 10 years of successful teaching experience. An effective communicator with a proven record of teaching a diverse student body in a variety of educational settings. Proven track record of creating an engaging classroom environment and fostering an atmosphere of student- teacher collaboration. Established expertise in chemistry content, curriculum development and assessment.
Core Skills:
Proficient in chemistry content, curriculum development and assessment
Ability to design and implement innovative educational strategies to promote student success
Excellent classroom management and interpersonal communication skills
Strong problem solving, verbal and written communication skills
Ability to effectively teach students of all learning styles
Ability to develop and maintain positive learning relationships with students
Responsibilities:
Develop and implement lesson plans that are engaging and help students understand complex chemistry concepts
Lead class discussions and activities to facilitate student learning
Provide individual and small- group instruction to reinforce and fulfill student learning needs
Design, administer and grade assignments, tests, and projects to evaluate student progress
Maintain student records and monitor student progress
Advise students on academic, career, and personal issues to help them reach their fullest potential
Collaborate with colleagues to develop and implement curriculum and instructional strategies
Participate in parent- teacher conferences, faculty meetings, and staff development workshops
Provide a safe, positive and collaborative learning environment for students
Chemistry Teacher Resume with 15 Years of Experience
A highly experienced Chemistry Teacher with 15 years of providing instruction to students of all ages, from elementary to college level. Proven ability to develop curriculum to meet the needs of students and to engage their interest and enthusiasm for Chemistry. Experienced in teaching Chemistry in a manner that both encourages and challenges students, allowing them to learn the concepts quickly and accurately in an enjoyable atmosphere.
Core Skills:
Strong understanding of Chemistry teaching principles and curriculum
Excellent verbal and written communication skills
Proficient in classroom management and behavior management
Ability to inspire and motivate students
Commitment to student learning and development
Creative and innovative teaching methods
Solid knowledge of laboratory safety and procedures
Responsibilities:
Develop and implement comprehensive Chemistry curriculum
Design and deliver lectures and lab sessions
Prepare and administer examinations and assignments
Create lesson plans that effectively use instructional materials
Provide individualized instruction to students
Develop innovative learning activities and projects
Supervise student laboratory experiments and field trips
Assess student progress and provide feedback
Maintain accurate and detailed records of student performance
Participate in professional development activities
In addition to this, be sure to check out our resume templates, resume formats, cover letter examples, job description, and career advice pages for more helpful tips and advice.
What should be included in a Chemistry Teacher resume?
Chemistry Teacher resumes should include the following qualifications and experiences to make the best impression on potential employers.
Education: Include the title of your degree and the date of completion, as well as any certifications you've earned or are working towards.
Experience: List any relevant experience you have teaching or tutoring chemistry, such as classroom teaching, lab instruction, or online tutoring.
Skills: Highlight any special skills or knowledge you possess related to chemistry, such as mastery of lab instrumentation, familiarity with certain software, or experience with certain types of experiments.
Personal Qualities: Demonstrate your commitment to teaching, such as good communication skills, patience, and flexibility.
Professional Development: Show your commitment to staying up-to-date on chemistry-related topics by listing any workshop or conferences you've attended.
Extra-curricular Activities: If you've supervised any science-related clubs or other extracurricular activities, make sure to include these as well.
What is a good summary for a Chemistry Teacher resume?
A Chemistry Teacher resume summary should encompass a candidate's experience and qualifications in teaching chemistry, as well as their knowledge of chemistry-related topics. It should highlight their commitment to providing students with a well-rounded education, as well as any accomplishments in the classroom. The summary should also briefly mention any certifications or continuing education courses taken to stay up to date on the latest teaching methods. By providing a strong summary, a candidate can show their ability to engage students and create a positive learning environment.
What is a good objective for a Chemistry Teacher resume?
Chemistry Teachers are an integral part of any educational institution, and having an effective resume is essential for success. A good objective for a Chemistry Teacher resume should be tailored to the specific job being applied for, and should focus on how the candidate's qualifications, experience and skills will benefit the institution. Here are some examples of objectives for a Chemistry Teacher resume:
To leverage my experience in teaching, mentoring and curriculum development to ensure a learning environment that allows students to reach their maximum potential.
To use my deep understanding of Chemistry to help students learn the fundamentals and apply their knowledge to real-world problems.
To provide students with a comprehensive and engaging learning experience in an effort to cultivate their interest in Chemistry.
To utilize my strong communication skills to effectively explain complex topics in a manner that is understandable and meaningful to students.
To create and contribute to stimulating, creative and informative teaching materials in order to encourage participation, understanding and learning.
To promote the use of various learning resources and technologies to help students further develop their interest in Chemistry.
By crafting a Chemistry Teacher resume objective with these qualities in mind, job seekers will be able to clearly demonstrate their value and capabilities. This will give them a better chance of standing out from the competition and securing the job they are aiming for.
How do you list Chemistry Teacher skills on a resume?
When listing Chemistry Teacher skills on a resume, it is important to highlight any qualifications that demonstrate your ability to effectively teach chemistry. Some key skills to consider include:-
Detailed knowledge of chemistry concepts and their practical applications
Ability to explain complex topics in a clear and concise manner
Strong problem-solving and critical thinking skills
Proficiency in laboratory safety and hygiene practices
Excellent organizational and communication skills
Ability to work well with students of all ages and abilities
Experience using interactive teaching methods and modern educational technologies
Familiarity with current educational initiatives such as Common Core standards and Next Generation Science Standards
Ability to lead and motivate a classroom of students.
What skills should I put on my resume for Chemistry Teacher?
When it comes to crafting your resume for a Chemistry Teacher role, it is important to showcase your unique abilities and qualifications to stand out from the competition. To help you get started, here are some skills you should include on your resume to capture the attention of hiring managers:
Expertise in Chemistry: You should emphasize your in-depth knowledge of all areas of Chemistry, including organic, inorganic, analytical and physical Chemistry.
Knowledge of Lab Techniques: Demonstrate an understanding of proper lab techniques, including experimental design and data collection.
Teaching Experience: Include any experience you have teaching Chemistry, such as creating lesson plans and teaching students in a classroom setting.
Communication Skills: Describe how you clearly and effectively explain Chemistry concepts to students and colleagues.
Problem-Solving: Showcase your ability to handle difficult questions and help students understand challenging Chemistry topics.
Patient and Supportive: Show that you are patient and supportive with students, and able to adapt your teaching style to the ability of each student.
By showcasing these skills, you will be able to demonstrate that you are the ideal candidate for the Chemistry Teacher role.
Key takeaways for an Chemistry Teacher resume
When writing a resume for a Chemistry Teacher position, there are several key takeaways to keep in mind. First, emphasize your experience in teaching Chemistry, along with any other experience you have teaching other science subjects. It is important to highlight any certifications or degrees you have in the field. You should also make sure to include any relevant professional development or educational training you have received.
In addition, take the time to list any special projects or initiatives you have spearheaded in the classroom. This can include creating lesson plans, leading science fairs, or teaching laboratory classes. Additionally, be sure to mention any awards or recognitions you have received for your teaching.
Finally, be sure to include a list of the Chemistry topics you are familiar with. This can include areas such as physical chemistry, inorganic chemistry, organic chemistry, and biochemistry. Be sure to clearly communicate your ability to teach these topics and explain the methods you use to ensure that your students understand the material.
By following these key takeaways, you can create an effective resume for a Chemistry Teacher position that will help you stand out from the competition.
Let us help you build
your Resume!
Make your resume more organized and attractive with our Resume Builder